UFC 284: Yair Rodriguez vs Josh Emmett Live Blog, Play by Play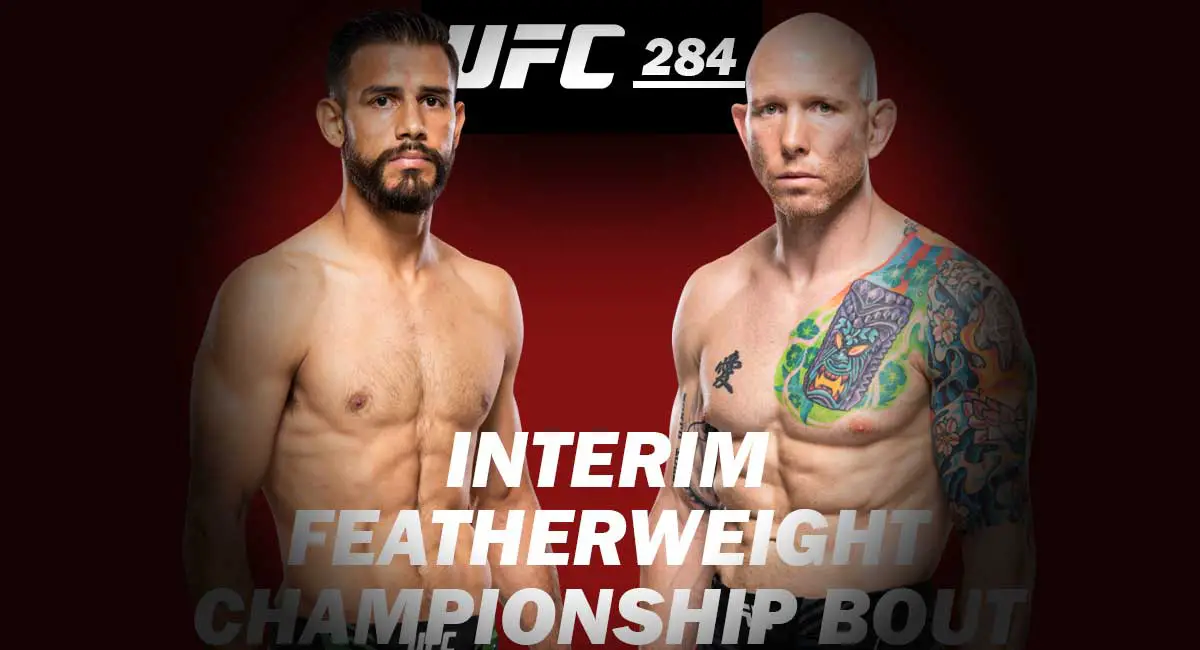 While the champ was busy in poaching for another title, Yair Rodriguez and Josh Emmett clashed for the interim Featherweight Championship in the co-main event of UFC 284.
Yair Rodriguez just had 2 bouts in the last 3 years thanks to a combination of injuries and USADA suspension. He returned to the octagon in November 2021 after 2 years, where he suffered a loss to former champion Max Halloway. He then defeated Brian Ortega in the first round after Ortega suffered an injury in their encounter in July 2022.
Josh Emmett also had just 3 bouts since the start of 2020, but he entered the event on a 5-fights winning streak. The last time Emmett suffered a loss was in 2018, when he fell to Jeremy Stephens. He had defeated Michael Johnson, Mirsad Bektić, Shane Burgos, Dan Ige, and Calvin Kattar to reach the #5 ranking in UFC Featherweight division.
Did Emmett's momentum take him to become the interim champion and get ready to challenge Alexander Volkanovski? Check below for a live blog with round-by-round updates and play-by-play action from Yair Rodriguez vs Josh Emmett bout for Interim UFC Featherweight Championship at UFC 284.
Live Updates
The video package is being aired for this fight. Josh Emmett walks out first. Yair Rodriguez follows him out shortly afterward. Bruce Buffer gets the announcement done. Jason Herzog is the referee for this co-main event.
They jump around and circle the octagon for the first 30 seconds. Yair tries to throw a knee but pulls out quickly. More knee strike attempts from Yair before he nails a calf kick. Yair throws a high kick before a kicks to the ribs to stagger Emmett. Emmett has to pull out quickly. Emmett keeps the distance for next few seconds. Yair throws another calf kick before connecting a punch to the face. Yair lands another body kick before Emmett finally connects a good punch. We are half way into the round.
Emmet pushes Yair back but misses his punches. Yair lands a combo. Yair goes for a spinning heel kick and follows up with a combo again. Emmett swings and misses and Yair lands a high kick on him. Yair backs Emmett up to the cage. Yair gets imbalanced a bit and Emmett gets a takedown. Emmett unleashes some elbows as he tries to get into a good position. Emmett has to work hard to get into a half guard and he is not able to get much going when he gets into the position. The final seconds see some frantic action as Yair tries to fire back with elbow from the mat. Emmett also throws his hands as the round ends.
Nothing happens in the first 30 seconds again. Yair throws a kick. Both men connect their punches. Yair connects a knee and Emmett goes for a takedown but fails. Yair connects body kicks in quick succession. Emmett grabs his knee and tries for another takedown. Yair defends it well. Yair lands another high kick as they return to the middle. Yair staggers Emmett with a big punch as the third-minute starts. Another big kick from Yair.
Emmett misses a punch as Yair gets out of the way. Emmett catches Yair's knee and completes a takedown. Emmett gets him in half guard quickly this time and throws his hands. Yair throws some elbow from the bottom. Emmett goes for more shots but Yair is able to get him in an arm triangle. Emmett tries to fight it off but has to tap out.
Yair Rodriguez won via submission(arm triangle choke) at 4:19 in Round 2.