The Ultimate Fighter 31: Team McGregor vs. Team Chandler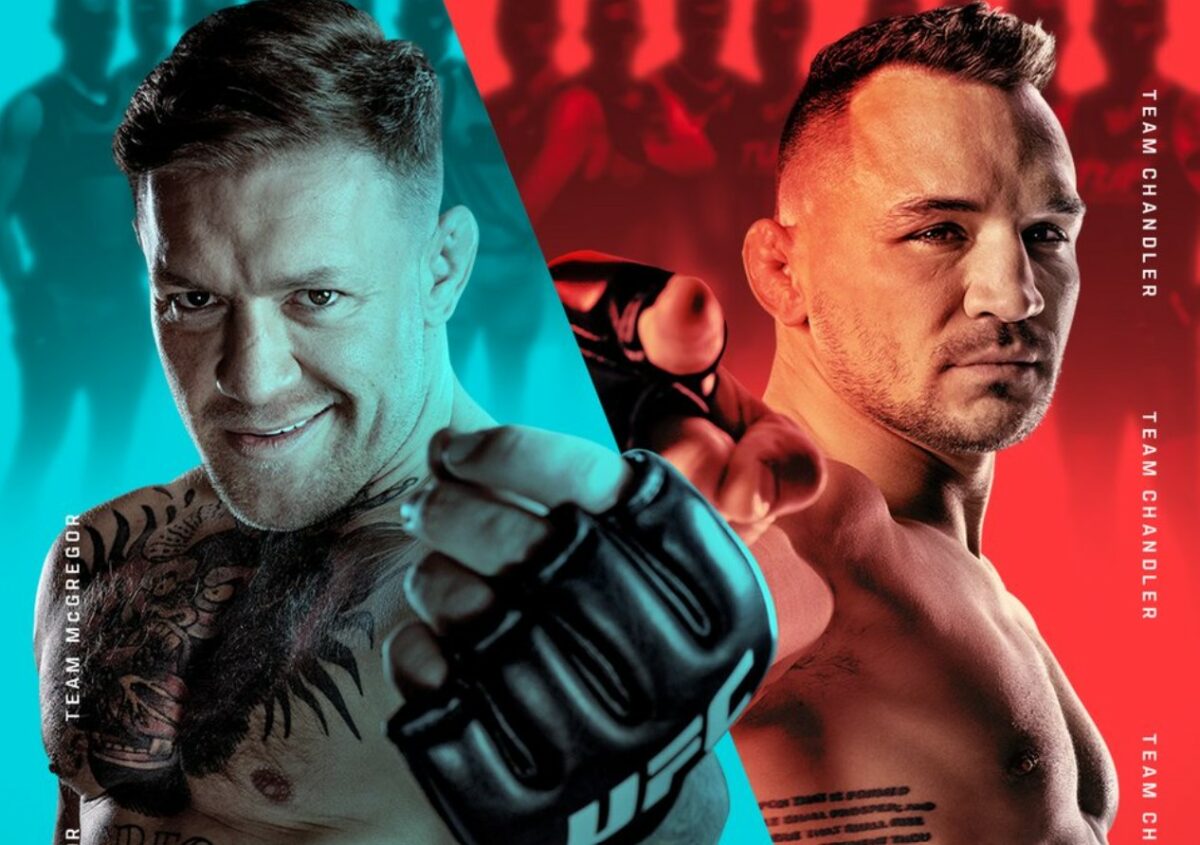 The Ultimate Fighter Team McGregor vs Team Chandler is the 31st season of UFC's reality series The Ultimate Fighter. Pre-taped in advance, the season started airing from May 30, 2023, with the final episode airing on August 15.
Conor McGregor and Michael Chandler were the head coaches for his season. The event featured bantamweight and lightweight fighters who engaged in exhibition knockout tournaments.
TRAILER
ANNOUNCED FIGHTERS
Lightweights: Jason Knight, Austin Hubbard, Nate Jennerman, Lee Hammond, Kurt Holobaugh, Aaron McKenzie, Roosevelt Roberts, and Landon Quinones.
Bantamweights: Timur Valiev, Mando Gutierrez, Brad Katona, Hunter Azure, Rico DiSciullo, Cody Gibson, Carlos Vera, and Trevor Wells.
Team McGregor
COACHES
Head Coach: Conor McGregor,
Assistant Coach: John Kavanagh
Jiu-Jitsu Coach: Owen Roddy
FIGHTERS
Bantamweight: #1 Mando Gutierrez, #2 Trevor Wells, #3 Carlos Vera, #4 Rico DiSciullo
Lightweight: #1 Lee Hammond, #2 Nate Jennerman, #3 Aaron McKenzie, #4 Landon Quinones
Team Chandler
COACHES
Head Coach: Michael Chandler
Assistant Coach: Ryan Bader
Wrestling Coach: Greg Jones
Jiu-Jitsu Coach: Robert Drysdale
Striking Coach: Jason Strout
FIGHTERS
Bantamweight: #1 Hunter Azure, #2 Austin Hubbard, #3 Timur Valiev, #4 Cody Gibson
Lightweight: #1 Jason Knight, #2 Brad Katona, #3 Roosevelt Roberts, #4 Kurt Holobaugh
Bantamweight Tournament
Cody Gibson def. Manoo Gutierrez – quarterfinal bout
Timur Valiev def. Trevor Wells – quarterfinal bout
Brad Katona def. Carlos Vera – quarterfinal bout
Rico Disciullo def. Hunter Azure – quarterfinal bout
Brad Katona def. Timur Valiev – semifinal bout
Cody Gibson def. Rico Disciuloo – semifinal bout
Brad Katona vs Cody Gibson – final
Lightweight Tournament
Roosevelt Roberts def. Nate Jennerman – quarterfinal bout
Austin Hubbard def. Aaron McKenzie – quarterfinal bout
Kurt Holobaugh def. Lee Hammond – quarterfinal bout
Jason Knight def. Landon Quinunes – quarterfinal bout
Austin Hubbard def. Roosevelt Roberts vs – semifinal bout
Kurt Holobaugh def. Jason Knight – semifinal bout
Austin Hubbard vs Kurt Holobaugh – final
Episode 1 (May 30)
McGregor and Chandler started with some trash talk. Chandler offered that they could even fight at 185 lbs if that suits McGregor. They pick up their teams and rankings in the tournament. Nate Jennerman vs Roosevelt Roberts is the first fight of the season. Jennerman discussed his family being gangsters and how his life was salvaged with his finding MMA. Roosevelt took a look back at his UFC career before he was released from the promotion. McGregor does not appear for the weigh-in for the first fight where both fighters make the weight.
Roosevelt Roberts defeated Nate Jennerman via TKO in round 1.
Episode 2 (June 6)
Timur Valiev is supposed to fight Trevor Wells and discuss that he would not be intimidated by Wells being a Dagestani fighter. Jeff Mullen from Nevada State Athletic Commission informed Chandler that Wells has got a sore throat and cold, and was benched until next week. Valiev did not want to cut weight for a second week in a row if the bout was postponed. Dana White said that he would change the bout to catchweight if Wells would be cleared. Mando Gutierrez and Cody Gibson would take place this week instead. McGregor got a haircut from Gutierrez and they talked for a while after it. Gibson was revealed to be adopted and bonded with Chandler since he also adopted two kids.
Cody Gibson defeated Mando Gutierrez via TKO in round 1.
Episode 3 (June 13)
Team McGregor's Aaron McKenzie(current LFA Lightweight Champion) fought Team Chandler's Austin Hubbard(former LFA Lightweight Champion) in a lightweight quaterfinal. McGregor talked about McKenzie's calmness in the octagon. Hubbard talked about his family issues and his previous stint in UFC where he went 3-4 before being released. Chandler says Hubbard is more well-rounded fighter than McKenzie and deserves it more. We saw McGregor bringing in a young boy, Samuel Romero, who makes his own action figures. McGregor buys some of the action figures for $1,200 to Samuel's disbelief. At the weigh-in, Hubbard weighed at 156 pounds while McKenzie came in at 155.5.
Austin Hubbard defeated Aaron McKenzie via unanimous decision.
Episode 4 (June 20)
This episode saw the match between Trevor Wells and Timur Valiev taking place after it was cancelled on episode 2. However, it was not without much drama. Dana White had said that the match can be at different weight now that both fighters made weight the first time after Wells was pulled out due to sore throat. Michael Chandler proposed the fight to take place at featherweight but Conor McGregor was adamant on actual bantamweight. Stephen "Wonder Boy" Thompson came to McGregor's camp to assist in training the team. Both camps met for weight negotiations but McGregor did not appear and sent his coach and trainers instead. The discussion went nowhere. Dana White later declared that the fight will be at 142 lbs catchweight.
 Timur Valiev defeated Trevor Wells via unanimous decision.
Episode 5 (June 27)
McGregor added a 500-meter time trial contest on a row machine. Aaron McKenzie topped the contest with a time of 1:38. Chandler and his coach Robert Drysdale had a conversation about Brad Katona refusing to spar with some members of his team. Katona asked Chandler why they are not doing tape study for his next fight. Chandler replied that they will do it in fight week. Katona said then they would not have much time to incorporate specific drills. More problems with Katona as he later took long time to chat with Team McGregor's coach John Kavanagh. Later, Kavanagh told her team member Carlos Vera that he would not help him train for the fight against Katona.
 Brad Katona defeated Carlos Vera via unanimous decision.
Episode 6 (July 4)
McGregor worked with his longtime teammate Lee Hammond and taught him a combination that McGregor called nose-breaker. Chandler takes his teammate Kurt Holobaugh through physical and mental training along with visualization of the fight. McGregor missed weigh-in once again, but both fighters made weight successfully.
 Kurt Holobaugh defeated Lee Hammond via submission in round 2.
McGregor was livid after Holobaugh's sudden turnout to get the win. He ended up shoving Chandler which led to a bit of scuffle. Dana White got into the octagon to separate them.
Episode 7 (July 11)
In their camps, both teams discussed last week's altercation between McGregor and Chandler. McGregor was pumped up in his session with Landon Quinones and sent him down with a kick to midsection. Jason Knight suffered a cut over his eyes. Chandler tells Knight to show off his injury to Quinones for some mental warfare. Cody Gibson went to medical to get his knee checked. It turned out to be a grade MCL tear which requires 8 weeks to heal. But. Gibson opted to continue in the tournament.
Jason Knight defeated Landon Quinones via submission in round 1
Episode 8 (July 18)
In the wake of his defeat, Landon Quinones goes to Jason Knight who tells him to be good at everything if he wants to paint a masterpiece. Team McGregor was looking to avoid a clean sweep with this week's fight. Dana White also indicated some rules would need to be tweaked if a clean first-round sweep takes place. Rico DiSciullo of Team McGregor said he loves being an underdog. Chandler was also very confident of Hunter Azure's win.
Rico Discullo defeated Hunter Azure via knockout in round 2.
McGregor danced around in the cage as he celebrated avoiding a clean sweep. Chandler's coach was not happy with this antics. Discullo asked for a ride in McGregor's Lamborgini, and McGregor surprisingly handed him the keys.
Episode 9 (July 25)
Semifinal line-up was revealed after the teams returned from training. Jason Knight decided to switch to Team McGregor as he trains with John Kavanagh outside of the tournament anyway. Chandler divided coaches into team members who would be competing against each other in the semifinals. He would have minimum interactions with them. McGregor appeared and cooked an Irish stew. Roosevelt Roberts and Austin Hubbard got a phone call with their family as they prepare for the semifinal bouts. Hubbard missed the weight by a quarter of a pound and decided to get his hair trimmed instead of cutting more weight.
Austin Hubbard defeated Roosevelt Roberts via split decision
Dana White was unimpressed with the fighters as they did not go for a finish.
Episode 10 (August 1)
Brad Katona switched from Team Chandler to Team McGregor, and said his goodbyes to the camp. Lightweight Champion Islam Makhachev came to support Timur Valiev. Both fighters got a 10-minute video call to their family.
Brad Katona defeated Timur Valiev via split decision
Episode 11 (August 8)
We get to know Knight and Holobaugh were supposed to fight 10 years ago in independent scene, but the fight was called off after Knight got into a car accident. They promised a "hell of a fight". Chandler analyses the fight and says it was very close. Chandler and McGregor take the ice bath challenge where they had to answer to trivia questions. McGregor won the challenge 16-14 and won $10,000 which would be distributed to his team members. The fighters for the night get their family phone calls.
Kurt Holobaugh defeated Jason Knight via TKO in round 2.
Both fighters get high praise from Dana White, McGregor and Chandler alike for a great fight.
Episode 12 (August 15)
McGregor trained one-on-one with Rico DiSciullo in his preparation for the semifinal match. Both teams joined in host a catfish bowl. McGregor took his team to dinner at Hank's Fine Steaks & Martinis. Carlos Vera gave a toast thanking the coaches. McGregor handed out $1000 in casino chips to all the fighters as the prize from coaches' challenge. We hear from Cody Gibson on how his knee injury affected his training for the fight. Brad Katona and Gibson got into a big argument after someone left a note in the kitchen saying, "F### you, Brad". DiSciullo and Gibson got a video call to their families.
Cody Gibson defeated Rico DiSciullo via submission in round 1
DiScuillo blamed his loss on the slip early in the round which allowed Cody to lock him up on the mat. This was followed by face-offs between lightweight and bantamweight finals, as well as a face-off between McGregor and Chandler.