UFC 285: Valentina Shevchenko vs Alexa Grasso Live Blog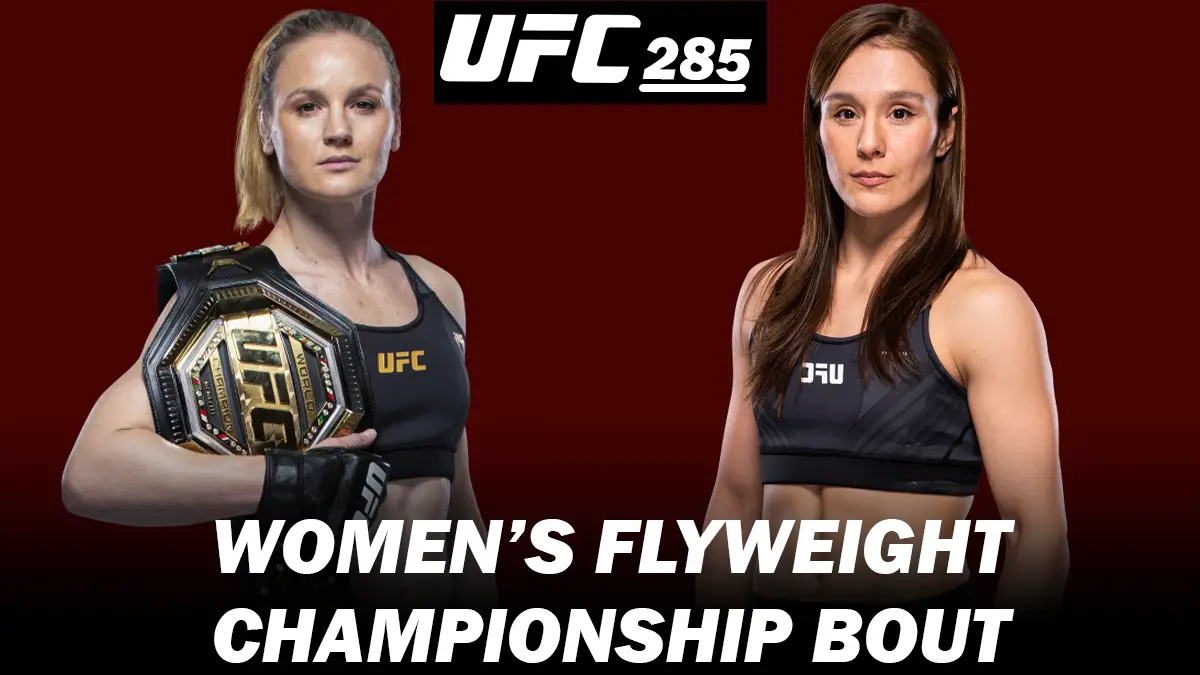 We will be live here as Valentina Shevchenko faces Alexa Grasso to defend UFC Women's Flyweight Championship in the co-main event of the UFC 285 PPV event.
This will be Shevchenko's eighth title defense in a row in her 4 years long title reign. Since winning the vacant title against Joanna Jędrzejczyk at UFC 231 in December 2018, Shevchenko has been unstoppable. She has wins over big names such as Jessica Eye, Liz Carmouche, Jennifer Maia, and Jéssica Andrade during this reign.
But the closest someone has come to beating her was in her last title defense against Talia Santos at UFC 275, where Shevchenko survived via a split decision. Have we seen a chink in Shevchenko's armor after all? Alexa Grasso would like to think so and might try to get on the weakness shown by Shevchenko in her last bout. Grasso herself is on a 4-fights winning streak with wins over Kim Ji-yeon, Maycee Barber, Joanne Wood, and Viviane Araújo. Will she be able to carry on with the momentum?
To find out, check below as we post a play-by-play live blog and round-by-round updates from Valentina Shevchenko vs Alexa Grasso bout from UFC 285 PPV co-main event.
Live Updates
We are into the video package for the co-main event now. The challenger is walking out first for the fight. She hugs her team before getting into the cage. Shevchenko has stoic expressions as she walks out. Bruce Buffer gets the intro going. Jason Herzog is the referee. The fight commences after the referee gives his final instructions.
Both women are cautious to start. Grasso reaches out for the first shot but Valentina keeps her at distance with a counter. Shevchenko lands a spinning back fist after jabs from both sides. Grasso looks for low kick. Valentina goes for a spinning back kick but misses. The crowd gets behind the champion. Grasso lands another inside leg kick. Valentina coutners another one with a jab. Quick exchange and Grasso lands a good right during the exchange which also included a flush jab from Valentina and an inside calf kick from Grasso.
Valentina tries to push her with a jab but Grasso lands a right. Grasso connects a combo from her left to get the crowd going. Valentina hits inside calf kicks to keep Grasso back. Valentina goes for a high kick but Grasso keeps her guard in place. Valentina ducks a swing and grabs Grasso before hitting a forearm. The champ lands a body kick. Grasso manages a takedown but Valentina gets back up quickly. Grasso pushes her into the cage before getting to her back. Grasso ends the round on top.
Grasso is in southpaw stance. Valentina ducks her jab and gets a takedown. She gets the half guard on but is unable to get the complete control. Grasso tries to fire her shots from the mat. She wraps her legs around Valentina and tries to choke her. Valentina is firing her punches though. Valentina slides over and goes for a crucifix. Valentina keeps working Grasso with punches in between her attempts for a submission. Valentina gets one of the arm trapped in between her legs.
Grasso uses the fence to roll over and pushes Valentina away. She lands a couple of punches as the third minute of the round ends. Valentina is keeping her distance. Grasso changes from orthodox stance to southpaw. Grasso misses a high kick. Valentina also throws a front kick but misses. Grasso misses with a spinning back kick. Grasso manages to throw rights to push Shevchenko to the cage. Shevchenko gets another takedown in counter with 35 seconds to go in the round. Grasso fires in punches to her ribs. Valentina keeps her pinned to the mat as the round ends.
Grasso pushes the champ back by attempting some jabs. Shevchenko lands a jab. Grasso also lands after a few seconds. She counters with another left. Shevchenko has also changed her stance to southpaw as they trade shots. Grasso stuns the champ with a left. Valentina lands high kick, but it does not connect well. Grasso blocks a couple of jabs with her guard as she changes to orthodox stance. This gives Valentina a chance to get another takedown. She gets in the half guard position.
Grasso tries to fire her shots from the mat while Valentina tries to pin her to the mat. Valentina fires shots to ribs and face. Both women fire their shots while Valentina keeps her position on the top. Valentina fires more punches. We enter the final minute as the referee separates them citing inactivity. Valentina goes for another takeodwn but Grasso escapes it. She goes for a kick when Shevchenko is on the mat. They tussle on the mat and Grasso manages to get the front headlock in the final seconds of the round.
Grasso goes down a level and tries to fire a shot. Valentina goes for a high kick. Grasso blocks a takedown attempt. She pushes Valentina back with an outside calf kick from orthodox stance. Both women take the southpaw stance now as they trade shots. Neither women is able to connect much for the first two minutes. Grasso lands a jab and Shevchenko lands a knee. Grasso staggers her to her knees with a jab. Another period of neither women being able to land anthing before Grasso goes for a takedown. Grasso pushes Shevchenko to the cage and gets a clinch on. They return to middle as we get into the final 90 seconds. Shevchenko gets through the guard with a punch. Shevchenko goes for a spinning back fist but Grasso counters by getting her in a rear naked choke. The choke is on the chin though. Grasso keeps working and is able to get the choke on the neck and Valentina taps out.
Alexa Grasso wins via submission(rear-naked choke) at 4:34 in round 4.