Patricio Freire vs Chihiro Suzuki Added to Super Rizin 2 Card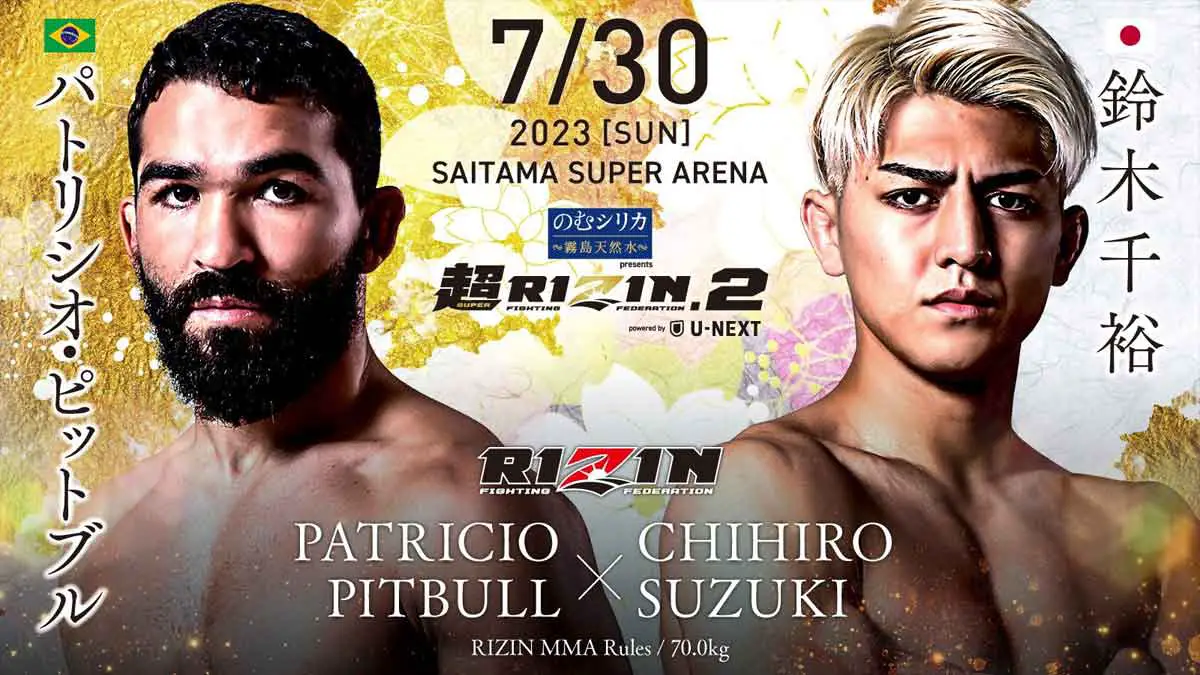 There is a late addition Super Rizin 2 card as Bellator Featherweight Champion Patricio Pitbull will face Chihiro Suzuki.
Bellator MMA and Rizin FF held a joint press conference on Tuesday night where the bout was announced. Due to it being a late addition, it will take place at a catchweight of 154 pounds. Roberto de Souza vs Patricky Pitbull fight for Bellator x Rizin 2 was also announced at the same press conference.
💥緊急決定カード💥
のむシリカ presents#超RIZIN2 powered by #UNEXT

🟥パトリシオ・ピットブル@PatricioPitbull
Bellatorフェザー級王者
ーーー🆚ーーー
🟦鈴木千裕 @Chihiro__0514
初代KNOCK OUT-BLACK王者

📅7/30(日)12:00~
📡お得なPPV前売りチケット発売中⚡️https://t.co/YtJp7nBLDc pic.twitter.com/4Aho8MUkdH

— RIZIN FF OFFICIAL (@rizin_PR) July 26, 2023
Patricio Pitbull has won three fights and lost two in his five recent bouts. Freire's recent bout was against Sergio Pettis at Bellator 297 event for Bellator Bantamweight Championship, where he lost by unanimous decision.
Chihiro Suzuki is on a seven-fight winning streak. Suzuki's recent bout was considered a no-contest against Kleber Koike Erbst at the RIZIN 43 event. Chihiro Suzuki has defeated Marcos Ríos, Yoshiki Nakahara, and Masakazu Imanari to continue the streak.
Super Rizin 2 event will follow Bellator x Rizin 2 event on July 30, 2023, at Super Saitama Arena in Tokyo, Japan. It will feature vacant Rizin FF Featherweight title bout in the main event between Mikuru Asakura and Vigur Karamov.