LFA 133: Stack vs Delano Results, Fight Card, Start Time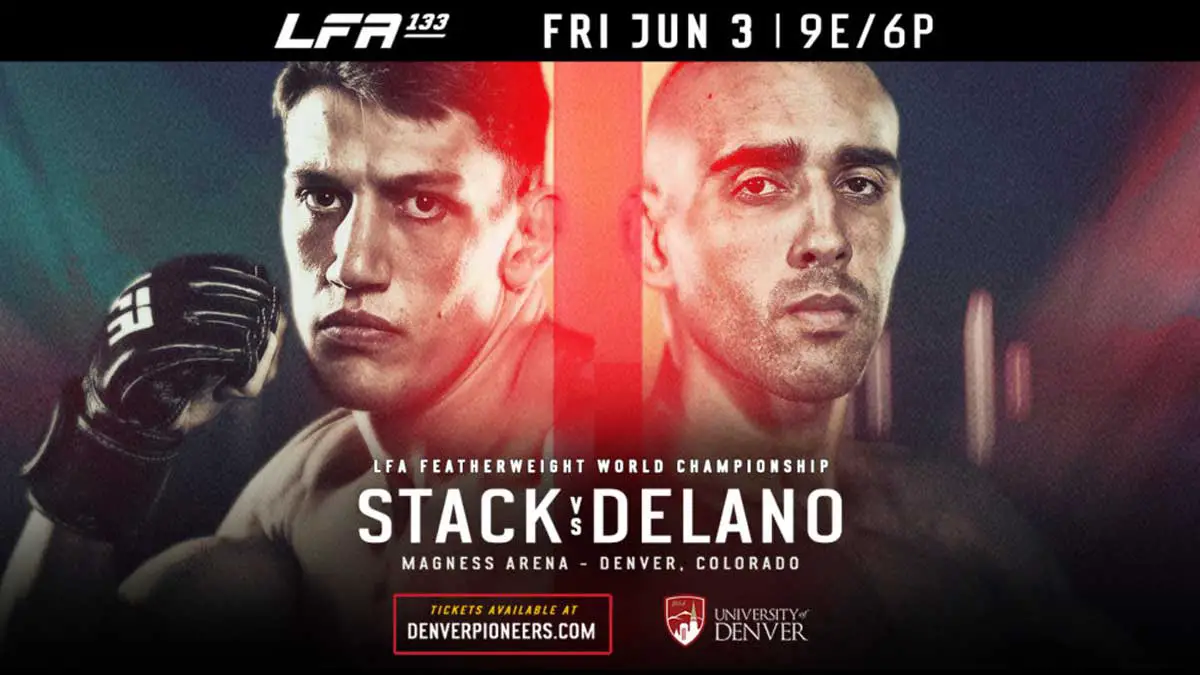 LFA will present LFA 133: Stack vs Delano event on June 3, 2022, at Magness Arena, Denver, CO.
The main event will feature a featherweight fight between Michael Stack(7-1) and José Delano (10-2) where the title will be on the line for Stack after Delano missed weight in the weigh-in.
Stack has been on a three bout winning streak while Delano has also won his last 9 bouts along with the one in his LFA debut. Who will continue his winning streak?
Three welterweight bouts will take place before the main event – Haris Talundžić vs Bahatebole Batebolati, Benjamin Bennett vs Trey Waters and Ryan Charlebois vs Jeremiah Curtright. Jacobi Jones vs Riley Wiseman lightweight bout and Ben Tynan vs Trevor Wallace heavyweight bout will complete the main card.
The main card will stream on UFC Fight Pass from 10 PM EST onwards. The prelims will have 7 bouts, but will be unaired.
Check here for the complete results from LFA 133: Stack vs Delano event with fight card, start time and more details.
Results & Card
Main Card
José Delano defeated Michael Stack via unanimous decision (50-45, 49-46, 50-45) – LFA Featherweight title bout on the line only for Stack
Haris Talundžić defeated Bahatebole Batebolati via unanimous decision (30-26, 30-26, 30-26) – Welterweight bout
Trey Waters defeated

Benjamin Bennett via KO at 4:37 of round 3 – Welterweight bout

Jeremiah Curtright defeated Ryan Charlebois via disqualification at 3:15 of round 1- Welterweight bout
Jacobi Jones defeated Riley Wiseman via TKO at 2:09 of round 1 – Lightweight bout
Ben Tynan defeated Trevor Wallace via submission at 1:33 of round 1 – Heavyweight bout
Prelims
Jota Ninomiya defeated Ricky Field via TKO at 0:34 of round 1 – Featherweight bout
Llorrvic Acevedo defeated Aasin Liberato via submission at 4:36 of round 1 – Flyweight bout
Frankie Sanchez Jr defeated Joe Stafford via TKO at 0:55 of round 2 – Flyweight bout
Miguel Perez defeated Mike Mazariego via submission at 4:04 of round 1 – Flyweight bout
Luis Gurule defeated A. Valenzuela via TKO at 1:16 of round 1 – Catchweight 130 lbs bout
Jeremiah Humphrey defeated

David Evenson via TKO at 2:59 of round 2 – Lightweight bout

Iaian McGhee defeated Cody Jerabek via submission at 0:56 of round 1- Middleweight bout