UFC 282: Jan Blachowicz vs Magomed Ankalaev Live Blog, Play-by-Play updates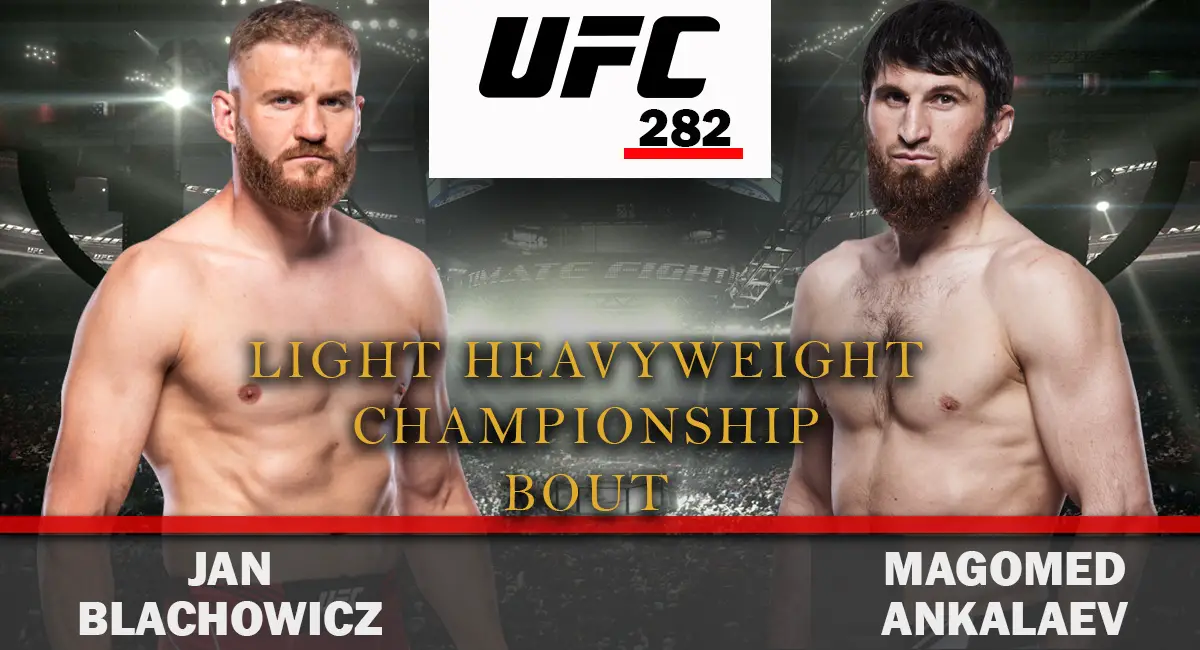 Two top-rated Light Heavyweights get an unexpected title shot as Jan Blachowicz and Magomed Ankalaev battle it out in the main event of UFC 282.
The original main event was Jiri Prochazka vs Glover Teixeira 2 fight, but an injury to Prochazka threw that bout out of question. The co-main event bout was then promoted to the main event for the vacant title.
Blachowicz gets a second chance to win the title after losing it to Glover Teixeira last year at UFC 267. He comes into this bout with a win over another top contender in Alexander Rakic since that loss to Teixeira. Ankaleav gets his first shot at the title, which many believed is a long time due. He has won 9 bouts in a row since his last-minute accidental loss in his UFC debut. Which men will come on top?
Tune in as post a live blog with round-by-round and all the exciting play-by-play action from Jan Blachowicz vs Mageomed Ankalaev bout for UFC Light Heavyweight Championship from UFC 282.
Live Updates
Ankaleav starts in a southpaw position. Blachowicz starts with a calf kick to his right leg. He follows up with a couple of more kicks 20 seconds later. Ankaleav fires a front kick to his abdomen. Jan hits more kicks. Ankaleav lands a counter right after a few seconds. Ankaleav lands a jab and steps back to dodge a counter. Jan charges with a combination before Ankalaev counters. Ankalaev kicks at Jan's thighs. Jan replies with a calf kick. Jan hits an inside kick after a while.
They dodge each other's swings. Jan connects a jab and avoids a counter. Ankalaev's eye is swelling. Ankalaev tries a couple of kicks but Jan blocks it. Jan hits a kick to the midsection. Ankalaev counters with punches and follows up with kicks. Blachowicz attacks the lead leg again before Ankalaev throws another front kick. The round ends with both men quite reserved.
Ankalaev lands a high kick as they start the second round with more urgency. Blachowicz lands a body kick after a few seconds. Blachowicz once again lands a calf kick before connecting with a right hand. Ankalaev misses a high kick after Jan lands a left hook. Jan lands a right after both men feints a kick. Jan lands inside calf kick but Ankalaev misses his front kick. Ankalaev then lands an inside calf kick. Jan hits more calf kicks. He dodges a counters. Jan lands some quick combination punches.
Ankalaev throws a left at him before Jan hurts him with another inside kick. Ankalaev staggers a bit on that connection. Ankalaev throws kicks to body but Blachowicz manages to staggers him with more low kicks. Ankalaev gets into a clinch as he attempts a takedown. Blachowicz defends well and returns to the middle. Ankalaev changes his stance to orthodox now. Jan lands low kicks to Ankalaev's left leg now. Ankalaev lands an uppercut. More kicks from Jan. Ankalaev pushes Jan to the cage to end the round.
Jan lands a left punch before hitting more inside kicks. Jan blocks a front kick before landing a body kick before another low kick. Ankalaev lands a big right. He follows up with a jab. He misses a big uppercut before landing another jab. Jan lands a kick on body. Ankalaev touches a front kick to chest. Jan lands some stiff kicks on left calf. Ankalaev goes for a takedown again but Jan only gets pinned to the cage.
Ankalaev lands a few knees but those do not have much power. Ankalaev goes for an uppercut as they were breaking up. They trade some shots before Ankalaev goes for a takedown again. We get a pause due to an accidental knee to groin from Ankalaev. Ankalaev starts to throw some quick shots and pushes Jan to get the cage again. Ankalaev manages a takedown in the dying seconds of the round.
Ankalaev pushes Jan back with a some big swings. Jan feints a low kick. Ankalaev closes distance but catches an uppercut. He goes for a takedown and pins Blachowicz to the cage to land some knees and body shots. They continue to be in clinch for a while. Jan breaks away and lands a right. Ankalaev completes a convincing takedown and gets in a half guard. Ankalaev tries to get things under control on the mat. He manages to get on his back for a choke but Jan gets his hands up to avoid a choke. Ankalaev continues to work with punches and elbows. Jan lands a stiff elbow shot. Ankalaev gets on the front again and lands more shots over his body. He turns some elbow shots to the face. Ankalaev lands a couple of big punches before getting up to his feet with just seconds left in the round.
Jan slips up and Anaklaev is quick to put him on his back. Anaklaev pins Jan to the mat now and tries to get his plan going. Jan tries to reach for a kimura lock but Anaklaev pins hand under his leg. Jan gets his hand free but Anaklaev still keeps him on the ground. Anaklaev gets in position to land punches. More big shots from Ankalaev as Jan is not in good position to defend. Anaklaev lands shot after shot for a while. He goes for a head and arm choke but Jan is not letting him get it on. Anaklaev is staying busy with punches and elbows. Anaklaev keeps Jan pinned to the mat for the rest of the round and continues to land on his face. Anaklaev ends the round on the top and reacts like he has won it.
The bout is declared a split draw(48-47, 46-48, 47-47).