Jan Blachowicz vs Alex Pereira UFC 291 Live Blog, Play by Play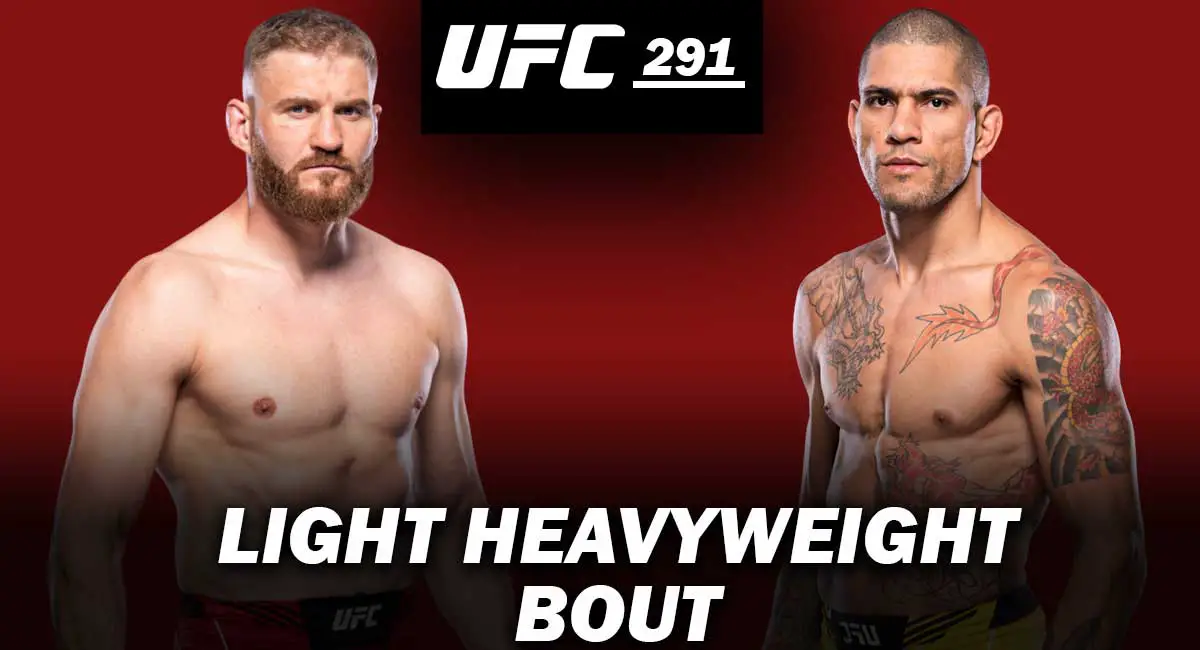 Welcome to the live blog as Jan Blachowicz vs Alex Pereira light heavyweight bout in the co-main event of UFC 291 PPV.
Both fighters have been former UFC champions but in different divisions. Blachowicz is a former UFC Light Heavyweight Champion and was coming off a hard-fought draw against Magomed Ankalaev. Before that, Blachowicz beat Aleksandar Rakić, which was his first bout since losing the title to Glover Teixeira.
Alex Pereira was coming off fresh from losing UFC Middleweight title to Israel Adesanya. He was moving up to the light heavyweight division with this bout. This was just his sixth UFC bout and he was already in contention for a title in second division with a win here. Was he able to secure that title shot?
A Light Heavyweight title shot is ON THE LINE!@JanBlachowicz vs @AlexPereiraUFC in tomorrow's #UFC291 co-main 🔥

[ Live on ESPN+ PPV: https://t.co/aahJK2CsRA ] pic.twitter.com/eBgyvVLkI5

— UFC (@ufc) July 28, 2023
Tune in below as we post live updates for Jan Blachowicz vs Alex Pereira light heavyweight bout from UFC 291 co-main event with live play-by-play and round-by-round updates.
Live Updates
Round 1: Shots attempted from both sides but Jan quickly attempts a takedown. Pereira defends it and gets closer to the cage. The next 10-15 seconds pass by before Pereira puts on a standing guillotine choke. Jan is calm though. He keeps attempting a takedown. Pereira starts to use his knee strikes. Jan is finally able to get him down to the mat. Pereira has done a good job of not allowing him to do anything until now. Jan gets on his back as he turns on his back. Jan puts on a choke but he is not able to get the proper grip. Pereira puts him on side. Jan gets back on the centre of his back. He is back to the right side as he continues to attempt the choke. Jan gets the choke once again after adjusting his position. He lets the choke go and makes Pereira carry his weight for the rest of the round.
---
Round 2: They restart on feet. Pereira fires calf kicks and Jan replies with the same. Pereira attempts a jab before resorting back to calf kicks. Jan also lands a low kick. Pereira staggers Jan with a calf kick. Jan catches him with right hook and a left jab. Jan takes him down to the mat again. He is in half guard position. Pereira gets to the cage and tries to break free. But Jan has got more than a minute of control time already when Pereira gets back to his feet. He is still against the cage though. Jan lands a knee strike while keep attempting to keep Pereira on the cage. Pereira lands a high kick and jabs. Jan goes for another takedown but Pereira avoids it. He lands another right. Pereira keeps his distance and lands a big uppercut before more jabs in the follow-up. Jan is exhausted. Pereira lands another big right just before the bell.
---
Round 3: Pereira lands a couple of body jabs to start. Both men attempt low kicks. Pereira lands an outside calf kick before Jan lands combo shots on the body. Pereira attempts more jabs at the body. Both men attempt shots but do not land anything big. Jan is the more exhausted one. He attempts another takedown but Pereira blocks it. Pereira attacks the lead leg but Jan fires back with a combo. Pereira lands a good jab as we get into the final 100 seconds. Pereira lands more low kicks. Jan lands a good combo but Pereira catches him with a good counter. Jan gets a takedown with 40 seconds left. Nothing much happens on the mat though.
---
Official Decision: Alex Pereira won via split decision(29-28, 28-29, 29-28).