Israel Adesanya vs Sean Strickland UFC 293 Live Blog Updates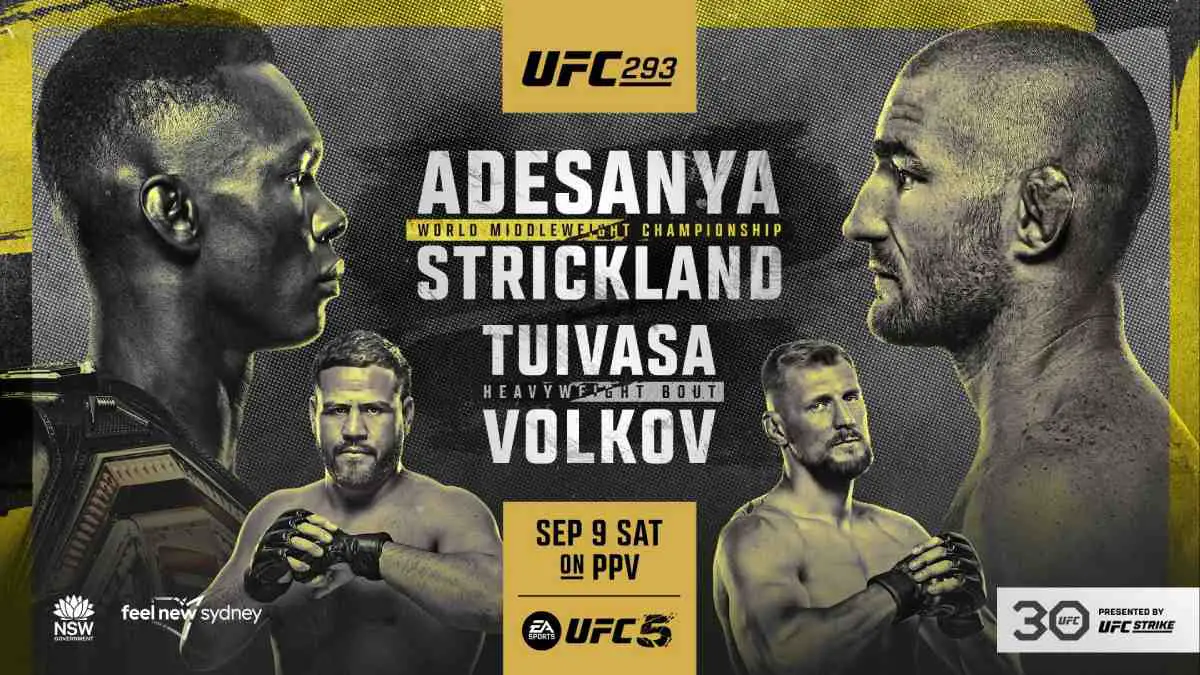 Welcome to the live blog as Israel Adesanya and Sean Strickland clash in the main event of UFC 293 PPV with the Middleweight Championship on the line.
This will be the first title defense for Israel Adesanya in his second title reign. He won the title back from Alex Pereira at UFC 287, bouncing back from his second career loss at UFC 281. This will be Adesanya's 6th middleweight title defense overall against six different opponents.
Sean Strickland would not have thought at the end of last year that he would get a title shot this year. He lost to Alex Pereira in July 2022 before a controversial decision went against him vs Jared Cannonier. However, he bounced back just one month later to get a win over Nassourdine Imavov before a win over Abusupiyan Magomedov put him high in the rankings. With Dracius Du Plessis' withdrawal, he finds himself in the title match. Will he be able to get an upset here?
The final faceoff is upon us 🤬🏆@Stylebender vs @SStricklandMMA #UFC293 | Tomorrow | Live on ESPN+ PPV: https://t.co/X3HkEdBjIb pic.twitter.com/Bz9Oc2lrOg

— UFC (@ufc) September 8, 2023
Tune in below as we post live updates for Israel Adesanya vs Sean Strickland UFC Middleweight bout in UFC 293 main event with live play-by-play and round-by-round updates.
Live Updates
Round 1: Adesanya attempts a kick but Sean catches it. Adesanya pulls it away quickly. He attempts a kicks to the ribs. Both men are cautious as they are looking to find their distance. Adesanya attempts a jab. Sean throws calf kick after feinting a jab. Sean defends a high kick. Sean is the one pushes Izzy back until now. Sean goes for some quick jabs but only one of them connects. He catches the leg once again but Adesanya does not go down.
Sean is constantly keeping his hands up and blocks a few jabs. Izzy hits him with calf kicks, both on inside and outside. Sean lands a good punch. Israel counters with a jab. Sean puts Izzy to the corner and lands another shot. Sean checks a calk kick. Izzy goes for a high kick but Sean defends it. Sean drops Izzy with a big right and gets on him to land a barrage of strikes. Izzy is running away but Sean gets him against the wall. Izzy has his face into the cage and Sean has to land shots on his back. Izzy gets to the middle to survive just before the round ends.
Round 2: Izzy starts with a high kick. Sean avoids a few low and high kicks. He blocks another high kick. Izzy lands an outside cal kick. Sean invites jabs and counters with a couple himself. He defends another high kick. Izzy is throwing more things in this round, but nothing significant is landing. Sean lands a clean right. He attempts a couple of straight jabs. Izzy lands a couple of rights. Sean throws a front kick but Izzy gets back. Israel lands a jab and a low leg kick. Izzy ducks a right and lands a shot to the body. Sean lands another straight jab. Israel lands a big right when Sean went for a low kick as the final minute starts. Sean lands a straight right. Izzy throws a body kick. Sean ends the round with a couple of jabs.
Round 3: Izzy attempts a high kick. Sean checks a low kick. Israel continues to land low kicks. Sean throws a front kick. Israel fires more body kicks which Sean deflects. Israel mixes up with low kick and a jab. Sean is defending very well so far. The fight is gone into a pattern of Israel trying and Sean defending with very few attacking. Izzy lands a right and Sean counters with one himself. Sean lands a couple of clean jabs. They get into an exchange as the final minute starts. Israel attempts a big swing but it just grazes off as Sean ducks it. Sean lands a good job. Izzy spends the final few seconds avoiding.
Round 4: Sean is pushing Israel back again. Izzy feints a low kick and lands a punch upwards. Sean blocks another high kick. More blocks from Sean. He throws front kicks and then lands a straight right. Izzy attempts a combo but Sean lands a big right hook. Sean lands more punches in the following seconds. Israel recovers and lands a body kick. Sean lands more jabs. Israel's high kick is blocked. Sean blocks another kick and lands his punches in quick succession. Israel lands a right hook. He hits another counter jab. Strickland hits front kicks now. Izzy is on the backfoot for the most part of this round. Final minute starts with an exchange. Sean lands a counter left. He finishes the round with a kick to the body.
Round 5: The final round starts. Israel lands a low kick but finds himself on the backfoot once again. Izzy is trying to get more urgent now with throwing more leg kicks. He catches Sean's arm with a loaded punch. Sean hits a couple of punches before defending well. A front kick pushes Izzy back. Sean blocks another high kick. Sean is defending better and better in the final round. Izzy attempts a left hook. Sean lands a front kick. Israel lands a good right before Sean hits a jab seconds later. Israel lands a left jab. Sean lands a couple of more jabs. Israel lands a jab before Sean lands a right hook. The final minute starts with a front kick from Sean while Israel is just backing up. Sean lands a good right while Izzy is backing up. Strickland lands some good jabs in the final 20 seconds. Strickland ends the fight on a high.
Official Decision Sean Strickland won via unanimous decision(49-46, 49-46, 49-46).