Glory 86: Petch vs Mouse Results Live, Card, Start Time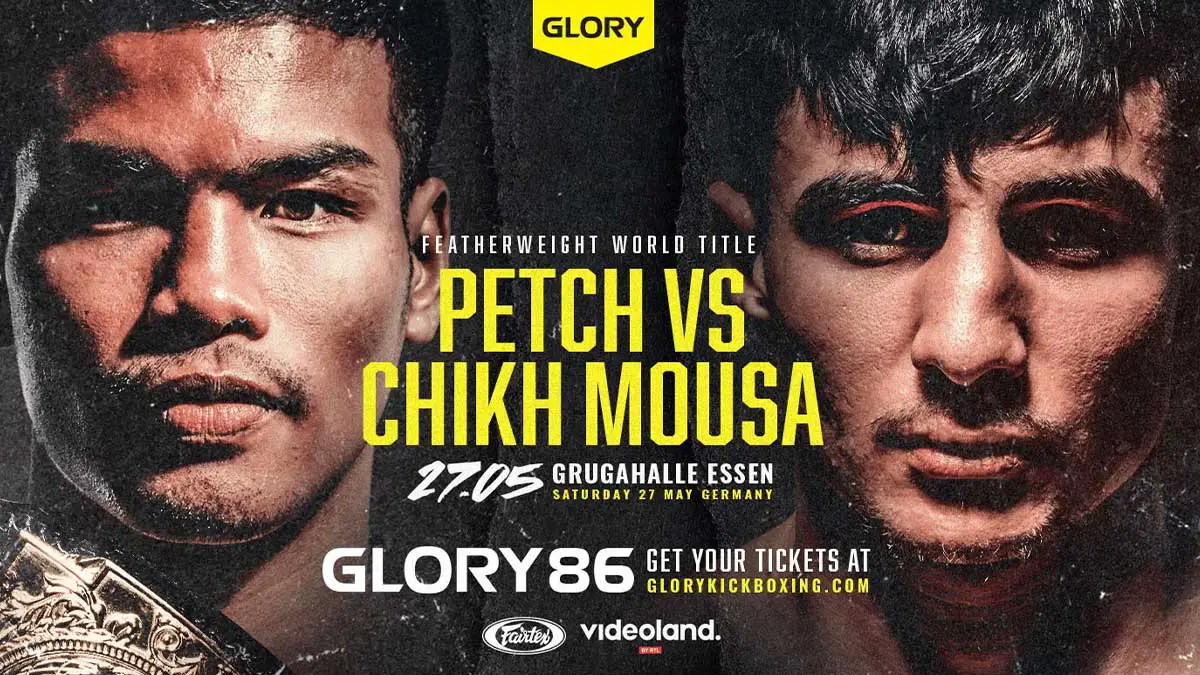 Glory Kickboxing returned with GLORY 86 event which aired live stream from Grugahalle in Essen, Germany on Saturday, May 27.
The card was headlined by a Featherweight Championship bout between the reigning champion Petchpanomrung taking on no. 4 ranked contender Ahmad Chikh Mousa, who hails from Germany. Petchpanomrung lost to Tyjani Beztati at Glory 84 in his last bout, but that bout was for 154 lbs title. He had a chance to restore his reputation back in featherweight division in his opponent's backyard.
The event started from 2 PM ET and you can check complete results live from GLORY 86: Petch vs Mousa event with complete fight card below. The co-main event was a heavyweight bout between Benjamin Adegbuyi and Sofian Laidouni. The bout was considered a showcase bout for a spot in the World Grand Prix.
RESULTS
Uku Jurjendal def. Mantas Rimdeika via KO in round 1- Heavyweight Bout (Watch Video)
Juri de Sousa def. Joilton Lutterbach via unanimous decision – Middleweight Bout
Chico Kwasi def. Robin Ciric via unanimous decision – Welterweight Bout
Sarah Moussaddak def. Giuliana Cosnard via unanimous decision – Bantamweight Bout
Enriko Kehl def. Guerric Billet via unanimous decision – Lightweight Bout
Bahram Rajabzadeh def. Luis Tavares via KO in round 1 – Heavyweight Bout
Sofian Laidouni def. Benjamin Adegbuyi via unanimous decision – Heavyweight Bout
Main Event: Petchpanomrung(c) def. Ahmad Chikh Mousa via unanimous decision – GLORY featherweight Championship Bout