Bellator 281: MVP vs Storley Results, Card, Weigh-In, Time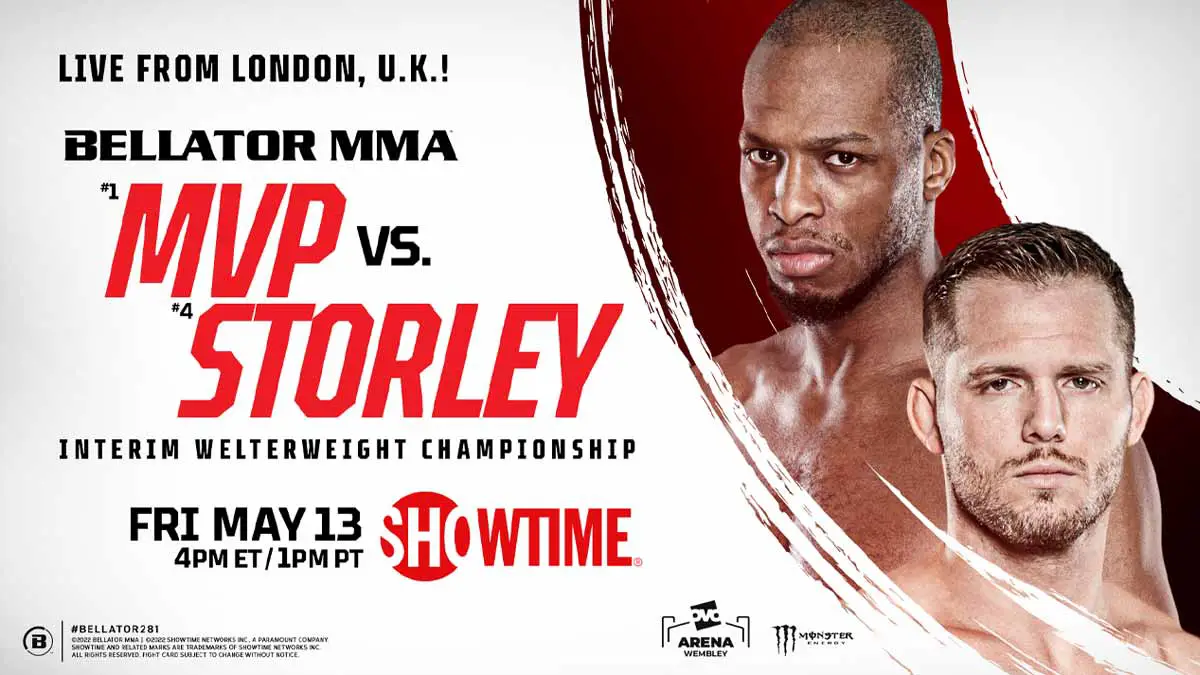 Bellator 281: MVP vs Storley event will see an interim Welterweight title bout. The event will air on May 13 from SSE Arena in London, UK.
Bellator Welterweight Champion Yaroslov Amosov was supposed to defend his title against the #1 contender Michael Page(MVP). But, he is unable to compete due to his involvement in the Ukraine War. MPV will now face #4 ranked welterweight Logan Storley in an interim title bout.
Page has been undefeated for 3 years now since he lost to Douglas Lima in May 2019. He has won 6 bouts since then, which includes defeating Lima in his last bout at Bellator 267. Storley has also won his last two fights after he lost to Amosov in November 2020. He steps back into the cage just 3 months after beating Neiman Garcia at Bellator 274.
Lyoto Machida takes on Fabian Edwards in the co-main event middleweight bout. From the women's flyweight division, Denise Kielholtz takes on Kana Watanabe. Paul Daley vs Wendell Giacomo Welterweight bout and Luke Trainer vs Simon Biyong Light Heavyweight bout will complete the main card.
Check here for the complete details from Bellator 281: MVP vs Storley event with results, weigh-in updates, complete fight card and more information.
Results & Card
Main Card
Logan Storley defeated Michael Page via split decision. (48-47, 47-48, 49-46)- Interim Welterweight Title Bout Main Event
Fabian Edwards defeated Lyoto Machida via KO 3:18 of Round 1 – Middleweight Bout Co Main Event
Kana Watanabe defeated Denise Kielholtz via submission at 3:03 of Round 2 – Women's Flyweight Bout
Paul Daley defeated Wendell Giacomo via KO at 4:09 of Round 2 – Welterweight Bout
Simon Biyong defeated Luke Trainer via unanimous decision (29-27, 28-27, 29-28)- Light Heavyweight Bout
Prelims
Daniel Weichel defeated Robert Whiteford via KO at 1:12 of Round 1 – Featherweight Bout
Elina Kallionidou defeated Kate Jackson via TKO at 4:53 of Round 2 – Women's Flyweight Bout
Oliver Enkamp defeated Mark Lemminger via submission at 0:25 of Round 3 – Welterweight Bout
Alfie Davis vs Tim Wilde ended in a majority draw (29-27, 28-28, 28-28) – Lightweight Bout
Andrew Fisher defeated Attila Korkmaz via unanimous decision (29-28, 29-28, 29-28)- Featherweight Bout
Charlie Ward defeated Alan Carlos via unanimous decision (30-27, 30-27, 30-25) – Catchweight bout
Maciej Rozanski defeated Lee Chadwick via unanimous decision (29-28, 30-27, 30-27) – Light Heavyweight Bout
Chiara Penco defeated Lanchana Green via unanimous decision (29-28, 30-27, 30-27) – Women's Strawweight Bout
Weigh-in
Michael Page (168.6 lbs) vs Logan Storley (169.4 lbs)
Lyoto Machida (185 lbs) vs Fabian Edwards (185 lbs)
Denise Kielholtz (124.2l bs) vs Kana Watanabe (125.2 lbs)
Paul Daley (174.4 lbs) vs Wendell Giacomo (174.2 lbs)
Luke Trainer (205 lbs) vs Simon Biyong (205.2 lbs)
Lee Chadwick (205.4 lbs) vs Maciej Rozanski (204.8 lbs)
Andrew Fisher (145.4 lbs) vs Attila Korkmaz (145.8 lbs)
Alfie Davis (155.8 lbs) vs Tim Wilde (155.8 lbs)
Kate Jackson (125.6 lbs) vs Elina Kallionidou (125.8 lbs)
Oliver Enkamp (168.8 lbs) vs Mark Lemminger (170.2 lbs)
Daniel Weichel (145.2 lbs) vs Robert Whiteford (145.8 lbs)
Chiara Penco (115.2 lbs) vs Lanchana Green (115 lbs)