WWE Wrestlemania Backlash 2022- Card, Tickets, Date, Time, Location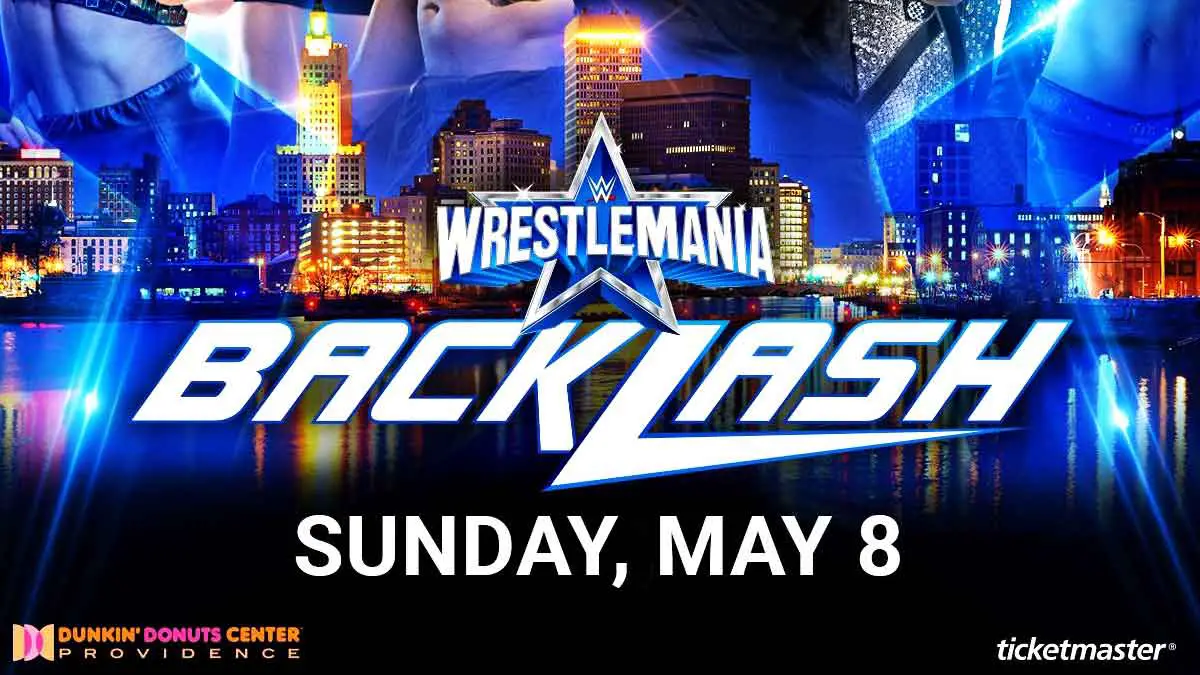 WWE WrestleMania Backlash 2022 will be the second event in the WrestleMania Backlash series and the 17th event in the Backlash series. The event will take place on May 8 at Dunkin Donuts Center in Providence, RI. The show will be the fallout event from WrestleMania 38.
Cody Rhodes vs Seth Rollins match and Charlotte Flair vs Ronda Rousey "I Quit" match are announced for the event. Roman Reigns and The Usos will take on RK-Bro and Drew McIntyre. Edge vs AJ Styles rematch from WrestleMania and Omos vs Bobby Lashley rematch are also announced for the show.
Keep reading to get the complete details on WWE WrestleMania Backlash 2022 event.
EVENT INFO
Date: 8 May 2022
Time: Pre Show – 7 PM EST, Main Show – 8 PM EST
Location: Dunkin' Donuts Center Providence, RI, US
| Country | Date | Time |
| --- | --- | --- |
| United States | 8 May 2022 | 7 PM EST |
| Canada | 8 May 2022 | 6 PM CST |
| United Kingdom | 9 May 2022 | 11 PM GMT/12 AM BST |
| Europe | 9 May 2022 | 1 AM CEST |
| India  | 9 May 2022 | 4:30 AM IST |
| Australia | 9 May 2022 | 9 AM AEST |
| Japan | 9 May 2022 | 8 AM JST |
| Saudi Arabia | 9 May 2022 | 2 AM SAST |
TICKETS
The tickets are available to book at the below link now. The price range for tickets starts from $79 to $570.
MATCH CARD
Click here to check WWE Wrestlemania Backlash 2022 results & live updates
| No. | Match | Stipulation/Championship | Winner |
| --- | --- | --- | --- |
| 1 | Cody Rhodes vs Seth Rolins | Singles Match | Cody Rhodes |
| 2 | Bobby Lashley vs Omos | Singles Match | Omos |
| 3 | Edge vs AJ Styles | Singles Match(Damian Priest is barred from Ringside) | Edge |
| 4 | Charlotte Flair(c) vs Ronda Rousey | "I Quit Match" for WWE SmackDown Women's Championship | Ronda Rousey |
| 5 | Happy Corbin vs Madcap Moss | Singles Match | Madcap Moss |
| 6 | The Bloodline(Roman Reigns, Jimmy Uso & Jey Uso) vs Drew McIntyre, Randy Orton & Riddle | 6-Man Tag Team Match | The Bloodline |
NEWS & UPDATES
In October 2021, WWE revealed their Premium Live Events schedule and listed a PPV event at Dunkin Donuts Center in Providence on May 8, 2022. On February 11, 2022, WWE confirmed that the WrestleMania Backlash event will be the said event. The pre-sale started on February 16 while the normal public sale started on February 18.
Ronda Rousey won the women's Royal Rumble match for 2022. She chose to challenge Smackdown Women's Champion Charlotte Flair at WrestleMania 38. During the build-up, a lot of the trash talk between the two competitors was about Ronda forcing Flair to tap out. At WrestleMania, Ronda indeed forced Flair to tap out with an armbar, but the referee was down and could not call the match. Flair then hit Ronda with Natural Selection to get the pin and the win.
On the post-Mania SmackDown episode, Ronda asked for a rematch with "I Quit" stipulation so that the scenario from WrestleMania 38 could not repeat. Flair denied giving Ronda another shot at the title, but Ronda persauded WWE official Adam Pearce to set up the match at WrestleMania Backlash.
Seth Rollins was announced to face a mystery opponent at WrestleMania 38. That opponent turned out to be Cody Rhodes, who went on to defeat Rollins at the event. On RAW After Mania episode, Cody gave props to Rollins for a great match. Rollins also came out and shaked hands with Cody. The following week, Rollins challenged Cody for Rollins vs Rhodes Part 2, which Cody accepted. WWE announced the match for WrestleMania Backlash.
On the April 18 episode of RAW, Rollins claimed that he lost to Cody since he was a surprise opponent for him. Seth then challenged Cody to face a surprise opponent on that show of his choosing. Kevin Owens faced Cody in the main event of RAW, but left the match in between when Rollins irritated him, and lost it by count-out.
After Roman Reigns became the Undisputed WWE Universal Champion and WWE Champion, he told SmackDown Tag Team Champions The Usos to unify the tag team titles. The Usos appeared on RAW episode of April 11, 2022, and challenged RAW Tag Team Champions RK-Bro(Randy Orton & Riddle) for a title unification match. The Street Profits came out and claimed that they should be the #1 contender for RAW Tag titles. The Usos defeated The Profits in the #1 contender match.
RK-Bro appeared on Smackdown episode of April 15, 2022, leading to a singles match where Riddle defeated Jey Uso. WWE then confirmed the tag team title unification to take place at WrestleMania Backlash. Later on RAW episode of April 13, The Street Profits defeated RK-Bro in a tag team match. Riddle defeated Jimmy Uso in a singles match on Smackdown April 22 episode.
On April 29 edition of SmackDown, RK-Bro and The Usos were involved in a contract signing segment. However, The Usos attacked RK-Bro before the contracts could be signed. Roman Reigns and, later, Drew McIntyre also involved from either side. Paul Heyman went to WWE official Adam Pearce and asked to change this match to a 6-man tag team match. WWE confirmed the change during the show. On May 2 episode of RAW, two teams were involved in a brawl which was breakup by the crew.
AJ Styles faced Edge at WrestleMania 38. Damian Priest appeared at the ringside to distract Styles and Edge capitalized caught Styles with spear mid-air during the Phenomenal Forearm. Next night on RAW, Edge then revealed that Priest has joined him as he believes in his vision, and they will pass out judgements to whoever does not align with their vision. AJ Styles attacked them, but Edge and Priest were able to take him down.
AJ Styles faced Priest in a singles match at RAW April 11 episode. The match ended in a no-contest after Priest switched off the lights in between the match. The following week, Edge said they will start with AJ at WrestleMania Backlash to pass out judgement. AJ Styles faced Damian Priest on May 2 episode of RAW with the stipulation that Priest will be barred from the ringside if Styles win. Styles won the match and Priest was officially barred from ringside.
Happy Corbin faced Drew McIntyre at WrestleMania 38. Madcapp Moss tried to help out Corbin during the match, but Corbin himself got distracted. Drew made a comeback in the match at this point and defeated Corbin. On the following SmackDown, Corbin blamed Moss for his loss to McIntyre. Moss retorted by making a joke on Corbin. Corbin attacked Moss but Moss was able to counter him.
Moss defeated Angel on SmackDown episode of April 22. Corbin attacked Moss after the match and went away with Moss' Andre the Giant Trophy. WWE announced a match between Moss and Corbin for Backlash. Corbin came out for Happy Talk segment and said he will destroy the Andre the Giant Trophy. But, Moss came disguised as a crew member to attack Corbin and got his trophy back.
Bobby Lashley defeated Omos at WrestleMania 38, handing Omos his first singles loss in WWE. On the following night at RAW, MVP brought Lashley out to celebrate his big win over Omos. Omos interrupted them in between the segment. As Lashley got ready to face Omos, MVP attacked him from behind, turning on Lashley and aligning with Omos.
Next week, MVP cut a promo against Lashley and challenged him for an arm-wrestling match against Omos. Lashley defeated Omos in the arm wrestling match at RAW episode of April 25. Omos attacked Lashley again and hit him with the arm-wrestling table. MVP later challenged Lashley for a match against Omos at WrestleMania Backlash, which was later confirmed by WWE.