WWE SmackDown Results & Live Updates November 18, 2022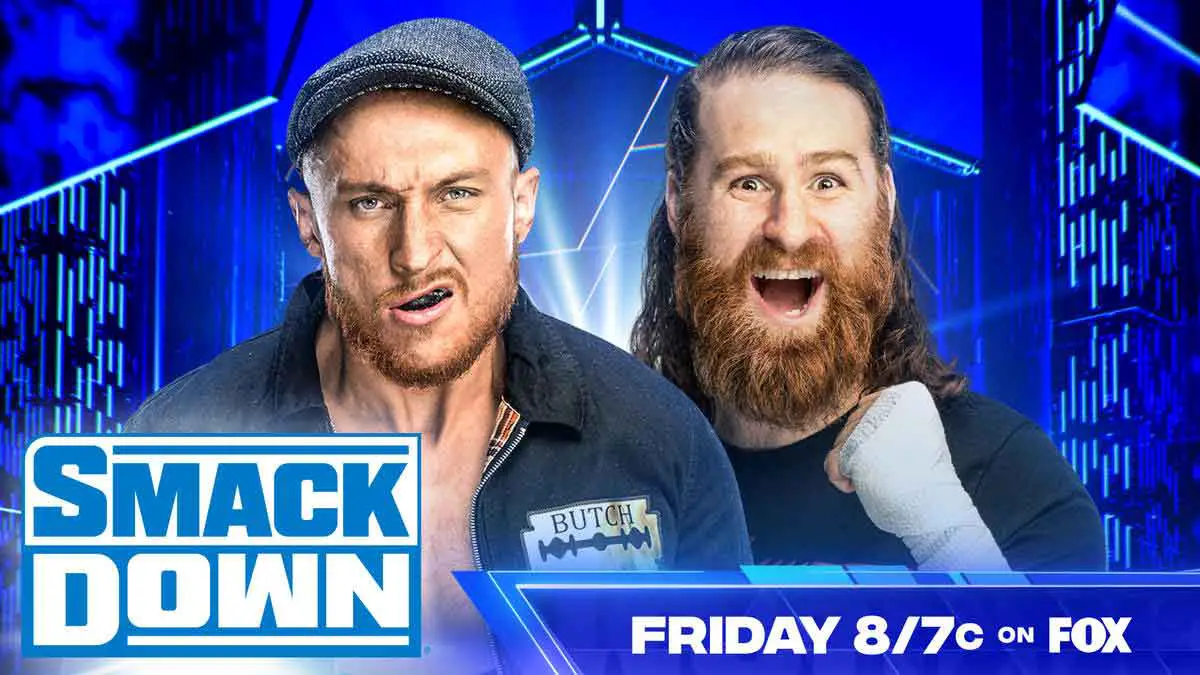 Welcome to the live results blog for WWE SmackDown episode of November 18, 2022, which will feature more first-round matches for SmackDown World Cup and continue the build-up for Survivor Series 2022 event.
Ricochet will take on Mustafa Ali in one of the matches for the tournament while Sami Zayn will face Butch in the other match. Zayn vs Butch match will also carry forward the rivalry between the Bloodline and The Brawling Brutes.
Shanya Baszler will try to demotivate Shotzi against facing Ronda Rousey as they clash in a singles match. The announcement regarding men's WarGames match is also expected. We might also get more on LA Knight vs Bray Wyatt rivalry.
Tune in below as we post results from WWE SmackDown November 18, 2022 episode with live updates, winners, highlights and complete action.
Results
Ricochet defeated Mustafa Ali in SmackDown World Cup Round 1 match via pinfall.
Karrion Kross defeated Madcap Moss in a singles match via pinfall.
Shotzi defeated Shayna Baszler in a singles match via pinfall.
New Day(Kofi Kingston & Xavier Woods) & Bruan Strowman defeated Imperium(Gunther, Ludwig Kaiser & Giovanni Vinci) in a tag team match via pinfall.
Butch defeated Sami Zayn in SmackDown World Cup Round 1 match via pinfall.
Live Updates
Men's WarGames
The Brawling Brutes and Drew McIntyre come out to open the show. The men's WarGames is announced for them against the Bloodline. Sheamus takes the mic and says he and Drew McIntyre have a 20-year storied rivalry, but they now have a strong bond coming out of it. McIntyre is called the Honorary Brute. Sheamus reveals that Drew was his best man when he got married three weeks back. Drew says nobody knows how about The Bloodline's number games than him. He says they multiple like muppets. But, it will not be the same when numbers get even. He does not want to fight The Bloodline with anyone other than his brother, Sheamus.
Holland hypes the WarGames match and Butch's match against Sami Zayn. Sami Zayn comes out and says mind games will not work on The Bloodline and personally makes sure that they will win the WarGames match. He also says he will give Butch a taste of what to come at WarGames during their match later tonight. Sheamus says when Sami will be most surprised when he will come to know who the fifth member of their team is, and it will be someone they did not expect at all.
Ricochet vs Mustafa Ali – SmackDown World Cup Round 1 match
Ricochet makes his entrance before the break. We see the screen flicker a bit with Firefly Fun House logo when we come back from the break with Ricochet in the ring. Ali makes his entrance and we see a "earlier today" segment where Mustafa Ali was in the medical room getting checked out. Ricochet went to check on Ali and tells him he does not have to go it as he is hurt. Ali tells him that he can walk, he can breathe, and that means he can fight.
Match description to be added shortly.
Winner – Ricochet
New Day are backstage and are getting interviewed about losing to the Usos last week while also losing the record for longest-reigning tag team champions. Imperium interrupt them and they go a bit of back and forth into argument before New Day throws them a challenge for a match later tonight.
---
Madcap Moss is warming up before his match against Karrion Kross when Emma walks in crushing hard on him. Moss says he is still not able to speak properly after Kross Jacket three weeks back. Emma tries to motivate Moss and says he will be fine. We cut to a break as Moss makes his entrance.
Madcap Moss vs Karrion Kross
Kross makes his entrance with Scarlett. Moss rushes him after the bell and unloads in the corner. The referee separates them. Kross thries to boot him but Moss catches his boot and hits a suplex. Kross turns aournd a tackle before Moss hits a back body drop and clotheslines him out to the floor. Moss sends Kross to the barricade before returning to the ring. Kross hits a double-underhook suplex. Kross works him against the ropes. The referee takes Kross away. Scarlett takes a cheap shot at Moss. Moss starts to hulk up after that punch from Scarlett.
Moss starts to hit running tackles as he starts to build momentum. He hits a trio of corner tackles before hitting a fall away slam. Kross goes out to the floor. Moss also goes out and Scarlett distracts him. Kross returns to the ring and catches Moss with a boot when he gets in. Kross puts on the Kross jacket. Moss tries to break it by slamming him in the corner. He has to slam Kross on his back to break it finally. Kross immediately puts it back on and chokes out Moss.
Winner – Karrion Kross
Kross hangs onto the Kross Jacket after the match untill the referees intervene. Emma runs out to check on Moss after Kross and Scarlett leave the ring.
Knight's Choice!
Bray Wyatt makes his grand entrance to the ring. Bray takes the mic and says he has started to realize that he conditioned his entire life to be a certain way and it is hard to change. He says he is conditioned to work hard, conditioned for path of fear and respect. But when he looked back at the thing he did in the past, he questioned why he did all those things. He says if he was in LA Knight's situation, he would have asked why he did that. But, he would have apologized to him for a moment of weakness when he strayed from his path.
LA Knight comes out to the stage and says his headbutt hurts him even after a week and now he just want to apologize. Knight says when Bray talked about fear and respect, he is entitled to some respect for not fearing Bray last week. He continues to babble a bit until he got into the ring face to face with Bray. Knight slaps Bray and immediately runs out of the ring. Knight says they are now even. Wyatt takes the mic and says they are even but the decision that Knight is about to make will change his whole life. Bray offers a handshake saying they are even now. Knight punches him instead and leaves to the ramp. Bray does not reply and just continues to stare down.
---
The Usos catch up with Karrion Kross and Scarlett and asks them if Kross is the final member of Team Brutes in WarGames. Kross says when he comes for Roman, he will not come in swarm, but he will come alone.
Shayna Baszler vs Shotzi
Ronda distracts Shotzi and Shayna takes a cheap shot at her to take early control. Shayna works on Shotzi's arm. Shotzi comes back with quick kicks. Ronda distracts Shotzi to allow Shayna to take control again. Shayna keeps Shotzi grounded until she pushes her to the ropes. Ronda talks trash with Shotzi again, but this time distraction does not work. Shotzi nails Shayna with a step up enzuigiri and more kicks in a quick rally.
Shayna puts in a choke and takes her on the ropes. Ronda hurls more insults towards Shotzi. Raquel Rodriguez walks down the ramp and Shayna gets distracted now. Shotzi rolls up Shayna to get the pin.
Winner – Shotzi
LA Knight is asked for an interview as he was entering a room. Some masked man was already inside that room. We cut to a break.
We return to see LA Knight laid out trapped under a bunch of equipment.
Imperium(Gunther, Ludwig Kaiser & Giovanni Vinci) vs New Day(Kofi Kingston & Xavier Woods) & Bruan Strowman
Imperium make their entrance first. New Day come out and get to ringside. Their tag team partner is revealed to be Braun Strowman. Woods and Kofi get into a brawl with Vinci and Kaiser. They brawl at ringside while Strowman gets into the ring. Gunther is also there and the referee starts the match. Gunther does not want to face Strowman and runs away to the floor. We cut to a break.
Vinci is in control against Woods as we return. Kaiser tags in to follow up on Vinci's spinebuster with an uperrcut. Woods fights out of the opposite corner. Kaiser drags him back from the corner to stop a tag out. Woods gets past under his legs and then kicks him away to tag in Strowman. Strowman hits quick tackles against Vinci and Kaiser. Gunther takes a blind tag and comes to hit a big chop. Strowman is unmoved.
Gunther runs away from the ring and Strowman follows him, running over Vinci and Kaiser on the floor. Gunther gets into the ring and hits another big chop. Strowman hits him with a powerslam and goes for Monster bomb. Gunther avoids it and tags in Kaiser. Strowman drops Kaiser with more tackles. Kofi tags in and also brings in Woods to hit Midnight Hour to get the pin.
Winner – New Day & Braun Strowman
Sami Zayn vs Butch – SmackDown World Cup Round 1 match
Quick back and forth between them to start. Butch hits a clothesline to get a two-count. Sami hits a powerbomb to get a two-count. Sami throws Butch to the floor. The two teams at ringside get into each other's face. Butch hits a tornado DDT as they return to the ring. He hits a headbutt next. Butch gets to the top and Sami pushes him off into the barricade. We cut to a break.
Butch nails Sami midair with an elbow as Sami jumps from the top to get a two-count. Sami rolls him up for a two-count. Butch hits a step-up enzuigiri. The Usos run a distraction and Sami catches Butch with blue thunderbomb to get a close two-count. The Bloodline, Drew and The Brawling Brutes get into a fight on the floor. Butch hurts Sami's knuckles. The Usos distract Butch again. Sami drops Butch in the corner. Sami was going for Helluva kick in the corner but Sheamus and Jey Uso get into the ring while brawling. Sheamus takes Jey back to the floor. Butch hits Sami with Bitter End to get the pin.
Winner – Butch
The brawl continues after the match. Drew McIntyre stands tall in the ring. Roman Reigns comes out and nails a Superman punch on Holland. He hits a spear on Butch on the floor. Drew and Roman face off. Solo distracts Drew and Roman hits him with a spear. Roman and Sheamus brawl until Sami helps Roman to hit a Superman punch. Kevin Owens' music hits as he comes out. Owens nails The Usos with superkicks before getting into the ring. Owens and Roman brawl for a while and Owens drops Roman to the corner. Sami comes in and has a face-off with Owens. Roman hits a spear on Owens. Holland pulls out Sami to the floor. Owens recovers to hit a stunner on Roman. The Brawling Brutes, Drew and Owens stand tall in the ring to close the show.