WWE SmackDown Results & Live Updates February 10, 2023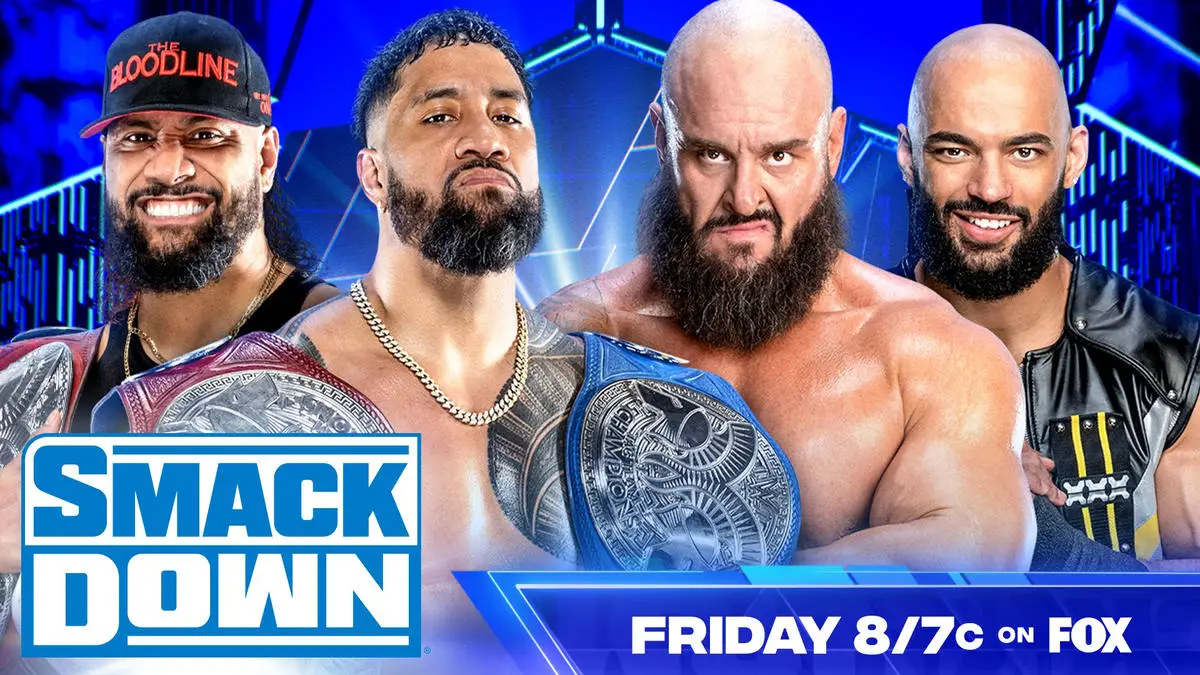 Welcome to the live results blog for WWE SmackDown February 10, 2023 episode which was live from Mohegan Sun Arena in Uncasville, CT.
The show continued to build up towards Elimination Chamber 2023 event. We heard from Sami Zayn and Paul Heyman before Sami's match against Roman Reigns at Elimination Chamber for Universal Championship.
The show also featured SmackDown Tag Team Championship match between The Usos and Braun Strowman & Ricochet. There was a doubt whether Jey Uso will appear to defend the title or not after he walked out on the Bloodline at Royal Rumble when the stable was beating up Sami Zayn. Did Jey appear to defend the titles?
A #1 contender's fatal 4-way match for Intercontinental Championship was also scheduled. Rey Mysterio, Karrion Kross, Santos Escobar and Madcap Moss compete for an opportunity at the IC title.
Tune in below for complete results from WWE Friday Night SmackDown February 10, 2023 event with live updates, winners, and highlights.
RESULTS
Sheamus & Drew McIntyre defeated Hit-Row(Top Dolla & Ashante "Thee" Adonis) in a tag team match via pinfall.
Lacey Evans defeated Cameroon Harress in a singles match via pinfall.
The Usos(Jey Uso & Jimmy Uso)(c) defeated Braun Strowman & Ricochet in a tag team match via pinfall to retain WWE SmackDown Tag TEam Championship.
Liv Morgan & Raquel Rodriguez defeated Chelsea Green & Sonya Deville in a tag team match via pinfall.
Madcap Moss defeated Rey Mysterio, Karrion Kross & Santos Escobar in a Fatal 4-Way match via pinfall to become #1 Contender for Intercontinental Championship.
LIVE UPDATES
The show opens with a recap of how Jey Uso walked out on the Bloodline at Royal Rumble and the segment between Roman Reigns and Sami Zayn from last week.
2-Pronged Attack on The Bloodline
Paul Heyman is already in the ring with both of Roman Reigns' titles on his shoulders. He says he does not make predictions since Brock Lesnar defeated The Undertaker, but only give out spoilers. There is a two-pronged attack going on The Bloodline. He brings up Sami Zayn challenging Roman for the title at Elimination Chamber. The crowd starts to chant Sami's name. Heyman says Sami Zayn is not here this evening. He asks the fans to imagine Sami Zayn as Universal Champion. Heyman says it is not going to happen.
The second attack is ongoing by the winner of Royal Rumble match, Cody Rhodes. He calls Cody stupid for thinking that it is personal. Heyman continues to rant on Cody for a while. He says everyone is trying to get the title away from Roman, but without these titles, there is no Tribal Cheif, and no Paul Heyman.
Sami appears behind him and removes his hoodie. Heyman finally turns back and sees Sami. Sami takes the mic from him. Sami tells Heyman that he is not gonna hurt him, but he could have done it by now if he wanted to. Sami says he could have dropped Heyman dead. Sami says if this was a month ago, Solo would have already been out here to hit him with Samoan Spike and the Usos would be upon him.
But all that is not happening because everyone, including The Bloodline, knows Roman's days are numbered. Sami asks Heyman what he thinks Jey Uso would do next and whether Jimmy would side with his twin brother Jey or a hatemonger in Roman. Sami says only 8 days are left for Roman as the Universal Champion. Sami hugs Heyman and tells him to relay a message to Roman. Sami says Roman does not need to worry about Cody because he will be the one to take the title from him.
Sheamus & Drew McIntyre vs Hit-Row(Top Dolla & Ashante "Thee" Adonis)
We see how Hit-Row claimed to Adam Pearce that they would have defeated Drew and Sheamus in SmackDown Tag Team tournament, and only lost to Braun Strowman and Ricochet because they were not ready for them. Hence, Pearce books them against Sheamus & Drew tonight.
Adonis runs his mouth against Drew and eats a headbutt in return. Drew gets ready for Claymore but Top Dolla pulls Adonis out to the floor. Drew tags to Sheamus who tackles Adonis on the floor. He takes Adonis back to the ring but Top Dolla distracts him. Adonis hits him with a knee to take control. Sheamus comes into the match quickly and takes him to the apron.
Top Dolla interrupts him again but Sheamus hits him with 10 beats of Beltran. Sheamus hits a White Noise on Adonis. Sheamus gets ready for a Brogue kick. Drew hits Claymore on Top Dolla when he tries to interfere again. Sheamus hits Brogue kick on Adonis to get the pinfall.
Winners – Sheamus & Drew McIntyre
Sheamus and Drew celebrate their win when The Viking Raiders interrupt them with a pre-recorded promo on the big screen. After some cryptic talk, Valhalla announces that the Viking Raiders will face Drew and Sheamus next week.
---
We see Jimmy Uso dropping a message to Jey Uso on his phone to come to SmackDown for title defense.
---
Karrion Kross is backstage and has his hourglass upside down. He says he will take Rey Mysterio down during the fatal 4-way match later tonight.
---
Another segment with Jimmy Uso trying to get to Jey.
Lacey Evans vs Cameroon Harris
Evans starts with a takedown. She kicks at her opponent's face before hitting clubbing clotheslines on the ropes. Evans shakes Harris hard on the turnbuckle before hitting her with a hard whip. She hits double knee in the corner. Evans hits a woman's right before getting a submission via Cobra clutch.
Winner – Lacey Evans
Lacey refuses to let go of the clutch until Harris passes out.
---
Jimmy Uso is still trying to reach to Jey. Paul Heyman is with him now. Heyman asks him where he was when he was under attack by the Canadian Mafia. Jimmy says he was trying to find Jey and he has looked everywhere.
---
After the break, we see Sonya Deville complaining to Adam Pearce why she is not in Elimination Chamber match. Chelsea Green comes in looking for SmackDown Manager after being mistreated by RAW manager. Pearce says he is the manager for both SmackDown and RAW. Green asks if he is discriminating against her. Pearce responds by putting Sonya and Chelsea in a team to face Liv Morgan and Raquel Rodriguez.
The Usos(Jey Uso & Jimmy Uso)(c) vs Braun Strowman & Ricochet – WWE SmackDown Tag Team Championship
Strowman and Ricochet come out first. Jimmy comes out on his own. The announcer was about to say Jimmy will defend the title on his own when Jey walks through the crowd. Jey gets into the ring to take us to a break.
Jey starts against Ricochet with an arm wringer. Ricochet counters but Jey puts him in a side headlock. He hits a shoulder tackle next. He dodges a series of attacks from Ricochet and brings him down with a kick. Jimmy tags in. Ricochet hits a handspring back elbow to get a two-count. Strowman tags in and whips Jimmy hard to the corner before hitting chest slaps. Ricochet gets in and Strowman throws him on Jimmy.
Strowman hits a big corner splash. Jimmy moves to the floor for a breather. Ricochet hits a standing moonsault and keeps Jimmy on the ground. Jey tags in and hits a double team Samoan drop. Jey hits a superkick to send Ricochet to the floor. We cut to a break.
Jey is in control against Ricochet as we return. Ricochet tries to fire back with punches but Jey drops him with an uppercut. Jimmy tags in and unloads with more punches. Ricochet cuts off a charge with a dropkick. Tags to Strowman and Jey after Ricochet hits a springboard crossbody. Strowman hits shoulder tackles on Jey before he knocks off Jimmy off the apron.
Strowman drops Jey with a clothesline for a two-count. Jey uses a low bridge to send Strowman to the floor. Jey hits a superkick before Jimmy jumps on him. Jey hits another superkick before hitting a crossbody in the ring to get a two-count. Jey slips out of a powerslam and hits another superkick.
Ricochet tags in and hits a crossbody from the top before a kick and standing senton to get a two-count. Jimmy tags in and hits an enzuigiri. Ricochet falls to Strowman for a tag before he hits a ripcord knee. Strowman hits a running powerslam. Ricochet hits a splash from the top of his shoulders. Jey pulls out Ricochet to break the pin.
Jey sends Strowman into the announce table. Ricochet hits a suicide dive on Jey. Ricochet goes to the top and Jimmy battles him. Jey takes a blind tag. Ricochet drops Jimmy and hits a shooting star press. But Jey follows up quickly with a Usos splash to get the pinfall.
Winner – The Usos
After the break, Jey and Jimmy are backstage. Jimmy asks Jey if he is back in the Bloodline. Jey says he does not know and goes away. Paul Heyman was lurking behind them.
---
Natalya is in the ring and cuts a promo against Shayna Baszler. She says Baszler knocked her out, so she took away Shayna's spot in Elimination Chamber match. Natalya calls her a Ronda Rousey knockoff. Shayna comes out and says she was in WWE before Ronda and was winning the titles on her own. Ronda Rousey comes out next. Ronda and Shayna face-off before Shayna stops Ronda from attacking Natalya. Instead, Shayna attacks Natalya herself. Shotzi runs out to help Natalya, but Ronda and Shayna beat her up.
---
Jey Uso runs into Sami Zayn. Sami tells Jey that he does not want to put Jey in a tough spot but he can't let Jey forget what Roman did to him at Royal Rumble. Sami says he is eight days away from doing something that Jey wants to see from a long time. Roman is going down but Jey does not need to go down with him. Sami adds that if they don't talk again, Jey should know he acknowledges Jey. Jey tells him to get out of there. Sami gets his hand out for a fist bump, and Jey returns it.
Liv Morgan & Raquel Rodriguez vs Chelsea Green & Sonya Deville
Liv and Sonya lock up to start the match. Sonya hits a shoulder tackle. Liv dodges more attacks and hits a dropkick. She hits a hip attack in the corner twice before a knee strike. Sonya counters a move from the top with a knee. Green tags in and whips Liv hard into the corner. She boots Liv's face into the turnbuckle and gets a two-count. Green complains to the referee for not getting three. Liv fights back against Sonya but Sonya stops her tag. Liv fights back with a forearm on Sonya and then hits a back elbow on Liv.
Sonya ends up knocking Green off the apron with an elbow. Raquel gets the tag and hits a series of clotheslines on Sonya. Raquel hits a fallaway slam and a corkscrew elbow in the corner. Sonya hits an upkick and gives a blind tag to Green. Green does not want to get into the ring but Raquel pulls her in. Green goes for a tackle but ends up knocking off Sonya. Raquel hits one-handed powerbomb and tags in Liv. Liv hits Green with Oblivion. Raquel drops Liv on top of Green with a powerbomb and Liv gets the pinfall.
Winner – Liv Morgan & Raquel Rodriguez
We get a short promo from Madcap Moss saying that he feels good and will get the dub tonight.
---
We get a backstage interview with Charlotte Flair where she talks about her WrestleMania challenger Rhea Ripley. Flair says she wanted to show Rhea that while she was talented, she was not ready in 2020. Flair says Rhea is now saying that she is ready now, but she can only hope so. Flair says she taught Rhea a lesson 3 years ago. And now, she will put Rhea in her place.
Rey Mysterio vs Karrion Kross vs Santos Escobar vs Madcap Moss – Fatal 4-Way match for #1 Contender for Intercontinental Championship
Karrion Kross makes her entrance with Scarlett. Madcapp Moss is next to follow him out. Santos Escobar is next to come out. Escobar gets a promo in inset saying that he does not only looks like a champion but also fights like a champion. Escobar had a mask which he removes when he reaches the ring. Rey Mysterio is the final one to come out. Gunther is sitting in the skybox with his Imperium buddies. We cut to a break.
Rey and Kross fight each other while Escobar and Moss is the second pair to start the brawl. Moss and Kross get better of their brawls and start to trade shots. Kross whips Moss to the floor. He hits Rey with a hard whip to the corner. Kross stops Escobar from attacking Rey as he wants to beat him up. Escobar attacks Kross from behind but Kross throws him out.
Kross puts Rey to the top. Rey hits him with headbutts to drop him back to the floor. Rey hits a seated senton before Kross hits back with a big shot. Escobar returns to the ring and throws Rey into Kross to hit a hurricanrana. Moss comes in and tackles Rey to the floor. He throws Escobar and Kross to the opposite corners and hits running tackles. He misses one tackle on Kross. Kross hits clotheslines on him before Escobar trips him to the turnbuckle. Escobar clotheslines Kross to the floor.
Rey and Escobar face off now. They run the ropes. Escobar blocks a bulldog and hits a dropkick. Rey drops his hand on the ropes and hits an enzuigiri and a hurricanrana. Escobar hits a tilt-a-whirl backbreaker. Kross trips Escobar but Escobar kicks him to keep him out. Rey drops Escobar to the ropes for 619 but Escobar gets up. He throws Rey on Moss and Kross. Escobar hits a suicide dive on all the opponents on the floor.
Kross is in control as we return. He hits a suplex throw on Rey. Moss hits a jawbreaker and a running shoulder tackle. He follows with big tackles on Escobar and Rey. Kross nails him with an elbow. Moss comes back with a spinebuster. He catches Escobar but Escobar blocks a suplex and gets a two-count via sunset flip. Escobar trips Rey with a drop toe hold. Rey rolls through a sunset flip and hits a dropkick.
Rey hits a DDT on Kross and an upkick on Moss. Escobar hits him with Phantom Driver. Moss breaks the pin. Escobar goes to the top and Moss follows him up. Moss tries to hit a fallaway slam from the top but Escobar fights him off. Escobar hits an avalanche hurricanrana for a two-count. Kross sends Escobar to the floor. Kross tries to hit Rey with a powerbomb but Rey counters and hits 619.
Scarlett pulls Rey's leg from the floor. Kross nails Rey with Kross hammer from behind. Escobar tackles Kross to the floor. Moss hits an elbow drop from the top on Rey to get the pinfall.
Winner – Madcap Moss
Moss celebrates in the ring with Emma.
---
We cut to backstage where Jimmy Uso is standing alone, looking angry. Paul Heyman comes in and tells him that he just talked to Roman Reigns. Roman has a message for the Usos to stay back at home next week as he wants to get an on-television perspective of things. The show goes off the air.