WWE SmackDown Results August 12, 2022, Live Updates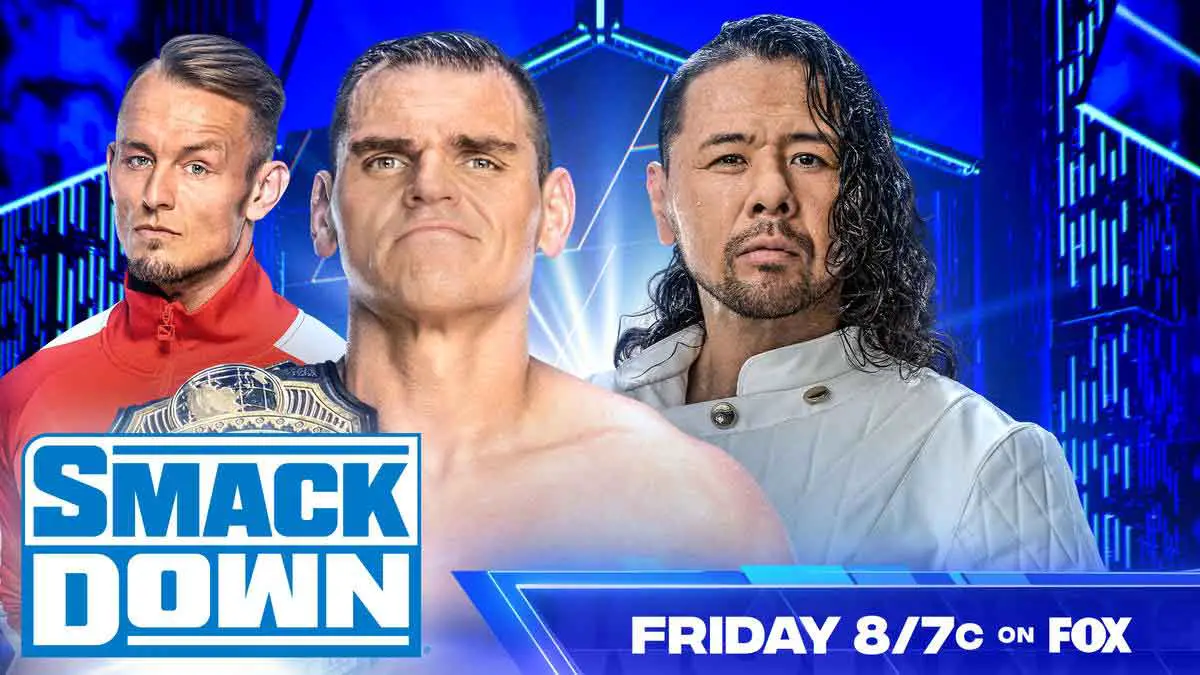 Welcome to WWE SmackDown Results live blog for August 12, 2022 episode which will air live from PNC Arena in Raleigh, NC.
WWE is advertising more in the rivalry between Drew McIntyre and Roman Reigns after Karrion Kross tried to enter himself into the storyline with a return last week. Will he get added to the Universal title match at Clash at the Castle?
Gunther will defend the Intercontinental Championship against Shinsuke Nakamura. Women's Tag Team Championship tournament will also continue in this episode with Raquel Rodriguez & Aliyah facing Xia Li & Shotzi. Liv Morgan and Shayna Baszler will sign contract for their match at Clash at the Castle.
Tune in as we post results from WWE Friday Night SmackDown August 12, 2022 episode with all live action, updates, videos and highlights.
Live Updates
Xia Li & Shotzi vs Raquel Rodriguez & Aliyah – WWE Women's Tag Team Championship Tournament Round 1 match
All four women make their entrance one by one. Raquel and Shotzi start. Raquel throws Shotzi to the corner. Shotzi hits her with an enzuigiri and a step-up knee. She leverages the ropes for some advantage breifly. Raquel throws her away. Li tags in and Raquel tackles her also. Aliyah tags in and hits Li with a crossbody from the top and Shotzi had to break the pin. Li goes to the floor. Aliyah hits her another crossbody on her on the floor. Natalya and Sonya Deville attack Aliyah. Raquel and Shotzi come down to fight them. Natalya and Sonya are thrown into the barricades as we cut to a break.
Li drops Aliyah to the mat as we return. She hits corner tackles before Shotzi tags in for a double team neckbreaker for a near fall. Li kicks at Aliyah's face after a tag. Li takes her to her corner. Aliyah hits a jawbreaker on Shotzi. Li tags back in. Aliyah boots her away. Li kicks in the midsection. She goes for a suplex but Aliyah counters it with brainbuster.
Raquel gets the tag and she hits fallaway slams on both opponents. She hits a Vader bomb on Shotzi now. Li distracts her and Shotzi comes back by slamming her face to the turnbuckle. Shotzi hits a sprinboard crossbody. Li comes in for a double team leg sweep but Aliyah hits a spear on Shotzi to stop it. Raquel hits Li with a Gigoda bomb to get the pin.
Winner – Raquel Rodriguez & Aliyah
Raquel and Shotzi celebrate their wins briefly before we cut to commentators.
Drew, Karrion and Roman
We get a video package for a recap of Roman Reigns, Drew McIntyre and Karrion Kross from last week. Kross gets a video promo and talks about Chaos from last week. He calls himself Reaper of the Souls. He talks about being disregarded like a Broken Time. He waited for his chance, for a right time. He was watching Drew from behind a wall all this time. Drew makes his entrance. We cut to a break.
After the break, Drew McIntyre jumps directly on being attacked by Karrion Kross. He understands Kross waiting for his opportunity and attacking the #1 contender to get attention. Drew tells him that when the time is right, he will turn his attention towards him and gives him three options when the time comes – knockout, hospital or graveyard. Drew tells us that Roman is not here tonight to invite some boos. He reminds us how it took The Usos, Paul Heyman and much more for Roman to retain the title against Brock Lesnar in his last two matches.
Drew gets interrupted by entrance of Scarlett. The screen goes dark as Scarlett walks down the ramp. She stands in the corner of the ring. The Usos attack Drew from behind and stomp on him. Drew fights back with punches but they nail him with double superkicks. The Usos hit 1-D to drop Drew for good. The Usos now talk trash to Scarlett about Karrion Kross. Scarlett also answers them off the mic. Drew recovers as Scarlett and The Usos go away.
---
We get a video package for the Intercontinental Championship. Nakamura is getting ready backstage for tonight's title match against Gunther. He says, "Tell Gunther, Come Onnnn!"
---
The Viking Raiders make their entrance. Kofi Kingston attacks them on the stage with a kendo stick. Kofi lays on them with the stick. Erik protects himself with their shields. Ivar runs him over with his shield. The Raiders double team on Kofi on the stage. Ivar hits a splash on Kofi on the stage by jumping from the barricade. They leave as Kofi screams in pain.
---
Sami Zayn is talking to The Usos backstage outside Roman's room. Drew McIntyre attacks The Usos and lays them down. Sami ran away. Drew screams at them for a while before going back.
Hit-Row(Ashante Adonis & Top Dolla) vs Brandon Scott & Erwin
A couple of enhancement talent are in the ring. Hit-Row make their return to SmackDown. Ashante Adonis, Top Dolla and B-Fab make their entrance.
Top Dolla tackles Brandon Scott. as the bell rings. He sets Brandon Scott in the corner for a running knee. Adonis hits double stomp in the corner. He then hits a back body drop. Erwin tries to jump on Top Dolla as he was working on Scott. Dolla catches him also and drops both of them at the same time. Adonis comes in and they hit their Heavy Hitter finisher(back suplex/dropkick combo) to get the pin.
Winners – Hit-Row
After the match, the trio take the mic and introduce themselves again fo everyone. They says they are OG three.
---
Gunther is backstage with Ludwig Kaiser as Kayla comes in for an interview. Gunther has a message for Nakamura that he will suffer at his hands tonight.
Contract Signing + Ronda Rousey
Ronda Rousey enters to the ring through the crowd and has a bag in her hands. Ronda says she is suspended and it will not be the last time that she is fined. She lays out some cash on the table, and says she doubled the fine put on her. Security comes out and tell her to leave the ring. Ronda goes on and takes down a security woman. Ronda leaves peacefully after that. Shayna Baszler meets her on the stage and tells her that is not how things work here and she has to play by the rule. Ronda scoffs at "play by the rule" line before leaving.
Shayna Baszler gets into the ring now and says entire women's locker room watched her win become the #1 contender. Baszler says Liv Morgan will be the next one in line. She signs the contract and tells Liv to come out now. Shayna claims that she will break Liv limb by limb and walk over her lifeless carcass to win the SmackDown Women's title. Liv Morgan makes her entrance.
She stands against Shayna in the ring. Liv takes a shot at Shayna being a bootleg Ronda Rousey. She says she has dealt with Ronda twice and at Cardiff, she will beat Shayna also. Liv signs the contract and poses with the title. Shayna slams her injured arm on the table. Shayna then twists the arm for a while before stomping on it. Baszler continues to work on the injured arm further. Morgan then springboards from the turnbuckle to put Shayna through the table. Liv stands tall to end this segment.
---
Sami is backstage when the Usos come to him and ask him why he ran away when Drew attacked them. Sami says he went to get the security. The Usos warn him to stand up if he wants to be part of the Bloodline.
The Usos(Jimmy Uso & Jey Uso) vs Drew McIntyre & Madcapp Moss
The Usos make their entrance. They call on Drew McIntyre to pick a tag team partner for a match right away. Drew comes out immediately and gets in to the ring.
Drew attacks Jey with punches as the bell rings. Jey hits an uppercut, but eats more shots. Jimmy is also knocked off the apron. McIntyre throws Jey into the barricade. He hits a big chop before getting back to the ring. Drew hits another big chop. Jey distracts the referee and Jimmy hits a Gamengiri on Roman from the apron. The Usos now double team on Drew and work on him. Madcap Moss runs out to be Drew's partner. Moss attacks The Usos and takes them out with quick moves. Drew also get up and both Moss and Drew clothesline the Usos out of the ring. We cut to a break.
Jey is working on Moss as we return. He hits a hip attack on Moss in the corner. Moss plants Jey to the mat. Drew and Jimmy get the tags. Drew hits clotheslines on Jimmy and more quick moves. He hits neckbreakers on both the Usos. Drew goes for the Claymore kick but Sami gets into the ring to put a break on him.
Jimmy catches Drew with a superkick. Jey gets the tag and hits a splash on Drew for a near fall. Sami argues with the referee over the count. Moss saves Drew from double team. He pulls Jey out of the ring and sends him into the barricade. Drew hits Glasgow kiss to Jimmy, who replies with a superkick. Jimmy runs the ropes and Drew catches him with the Claymore kick to get the pin.
Winners – Drew McIntyre & Madcap Moss
After the match, Drew throws Jimmy to the floor. Jey gets into the ring and gets dropped by Drew. Drew was going for the Claymore on Jey but Sami pushes Jey away and eats Claymore himself.
---
Man.soor and Ma.Ce are posing backstage with Maxxine and Max Dupri. Angel Garza and Humberto Carrilo interrupt them and wish to get into Maximum Male Models. Dupri tell them that they are not MMM material.
---
Ricochet is interviewed backstage. We see how Pat McAfee's distraction allowed Ricochet to take advantage in beating Happy Corbin. Ricochet says he is locked in now than he was in a long time. He says it does not matter who wins tonight – Gunther or Nakamura, he will be waiting in line. Corbin drops him with a big shot. Corbin says this is not over and goes away.
---
We get a video package for introductions of Nikkita Lyon and Zoey Stark who will face Natalya and Sonya Deville last week.
Gunther(c) vs Shinsuke Nakamura – WWE Intercontinental Championship
They lock up and Gunther gets the waistlock on. Nakamura pushes him into the corner to break free. Nakamura hits calf kicks and drops Gunther to his feet. Gunther hits a big boot to drop Nakamura. He hits uppercuts and big chops. Gunther puts on the Boston Crab. He then switches into an STF after a minute. Nakamura gets his hands on the ropes to break it. They trade blows in the middle. Gunther hits a big chop on the forehead.
Nakamura gets him down in an armbar. Gunther gets out of it immediately. Nakamura nails him with several body kicks, mainly targetting his right hand. Nakamura tries to whip Gunther but Gunther blocks it and drops Nakamura with a big chop. Gunther then drops Nakamura on the turnbuckle. He leverages the ropes for a full 5-count from the referee. Nakamura drops on the floor as we cut to the break.
Gunther ducks a punch and hits a German suplex. Gunther can not pick Nakamura up for a powerbomb due to his injured arm. He drops Nakamura with a big boot. Gunther goes for a splash but Nakamura counters by putting him in an armbar. Gunther powers up and gets him up. Gunther nails Nakamura with punches to set up double underhook suplex for a two-count.
Nakamura hits a knee right to Gunther's face as he runs in from the ropes to get a two-count. Nakamura hits more kicks in the corner before booting the face. Nakamura hits a sliding German suplex. Kaiser distracts Nakamura. Gunther catches Nakamura with a dropkick on the ropes. Nakamura comes back with kicks but Gunther counters Kinshasa with a big lariat to get a near fall.
"This is Awesome" chants from the crowd. Gunther goes for a sleeper hold now. Nakamura is going to sleep but he manages to ram Gunther into the corner. He breaks free by working on the injured arm. Gunther drops Nakamura with a missile dropkick and hits German suplex to get the pin.
Winner – Gunther
Gunther poses in the ring with Ludwig Kaiser. We see Nakamura standing at the ramp now. The show goes off the air with Gunther standing tall with Kaiser.