WWE SmackDown Results 13 August 2021: Roman & Cena Come Face to Face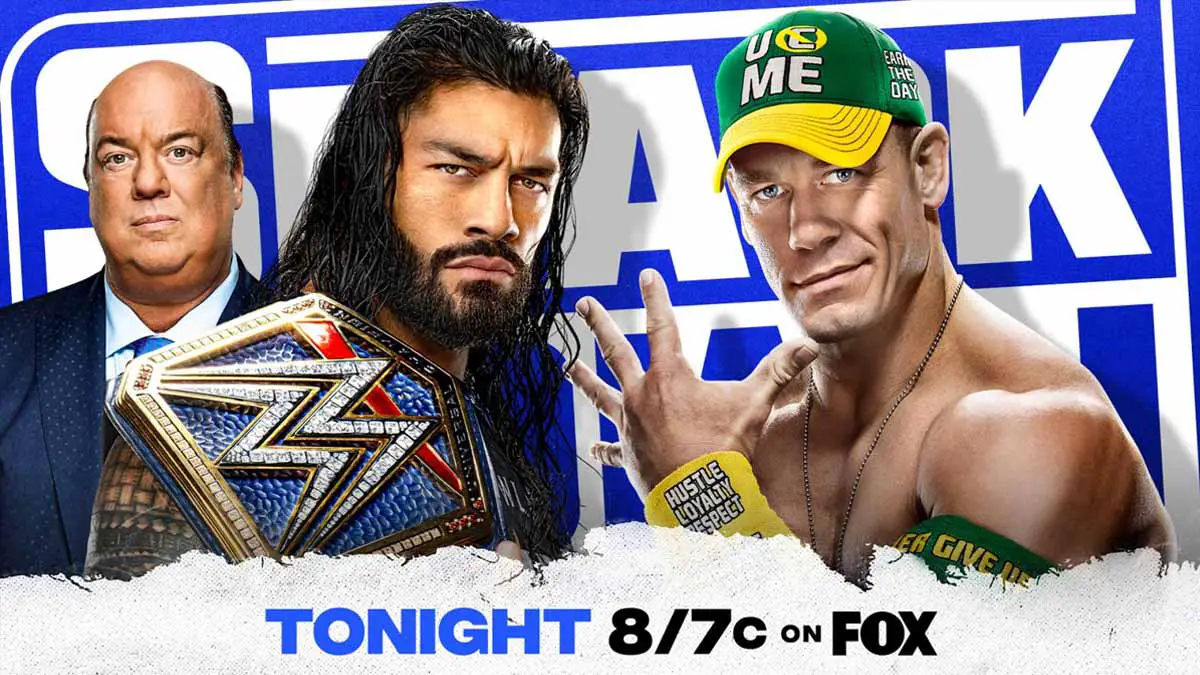 Welcome to the live blog for WWE SmackDown 13 August 2021 episode.
WWE is building towards WWE Summerslam 2021 and Roman Reigns and John Cena will come face to face on hype the main event match. WWE SmackDown Women's Champion Bianca Belair and Sasha Banks will sign the contract for their match at SummerSlam. Apollo Crews is also set to defend the Intercontinental title against Shinsuke Nakamura. You can check our preview for this episode to read more on this.
Join us as we bring you the complete action, live results, updates, list of winners and highlights from WWE SmackDown 13 August 2021 episode.
Show – WWE Friday Night SmackDown
Date – 13 August 2021
Location –  Bok Center, Tulsa, OK, US
Time – 8 PM EST(14 August 2021 12 AM GMT/5:30 AM IST)
WWE SmackDown 13 August 2021 Quick Results
King Shinsuke Nakamura defeated Apollo Crews via pinfall to win the WWE Intercontinental Championship.
The Street Profits defeated Alpha Academy via pinfall in a tag team match.
The Mysterios defeated The Dirty Dogs via pinfall in a tag team match.
Kevin Owens defeated Baron Corbin via pinfall in a singles match.
Cena and Roman Comes Face to Face
John Cena opens the show as he comes out to the ring. We see the recap of Baron Corbin attacking Finn Balor from signing the contract and Cena ending up signing it instead after dispatching Corbin.
Cena says it's a good time to give Roman his report card. Roman is a D – below average, D-bag, disappointment. And he is going to give an F to him on SummerSlam. The crowd cheers as Cena goes for a little question-and-answer round. Cena asks whether Roman will beat the hell out of him at SummerSlam. The crowd roars no. Cena says Roman will beat the hell out of him, but Roman is also gonna lose at SummerSlam. Roman's music hits and he comes out with Paul Heyman by his side. We cut to a break.
We return to see Roman entering the ring. Roman sucks chants go off as Cena welcomes him. Roman asks Cena not to waste his time. Cena says he won't waste his time but he will embarrass him at SummerSlam. Roman asks him if that is all. Cena says that all he needs. Cena starts to run down Roman on the mic and says WWE has been pushing him for 10 years and created a layer of protection. That's why they brought in Cena to give him some humble pie.
Roman says he thought he is gonna get something new, but it is old Cena. Cena says Roman will beat his ass with spears, Superman punch and all. But he does not need to prove himself, but only has to pin him and become history-making 17 times world champion. Roman gets amused over Cena claiming that he is gonna help him. Roman says he is probably the greatest ever, underappreciated, and he is even that good.
Romans says he is good enough to win WWE Championship but not good enough to win Universal Championship. Roman takes a shot at Nikki Bella. He adds he will pack him up and send him home. This might be the last time that we see Cena in WWE. Cena replies by taking a shot at Roman by saying he almost runied Seth Rollins and forced Dean Ambrose out of WWE. Cena says Roman has to shine and prove himself, but he will become the answer to the trivia question of who did Cena beat to become 17 times WWE Champion. Cena wraps up the promo and exits as his music hits. Roman holds the title up in the air as Cena's music hits.
Apollo Crews vs King Shinsuke Nakamura – WWE Intercontinental Championship Match
Both men are already in the ring as we return. The bell rings and Apollo takes blows to the back. Crews with a suplex. Nakamura comes back with a kick to the face. Stomps in the corner and a knee drop from Nakamura. Crews hits a dropkick after Commander Azeez runs a distraction. A big elbow from Crews next. Nakamura with a knee as Crews charges at him in the corner. Nakamura goes for the superplex. Crews fights back to drop Nakamura back to the floor.
Boogs comes to the apron and plays guitar. The referee sends him back. Azeez also tries to enter the ring while the referee was distracted. The referee catches him red-handed and also sends him to the back.
Apollo kicks out of a pin as we return. Nakamura goes to the top and Crews hits a dropkick there. Apollo hits a superplex, but Nakamura kicks out. Nakamura goes for a flurry of strikes but Crews hits back-to-back powerbombs. Nakamura kicks out again. Apollo goes for the splash but Nakamura gets his knees up. Nakamura gets ready for kinshasa, but Crews cuts him off with a step-up enziguiri. Crews tries to use the ropes as leverage but the referee stops the count.
Crews beats him around some more. Nakamura counters with an armdrag. Nakamura hits a falcon arrow. Nakamura hits the Kinshasa to get the win the IC title for the second time in WWE.
Winner – Shinsuke Nakamura
After the match, Rick Boogs is on top of the announce table and plays Nakamura's theme. Pat McAfee is dancing with him. Nakamura joins them in celebration.
The Street Profits vs Alpha Academy
We see a recap of the rivalry between Alpha Academy and The Street Profits. The Profits are at Gorilla Position for an interview. Ford says last time he faced Otis was one of the most painful experience of his life. But now, Montez is healed and The Street Profits are up to get the smoke. They make their entrance as we cut to another break.
Back from the break. Alpha Academy is wrapping up their entrance. Chad Gable and Montez Ford start. They trade arm twists. Gable hits a suplex after coming out of an arm-twist. Gable brings him to the mat. Ford does some flips to avoid an attack in the corner. They hit arm drags now. Ford ends up hitting enziguiri to send Gable in the corner. Otis tags in and Ford hits a dropkick to welcome him. Otis replies with a body slam. Dawkins tags in.
Dawkins hits a corkscrew elbow and a splash in the corner. Otis hits an overhead suplex. Frequent tags from Alpha Academy who hit shoulder blocks in the corner. Gable was arguing with the referee over who is the legal man. Ford slams him into Otis who lands on the apron. Ford hits a plancha on Otis on the floor. Dawkins hits the corkscrew suplex to Gable to get the pin and the win.
Winner – The Street Profits
The Profits run to the ramp to celebrate. Gable is promising Otis that he will make it better.
Rollins Warns Edge
We cut to Seth Rollins in the production truck. He wants some specific things in the graphics. We cut to a break.
Seth Rollins comes out dancing to the remixed version of "Burn it Down." Rollins says his sources told him that Edge is not here this week. He is also disappointed as he wants to crush him with his hands because of the misinformation that Edge threw out last week. Because of Edge, we have the Edge-lite version. Rollins takes shots at Edge saying his career is a little bit better than Edge. He has documented proof of it. He takes us to a video.
The video says Rollins has bettered every step. When Edge came up to WWE, he worked in many unknown factions, but Rollins was part of one of the most dominant factions in Shield. They compare their Money in the Bank cash-in. Edge fell short of winning the Universal Championship after winning the Royal Rumble this year, but Rollins won the title from Brock Lesnar. The video ends with some boos from the crowd.
"We want Edge" chants go off again. Rollins says he has a revelation. Edge and all of us should be thanking him. If he had stomped Edge 7 years back, Edge vs Rollins would not have been on the table today. Edge would not have been able to push his girl on the swing, instead, they would have been pushing him in a wheelchair. Rollins gets weird as he says Edge has pushed him too far and making him say things he normally would not. Rollins tells him that this is not 2014 and he will not hesitate to stomp him. And if that puts Edge out for good, so be it.
The Mysterios vs Robert Roode & Dolph Ziggler
Roode and Rey start. Roode whips him to the corner. Rey hits a step-up enziguiri. Ziggler tags in and hits a corner splash. Roode helds Rey as Ziggler runs Rey down with a running knee. Ziggler puts on a headlock. Roode drops Rey on the ropes. Rey fights back against Ziggler and hits a senton. Dominik hits a neck breaker and an arm drag on Ziggler. He drops Roode from the apron. Ziggler hits fameasser but Dominik kicks out of the pin. Dominik hits a dropkick and drops Ziggler on the ropes for 619.
The Usos appear on the big screen to distract Dominik. Roode tries to run over Dominik but Rey brings him out of harm's way. Dominik rolls up Roode to get the pin and the win.
Winner – The Mysterios
The Usos cut a promo from the big screen to claim that they will retain the titles at SummerSlam.
Baron Corbin's Last Plea
Corbin says he will have to file for bankruptcy soon if things don't improve. This is going to be the last time he will publically ask for help. He is habitual to a certain way of lifestyle, so he wants everyone to give away atleast $1000. He has a credit card scanner on his phone for the donations.
Kevin Owens comes out and tells him that this needs to stop. KO asks him who begs for $100,000. Corbin says he is desperate and is not leaving until KO gives him $1000. KO says he will give him the money if he beats him in a match right away. Corbin agrees and says he would not have been in this situation if KO would not have been such a cheap piece of sh*t. KO hits him with a stunner.
Baron Corbin Vs Kevin Owens
Owens unloads on Corbin with punches and chops. A suplex and a cannonball follows. Owens mounts some offense now, dropping Corbin with a clothesline and hitting a senton for a 2 count. Owens goes to the top and Corbin grabs him but Owens fights him off. Corbin ends up rocking Owens with a big right hand to send him to the floor. Owens makes it back in at the 6 count. Corbin attacks him and stomps away to keep him down.
Corbin rocks KO again. They get on the apron. Corbin goes for a suplex but Owens punches him and sets up for the powerbomb. Corbin ends up dropping him with a back body drop. We cut to a break.
Owens climbs to the top as we return. Corbin decks him and goes for the superplex. KO fights back to drop Corbin and hits a senton for a near fall. Corbin hits a chokeslam for a two-count. KO stops the End of Days but Corbin catches him with Deep Six for a two-count. Corbin catches the superkick and sends KO into the turnbuckles. KO goes for the Stunner. Corbin blocks it. KO hits the pop-up powerbomb to get the win.
Winner – Kevin Owens
After the match, Corbin argues with the referee that his shoulder got up before the three counts. Owens hits him with a stunner to end the segment.
After the break, we see Corbin backstage. He sees something and starts to run towards it. Corbin has grabbed hold of Money in the Bank briefcase and runs away with it. Big E runs after him.
Contract Signing
Sonya Deville is in the ring already. She brings out Sasha Banks and Bianca Belair for the contract signing. Bianca asks whether she is ready to sign or she has to turn her back so that she could backstab her again. Bianca says she should have known that she would stab her in the back.
Sasha says she used her braids against her and now she is expecting her to be her best friends. They continue to argue. Sonya cuts them off and says she does not want to another contract signing to go haywire and tells them to sign the contracts. Sasha picks up the pen but says she needs some witnesses. Carmella and Zelina Vega come out. Sasha signs the contract. Bianca also signs the contract and goes to clear the ring.
The brawling starts as Bianca beats down all three of Sasha, Carmella and Vega. Sasha hits her with a backstabber to take control. Carmella and Vega also join in the beatdown. Sasha puts Bianca on the table in the middle of the ring. Sasha stands on top of the table with the SmackDown title. Sasha puts on the Bank statement using Bianca's braid. Bianca is screaming as the show goes off the air.