WWE SmackDown July 14, 2023 Results & Live Updates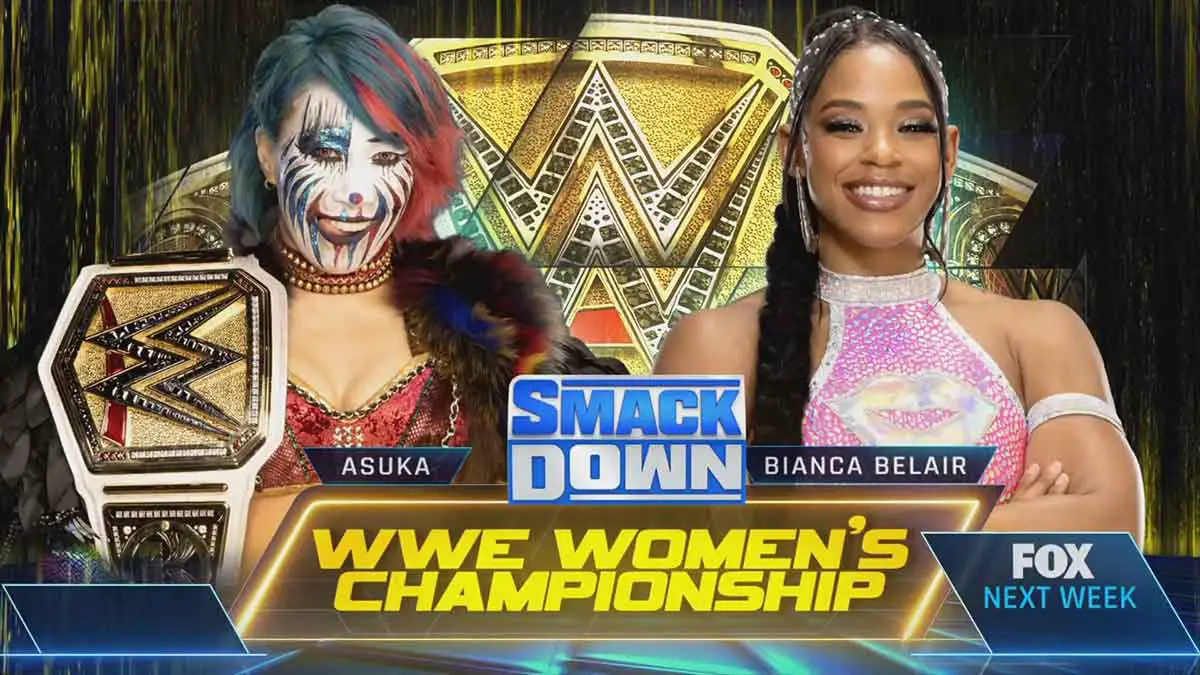 Welcome to the live results blog for WWE SmackDown July 14, 2023 episode which was live from PNC Arena in Raliegh, NC.
Asuka was set to defend WWE Women's Championship against Bianca Belair in a rematch. Asuka took the title away from Bianca at Night of Champions. Charlotte Flair and Ms. Money in the Bank Iyo Sky were a constant threat over this match. How did it end?
Jey Uso cut a promo to ask against Roman Reigns. Bayley took on Zelina Vega in a singles match. Pretty Deadly were in action against The Brawling Brutes. US Invitational tournament also started on this show which would crown the new #1 contender for United States Championship.
Tune in below as we post results from WWE Friday Night SmackDown July 14, 2023 episode with live updates, winners and highlights.
RESULTS
Pretty Deadly(Kit Wilson & Elton Prince) defeated The Brawling Brutes(Sheamus & Ridge Holland) in a tag team match via pinfall.
Bayley defeated Zelina Vega in a singles match via pinfall.
Santos Escobar defeated Grayson Waller, AJ Styles & Butch in United States Fatal 4-Way Invitational via pinfall.
Bianca Belair defeated Asuka(c) in a singles match via disqualification. Asuka retains WWE Women's Championship.
LIVE UPDATES
We see Jey Uso walking backstage.
Bianca & Flair!
Bianca Belair comes out to the ring. She talks about being patient, but says it is hard to be patient when you need something so badly. She says she has been waiting for a title match since Night of Champions and it is mad that she had to go through so many hoops to get something that should have been her in the first place. She claims that she will walk out tonight as WWE Women's Champion.
Flair comes out and says Belair got her fired up so much so that she wants her to walk out as her champion. And when she does walk out as the champion, Flair will be the first one to challenge her. Bianca says if she wins, why not they clash at Summerslam. Flair replies it's on if she wins. Bianca says she is ready for Asuka. Flair and Bianca shake hands before Flair leaves. Asuka is watching all this from behind.
The Brawling Brutes(Sheamus & Ridge Holland) vs Pretty Deadly(Kit Wilson & Elton Prince)
Prince starts against Sheamus but runs out of the ring. Sheamus pulls Willson into the ring throws him into the ring. Prince comes in and is thrown to the corner. Sheamus hits rolling sentons on both men on top of each other. Holland tags in and hits a double team body slam. Prince slips out of grips and hits a blow from behind. Pretty Deadly get the control with some double team in their corner. Holland hits a double back drop and tags in Sheamus. Sheamus dumps Prince over the top rope. Sheamus hits 10 Beats of Baltran on Wilson. Simultaneously, Holland puts Prince on the top turnbuckle and hits punches. We cut to a break.
Pretty Deadly are in control against Sheamus as we return. Willson hits big shots on Sheamus on the apron. Sheamus fires back but Willson gets her down and hits running uppercut. Quick tags between Pretty Deadly. Sheamus hits a reverse back body drop on Willson. Prince pulls Holland off the apron to block a pin. Prince attacks Sheamus from behind. Sheamus hits a back body drop. Holland tags in and tosses both opponents before body slams, corner splashes and a belly-to-belly suplex on both men. He hits a fisherman's buster.
Sheamus dives on both opponents on the floor. Back in the ring, Sheamus hits a Brogue kick on Willson but Prince pushes him over the ropes. Prince exposes a turnbuckle and sends a charging Holland into it. Prince hits a blow to the back and get the pinfall.
Winners – Pretty Deadly
We see the recap of Edge beating Grayson Waller last week. Waller is interviewed backstage now. Waller says he is not surprised that he is in the invitational and he would have beaten Edge if he has 15 more minutes. Sheamus says even The Rock is trying to get a Grayson Waller rub while his family is imploding every week. He keeps bragging for a while.
---
We see the recap of The Tribal Court segment last week and Jey Uso challenging Roman Reigns. We get an update on Jimmy Uso and he is out of the hospital but unable to compete.
---
Charlotte Flair has her bags up and is walking out when Adam Pearce cuts her off. Flair says she feels good about either women being the champion and is walking out before being asked. Flair leaves and Damage CTRL come in. Bayley says they also feel good, and they show off Sky's MITB. Flair turns back and says she is having second thoughts.
Zelina Vega vs Bayley
Bayley is carrying a part of Shotzi's hair that she cut last week. Bayley blasts Zelina with a forearm into the turnbuckle as the bell rings. Zelina's face is slammed into the announce table. Zelina fires back as she return to the apron. She hits a Meteora from the top before an armdrag. Bayley counters with a back drop. She picks up Zelina's chappal but Zelina snatches it up and beats her up with it. Iyo runs some distraction and Bayley takes a cheap shot at Zelina's face before dropping it on the ropes. Bayley hits Roseplant on Zelina to get the pinfall.
Winner – Bayley
After the match, Shotzi appears on the big screen in a pre-recorded promo. She talks about Bayley cutting some of her hair. She says may be she is different and laughs maniacally. She goes on to shave her head.
Jey- The New Tribal Cheif!
Jey Uso is out in the ring. He and Jimmy are inseparable. They are both sad, happy and mad together and they are hurt together also. Jey says he respects his family heirarchy, his grandparents, parents, his cousins, and everyone in his family but he is disrespecting all of Roman Reigns. Jey continues to rant and says he is the real Tribal Cheif and Head of the Table.
Solo Sikoa and Paul Heyman come out. Heyman says Solo has come out to ensure peace. They get into the ring. Heyman says only a conversation will take place in the ring tonight, which is a tradition since generations in his family. He says Roman Reigns will discuss rules of engagement next week. Heyman says Jey is behaving more and more like The Tribal Cheif day by day. Heyman tells Solo that he is right in saying that Jey is not aware of his consciousness.
Heyman then says Jey is the reason behind Jimmy being in the hospital because he was the one who wanted to take on Roman. He adds that he does not understand how Jimmy will forgive him, and that his father and mother will also never forgive him. Solo takes the mic and tells Jey that what happened with Jimmy was his fault and he will also never forgive him. Jey punches Solo to start a breif brawl. Jey throws Solo to the floor. He teases attacking Heyman.
Solo attacks Jey from behind. Jey takes him down with double leg and unloads with punch. Jey goes for a superkick on Solo who ducks it, and Jey ends up catching Heyman with it who has brought in a steel chair. Jey hits a suicide dive on Solo on the floor. He gets hyped up. The crowd cheers for another superkick on Heyman who is down near the ropes and is trying to talk Jey out of it. Jey picks up the chair and hits it on Solo as he returns to the ring. Solo and Heyman retreat.
Grayson Waller vs AJ Styles vs Butch vs Santos Escobar – United States Fatal 4-Way Invitational
Austin Theory is on the commentary. Waller hits a punch on Butch and rolls to the floor. He talks trash to Theory and Butch attacks him as he jumps from the steel steps. AJ hits a dropkick on Escobar to send him to the floor. Butch runs over Escobar on the floor. He gets into the ring for some back and forth with AJ including a jackknife cover. AJ and Butch are locked in. Waller rolls them both over for a two-count. They deck Waller.
Escobar hits a crossbody on Styles and Butch. Waller also deck them. Escobar nails a punch on Waller. Waller sets up Escobar on AJ's shoulders and jumps on him. Butch slams him to the mat. AJ sends Butch to the floor. Escobar hits a dropkick to take us to a break.
Waller decks Butch as we return. He hits a big kick on Escobar. Butch goes for some joint manipulation on Waller. Waller hits him with a back body drop. AJ comes in and hits quick shots on Waller before a backbreaker. Escobar attacks Styles. Butch comes in and Escobar corners him. He hits an avalanche hurricanrana on Butch. Butch lands on AJ who converts it into a powerbomb to get two-count. Escobar goes to the top. Waller meets him there.
Butch and AJ gets up for double superplex. Escobar hit a sunset flip triple powerbomb and everyone is on the mat now. Escobar hits a running knee on all 3 opponents one by one in the corner. He hits a Phantom Driver on Butch but AJ and Waller break the pin. Waller is thrown to the floor. Butch, Escobar and AJ trade shots. Butch hits an enzuigiri on Escobar, and then on AJ. Escobar jumps from the top but Butch counters it with a double leg. Waller breaks the pin.
Waller and Butch fight to the floor. Waller hits them with a suicide dive which gets countered. AJ hits Phenomenal Forearm on Escobar to stop his Phantom driver on Butch. AJ goes for Styles Clash but the big screen shows Karrion Kross attacking The Good Brothers backstage. Styles gets to the floor. Waller attacks him from behind. Waller hits a rolling stunner on Butch. Escobar hits Waller with a splash from the top to get the pinfall.
Winner – Santos Escobar
After the break, AJ is checking on The OC backstage. He ensures that he will take care of Karrion Kross.
---
The Street Profits are in the parking lot. They keep looking at their phone and Dawkins is ensuring Ford, "he is going to be here!" again and again. A limousine rolls in and Bobby Lashley comes out of it. Lashley invites them to get in if they are ready to talk.
---
Rey Mysterio, Sheamus and Cameron Grimes get pre-recorded promos for their US title invitational match next week. LA Knight, the 4th man in that match, comes out to the stage. He says he is suddenly everywhere now and everyone wants to use his name to get views. He says he is the best decision WWE has ever made, but US title invitational is the worst idea. He ensures that he will be a champion here.
Asuka(c) vs Bianca Belair – WWE Women's Championship
Bayley and Iyo Sky get into the front row with a ticket. Asuka starts with a takedown and a kick. Bianca tosses her over. She hits a hip toss and unloads in the conrer with punches. Asuka pulls her by her braid. Bianca throws her to the corner. Asuka slips away and sends Bianca into the turnbuckle to hit some kicks. Bianca fires back and gets her up for KOD. Asuka slips away and hits a calf kick. Bianca hits a shoulder tackle and both women are down. Charlotte Flair also walks out to the front row with a ticket. We cut to a break.
Bianca hits back to back dropkicks. She hits a suplex next before hitting a handspring moonsault to get a two-count. Bianca sets up for superplex but Asuka blocks it. Bianca lands on her feet on the floor but Asuka hits a missile dropkick to get a close two-count. Bianca blocks her in the corner. Asuka hits a knee to the face before a takedown for Asuka lock. Bianca blocks it and hits a spinnebuster to get a two-count. Asuka counters handspring splash with Asuka lock. Bianca rolls through to get a two-count.
Bianca ends up on the apron with another roll-through. Asuka hits her with double knees. Bianca picks Asuka up for KOD and hits it on the announce table. Flair gets up from her seat in the front row. She hits a big boot on Bayley on the floor after Bianca ducks her. Flair and Bianca argue. Iyo sends Flair into the ring post. Iyo shows off MITB to Bianca. Flair goes for a spear on Iyo but she sidesteps and Flair ends up hitting Bianca to cause a DQ.
Winner – Bianca Belair
Bayley and Iyo drop Flair on the floor. They take Asuka into the ring. Iyo gets to the top rope to attempt a moonsault and asks Bayley to hand MITB breifcase to the referee. Asuka hits Bayley with the Green Mist to stop the cash-in. Asuka takes her title and runs away to close the show.