WWE SmackDown August 25, 2023 Results, Live Updates, Highlight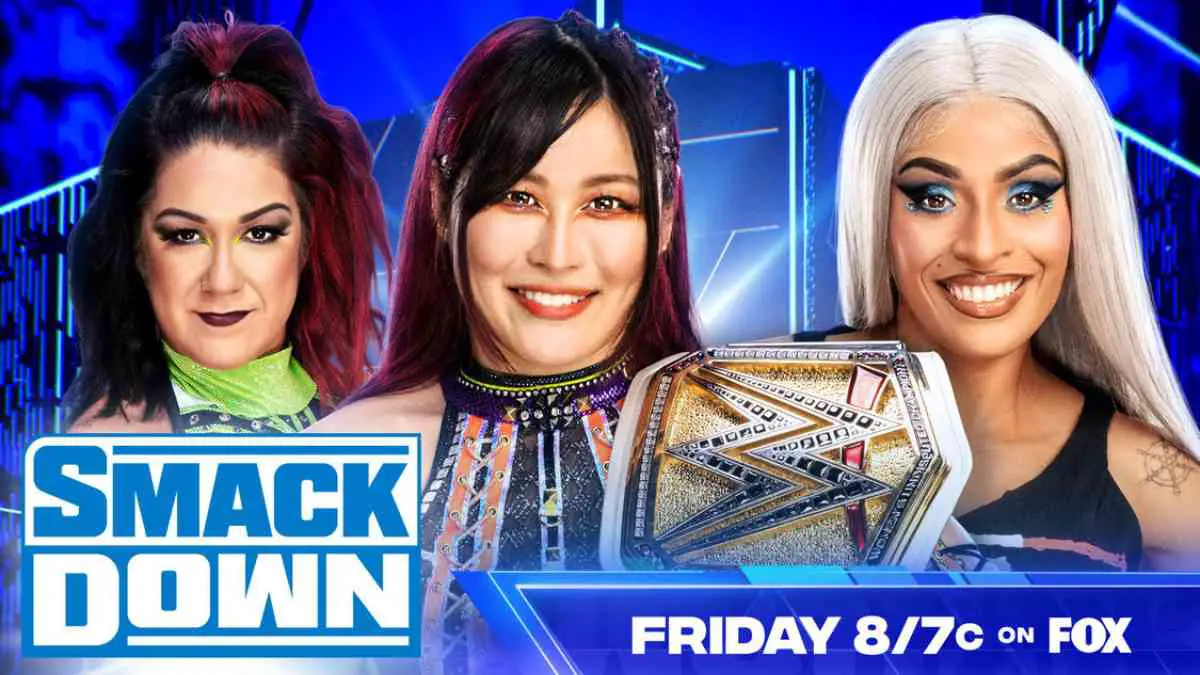 Welcome to the live results blog for WWE SmackDown August 25, 2023 episode which was be live from Louisville, KY, with just a week left for Payback 2023 event.
WWE paid tribute to Bray Wyatt and Terry Funk during the show. 2 matches were announced in advance for the show. Iyo Sky defended her WWE Women's Championship against Zelina Vega, which was her first televised title defense. Rey Mysterio and Grayson Waller clashed in another singles match.
Two of Wyatt's opponents, LA Knight and Finn Balor clashed in the main event. The Street Profits and The Brawling Brutes fought in a Terry Funk Hardcore match. Tune in below as we post results from WWE Friday Night SmackDown on August 25, 2023, with live updates, winners, highlights and complete action.
RESULTS
Rey Mysterio defeated Grayson Waller in a singles match via pinfall.
Iyo Sky(c) defeated Zelina Vega in a singles match via pinfall to retain WWE Women's Championship.
The Street Profits(Angelo Dawkins & Montez Ford) defeated The Brawling Brutes(Butch & Ridge Holland) in a Terry Funk Hardcore Match via pinfall.
LA Knight defeated Finn Balor in a singles match via pinfall.
LIVE UPDATES
The show starts with the graphics in memory of Terry Funk and Bray Wyatt. Whole locker room is on the stage. Erick Rowan is also there, standing beside Triple H. Braun Strowman is also there in the front row. Michael Cole is on the mic to ask everyone to join in the 10 bell salute. We get a video package in tribute of Bray Wyatt, with footage from his in-ring career, backstage and personal life, his famous dialouges. Wyatt's rocking chair is under the spotlight as we cut to a break.
---
We return for a video package featuring condolences for Terry Funk. Michael Cole announces that tonight's show is about honoring Bray Wyatt and Terry Funk. Cody Rhodes will be here later tonight to honor memory of Terry Funk, who had a great rivalry with his father Dusty Rhodes.
Rey Mysterio vs Grayson Waller
Rey Mysterio has a "BW" band on his arm. Rey Mysterio vs Austin Theory is announced for Payback. Grayson Waller will also host Cody Rhodes in Grayson Waller Effect. Waller pushes Rey away to kick off the match. Rey shoves him back. Rey nails him with a big right. Waller hits a knee to midsection. Waller gets a side headlock on. Rey hits him with a hurricanrana before unloading with punches from the second rope. Rey sets up for 619 but Waller manages to send him to the floor. Rey hits a hurricanrana on the floor to send Waller into the barricade. We cut to another break.
Waller hits a double stomp into the canvas in the corner as we return. Waller hits an elbow drop from the second rope to get a two-count. Rey rallies to come back into the match. He hits a senton followed by a springboard crossbody. He counters Waller with a satellite DDT next. Quick back and forth before Rey sets up 619. Austin Theory comes out to interfere. Santos Escobar also comes out but Theory hits him with a chop block on his injured knee again. Rey hits 619 on Waller. Theory grabs his leg as he goes for the follow up. Escobar nails Theory with a superkick. Rey hits Rocking the Dime leg drop to get the pinfall.
Winner – Rey Mysterio
We see more tribute tweets for Bray Waytt. LA Knight vs Finn Balor match is announced as the main event in Wyatt's tribute. A QR code with pic for Wyatt's debut.
---
We see a recap of Zelina Vega beating Iyo Sky in the last two months. Iyo is interviewed with Bayley and Dakota Kai and asked about Vega's win over her in the last two months. Bayley says Vega's win were flukes, and Iyo is a once-in-a-generation talent. Bayley lists of all her title wins, and asks us to buckle up and enjoy the ride. Iyo makes her entrance for the match with Damage CTRL.
---
We get another QR Code with The Fiend's debut pic.
Iyo Sky(c) vs Zelina Vega – WWE Women's Championship
Arm wringers from both sides to start the match. Iyo does a handspring to show off. Vega hits an armdrag to answer it. Bayley gives somes instructions to Iyo before Iyo pulls Vega by her hair to send her into the ropes. Iyo hits a bodyslam to get a two-count. Vega slips out of another bodyslam. She kicks at the face. She gets to the second rope but Iyo picks her up to hit a powerslam. Iyo misses a corner splash. Zelina slams her face into the corner before a hitting a bulldog. Zelina hits hammerlock DDT to get a two-count. Zelina with an Eddie Guerrero tribute before hitting Meteora from the second rope to get a near fall.
Sky comes back with a springboard shotgun dropkick. Vega counters with a DDT. Iyo blocks Code Red and hits a powerbomb. Iyo takes her time to get up. She sets up Vega for a moonsault. Vega pulls off the top rope and hits Code Red, but Iyo rolls to the floor. Iyo manages to send Vega into the steel steps. Back to the ring, Iyo hits double knees in the corner and follows up with Over The Moonsault to get the pinfall.
Winner – Iyo Sky
Another video with more tweets giving tribute to Wyatt.
Cody Rhodes Remembers Terry Funk & Bray Wyatt
Cody makes his entrance for his Terry Funk tribute. Cody starts talking when he was 11 year old when Terry Funk called his father "egg-sucking dog" and thought they were about to an incident. Cody says they get to be called WWE Superstars in the modern nomenclature, but there are a fabled few who have earned to be called themselves "Cowboys", and both Terry Funk and Bray Wyatt can be proudly called Cowboys. Cody talks about Funk being in wrestling for 50 years, and he constantly keeps changing. Cody says while some gives their rub to 2 or 3 future stars, Terry Funk gave his rub to an entire company and entire movement. He sends us to a video package recalling Funk's career. After the video, Cody announces that this next tag team match will be a Terry Funk Hardcore match.
The Street Profits(Angelo Dawkins & Montez Ford) vs The Brawling Brutes(Butch & Ridge Holland) – Terry Funk Hardcore Match
The match starts with a quick brawl. They are out of the ring right away. Butch rakes Ford's face and pulls his ear. Dawkins has whipped Holland into the steel steps. Ford htis a shoulder tackle in the ring. Butch hits a dropkick to Ford, and then to Dawkins on the apron. Dawkins and Butch are thrown to the floor. Holland swings Ford around before hitting a DDT. Dawkins return to hits a kick to midsection and bring down Holland. Ford hits him with a dropkick.
Butch comes in but The Profits him with a back body drop. They unload on Holland in the corner. Butch hits big boots to drop the Profits. Holland gets Butch in an airplane spin and hits The Profits in the process. Dawkins hits a back body drop on Holland on the floor. Butch hits him with a running knee. Ford hits a tope suicida to take everyone down. Bobby Lashley comes out to take us to a break.
Holland tackles Ford. Butch and Holland hits 10 Beats of Bothran on Ford and Dawking respetively. Brutes drop Ford with a double team move. Dawkins tackles Butch on the floor. He hits a shoulder tackle, a spinning elbow in the corner and an uppercut on Holland in the ring. Ford hits a blockbuster as Dawkins holds Holland on his shoulders. Quick moves from everyone involved, and the sequence ends with a clothesline from Holland on Ford.
Dawkins gets to the top rope. Holland hits him with a superplex. Ford hits a frog splash on Holland to break the pin. Butch hits a senton to break the pinfall. Butch goes to bring out a table but ends up knocking Lashley on the floor. Ford hits Butch with a suicide dive and brings in the table. Holland fights off both opponent to drop them both. Holland gets to the top rope but Lashley pulls him off and hits him with a spear. The Profits hits The Revelation to put Holland through the table for the pinfall.
Winners – The Street Profits
We get a quick video footage of The Miz talking to TMZ about LA Knight and called him a fad and blip.
---
LA Knight makes his entrance for the match. He gives his respect to Bray Wyatt first. Knight then moves towards the Miz and says The Miz talks the same tired old material that Knight is just a fad and is yesterday's news. But, The Miz was never even a fad. Knight talks about how even Miz's stunt double was a bigger star and the time he main evented WrestleMania, he as the background for Cena vs The Rock rivalry. He tells Miz to run next time he sees him.
---
We get a QR Code for Wyatt's return at Extreme Rules last year.
LA Knight vs Finn Balor
Balor starts with a takedown. Knight slaps him from behind. Knight hits a shoulder tackle. Balor moves to the floor for a breather. Knight gets to the floor and slams Balor's face into the announced table multiples times in quick succession. Knight hits a springboard tackle off the ropes. Balor trips him when he gets to the top rope. We cut to a break.
Knight hits a neckbreaker as we return from the break. Knight fires punches before a DDT to get a two-count. He hits a back body drop and a boot to get another two-count. Balor come back with a Russian leg sweep. Balor stomps on him a few times near the ropes. Balor hits a slingblade. Knight comes back with a clothesline to cut off a shotgun dropkick. Knight hits kicks in the corner before a running knee against the turnbuckle. Balor trips him and hits a stomp on the chest. Balor hits a shotgun dropkick.
Knight avoids Coupe de Grace and hits a powerslam. Knight hits an elbow drop to get a two-count. Balor rolls him up after blocking BFT. Balor hits an inverted DDT into an elbow drop. Knight trips him on the top rope. Balor hits back with punches to send him back down. Knight jumps back to the top and hits a superplex. Knight hits Blunt Force Trauma to get the pinfall.
Winner – LA Knight
The lights go down after the match. The show closes with Wyatt's lantern sitting in the middle of the ring and his shadow on the big screen.