WWE Releases Superstars, Producers & Others Amid COVID-19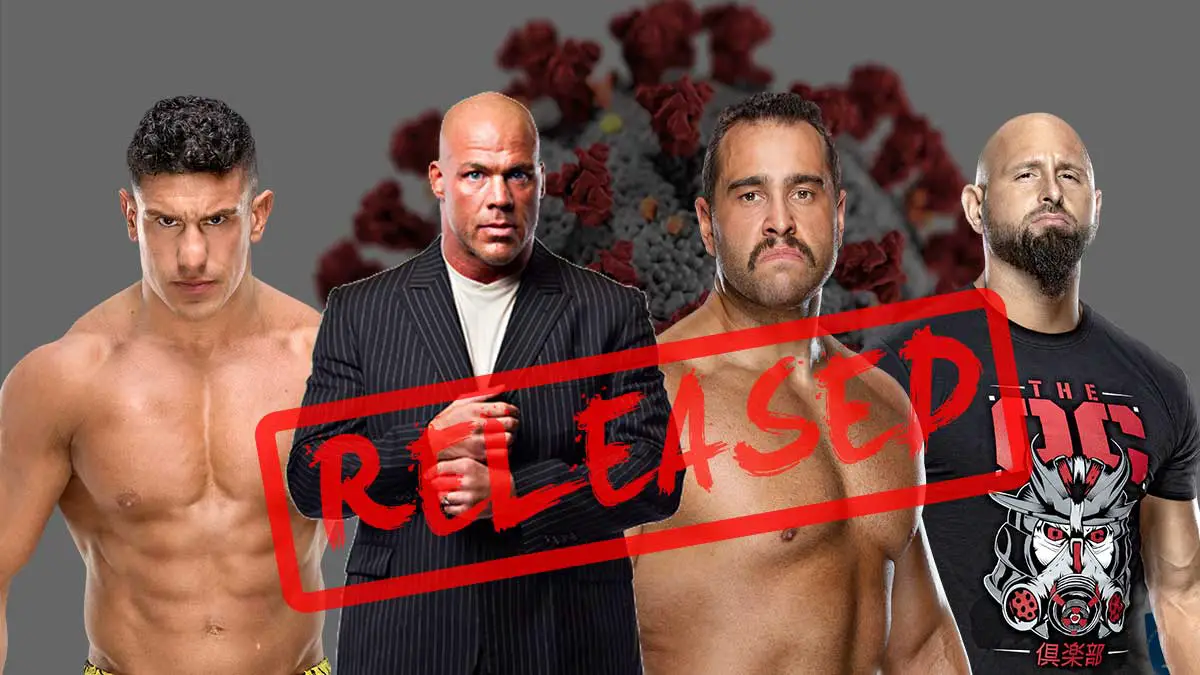 15 April 2020 will be remembered for a long time in WWE history as the company announced Kurt Angle and Rusev as some of the major names that are released due to the financial slowdown amid the ongoing COVID-19(Coronavirus) Pandemic.
On Wednesday, WWE Chairman Vince McMahon held a conference call to address WWE Employees and inform about the steps the company is going to take due to financial stress from COVID-19 situation. Those steps include many employees being released or furloughed to reduce the wage bill. Later, WWE issued a press release, detailing the same thing.
As the day progressed, WWE's official statements and other media reports listed the talents, producers, coaches and other employees that are being released or furloughed. First list of released superstar came from WWE included the likes of Drake Maverick, Curt Hawkins, Karl Anderson, Luke Gallows, Heath Slater, Eric Young, EC3 and Lio Rush.
PWInsider reported that WWE Hall of Famer, Kurt Angle, who was working as a producer, is released. Also, 9 other producers are furloughed, which are Billy Kidman, Mike Rotunda, Pat Buck, Fit Finlay, Shawn Daivari, Scott Armstrong, Sarah Stock, Shane Helms and Lance Storm.
Aiden English, who was under a talent contract, became the first announcer to be sacked by WWE. The second list of WWE superstars who are released are Sarah Logan, Erick Rowan, Primo and Epico. WWE also informed that the referee Mike Chioda is also released.
Rusev also tweeted that he is out of WWE now, before WWE confirmed his departure. Rusev has been under contract negotiations for almost 6 months now. Both parties did not seem to be coming on common grounds for a new contract, and the current situation only restricted the company further.
NXT talents Deonna Puzzaro and Aleksandar Jaksic also tweeted that they are let-off. MJ Jenkins, Spanish announcer Jerry Soto and on-air talent Josiah Williams were also added in the list later. 3 performance center coaches- Serena Deeb, Kendo Kashin and Chris Guy are also released as per the information from PWInsider.
WWE is expected to release or furlough more than a hundred employees as per Twitter Handle @WrestleVotes. The complete list of releases are as below:
WWE Releases Due To COVID-19
Wrestlers/Superstars
Rusev
Cain Velasquez
Zack Ryder
No Way Jose
Mike Kanellis
Maria Kanellis
Primo
Epico
Rowan
Sarah Logan
Karl Anderson
Luke Gallows
EC3
Drake Maverick
Curt Hawkins
Heath Slater
Eric Young
Lio Rush
MJ Jenkins
Deonna Purrazzo
Aleksandar Jaksic
Curtis Axel
Producers
Kurt Angle (Released)
Billy Kidman (Furloughed)
Mike Rotunda (Furloughed)
Pat Buck (Furloughed)
Fit Finlay (Furloughed)
Shawn Daivari (Furloughed)
Scott Armstrong (Furloughed)
Sarah Stock (Furloughed)
Shane "Hurricane" Helms (Furloughed)
Lance Storm (Furloughed)
Coaches
Serena Deeb
Kendo Kashin
Chris Guy (Ace Steel)
Announcers
Aiden English
Jerry Soto
Referees
Mike Chioda
Creative/Writers
Andrea Listenberger
Other Talent
Josiah Williams