WWE RAW Results & Live Updates February 27, 2023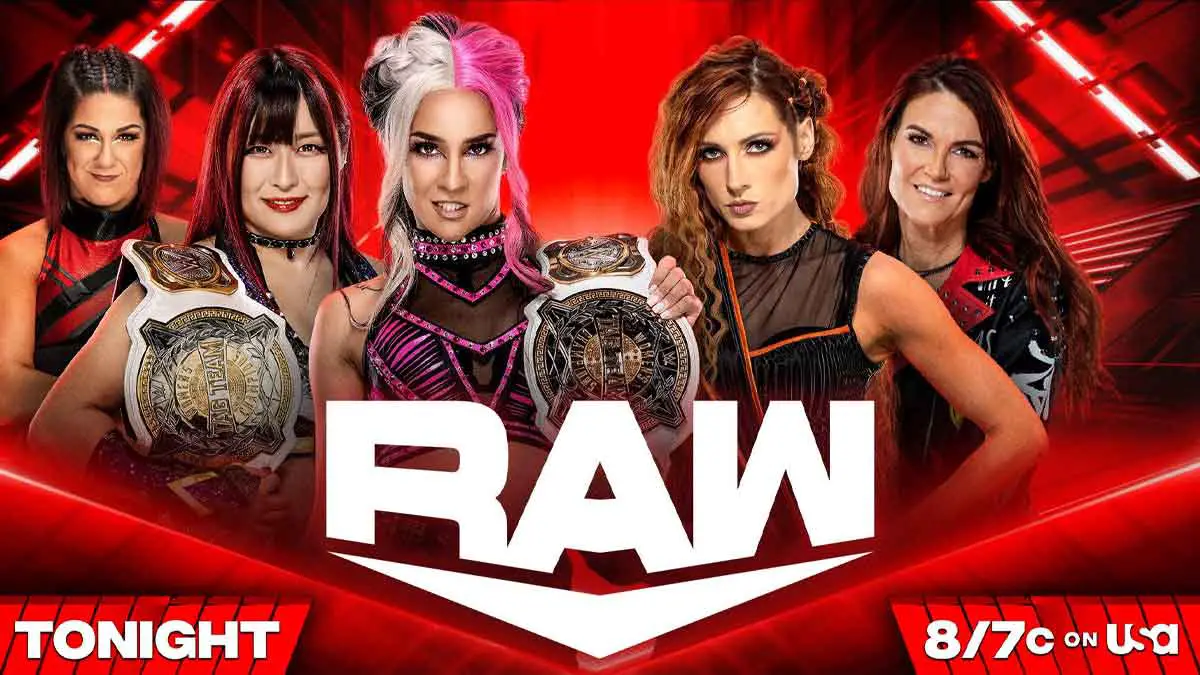 Welcome to the live results blog for WWE RAW episode of February 27, 2023, where Lita and Becky Lynch await to challenge for WWE Women's Tag Team Championship.
The show will continue the build-up for WrestleMania 39 event with this Women's tag title defense from Damage CTRL's Dakota Kai and Iyo Sky. Will the unlikely duo of Becky and Lita become the tag champions?
MVP has asked Brock Lesnar to come to RAW this week to and accept the challenge from Omos. Will the Beast Incarnate appear on the show? The Miz is set ot make his big announcement which might be related to WrestleMania itself. Two women's matches are set in Asuka vs Carmella, Piper Niven vs Candice LeRae.
Expect to see more from Cody Rhodes, Seth Rollins, Bayley, and many others. Tune in for complete results from WWE Monday Night RAW episode of February 27, 2023, with live updates, winners, and highlights with comete action.
RESULTS
Solo Sikoa & Jimmy Uso defeated The Street Profits(Montez Ford & Angelo Dawkins) in a tag team match via pinfall.
Cody Rhodes defeated Chad Gable in a singles match via pinfall.
Asuka defeated Carmella in a singles match via submission.
Candice Le Rae defeated Piper Niven in a singles match via pinfall.
Bobby Lashley defeated Elias in a singles match via submission.
Johnny Gargano defeated Otis in a singles match via pinfall.
Lita & Becky Lynch defeated Damage CTRL(Dakota Kai & Iyo Sky)(c) in a tag team match via pinfall to win WWE Women's Tag Team Championship.
LIVE UPDATES
We see Lita and Becky Lynch getting into the arena.
---
We cut to a recap of the segment between Jimmy Uso and Sami Zayn from last week's SmackDown. We go live to the arena where Solo Sikoa and Jimmy Uso make their entrance.
Jimmy takes the mic and starts to talk about the problems in the Bloodline, but they look like problems from outside. But, if you love your family these sort of things take place all the time. He says Sami is coming for one member of the Bloodline then he is coming after every member of the Bloodline. He asks whether Kevin Owens or Sami got one over Bloodline at Royal Rumble and Elimination Chamber.
Jimmy then asks if the crowd thinks Cody Rhodes will be able to get one over Roman at WrestleMania. He adds that Roman will be here at SmackDown this week to remind everyone that he is the one. The Street Profits enter and start taunting Solo and Jimmy. They mock the issues in the Bloodline by calling for Jey to come out. Jimmy tells them to shut their mouths or… The Street Profits say they want the smoke and start a brawl. They manage to send Solo and Jimmy to the floor to take us to a break.
Solo Sikoa & Jimmy Uso vs The Street Profits(Montez Ford & Angelo Dawkins)
Jimmy and Angelo start the match. Jimmy corners Angelo for some punches before Angelo turns it around. Angelo misses a corner splash. Solo tags in and no-sells a shoulder tackle. Angelo hits a dropkick before tagging in Ford for a double dropkick to drop Solo. Ford puts on a side headlock. Solo takes him to the corner to tag in Jimmy.
Jimmy and Solo double team to drop Ford before Jimmy hits a basement clothesline. Jimmy keeps Ford on the mat for a while. Ford hits back with an enzuigiri. Angelo tags in and rocks Jimmy with a dropkick and an enzuigiri. Angelo puts on a side headlock. Solo gets a blind tag when Jimmy gets near the ropes. Solo hits Dawkins with a big clothesline to take over control. We cut to a break.
Solo hits a Samoan drop on Angelo as we return. Solo unloads with big punches in the corner. Solo hits a hip attack in the corner. He drops Ford with a superkick at the apron. Dawkins cuts off his hip attack with a flying back elbow. Ford returns to the apron and gets the tag against Jimmy, Ford hits several jabs before a couple of clotheslines. He hits a belly-to-back suplex and a standing moonsault to get a two-count.
Jimmy sends Ford to the apron where Ford hits him and Solo with kicks. Ford goes to the top but Jimmy nails him with a big uppercut. Ford hits him with a headbutt to drop him back to the mat and hits a crossbody for a near fall. Jimmy hits another uppercut. Ford hits quick kicks before they trade enzuigiri.
Solo gets the blind tag but Ford drops himo off the apron. The Street Profits go for a double team on Jimmy but Solo pushes Ford off the top and then nails Angelo with a superkick. Solo hits Samoan Spike on Angelo to get the pinfall.
Winners – Solo Sikoa & Jimmy Uso
After the match, Solo and Jimmy set up Angelo in the corner. Kevin Owens comes out of nowhere and hits both Solo and Jimmy with superkicks. Angelo leaves the ring before Solo goes after Owens. Owens also exits the ring to avoid an attack from Solo.
VIP Lounge with Brock Lesnar
We get a recap of Brock Lesnar hitting a low blow on Bobby Lashley to cause a DQ at Elimination Chamber. We also see MVP's call out from last week for Lesnar to face Omos at WrestleMania. We cut to a break.
Brock Lesnar's music hits after the break and he makes his way into the ring which is set up for VIP Lounge. MVP comes out next to the stage. MVP says he did not imagine Lesnar turning up like this when he called him out last week. Lesnar says he has no beef with MVP, and he is all about business. He is here for business and listen to MVP as he sits on the VIP Lounge. Lesnar assures MVP that there will be no suplex city tonight.
MVP sits on the couch. Lesnar brings up MVP's coward jibe from last week. Lesnar says MVP could not rattle him last week and he can't do it tonight. Lesnar asks MVP to hype his fight. MVP hesitates before starting to run his mouth. He hypes Lesnar but says he was outmatched when he came against Lashley. He then says Lesnar will not stand a chance against Omos with him in the corner.
Lesnar praises MVP for his promo and says he is hyped. He accepts the challenge for a match against Omos at WrestleMania. Lesnar announces the match and says they should shake and toast on it. MVP goes to pop a champagne but Lesnar says he has got good stuff with him. Lesnar brings out a flask and drinks from it. He hands it to MVP who wanted to toast with champagne but Lesnar insists that MVP drinks from his flask.
MVP drinks from the flask but doesn't like the taste. MVP ends up spitting the drink to Lesnar's face. Lesnar's expression changes but he keeps his cool. Lesnar wipes his face with a towel handed down by MVP. Lesnar then picks up MVP and hits him with F5 to close the segment.
---
Lita and Becky Lynch are backstage for an interview. Lita says being a tag team partner with Becky Lynch is a bucket list item for her. Becky says there is no woman in this busines that she respects more than Lita. She claims that we are seeing the future women's tag team champions.
---
We are reminded that John Cena returns to RAW next week in Boston.
Chad Gable vs Cody Rhodes
Cody makes his entrance for the match. Gable picks his leg to start the match. Cody changes into a waistlock. Some quick counters from both men. Gable slaps Cody before Cody rolls him with a sunset flip for a two-count. Gable puts on an ankle lock but Cody was quick to kick him away. Gable goes to the top. Cody follows him and hits him with an inverted superplex. We cut to a break as Gable rolls to the floor.
Gable is in control. Cody lands on his feet on a back body drop but his leg is hurt. Gable hits him with a dragon screw leg. We see Otis distracted Cody during the break and Gable hit him with a dragon screw. Gable misses a splash from the top. Cody hits quick punches before hitting a powerslam. Cody htis a disaster kick to get a two-count.
Cody puts on a figure four leg lock in the center of the ring. Cody puts more pressure on it but Gable is able to get his hands to the ropes after some problems. Gable counters a disaster kick with a German suplex for a close two-count. Cody flips over to counter a suplex. Gable hits him with a cliffhanger DDT. Gable hits a moonsault quickly but Cody kicks out of the pin.
Gable hits a big chop in the corner. Cody fires up and they trade big chops in the corner. They block hip toss attempts a few times before Cody throws Gable to the floor with a hip toss. Gable asks Otis to come to him but Otis is looking for Maxinne Dupri in the crowd. Cody hits a suicide dive on Gable and throws him back into the ring.
Cody goes and instructs Otis where he might find Maxinne. Otis realizes Cody is beside him and goes to attack him. Cody throws him over the barricade into the crowd. Cody gets back into the ring and hits a Cody Cutter. Cody hits cross rhoades to get the pinfall.
Winner – Cody Rhodes
After the match, Cody takes the mic and says we are just 33 days away from WrestleMania but he has not come face-to-face with Roman Reigns until now. Cody says he is ecstatic that Roman is coming to Smackdown because he will also be there.
---
Byron Saxton is backstage with Baron Corbin who has asked for this time. Corbin says he is hearing what people are saying. Kevin Owens is walking past them and Byron cuts off Corbin to run to Owens. Byron asks Owens of consequences of going after the Bloodline. Owens says he has only one thing on his mind and that is the destruction of the Bloodline, and he is not worried about the consequences.
---
The Judgment Day are backstage. Dominik takes shots at his father Rey Mysterio about their encounter at SmackDown and how he cost him the match. Dominik says he will also be at SmackDown later this week when Rhea Ripley faces Liv Morgan. Rhea talks about Charlotte Flair for a bit and says there is nothing Flair could last week say that would intimate her. Finn Balor says Edge was mistaken when he thought their fight was over at Elimination Chamber. He challenges Edge for a match at WrestleMania.
---
Otis is outside the Doctor's room backstage when MMM trio come in. Maxinne Dupri asks Otis what he thought about their offer. Otis goes to babble. Maxinne says Otis does not need words to be a superstar, and they will be happy to watch Otis from ringside if he gets a match tonight.
Asuka vs Carmella
They lock up as the bell rings. Carmella takes the first shot. Asuka fires him with quick shots. Asuka kicks at her face. Asuka goes for an ankle lock but Carmella kicks her away. Carmella nails her with back elbows in the corner. She boots Asuka to the corner before showing off with a moonwalk before a hip attack in the corner. Asuka comes back with a knee strike to her face.
Asuka sends Carmella to the floor. A bit of back and forth on the floor before they return to the ring. Asuka goes for a hip attack on the ropes but Carmella sidesteps and Asuka falls to the floor. We cut to a break.
Carmella is in control as we return from the break. Asuka tries to get out of a chinlock and Carmella pushes her away. They shove each other a few times before Asuka hits with a back elbow. Asuka hits rapid fire kicks and backfists. Carmella rolls to the floor and Asuka hits her with a sliding knee.
Back to the ring, Carmella dodges a senton from Asuka and nails a superkick to get a two-count. They trade some innovative pin attempts before Asuka puts on Rings of Saturn to get the submission.
Winner – Asuka
Asuka takes the mic after the match and screams in Japanese. Asuka asks WWE RAW Women's Champion Bianca Belair to come out. Bianca makes her entrance. Bianca says Asuka better call her out here to tell the people that they will tear the house down at Wrestlemania. Carmella comes in and shoves Asuka into Bianca, dropping both of them.
Piper Niven vs Candice Le Rae
Nikki Cross is at ringside for this match. Piper pushes Candice to the mat. She keeps control and hits a body slam. Candice counters and avoids a hip attack. Piper hits back from the corner and hits a senton to get a two-count. Piper puts on a choke now. Candice struggles until Piper throws her into the corner.
Candice hits a back elbow to counter Piper but Piper sends her to the floor. Piper throws Candice into the barricade before throwing her back into the ring. Piper then picks and throws away Cross into the barricade. Piper gets back into the ring and Candice rolls her up to get the pinfall.
Winner – Candice LeRae
Johnny Gargano is backstage and tells us that Otis came to him asking for a match tonight. Judgment Day come in and start to mock Gargano. Gargano also takes a shot at them saying they are just adults who are going through their goth phase. Balor says Otis will flatten him tonight, and Otis does not get him, Balor himself will get the job done next week.
The Miz TV
The Miz enters before the break. He says before he could make the big announcement he would like to thank his gorgeous wife Maryse who is gift that keep on giving. Miz praises Maryse for a while before saying that he is bringing out a guest who is also the host of WrestleMania. It is none other than the Miz himself. Miz hypes WrestleMania for a while before taking shots at Logan Paul.
This brings out Seth Rollins. The crowd keeps on singing Rollins' theme which irritates Miz. Miz keeps on ranting on the crowd to stop singing. Rollins says he has come out to congratulate him and not rain down on his parade. Miz says Rollins is raining down on his parade for three weeks. Rollins says he hit Miz with a stomp because he was being a B-hole. Miz says he is not a B type person but an A type person. Rollins asks if he is an A-hole then.
Miz gets enraged a bit more. Rollins says he just wants Miz to call Logan Paul. Miz says he won't do it. Rollins drops Miz with a superkick. Rollins pulls out Miz's Iphone and unlocks it using retina scan. Rollins sits down in the ring and calls Logan. Logan is surprised at getting Rollins in Miz's cell. Rollins mocks him over Jake Paul's loss to Tommy Fury yesterday. Rollins asks Logan to come to RAW next week in Boston. Logan agrees and dares Rollins to trash talk when they face off next week.
Rollins cuts the call and was leaving. Miz recovers and goes for his phone. Rollins hits him with a stomp.
---
Cathy Kelly is with Damage CTRL trio backstage. Bayley says Dakota Kai and Iyo Sky are the greatest women's tag team champions and they will retain the titles against Lita and Becky tonight.
As Damage CTRL leave, WWE United State Champion Austin Theory interrupts Kelly and starts talking about John Cena. He brings up Cena's Hustle, Loyalty & Respect moto. Theory says he showed his hustle by defending his title against Edge last week just two days after Elimination Chamber. Nobody is more loyal to his US title than him and he will show his respect to Cena next week.
Bobby Lashley vs Elias
We see a recap of Firefly Fun House from SmackDown last week. Elias rushes Lashley in the corner as the bell rings. Lashley fires back with a punch and hits a body slam. Boogs is taking notes backstage. Lashley takes Elias to the floor. He goes to throw Elias into the ring post but Elias slips out and drops him on the barricade. Lashley hits him with a flatliner in the ring and a spear. He puts on a Hurt Lock to get the submission.
Winner – Bobby Lashley
Lashley takes the mic after the match. He says he is not in a good mood because he owned Lesnar at Elimination Chamber but Lesnar did not tap to Hurt lock. He then talks about Bray Wyatt and tells him to keep his name out of his mouth. Lashley leaves the ring when suddenly Muscle Man Dance video package starts on the screen featuring Bray Wyatt and several of Lashley's muscular poses. Wyatt tells Lashley to run to close the video package.
---
Chelsea Green is arguing with Adam Pearce backstage when Carmella comes in. Green continues to shout at Pearce and he leaves after telling Carmella that she will face Bianca Belair next week.
Otis vs Johnny Gargano
Johnny starts with punches. He tries to hit a running tackle but Otis does not move. Otis hits a spinning back fist to drop him. Otis hits a standing splash before corner splashes. Johnny hits back with elbows. Otis crashes into the ringpost as Johnny ducks him in the corner. Johnny hits quick kicks to send Otis to the floor.
Otis lands near Maxinne and gets hyped. He catches Johnny's dive and slams him on the announce table. Mace grabs Johnny but Dexter Lumis grabs Mace from the front row. Mansoor and Mace fight Lumis. Johnny stands beside Maxinne and poses for her. Otis gets enraged and Johnny hits One Final Beat DDT on the apron before hitting another one in the ring to get the pinfall.
Winner – Johnny Gargano
Johnny and Lumis stand on the ramp after the match as Otis and MMM recover.
---
Damage CTRL(Dakota Kai & Iyo Sky)(c) vs Lita & Becky Lynch – WWE Women's Tag Team Championship
Becky and Iyo start the match. Becky drops Iyo with a shoulder tackle. Iyo escapes Becky's clutches to tag in Dakota. Lita also comes in and tackles Dakota. Lita goes for Twist of Fate but Dakota escapes. Iyo tags in and Becky helps Lita hit a double suplex. They drop Iyo with a hip toss before Dakota is also dropped. Lita whips Iyo into Dakota in the corner. Becky catches Dakota with punches on the floor while Lita unloads on Iyo from the second rope. Lita was going for a moonsault but Iyo rolls to the floor. Becky hits Kai and Sky with a senton to take us to a break.
Becky is in control as she dumps Iyo off to the floor. She hits a leg drop on Dakota on the ropes. Becky hits a DDT and inverted DDT combo on both opponents. Becky hits a boot in the corner before hitting Diamond Dust. Becky puts on an armbar. Iyo hits her with a dropkick to break teh submission. Lita goes to check on Becky on the floor. Iyo slams Lita into the announce table. She hits a senton on both opponents on the floor.
Iyo puts on a shoulder lock on Becky in the ring. Iyo hits a dropkick after Becky breaks free. Dakota comes in for quick double team attacks which ends with another dropkick from Iyo. Becky kicks out of a pin from Dakota. Dakota hits a scorpion kick to get another two-count. Becky fires lefts but Dakota whips her to the corner. Becky hits shots on both opponents before Dakota and Becky drop each other with clotheslines.
Bayley distracts the referee by throwing a title belt in the ring. Bayley sweeps Lita off the apron when Becky was going to tag in. Kai and Sky hit double team powerbomb on Becky, but she kicks out of the pin. Trish Stratus' music htis and she runs out to attack Bayley. Becky tags in Lita. Lita runs rampant against Kai and Sky. Iyo manages to drop her and goes for a Over the Moonsault but Lita avoids it. Lita hits Twist of Fate.
Bayley tries to interfere but Trish brings her down from the apron once again. Lita goes to the top now. Dakota tries to bring her down. Becky comes in and puts Dakota in an armbar. Lita hits Litasault on Iyo to get the pinfall.
Winner – Becky Lynch & Lita
Trish celebrates with Lita and Becky in the ring as the show goes off the air.