WWE RAW Live Results 17 May 2021- WrestleMania Backlash Fallout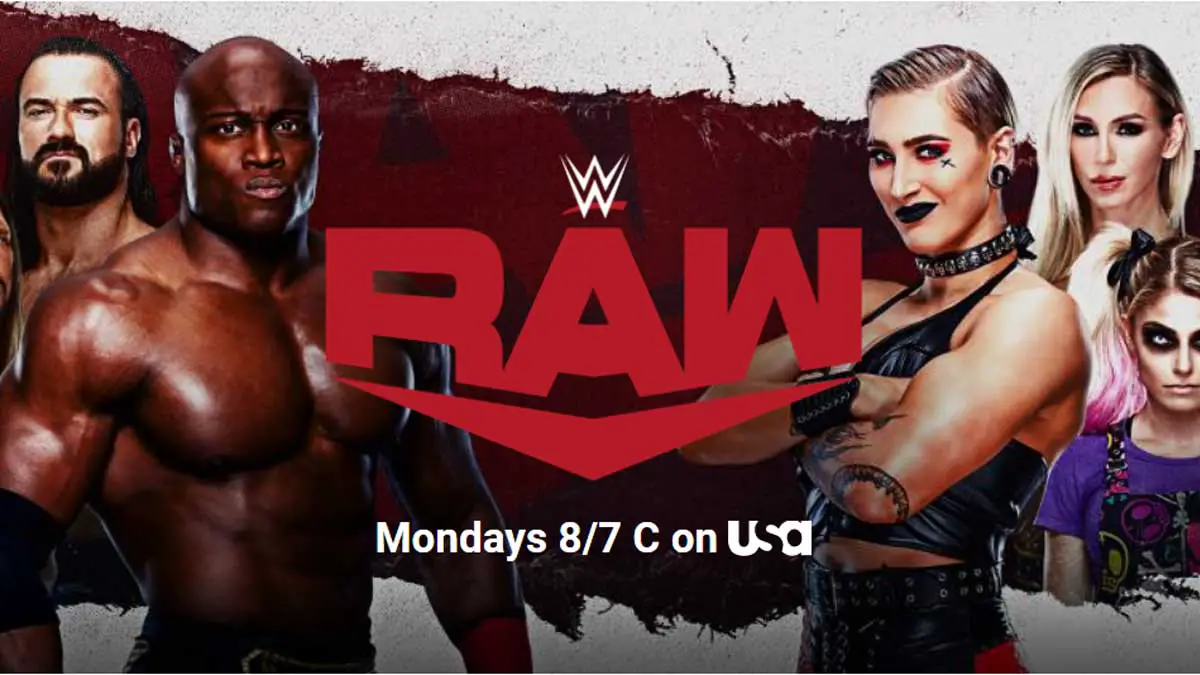 WWE RAW episode of 17 May 2021 will deal with the fallout from WrestleMania Backlash 2021 PPV. WWE Champion Bobby Lashley vs Drew McIntyre feud will likely continue. The same is expected for RAW Women's Champion Rhea Ripley and Charlotte Flair.
Join us as we bring you the complete results, updates, winners and highlights from WWE RAW 17 May 2021 episode.
Event Name – WWE Monday Night RAW
Date – 17 May 2021
Location – Yuengling Center, Tampa, FL, US
Time – 8 PM EST(18 May 2021 12 AM GMT/5:30 AM IST)
WWE RAW 17 May 2021 Quick Results
AJ Styles defeated Elias in a singles match via Disqualification.
Angel Garza defeated Drew Gulak in a singles match via pinfall.
Kofi Kingston defeated Randy Orton in a singles match via pinfall.
Tamina & Natalya(c) defeated Shayna Baszler & Nia Jax via pinfall to retain WWE Women's Tag Team Championship.
Sheamus defeated Ricochet in a singles match via pinfall.
Asuka defeated Charlotte Flair in a singles match via pinfall.
Damian Preist defeated John Morrison via pinfall in a Lumberjack Match.
Kofi Kingston defeated Bobby Lashley in a singles match via pinfall.
Bobby Lashley & Drew McIntyre
We open the show with Lashley with some ladies backstage. We get the replay for his win last night at WrestleMania Backlash. MVP is in the ring and he introduces Lashley to come out. Lashley makes his entrance with the ladies. MVP says while Strowman is nursing his damaged ribs and Drew McIntyre could not get out of bed while Lashley came back from being thrown from the platform and won the match. He says Lashley did it all injured and Lashley shows his damaged knuckle. MVP says Lashley was supposed to have a night-off but does not want it. He goes on and announces an open challenge.
Drew McIntyre's music hits and he comes out. McIntyre snatches the mic from MVP and says what a way to impress Lashley's ladies by showing them Lashley vs McIntyre. MVP takes the mic and says McIntyre cut him off before he could complete that the open challenge is for everyone except McIntyre and Strowman. Lashley tries to attack McIntyre but McIntyre ducks and clotheslines Lashley out of the ring. Lashley runs off to the ramp and removes his suit in order to come back. However, MVP stops him.
AJ Styles vs Elias is announced for the show later tonight.
After the break, the commentators confirm the open challenge from Bobby Lashley.
AJ Styles(w/ Omos) vs Elias(w/ Jaxson Ryker)
Elias starts with some chops but AJ drops him with a dropkick right away. Elias hits a suplex. AJ fights back with punches from the corner. He hits a backbreaker now. Elias turns it around in the corner with shoulder tackles. Elias whips AJ corner to corner and AJ slips down to against the ring post. Elias hits a basement slide dropkick to send AJ against the ring post. Elias picks AJ up and drops him on the apron.
Elias throws AJ back to the ring and signals Ryker to keep an eye on Omos. AJ hits dive on Elias on the outside. Ryker and AJ have a stand-off as we cut to the break.
AJ with some punches on Elias's ribs but he is flown over with a back body drop. Elias hits a spinebuster to get a two-count. Elias puts on a chinlock. He grounds AJ and hits a standing knee drop for a two-count. Another chin lock from Elias and he keeps AJ from getting back to his feet. AJ gets back to his feet and hits back elbow into the ribs. He then hits an enziguiri and a forearm. AJ hits a flurry of strikes and then Ushi-garoshi to get a two-count.
AJ getting ready for the Styles Clash. Elias counters and hits a pump knee and a spinning suplex to get another two-count. Elias runs his mouth for a bit. AJ fights back and drops Elias into the turnbuckle with a toe hold. AJ sets him up for the Phenomenal Forearm but Ryker trips him off the apron to cause a DQ.
Winner – AJ Styles
After the match, Omos runs after Ryker who goes to the ramp. Elias throws AJ into the steel step while Omos was chasing after Ryker. Omos comes back to AJ and Elias runs off.
Kofi Kingston and Xavier Woods are with Riddle and are waiting to see the double headed snake. Orton comes up and asks what New Day are doing there. Riddle recalls how Orton had hit New Day with RKO last week and wonders if Randy could apologize to them so that they could become a team of 4. Randy says he is not sorry and won't apologize. Kofi and Orton starts to argue and it ends up in a match getting fixed between them. New Day leaves the scene. Riddle goes to talk but Orton signals him to zip his mouth.
Alexa's Playground with Tamina & Natalya
We cut to Alexa Bliss' Playground. Natalya and Tamina are also there. Natalya goes to talk about how hard it was to win the titles while Tamina looks around the playground in disbelief. Tamina wonders if they could go now but Alexa says she has not asked them tough questions. She asks them what their favorite color is. Tamina says it is Black and Blue which would the color of Alexa's face if she tries to do some voodoo. Alexa says Tamina is lucky that Lilly likes her. She then says she liked it when Tamina dropped Reginald two weeks back. Tamina then informs about their rematch with Baszler and Jax. Bliss goes on a monologue but Tamina and Natalya leave.
Angel Garza vs Drew Gulak
Angel Garza enters for the match. We get the replay of the feud between Gulak and Garza. Gulak enters and they start. Gulak starts with big shot and hits a back body drop. He puts on a stretch and Garza fights back and drops him with a big clothesline. Garza hits slingshot move and Gulak lands on his feet oddly. Gulak continues to attack him. Garza drops him in a backbreaker before he runs him down with a boot in the corner. Garza hits the wing clipper to get the win.
Winner – Angel Garza
After the match, Garza celebrates in the ring. He then picks up the rose from the corner of the ring and shoves it in Gulak's mouth.
R-Truth is backstage and is hiding from someone. Kevin Patrick comes up for an interview. R-Truth has mistaken the WWE title open challenge for his 24/7 open challenge. Akira Tozawa attacks him from the back and rolls him for the pin to win the 24/7 title.
Randy Orton(w/ Riddle) vs Kofi Kingston(w/ Xavier Woods)
Orton starts with a headlock takedown. Kofi sends him to the ropes and Orton hits a shoulder tackle. Kofi comes back with a hip attack and Orton goes down to the floor. Orton sends him into the barricade before taking him back to the ring. Kofi hits a dropkick and an armdrag to get a two-count. Kofi hits the reverse STO and a springboard splash to get a two-count.
Randy fights out of a lock as Riddle cheers him from the floor. Orton unloads with strikes in the corner. Orton stomps on Kofi's leg before putting on a chinlock. Kofi hits elbows to the ribs. Orton goes to whip but Kofi hits him with a dropkick. They get back to their feet and Kofi hits another dropkick. Orton catches him with a body slam. Woods plays his horn to irritate Orton. Orton shouts at Woods to stop playing and Kofi catches him with a surprise roll-up to get the pin.
Winner – Kofi Kingston
Riddle and Woods enter the ring as soon as the match ends. Riddle tries to keep Orton away from New Day. Orton leaves the ring as Riddle asks Kofi to apologize to Orton. Riddle ends up shoving Woods down before leaving himself.
Lana & Naomi and Mandy Rose & Dana Brooke were backstage with WWE Officials Adam Pearce and Sonya Deville asking for Women's Tag Team title shot. Charlotte Flair walks in and asks them to leave. Sonya tells them that they will decide on women's title shot after the title match and asks them to leave for now.
Flair is alone with Pearce and Sonya now and asks for a title match against Rhea Ripley since she was not pinned at triple threat last night. Sonya tells her that they will see what they could do after she beats Asuka later tonight. Rhea Ripley also comes up and asks for a new competition since Flair is already old. Ripley and Flair argue for a while before Flair leaves. Ripley says she will be out during her match in case the Queen falls off her perch.
Tamina & Natalya(c) vs Shayna Baszler & Nia Jax – WWE Women's Tag Team Championship match
Natalya and Nia start. Nia runs over Natalya and throws her into another corner. Shayna comes in and taunts Tamina before taking down Natalya for a two-count. Shayna works on Natalya's arm before she stomps on it. Shayna with a shoulder stretch now. Natalya throws Shayna over but Shayna hits a clothesline to get a two-count. Nia tags in and Shayna whips Natalya into her. Natalya manages to drop Nia with a discuss clothesline and tags in Tamina.
Nia decks Tamina and drops her to the match. Shayna tags in and Tamina hits a few punches on her. Nia goes to the top for a splash, but Tamina brings her down. Tamina gets Shayna on her shoulders but Shayna slips out to put on Kirifuda Clutch as Reginald tries to distract. Alexa Bliss appears on the stage with her doll Lilly. Pyro goes off and Reginald has hurt his face with it. Shayna gets distracted by that. Tamina tags in Natalya for them hit their double team finisher to get the pin and the win.
Winners – Tamina & Natalya(retains Women's Tag Team titles)
After the match, Shayna Baszler goes to the floor to recover. Tamina and Natalya are in the ring celebrating. A weird laugh sound is playing in the background. Nia is checking on Reginald on the floor.
Sheamus vs Ricochet
Sheamus enters and takes the mic. He says Ricochet has stolen his jacket and hat and demands Ricochet to come out. Ricochet is backstage for an interview. He says he had fun with Sheamus' gear last night and went ahead and picked them up again today. He goes and brings the jacket and hat and does some dancing and comedy with them. Shaemus is angrier now as Ricochet makes his entrance.
Shaemus charges at him on the stage and Ricochet drops him with a toe hold. Ricochet runs into the ring and Shaemus follows him. Ricochet hits a dropkick. The referee stops them and calls for the bell. Ricochet catches Shaemus with more quick moves. Sheamus hits a big punch to get things under control. He goes off with more punches, forearm and clothesline. Ricochet tries to fight back but Sheamus drops him with a body slam.
Ricochet with a flurry of punches but Sheamus throws him in the corner. Ricochet gets on Sheamus' back and Sheamus drops him to the mat. Sheamus puts on a shoulder stretch. Ricochet gets to his feet and hits a headbutt. Sheamus with more punches before Ricochet hits an enziguiri. Ricochet goes for a crossbody but Sheamus catches him and sends him into the ring post before throwing him into the barricade. We cut to the break.
Ricochet is fighting back as we return. Shaemus keeps him down and hits signature blows on the chest. He works on the shoulder now. Ricochet gets to his feet and unloads with big forearms. Ricochet huls up but Shaemus hits a backbreaker to get a two-count. Shaemus goes to the top. Ricochet meets him there but Shaemus punches him down. Ricochet gets back to the top and hits a Spanish fly to get a two-count.
Ricochet ducks Shaemus's clothesline and hits some chops. Ricochet hits a flying clothesline and standing shooting star to get another two-count. Shaemus gets his knees up on the moonsault and gets another two-count with an inside cradle. Shaemus misses the Brogue kick. Ricochet hits a superkick. Ricochet gets to the top and Shaemus goes to the floor. Ricochet hits a crossbody on the floor. Back in the ring, Ricochet hits the springboard 450 but Shaemus kicks out.
Ricochet gets him in fireman's carry but Shaemus slips out. Ricochet goes for the spingboard move and Shaemus catches him with the Brogue kick. Ricochet still kicks out after two. Shaemus picks him up and hits another Brogue kick to get the pin finally.
Winner – Shaemus
After the match, Shaemus wears his jacket and hat again. He takes the mic and sends a message to WWE Champion that he might take on the open challenge later tonight.
T-Bar & Mace are backstage. They cut a promo talking about WWE Champion Bobby Lashley and say his title reign will not stay forever and that the time to strike is now. They do a coin toss to decide who will end Lashley's title reign. They end the segment saying it is a bad day for Lashley.
Asuka vs Charlotte Flair
They counter each other to start. Asuka hits a dropkick and a hip attack. Flair counters a whip and hits a back elbow. Asuka sends Flair to the apron and hits a kick before sweeping her legs. Asuka goes out for a hip attack on the apron. Asuka toys with Flair now. Flair rolls out of a shoulder lock and goes out. Asuka goes for a penalty kick but Flair catches her leg and drops her to the floor. Rhea Ripley's music hits and she comes out. Flair is annoyed by this. We cut to the break.
Flair has a chinlock on Asuka as we return. Asuka hits a few back elbows. Flair throws her with an overhead suplex. She uses the ropes to her advantage until the referee counts to five. Flair stomps on Asuka for a while. Asuka counters a body slam and hits an elbow. Asuka takes Flair down with an inverted bulldog. They go back and forth for pin attempts. Flair ends up wrapping her legs around Asuka's neck. Asuka tries to get back to her feet but Flair turns her around while keeping the lock on.
Flair throws Asuka over from that position to get a two-count. Asuka with a couple of pin attempts now. Asuka hits a big kick. Both women get back to their feet. Asuka hits a knee to face and a German suplex. Flair is thrown into the corner for a hip attack and a bulldog for another two-count. Flair hits the big boot as Asuka charges to get a two-count now. Asuka tries to counter Natural selection with the Asuka lock but fails. Flair hits an elbow to get another two-count now.
Flair takes Asuka to the top for the Spanish Fly but Asuka grabs the ropes to avoid getting hit. Flair lands awkwardly. Asuka hits a missile dropkick to get a two-count. Asuka hits the It kicks now. Flair gets another two-count with a roll-up. Asuka puts on a knee bar. Flair is unable to get to the ropes and Flair powers Asuka to force the break. Asuka puts on the arm bar now. Flair powers out to put on the Boston Crab.
Asuka turns it around into a roll-up for another two-count. Asuka puts on the Asuka lock and Flair reaches the ropes. They get to the floor and Flair sends Asuka into the announce table. Flair stares down with Rhea now. Asuka goes for the back elbow but Flair ducks it and Rhea was able to block it. Flair slams Asuka and takes her back to the ring.
Flair goes for the figure four. Asuka kicks her to the ropes which leads to Flair taking out Rhea from the apron. Flair goes for the figure four again but Asuka gets her in the inside cradle to get the win.
Winner – Asuka
After the match, Asuka slips to the ramp immediately. Flair throws some tantrum in the ring while Rhea Ripley is all smiles on the floor.
John Morrison is backstage when Kevin Patrick stops him to ask about the Lumberjack Match at WrestleMania Backlash. Morrison says Zombies felt like someone is picking at his brain, like something is rotting inside. He doesn't think the Zombies have visited a dentist or washed in some time. Morrison says Miz might never be the same, and that's why he's dedicating tonight's match to him.
Damian Preist vs John Morrison – Lumberjack Match
Damian Preist makes his entrance. Another commercial break. The lumberjacks are around the ring as we return. Morrison enters for the match.
Morrison hits a shoulder tackle. Preist hits him with a kick and an arm drag. Preist goes to put on a shoulder stretch. Morrison rands down on him with punches now. Morrison throws Damian out of the ring so that Lumberjacks could beat down on him. Preist is back to the ring and unloads. Morrison slips out of the ring to avoid a move. However, he gets mauled by Nikki Cross. Priest unloads on Morrison in the corner. Morrison goes for a move from the apron but Preist was able to block it. Morrison avoids a handful of lumberjacks with some stunts. At the end of it all was Damian Priest who hits a chokeslam to send us to the break.
Back from the break, Priest kicks away but Morrison puts him in an arm bar. Priest turns it around to apply a submission. Morrison hits a springboard kick to send Priest out of the ring. The Viking Raiders send him back in. Morrison hits a running knee before putting Priest in a headlock. Priest fights back with a back elbow and a Facebuster.
Priest gets sent to the floor and Lumberjacks hog on him. Priest is sent back in and rocks Morrison with big strikes. Priest gets sent into the ropes where he takes down MACE and T-BAR. Cedric now takes out Shelton on the other side. Priest goes to the top and rocks Morrison. Morrison climbs up with him and Priest hits a superplex which takes out many Lumberjacks at the ringside. Titus O'Neal rolls Morrison while The Viking Raiders throws Priest back in the ring. Morrison goes to the top and Priest hits a hurricanrana from the top, then Hit The Lights for the pin to win.
Winner – Damian Priest
Priest goes to the stage for an interview now. He talks in Spanish for a bit, before saying it's time to move on from Miz and Morrison. He hints that he might accept Bobby Lashley's open challenge.
We see Bobby Lashley getting warmed up backstage. We go to another commercial.
After the break, we get another vignette from Eva Marie who talks about showing others the way and be a role model. This is EVA-lution.
Shelton Benjamin is with Kevin Patrick. Patrick asks about Cedric Alexander. Shelton says he is not going to waste another breath on Cedric and is instead thinking about challenging Bobby Lashley. Cedric comes up and sarcastically claps at Shelton to finally have the guts to challenge Lashley. Cedric says there is a reason that everyone abandons Shelton, because he is worthless. Shelton takes a big shot at Cedric to drop him.
Bobby Lashley vs Kofi Kingston
Bobby Lashley makes his entrance along with MVP. MVP takes the mic and asks if anyone is up for facing Lashley. New Day's music hits and Kofi Kingston comes out with Xavier Woods. New Day enters the ring and the announcement gets done. MVP then takes the mic before the bell and says Bobby never said anything about this being a title match, and it was just an open challenge. He also says Adam Pearce is not here to sanction the match and Kofi also is not worthy of being in the ring with Lashley.
Kofi attacks Lashley in the corner and the referee separate them. The bell rings and Lashley picks up a charging Kofi to hit a spinebuster to get a two-count. Lashley hits a vertical suplex next. Kofi hits a dropkick and then a superkick to sends Lashley to the apron and then dropkicks him to the floor. Kofi with a couple of suicide dives as we go to the break.
Lashley hits a back elbow as we return. Lashley unloads in the corner with big punches. He uses the ropes to keep Kofi under control. Kofi takes a swing at MVP, who was taunting him from the floor, and misses. Lashley hits shoulder blocks in the corner. Lashley hits a vertical suplex next to get a two-count. MVP asks Lashley to humiliate Kofi as he puts on a waistlock.
Kofi gets to his feet and hits back elbows but Lashley holds onto the lock. Kofi reaches the ropes to force the break. Kofi counters a spinebuster into a DDT for a two-count. Kofi hits a boom drop now. Lashley his a facebuster to get another two-count. Lashley puts Kofi on the top. Kofi hits some headbutts to send Lashley back. Woods starts to blow his horn to distract Lashley. Kofi jumps from the top to hit DDT to Lashley into the apron. Lashley hits the dominator and throws Kofi out of the ring.
Lashley picks Kofi on his shoulder to drive Kofi into the ring post. Kofi is taken in front of the announce-table. Lashley hoists Kofi on his shoulder again but Woods saves him. The referee tells Woods to leave. Woods protests which distract the referee. MVP was going to hit Kofi with a cane when Drew McIntyre comes to the ringside and snatches the cane from MVP. Drew hits Lashley with the cane and Kofi rolls up Lashley for the pin.
Winner – Kofi Kingston
Kofi rolls to the floor right away to celebrate with Woods. McIntyre also joins them on the ramp to celebrate and taunts Lashley and MVP, who are reeling in the ring as the show goes off the air.