WWE RAW May 30, 2022 Results & Live Updates(w/ Card & Preview)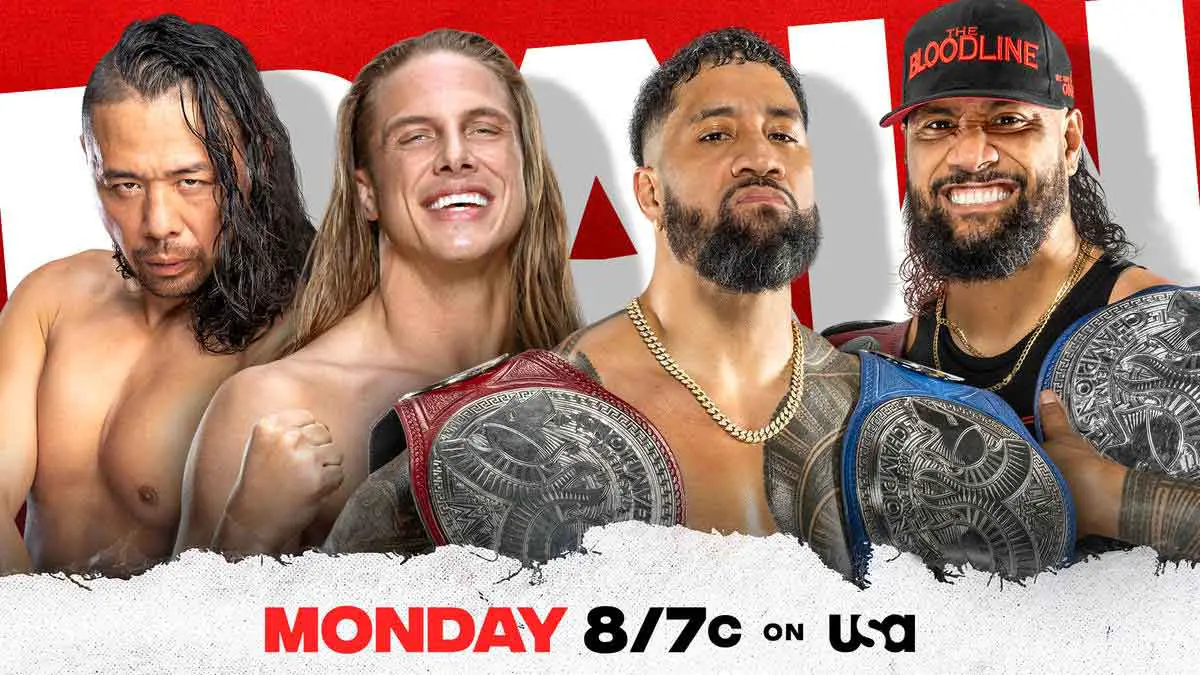 WWE RAW episode of May 30, 2022, will come to Des Moines, IA, at Wells Fargo Center. This will be the go-home episode for the Hell in a Cell 2022 event and will see the final build-up for the show.
Cody Rhodes will address the latest attack from Seth Rollins while Bobby Lashley will sign a contract for his match at Hell in a Cell with Omos and MVP. Bianca Beliar faces Asuka in a non-title match while Riddle & Shinsuke Nakamura will take on The Usos in title contenders match. What will Kevin Owens do to try to prove Ezekiel is a fraud?
Tune in as to get results from WWE RAW May 30, 2022 episode with live updates, winners, videos, match card and preview.
Live Updates
Becky had a Plan!
Becky Lynch comes out to open the show. She says she did not want to come out here without the RAW Women's title, but she will win it back on Sunday. She claims that she is full of spite and coffee and would continue to collect enemies.
Becky brings up how Asuka won the Money in the Bank in 2020 and she handed her the title when she went to create a life like a god she feels she is. She says she had a plan since she believed Asuka is good but she is not better than her. So, she planned on winning the title back from Asuka when she come back. But, Asuka got accustomed to be handed things.
Asuka interrupts her at this point. She calls Becky a big time baby and goes on to yell at her in Japanese before concluding that Becky is not ready for Asuka. Bianca Belair comes out. She says she is not complaining about defending her title in a triple threat match and will do her talking in the ring. She says she respects Asuka but tonight she has a lot to say in their match. Also, she can't wait for Hell in a Cell to give Becky some beating.
Bianca says she will drop Becky just like she did at WrestleMania. Becky takes a shot at her and the brawling leads to Lynch being dropped to the apron and knocked off by a hip attack.
Bianca Beliar vs Asuka
They lock up to start. Bianca puts on a side headlock. Asuka tries to choke her with her legs. Bianca gets up and hits a shoulder tackle. Asuka cuts off a handspring with a kick to the midsection. Bianca lands on the turnbuckle from a whip and mocks Asuka. She goes and throw her across the ring a couple of times. Asuka uses a drop toe hold to send her into the turnbuckle.
Bianca comes back with a suplex. Asuka blocks a second suplex and transitions into an ankle lock. She changes it to a leg lock but Bianca pulls out of it. Asuka puts on a guillotine and Bianca counters it with a suplex. Bianca hits a handspring moonsault for a two-count. Asuka goes for arm triangle but Bianca powers up and picks her up for a powerbomb. They both end up on the floor as we cut to a break.
Bianca hits an overhead suplex as we return. Asuka hits big kicks before a German suplex and a running hip attack to get a two-count. Asuka gets to the top but her attention goes to Becky at the commentary. Bianca joins her on the top. They tussle and Bianca has to come back to the mat with a backflip. Asuka hits a missile dropkick for a two-count. Bianca goes to slam her face into the turnbuckle. Asuka avoids KOD and rolls to the floor.
Bianca brings her back and Asuka hits a knee to the face for a two-count. Bianca ducks a roundhouse kick but Asuka brings her down in Asuka lock. Bianca does not allow her to lock it in fully. Bianca hits Glam slam but Asuka avoids the follow up moonsault. Asuka goes for the crucifix but Bianca changes it into a pin attempt with Asuka's arm still trapped under and gets the pin.
Winner – Bianca Belair
After the match, Becky gets into the ring and drops Asuka. Bianca comes in and Becky hits her with the Manhandle slam.
Rey Mysterio, Dominik Mysterio & Ezekiel vs Kevin Owens, Chad Gable & Otis
Gable and Rey start the match. Gable with a side headlock and hits a shoulder block. Rey hits him with an armdrag and then hits him with tijeras. Dominik tags in and hits a flying elbow. Gable gets a two-count with a belly-to-belly suplex. Owens tags in and Dominik sends him to the floor with a low bridge. The Mysterios hits Otis with dropkicks. Ezekiel joins them to hit triple dropkick on Otis to send him to the floor. Dominik was celebrating in the corner and Gable pushes him to the floor. We cut to a break as Gable soooshes everyone.
Owens has Dominik in sharpshooter as we return. Rey has to break it with a dropkick. Otis tags in and knocks Rey off the apron. He hits a corner splash on Dominik. He misses a Vader bomb. Ezekiel and Gable get the tags. Ezekiel is fired up with and hits a clothesline and dropkick on Gable. Owens comes in and is sent to the corner. Ezekiel hits corner splashes on Gable and Owens. He slams Gable to the mat and Otis breaks the pin.
The Mysterios take down Otis with double team. Owens also comes in but ends up hitting a superkick on Gable by mistake. Rey sends him back to the floor. Gable is hit a double 619 and Ezekiel hits a twisted jackhammer to get the pin.
Winners – Rey Mysterio, Dominik & Ezekiel
Kevin Owens is frustrated over the result and throws away the top of the announce table.
What's Stopping Cody & Seth from Fighting!
Cody talks about potentials and about a certain teacher in NXT who saw potential in Seth Rollins. The crowd chants for Dusty Rhodes. Cody says he was very nervous when he found out that he will face Rollins at WrestleMania. Cody then says all the respect that he had for Seth and all the reverbations from their last matches will be locked out of the Hell in a Cell.
Rollins' music hits, but he does not come out at the stage. We hear him laughing in his maniacal fashion and appear through the crowd. Rollins says he will not be poetic like Cody and simply says he does not like Cody. He tried to give this new version a chance but the pandering and chants got louder by the week.
Rollins says Cody left WWE 6 years ago because he was not good enough and then tried to tear down what Seth was building here. But when that did not work out, Cody returned to fulfill his family legacy. Seth says Cody could not hit the throne with a sledgehammer and then try to take away that throne from him. He will end Cody at Hell in a Cell and then finally, we can all wake up from this American Nightmare.
Cody asks him what is stopping them from fighting right now and why Seth is not coming into the ring. Seth comes down the stairs and unbuttons his shirt. Rollins stops at the barricade and returns saying that he will see Cody on Sunday. Cody jumps into the crowd and starts a brawl. They trade shots in the crowd. Rollins rakes Cody's eyes. Cody recovers and tackles Rollins through the barricade. Crew runs out to separate them and take things under control. Rollins gets free and jumps on Cody again. The officials separate them again.
Alexa Bliss vs Doudrop
We get a recap of Alexa Bliss' Money in the Bank win in 2018 and how she won the title by cashing it in against Nia Jax.
Bliss tries to unload with quick punches. Doudrop tackles her down. Doudrop slams her to the corner and hits a corner splash. Doudrop puts on a chinlock. Bliss tries to come out and gets dropped to the mat with a clothesline. Doudrop hits a big slap and a headbutt before putting another chinlock.
Bliss avoids a corner splash. She sends Doudrop to the corner with a hurricanrana. Bliss hits knees and kicks. Doudrop catches her and hits a body slam. Bliss avoids a senton. Doudrop tackles her to the mat again. Doudrop misses Vader bomb. Bliss goes to the top. Nikki tries to interfere but Bliss kicks her away. Bliss hits Twisted Bliss and gets the pin.
Winner – Alexa Bliss
The Miz TV with The Street Profits
Miz plugs in season 3 of Miz & Mrs. He gets interrupted by The Street Profits' entrance. They introduce themselves and say they ask why they are talking about Miz and Mrs when they should be talking about Hell in a Cell. Dawkins brings up how Miz lost to Cody last week, and Ford tells him its too soon. Ford says Bianca will bring the gold home once again.
Ford then goes on to praise Miz as a legend and asks him what does he think about Hell in a Cell. Miz goes to reply but The Street Profits cut him off why saying "it does not matter what you think." Profits mock The Miz for falling for it. Miz gets furious over this treatment. He gets his hands up to signal them to stop but Dawkins just gives him a high five. Miz gets more irritated but they are interrupted by WWE 24/7 drama.
Dana Brooke gets into the ring and is followed by the likes of Tamina, Akira Tozawa, R-Truth, T-Bar and Apollo Crews. T-Bar drops Tozawa with a chokeslam. Ford hits T-Bar with a superkick. Apollo Crews and R-Truth fight before Dawkins decks Apollo. Tamina slams Dana and gets the pin to win the title. Tozawa celebrates with her and Tamina goes to kiss her former husband. Tozawa gets her in a backslide to get the pin and wins the title. Tozawa runs away with the title.
Mustafa Ali vs Tommaso Ciampa – If Ali Wins, He gets a Future US title match
Back and forth start of the match. Ali hits a gamengiri from the floor. Ciampa cuts off his charge with a running kick to get a two-count. Ciampa puts on a bulldog choke. Ciampa hits a clothesline when Ali comes out of the choke. A double ax handle from Ciampa is followed by a couple of stomps.
Ciampa puts on another bulldog choke. Ciampa hits a tackle before Ali makes a comeback with a dropkick. Ciampa goes to the floor. Ali stops him from coming back and then hits a suicide dive. Ali goes to the top and Austin Theory gets frustrated by then by the commentary team to interfere. He pulls and drops Ali to the apron to cause a disqualification.
Winner – Mustafa Ali
After the match, Theory slams Ali into the ringpost. Theory says why not give the future opportunity that Ali has earned right away.
Austin Theory(c) vs Mustafa Ali – WWE United States Championship Match
Theory is beating up Ali in the corner as we return from the break. The referee separates them and asks Ali if he wants to continue. Ali says he wants to. Theory drops Ali with a back body drop after the bell to get a two-count. He slams Ali's face into the turnbuckle. He takes Ali from corner to corner to slam his face again in the corner. Ali comes back with a DDT. He goes to the top but is very slow. Theory disturbs the ropes to bring him down again. Theory hits ATL to get the pin and the win.
Winner – Austin Theory
After the match, Adam Pearce comes out and tells Theory that Vince McMahon wants him to face Ali in a fair fight at Hell in a Cell.
The Usos(Jimmy Uso & Jey Uso) vs Riddle & Shinsuke Nakamura – WWE Tag Team Championship Contender's Match
Jimmy starts with big shots against Riddle. Riddle leap frogs and hits a body kick. A gutwrench suplex gives Riddle the chance to tag in Nakamura. Nakamura helps Riddle to hit a moonsault. Jimmy takes Nakamura to the corner and tags in Jey. Nakamura quickly turns it around against Jey and brings in Riddle with body kicks. A suplex from Riddle before he goes for a kimura lock.
Jimmy takes a blind tag and takes a cheap shot against Riddle. The Usos work on Riddle now. They whip him hard to the corner with double team. Many cheap shots in between to keep Riddle to the mat. Another hard whip from corner to corner from Jey. Jimmy hits big chops in the corner. Riddle ducks a corner splash. Jey comes in to stop the tag but is dropped to the floor with a back body drop.
Nakamura tags in and hits quick kicks. He hits a dropkick on Jimmy. Jey comes in and is sent out quickly. A German suplex on the ropes and single-leg dropkick from the second rope from Nakamura gets him a two-count. Nakamura gets ready for a Kinshasa kick but Jey distracts him. Jimmy hits a superkick and Jey tags in for the Usos splash. Riddle breaks the pin. We cut to a break.
Nakamura hits an overhead kick as we return. Riddle tags in and hits clotheslines, running forearms in the corner, a suplex and Bro-ton. Jey sends Riddle to the floor with a back body drop. Nakamura takes the blind tag and hits him with Kinshasa. Jimmy breaks the pin. Jimmy tags in and hits a superkick on Nakamura. Riddle tags in and hits powerslams like Randy Orton on both the Usos. He goes for the draping DDT. The Usos are frustrated now and Jimmy hits Riddle with his scooter to cause a DQ.
Winners – Riddle & Shinsuke Nakamura
After the match, Nakamura attacks Jimmy but he sends Nakamura into the timekeeper's area. The Usos set up for double Usos Splash. Nakamura nails Jimmy with an enzuigiri and Riddle gets to the top to hit Jey with super RKO. The Usos run away.
---
Mustafa Ali is interviewed backstage about his US title match at Hell in a Cell. Ali says he is hurting right now but he will win the US title in his hometown on Sunday. Theory drops him from behind and stand on top of him to take a selfie.
---
A Memorial Day package is aired.
Rhea Ripley vs Liv Morgan
Rhea decks Liv with an elbow to start. Liv tries to sweep her leg but Rhea avoids it. A headbutt from Rhea drops Liv. Rhea tosses her from corner to corner. Liv jumps on her back for a choke. Rhea slams her into the corner but Liv refuses to let go. Rhea drops on her back to break the hold.
Liv drops her on the ropes and hits a dropkick to her back. Rhea goes to the floor. Liv tries a basement slide but Rhea gets away. Rhea picks her up and swings her into the barricade. We cut to a break.
AJ Styles and Damian Priest have come out during the break. Rhea slams Liv face-first to the mat as we return. She puts on an arm and shoulder stretch. Liv gets to her feet but Rhea slams her to the mat again. Rhea puts on a body triangle and screams at her that she is pathetic. Liv counters it with a pin attempt. Rhea drops her with a clothesline.
Liv gets hyped as Rhea keeps screaming at her. Liv hits an enziguiri and a knee strike in the corner. Rhea misses a shoulder tackle in the corner and falls to the floor. Liv hits a crossbody on the floor. Priest stops the Oblivion by holding on Rhea's trunks. Rhea goes for the pin but Liv kicks out. AJ attacks Priest on the floor. Liv avoids the Riptide and rolls up Rhea for the pin.
Winner – Liv Morgan
Priest attacks AJ after the match and slams her into the barricade. Liv screams at him to stop. Preist gets into the ring and Balor attacks him from behind. Rhea gets up and Liv hits her with missile dropkick. AJ hits Priest with Phenomenal Forearm while Balor hits Coupe de Grace. The segment ends with AJ, Balor and Morgan standing tall.
The Contract Signing
All three men are in the ring for contract signing with Adam Pearce overseeing the proceedings. They all take their seats. MVP has the contract. He takes the mic and says Lashley should not have been here as he did everything for him- money, fame.. MVP tells him that he will beat the hell out of him with Omos. He says the All-Mighty era was because of him and it will be fitting that it will end at his hands.
While MVP and Omos sign the contract, Lashley says MVP is delusional on thinking that All-Mighty era was because of him. MVP gets irritated and tells Lashley to just sign a contract. Lashley does so. MVP then tells Omos to not wait until Hell in a Cell. They all get up and Lashley throws away the table. Security gets into the ring immediately to stop them from fighting. Omos and Lashley beat up the security and clear them from the ring.
Cedric Alexander hits Lashley with a chop block. Lashley sends him into the corner on Omos. Omos drops Lashley from behind. MVP also unloads on Lashley. Omos sets up a table in the corner. Lashley avoids the body slam and spears Omos through the table. MVP is in shock as Lashley stands tall to close the show.
---
Preview
Championship Contenders Match: Randy Orton is expected to be at sidelines for a while now. But, Riddle has made it clear that he will take revenge from The Bloodline. So, he has found a new partner in Shinsuke Nakamura to take on The Usos. The two teams will clash in a championship contenders match this week on RAW.
Bianca vs Asuka: Bianca Beliar will have to defend RAW Women's title in a triple threat match at Hell in a Cell event against Asuka and Becky Lynch. Before that, she will face Asuka in a non-title match tonight on RAW. Will she be able to get a statement win before the title defense? Will Becky leave the pair alone?
Contract Signing: MVP announced that Lashley will face both him and Omos in a handicapped match at Hell in a Cell event. They will make the match official tonight by signing the contract.
Cody Addresses Another Attack: Cody Rhodes might be frustrated a lot due to sneak attacks from Seth Rollins by now. He will address Rollins again tonight. What will the American Nightmare have to say just before the Hell in a Cell match between the pair?
Hell in a Cell Build-Up: Will there be other matches added to Hell in a Cell? Will Kevin Owens have another plan to catch Ezekiel's lie?