WWE RAW July 4, 2022 Results & Live Updates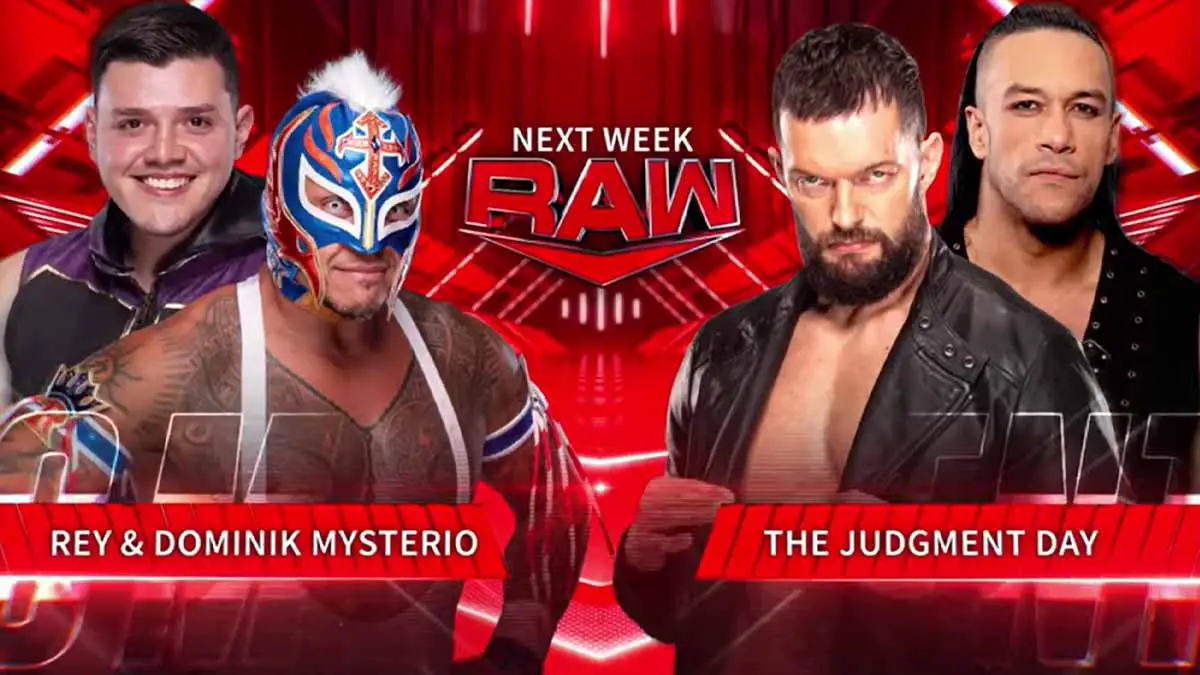 Welcome to the results blog for WWE RAW July 4, 2022 episode. Taking place at Pechange Center in San Deigo, CA, the event will deal with the fallout from Money in the Bank and will start the build-up towards Summerslam 2022.
The Mysterios vs Judgment Day tag team match is announced for this week's Monday Night RAW episode. Additionally, we can expect the new Money in the Bank winner Theory to address the fans, as well as from the new SmackDown Women's Champion Liv Morgan.
Also, it will be awaited what is the new direction for the likes of Seth Rollins, Riddle, Omos, Bobby Lashley, and most of all, Becky Lynch. Expect multiple rivalries to start for the Summerslam card.
Tune in as we will start bringing in results from the WWE Monday Night RAW episode of July 4, 2022, with live updates, winners, highlights, videos and more.
Live Updates
We get a special package for 4th of July to open the show.
US Champion
United States Champion Bobby Lashley comes out with a great ovation from the crowd. He takes the mic and says he is proud to be the US champ this 4th of July. He claims that there is no one in this company or any other company that could beat him for the US title.
Theory cuts him off and starts to talk about being the youngest to win Money in the Bank and proving that he can do this all day. Lashley replies that the only reason he weaseled himself into Money in the Bank is that he shattered his ego into a million pieces by taking the US title away from him. Austin responds by talking about always making it happen, and he is going straight to the top with the title.
Austin reveals that he is getting a rematch for US title at SummerSlam. He claims that he is going to win the United States title back and then cash in on Roman Reigns to walk out with all three belts. Lashley says since it is the 4th of July as he wants to give the fans some fireworks. Austin attacks him to start a brawl and uses the briefcase. Lashley turns it around after a while and hits a chokeslam. Theory runs to the back.
---
The Mysterios are backstage for an interview before their match. Dominik says there is no one better than Rey that he could rather learn from. Rey Mysterio says he must be doing something right as they are the first father-son duo to be part of a match at Wrestlemania. Rey brings up being in his hometown of San Deigo after 10 years. The Mysterios make their entrance and get in the ring. Finn Balor and Damian Priest attack them from behind. We cut to a break.
The Mysterios(Rey Mysterio & Dominik Mysterio) vs The Judgment Day(Finn Balor & Damian Priest)
Rey hits a hurricanrana on Balor as we return from a break. Dominik hits a springboard dive and an armdrag. Priest tags in and Dominik ducks him before hitting a dropkick. Priest is sent to the floor and Rey hits him with a seated senton. Priest catches him with big punch in the air as he was returning to the ring. Balor comes in and gets hit with an enziguiri. Dominik tags in and drops Balor on the ropes for 619. Priest gets a blind tag, cuts him off and throws Dominik into the barricade. We cut to a break.
Dominik hits a bulldog on Balor as we return. Rey and Priest tag in. Rey hits low dropkick on Priest before hitting a tornado DDT. Rey was going to the top when Priest cuts him off. Rey hits him with a seated senton and Balor breaks the pin. Dominik comes in and Rey sends to the top to bring down. The Mysterios end up dropping both competitors on the ropes and hit 619.
Rey goes for Eddie Guerrero-style Frog Splash but Balor gets his knees up. Balor brings in a steel chair as Priest distracts the referee but Rey acts like he is hit with the chair in another homage to Eddie Guerrero. The referee things Balor has hit Rey with the chair and calls for a DQ.
Winner – The Mysterios
We get an interview with The Miz backstage. Miz is asked about talk about Logan Paul's signing and saying that he is coming for payback against Miz. Miz replies that Logan should retract his comments and apologize to him.
---
The Street Profits are throwing a 4th of July special party on the street. Their promo is cut off by Chad Gable and Otis. Gable asks how can they party after getting beaten by The Usos. After a brief argument, the attention is turned to a hot dog eating contest between Otis and Dawkins.
---
The Mysterios are backstage and Balor and Priest attack them, dropping Rey into the production crates and choking him out.
AJ Styles vs The Miz
AJ catches a kick early on to counter. He hits a shoulder tackle and a few chops. Miz hits a knee to cut off his charge. AJ counters another knee and then hits Miz with a clothesline to send him to the floor, and hits a flying forearm. We cut to a break with both men on the floor.
AJ is trying to fight back as we return and hits a flurry of strikes. AJ hits a low clothesline followed by a flying clothesline in the corner to get a two-count. Miz sends him into the turnbuckle and then hits a DDT to get a two-count. AJ hits the Phenomenal Forearm to get the pin.
Winner – AJ Styles
Ciampa attacks AJ from behind as he was celebrating his win. Ciampa throws AJ into the corner but he misses a running knee. AJ hits him with a Pele Kick. He was going for the Styles Clash but Miz recovers to hit him Skull Crushing Finale. Miz shakes Ciampa's hand to confirm some sort of partnership between them.
You Only Liv Once!
We get a recap of Liv Morgan winning the women's Money in the Bank contract and cashing it on SmackDown Women's Champion Ronda Rousey to win the title. Liv Morgan makes her entrance now. We see Bianca Belair's tweet with Liv after she won the title. Liv takes the mic as the crowd chants "You Deserve It". Liv replies that we deserve this. Liv says he is so proud to be standing here as our champion. She says it was the hardest battle of her life, but the fans got her through with their belief in her.
Liv is ecstatic and jumps around as she tries to control her emotions before screaming how she became the SmackDown Women's Champion on the same night. Liv says the title is not only for her but for all of us. Natalya comes out and tells Liv that she should be thankful to her as she destroyed Ronda Rousey's knee with her sharpshooter. Natalya says she wants a title shot.
Liv says Natalya is upset at losing to Ronda, and if she really wants a title shot, she knows where she is. Carmella's entrance cuts them off and tells them to go to SmackDown with the SD title. Carmella says she would have been smacking Liv if she was in the middle of a title. Liv mocks her loss to Bianca. Natalya and Carmella attack Liv until Bianca comes out to make the save. Carmella and Natalya are sent to the floor. Adam Pearce comes out to announce a tag team match between them four.
Liv Morgan & Bianca Belair vs Carmella & Natalya
Bianca and Carmella run the ropes and Bianca hits a dropkick. Some quick action follows. Liv and Natalya come in. Liv hits a back elbow before Natalya slingshots her to drop her to the floor. Natalya kicks her on the back before Liv rolls her up to get a two-count. Natalya whips her to the ropes before starting back and forth slaps. Natalya goes for the sharpshooter.
Liv catches Bianca's braids and drags to the corner to tag in Bianca. Bianca hits a couple of dropkicks. Natalya counters a powerbomb with a head scissors takedown. Bianca hits a suplex on Natalya. Carmella has taken a blind tag and kicks Bianca's face to the ringpost.
Carmella has Bianca in a chin lock on the mat as we return from a break. Bianca gets to her feet but Natalya comes in to keep her in their corner. Bianca knocks off Carmella and then sends Natalya to the floor. Natalya tries to stop the tag but Bianca gives Liv a hot tag.
Liv hits quick moves on both opponents. A double knees from Liv gets a two-count. Bianca also gets into action. Bianca is sent into the ring post after Carmella counters a belly-to-belly suplex. Liv catches Carmella with a kick when she comes to the apron. Liv hits Natalya with Oblivion to get the pin.
Winners – Liv Morgan & Bianca Belair
We cut back to The Street Profits' 4th of July bloc party where everyone is doing party activities. Ezekiel is now talking to The Street Profits about the pie-eating competition between himself, Elias and Elrod. He ends up spraying Seth Rollins with ketchup. Rollins gets series for a bit before laughing it out and eating ketchup from himself.
Seth Rollins vs Ezekiel
Rollins starts with a flurry of strikes and stomps in the corner. Ezekiel hits back with a German suplex. Rollins rolls to the floor and returns into it. He drops Ezekiel on the ropes. Ezekiel hits him with a mule kick and then unloads in the corner. Ezekiel sends Rollins flying in the air before a military press slam. He goes to send Rollins to the floor with a back body drop. Ezekiel throws Rollins into the timekeeper's area to take us to a break.
Ezekiel hits a suplex on Rollins as we return. Ezekiel hits shoulder tackles to drop Rollins. A couple of corner splashes and a spine buster follows for Ezekiel to get a two-count. Rollins drives him into the turnbuckle. Ezekiel catches him with a flying knee as Rollins flies from the second rope. A swinging neckbreaker gets him a two-count. Rollins joins Ezekiel on the top.
They fight for a while before Ezekiel brings them back down and hits a powerbomb to get a close two-count. They trade shots in the middle of the ring now. Rollins hits a rolling elbow before Ezekiel gets a two-count with a backslide. Rollins catches Ezekiel with a stomp to get the pin.
Winner – Seth Rollins
Rollins leaves to the ramp after the match. But, he returns to the ring looking for an attack. Riddle cuts him off with an RKO.
We return for the hot dog eating contest where Akira Tozawa won by eating 48 hot dogs. Angelo Dawkins and Otis ate 20 plus, but were way behind Tozawa.
Bobby Lashley, Montez Ford & Angelo Dawkins vs Theory, Chad Gable & Otis
Theory and Dawkins start and Theory hits a tackle to drop Dawkins. Dawkins whips him to the corner and hits a rolling splash and a big shot in the corner. The theory takes Dawkins to the corner to bring in Otis. Otis drops Dawkins with a lariat. Gable comes in and starts to work on Dawkins' leg.
Ford tags in and hits a quick dropkicks and a standing moonsault. Otis is sent to the floor by Dawkins when he tries to interfere. Lashley hits a spinebuster on Theory. Ford takes on Gable and Lashley picks Theory to hit delayed vertical suplexes in tandem. Dawkins hits a suicide dive on all three opponents to take us to the break.
Otis hits a suplex on Ford as we return. The theory comes in and puts on a chin lock. Ford counters him with a DDT. Gable comes in and is thrown to the floor. Gable pulls down Dawkins as Ford was going to tag him. Dawkins chases after Gable but runs into a clothesline from Otis.
Ford lands on his feet after getting hit with a suplex and tags in Lashley. Theory runs away by tagging Gable. Lashley hits suplexes and tackles in quick succession on Gable. Lashley knocks Otis from the apron. Dawkins hits a big tackle on Theory. Lashley hits a running powerslam on Gable but Otis breaks the pin.
Otis sends Ford flying to the floor. Lashley hits Otis with a spear. Ford hits him with a frog splash and Otis rolls out of the ring. Gable hits a belly-to-belly suplex on Lashley and follows up with a moonsault from the top. Lashley still kicks out of the pin. Lashley hits Gable with a spear and gets the pin.
Winners – Bobby Lashley, Montez Ford & Angelo Dawkins
Lashley and Street Profits celebrate their win. Otis and Gable are in the ring now and Otis just vomits some of the hotdogs that he had eaten earlier.
---
R-Truth is out in the ring for Uncle Sam's Fourth of July Celebration dressed as Uncle Sam. He talks about celebrating Independence Day. He says we are here to honor those brave American Heroes from Alien Invasion in 1996. He brings out a piece of paper as he wants to read his favorite passage from the constitution – "Welcome to Earth! (punch)"
Gunther vs R-Truth
Ludwig Kaiser appears on the screen and hypes up Gunther. Gunther comes out and slaps R-Truth's hat and wig. The bell rings and Gunther starts with a big boot. He hits a lariat and then a powerbomb to get the pin.
Winner – Gunther
Alexa Bliss is interviewed backstage where she says she is genuinely happy for Liv Morgan. She then talks about her title intentions and says it has been too long since she has held anything other than Lilly. She wants some gold and a matching title for Lilly also. Asuka is there in the vicinity and says she is gonna be the next Raw Women's Champion.
We get a recap of Brock Lesnar vs Roman Reigns rivalry.
Becky Lynch vs Asuka – No Holds Barred Match
Becky makes her entrance and starts to stack chairs on the floor in front of the announce table. Asuka comes out with a trash can. The bell rings and Asuka slams her with the trash can for a quick two-count. Asuka brings in a chair from the floor and Becky hits her with a kick to the midsection. Becky goes to set up a chair in between turnbuckles and wastes a lot of time. Asuka goes to hit her with a drop-toe hold on the chair but Becky blocks it.
Asuka sends Becky to the chair in the corner with a dropkick and then sends her into the chair in the middle of the ring. Asuka goes to send Becky into the stack of chair on the floor with a German suplex, but Becky counters with a German suplex of her own. Asuka hits Becky with a chair as she was setting up the announce table. Asuka runs Becky through the barricade with a hip attack.
Becky hits a dropkick to knock Asuka off the apron. Becky goes to the top but Asuka drives a chair into her gut. Asuka hits her with a superplex onto a stack of chairs. Asuka recovers and goes for the pin to get a two-count. Asuka puts on a trash can on Becky and starts to hit it with kicks. She hits a missile dropkick on the can to get another two-count. Asuka goes to the floor to bring in a table. Becky drives her into it and then sends her into the steel steps.
Becky sets up a table in the ring now. Asuka goes for the Asuka lock but Becky drivers her into the corner to break it. Asuka pulls out an umbrella from under the ring. Becky snatches the umbrella and stops the Green mist using it. Asuka nails Becky with a roundhouse kick and takes her to the top. Becky counters and puts Asuka through the table with the Manhandle slam to get the pin.
Winner – Becky Lynch
The show goes off the air as Becky celebrates her win.