WWE RAW August 28, 2023 Live Results, Updates, Highlights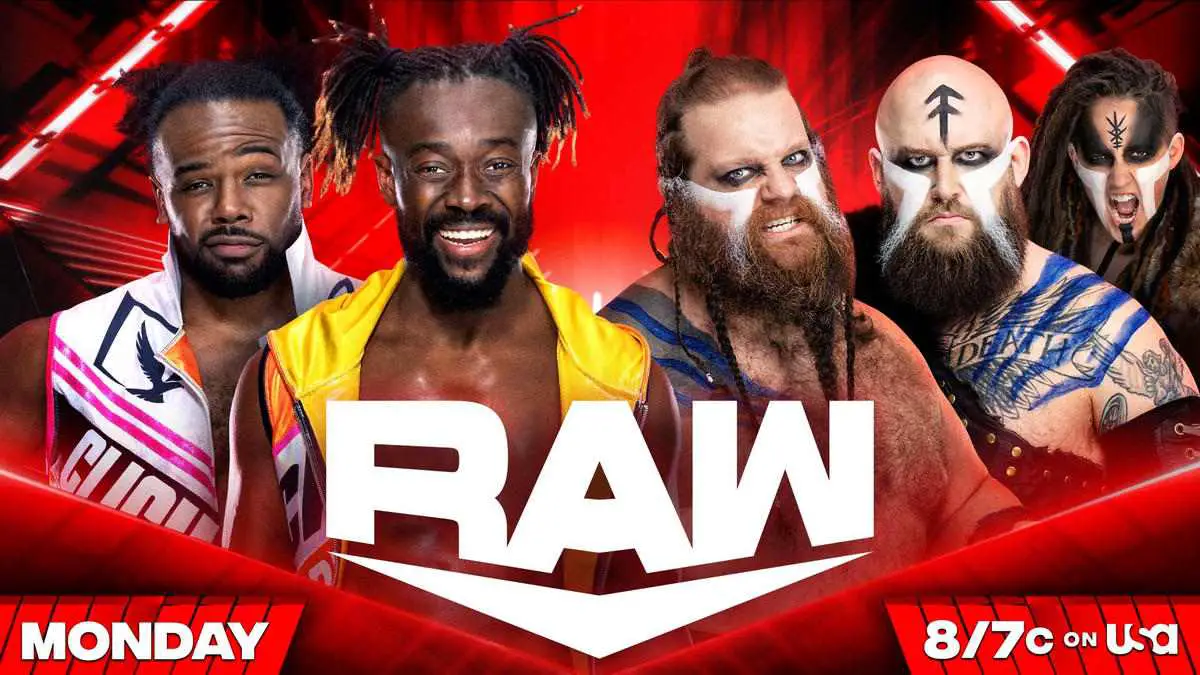 Welcome to the live results blog for WWE RAW August 21, 2023 episode, live from FedExForum in Memphis, TN, which was the go-home RAW episode before WWE Payback 2023.
4 matches were set for the show. Becky Lynch faced Zoey Stark in a Falls Count Anywhere Match in the main event where Trish Stratus was also a big part. New Day battled The Viking Raiders in a tag team match.
Chad Gable faced Ludwig Kaiser after beating Gunther last week via countout. Tommaso Ciampa faced Bronson Reed in a singles match. We await Judgment Day's next move after Cody Rhodes, Kevin Owens and Sami Zayn beat them last week. Rhea Ripley and Raquel Rodriguez also got involved in a braw.
The build-up for Seth Rollins vs Shinsuke Nakamura, and LA Knight vs The Miz matches at Payback also continued. Tune in below as we post results from WWE Monday Night RAW August 28, 2023, with live updates, winners, highlights and complete action.
RESULTS
Damian Priest defeated Sami Zayn in a singles match via pinfall.
The Viking Raiders(Erik & Ivar) defeated New Day(Kofi Kingston & Xavier Woods) in a tag team match via pinfall.
Chad Gable defeated Ludwig Kaiser in a singles match via disqualification.
Tommaso Ciampa defeated Bronson Reed in a singles match via pinfall.
Becky Lynch defeated Zoey Stark in a Falls Count Anywhere Match via pinfall.
LIVE UPDATES
The show opens with a memorial graphic for Terry Funk and Bray Wyatt.
Sami Zayn vs Damian Priest
Priest pushes Sami to the ropes after the lockup and takes a shot at midsection. He hits a jumping tackle to drop Sami to the mat. Sami hits a deep armdrag after a couple of leapfrogs. Sami hits chops in the corner before Priest turns it around for shots of his own. Sami hits a back elbow and and an elbow off the second rope. Priest slips to the floor and Sami hits him with a moonsault. Sami hits countdown punches from the second rope.
Priest catches him with midair with an uppercut. He corners Sami for some quick punches. Priest hits a sitout suplex for a two-count. Sami fights out of a chinlock and sends Priest to the floor. He drives Priest's face into the ring post. Priest catches Sami's dive on the floor and drops his face on the announce table. We cut to a break.
Sami is fighting back on the top rope and hits a sunset flip powerbomb to get a two-count. Sami hits a suicide dive on the floor. He avoids South of Heaven back in the ring, avoids Priest in the corner and hits a blue thunderbomb for a close two-count. Priest drops his face on the ropes. He hits a kick to midsection to set up Razor's Edge. Sami manages to slip out of it and hits an exploder suplex on Priest. Sami looks for a Helluva kick but JD McDonagh pulls his leg. Priest takes advantage to hit South of Heaven to get the pinfall.
Winner – Damian Priest
McDonagh gets into the ring to celebrate with Priest but Priest pushes him away, and tells him to mind his own business. Priest leaves the ring but Kevin Owens is in the ring now with Sami. Owens hits a stunner and Sami hits him with Helluva Kick. Priest watches this from the ramp.
---
Akira Tozawa is backstage with Drew McIntyre as he watches a concept photo of him wearing a "Bro" trunk. Tozawa says McIntyre looks great. Matt Riddle comes in and McIntyre brings up how he told Riddle not to make any big changes to their team yet. Riddle then says they should be ringside during New Day vs The Viking Raiders match to scout the teams. McIntyre says Riddle is onto something there.
---
We get a video package for Raquel Rodriguez, who claims to be the match for Rhea Ripley.
LA Miz
LA Knight's music hits but it is The Miz who comes out dressed as Knight. Miz imitates Knight's promo in a mocking way, saying "yeah" several times. Miz says it takes more than a catchphrase to earn the crowd support, so he has brought it in some free t-shirts. He teases throwing them in the crowd but pulls out. He rips off Knight's shirt that he was wearing and starts ranting against the crowd for pandering to anyone. He says Knight is too generic, and the fans are pathetic to get behind him. Miz claims that Knight's party will be over this Saturday because fans cheers catchphrases and free t-shirts, but they won't cheer a loser which is what Knight will be.
---
We see a recap of Shinsuke Nakamura revealing how he surprised Rollins by mentioning his injuries. Rollins is backstage in deep thinking when Ricochet acknowledges while walking past him. Rollins nods back at him.
New Day(Kofi Kingston & Xavier Woods) vs The Viking Raiders(Erik & Ivar)
Riddle and McIntyre are out to ringside. We see how the Viking Raiders interfered in their match last week. Erik corners Woods to start but Woods hits back with chops. Woods manages to trip Erik. He works on the arm until Erik nails a big right. Erik hits a sidewalk slam. Ivar tags in and unloads on Woods. Ivar hits some big punches before bringing Erik. Erik sends Woods into a knee strike. More quick tags from The Viking Raiders.
Woods tries to fight back with quick punches but Ivar drops him with a big shot. Woods tries once again with quick punches and tags in Kofi. Kofi hits quick moves to knock off Erik before running punches to Ivar and hitting a crossbody from the top rope. Erik is tackled on the floor. Kofi hits a dive on Ivar to take us to a break.
The Viking Raiders have taken control as we return. They corner Kofi with quick tags. Kofi hits a dropkick, but Valhalla distracts Woods. The Viking Raiders keep control for a while again. Kofi slips out and tries to tag, but Ivar pulls him back. Ivar goes for a powerbomb. Kofi slips through and avoids a hip drop from Ivar. Woods gets the hot tag and sends Ivar to the corner for quick hits. He hits shots on Erik before hitting a leg sweep. He hits a clothesline to drop Ivar next after some big blows.
Woods stops a double team but Erik hits a full nelson slam into the knees to get a two-count. Kofi tags in before Woods sends Erik to the floor. Kofi hits a crossbody on Ivar, but Erik breaks the pin. Woods takes Erik to the floor and hits a crossbody on the floor. Kofi counters Ivar's powerbomb to take him to the floor. Ivar drops Kofi on the steel steps. He then drives Kofi into McIntyre and Riddle on the floor. McIntyre throws a chair into the ring in anger. He throws a chair at Erik, but he ducks and the chair hits Woods. Ivar hits a senton on McIntyre. The Viking Raiders hit Kofi with Ragnarok to get the pinfall.
Winners – The Viking Raiders
Damian Priest and Finn Balor are arguing backstage over JD McDonagh. Rhea snaps at them and says Judgment Day is the most dominating faction but they keep losing because Balor and Priest do not get on the same page. Rhea says she and Dominik are left to carry Dominik's flag. She tells Balor and Priest to straighten up, or else there will be changes coming.
---
A tribute video package airs for Bray Wyatt.
---
Kofi comes out of the doctor's room. McIntyre and Riddle are outside to check on Woods. Kofi tells McIntyre that they know his shot was not on purpose. McIntyre says he is getting a match booked next week against the Viking Raiders, but he will not need to tag in.
Gable has Pissed off Gunther
Gunther stands on top of the announce table after his entrance with Ludwig Kaiser and Giovanni Vinci. Gunther brings up Chad Gable becoming the first one to beat him in 490 something days via countout. But, that win does not mean anything since he still stands as our Intercontinental Champion. However, Gable has achieved one thing- that is to piss him off. Now, Gable has Gunther's attention. Next week, Gable will challenge him again on for the title again on RAW, but Gable will not be able to beat him. Gunther goes to claim that Gable will also not be able to beat his right hand man Kaiser.
Gable's music hits and he comes out with Otis and Maxxine Dupri. Gable says Gunther makes some good points but he found a way to beat him. And next week, it will not take him 10 seconds, but in 1, 2, 3. Gable then tells Kaiser to get into the ring so that he can cook him up Memphis style.
Chad Gable vs Ludwig Kaiser
They lock to start. Gable manages to whip Kaiser to the floor. He hits a senton off the apron and throws his shirt at Gunther as we cut to a break.
Gable sends Kaiser to the floor. He hits deep armdrags when Kaiser returns. Kaiser avoids a German suplex by catching the ropes and hits a back elbow. Kaiser grounds Gable by his arm. He knees Gable's face into the mat. Gable comes out of it with some wrestling manuevers and works on Kaiser's arm. Kaiser hits a shoulder tackle and a big chop. Gable puts him in an ankle lock. Kaiser gets to the ropes, breaks free from the corner with a boot and hits a clothesline to get a two-count.
Gable hits Kaiser with a monkey flip. Gable puts on an armbar on the ropes. Kaiser nails a big slap to send Gable to the floor. Kaiser throws Kaiser into the barricade. We cut to another break.
Gable hits a belly-to-belly suplex. Kaiser hits headbutts and uppercuts before throwing Gable into the ringpost. He hits a dropkick to send Gable to the floor. Back to the ring, Gable tries to fight back but Kaiser hits him with a twisting slam. They exchange chops before a big right from Gable. Kaiser trips him and hits a penalty kick. He can't believe Gable has kicked out. Gable hits punches and a kick to midsection before hitting a rolling neckbreaker.
Gable drops him on his face next to get a two-count after missing a moonsault. Gable throws Kaiser into Vinci who tries to interfere. Gable hits a senton on both men on the floor. Gable puts on an ankle lock. Kaiser rolls over a couple of times to get to the ropes. Kaiser hits some European Uppercut. Gable hits Chaos Theory but Vinci breaks the pin to cause a disqualification.
Winner – Chad Gable
Otis attacks Vinci and hits a belly-to-belly suplex. Kaiser and Vinci send Otis into the ring post. They stomp on Gable for a while. Gunther gets into the ring when Gable puts him in an ankle lock. Vinci and Kaiser save Gunther before Imperium beat down Gable for a while.
Watch Your Back, Rollins!
Seth Rollins comes out to the ring. The crowd firmly behind him as he signals them to continue to sing his song. He says, "Yowwie, Wowwie" before saying that he will keep to short tonight. He will give Nakamura a title shot at Pacback, but if Nakamura has got any more mind games, he shoulder come out and say it to his face. He tells Nakamura that he should come out so that they can sing his song.
No, no.. they do not sing Nakamura's song anymore. So, why not they sing Rollins' song all night long. A video package from Nakamura airs on the big screen saying he just does not want to beat the champion Seth Rollins, but beat him up so bad that his wife would know that he is the reason her husband does not get up from the bad. Nakamura claims that he will break Rollins. Rollins is angry now and asks what happened to Nakamura that headlined Tokyo Dome, who lit NXT on fire.
Two weeks ago, he would have given his back for Nakamura, but when the bell rings on Saturday, he will pummel Nakamura and will not stop until some one stops him. And in those moments, Nakamura will realize he is not taking anything from him – not his title and not his family. Nakamura attacks Rollins from behind with kinshasa. He hits another kinshasa. He tells Rollins that he told him to watch his back.
---
Sami Zayn and Kevin Owens are backstage and say they are sick of Judgment Day's tactics to get cheap wins. They will finish it at Payback. They have gone to Adam Pearce and their match at Payback will be Steel City Street Fight.
Tommaso Ciampa vs Bronson Reed
Ciampa is coming out when Reed runs him over from behind. Reed takes Ciampa into the ring. Ciampa fires quick shots and knee strikes. Ciampa hits a diving knee on the floor. He dares Reed to get into the ring as we cut to a break.
The match has started as we return from the break. Ciampa is keeping up with the attack as we return. Reed hits a crossbody to take down Ciampa. Reed goes for a suplex but Ciampa hits knees to stop it. Ciampa fires shots in the corner before avoiding a corner splash. Ciampa hits an Air Raid Crash after struggling to get Reed up. Reed hits a Thesz Press to take control back. He follows up with a running powerbomb to get a near fall. Ciampa brings Reed down from the top rope and hits big chops.
Reed throws Ciampa into the steel steps and then hits a shoulder tackle off the apron. Ciampa hits Reed with a knee strike on the apron and hits willow's bell. Ciampa hits a running knee for a near fall. They trade some shots. Ciampa tries to hit clothesline but Reed refuses to go down. Ciampa hits a crucifix and manages to get the pinfall.
Winner – Tommaso Ciampa
Becky Lynch is interviewed backstage and says she has had second thoughts, third thoughts on her match against Zoey Stark, but they have all been about whooping Zoey all around the arena. She has been backed into a corner but she doesn't want the easy way out, and will bring chaos to Memphis with her.
Who is Stronger – Rhea or Raquel?
Rhea Ripley and Dominik Mysterio come out to the ring. Rhea says Raquel Rodriguez was acting strong in the promo but she had to pulled an injury to get even with her. But, that was the last time that trick worked on her. She does not have to prove her dominance as she already has a title around her waist to prove it. She calls Raquel an idiot. Rhea lists Raquel's accomplishments as being big and strong, but she is still not Rhea Ripley.
Raquel's music hits and she comes out. They start to brawl as Dominik slips out of the ring. Raquel gets the upperhand and forces Rhea to get out. Dominik gets back in from behind. Raquel gets distracted. Rhea gets back in but Raquel counters her quickly and drops her with a big lariat. Rhea slips out and screams at Raquel from the ramp.
---
Trish Stratus is backstage with Zoey Stark. Trish says Becky is an idiot as she asked for this match tonight. She asks Zoey to leave something of Becky for her at Payback. Zoey says she will leave plenty.
---
We get a video package for Terry Funk.
Becky Lynch vs Zoey Stark – Falls Count Anywhere Match
Zoey comes out with a kendo stick with Trish. Becky also brings out a kendo stick and unloads on Zoey with it. She hits a Russian Leg Sweep using the stick before putting on a crossface using the stick. Zoey slips to the floor. Trish attacks Becky with a kendo stick. Zoey looks for a powerbomb off the apron but Becky kicks her away. Becky hits a crossbody on both Trish and Zoey from the top rope. Becky gets a two-count on the floor. Zoey hits her with a stick before sending her into the steel steps for a two-count herself.
Zoey catches Becky's leg as she hits a spinning back heel kick. Zoey hits a springboard missile dropkick to get a two-count. Trish throws steel chairs in the ring. One chair catches Zoey in the face. Becky rolls her up for a two-count. Zoey tackles her to the mat again. Trish throws in more chairs into the ring. Zoey sets up for a superplex. Becky fights back. Trish holds her on the top rope. Becky kicks her away. She hits a leg drop on Zoey on the ropes for another two-count. Becky goes for the disarmher but Zoey counters to send Becky into the chairs face first.
Becky blocks Z-360 and hits the manhandle slam. Trish breaks the pinfall. Becky chases Trish around the ring. She catches Trish's kendo stick and unloads on Trish to chase her up the ramp. More kendo stick shots force Trish to run to backstage. Zoey hits Becky with chair shots on the stage. She gets a two-count to send us to a break.
Becky jumps from the barricade with a big punch. Becky hits bexploder to send Zoey into the barricade for a two-count. Becky brings out a table. Zoey hits her with a basement slide. Zoey screams that we do not deserve a table. Zoey hits chair shots on Becky's back in the ring. Zoey hits springboard twisting senton with a chair on Becky's chest. Becky kicks out at two. Zoey gets up again. Becky hits her with a chair on the face. Becky hits a superplex on a bunch of chairs. Zoey kicks out of a near fall.
Becky clears the announce table before slamming Zoey's face on it. Becky looks for Manhandle Slam on the announce table but Zoey blocks it and Trish pulls Becky's leg. Zoey hits a kick to Becky's face for another two-count. Becky pushes Zoey off the barricade. She throws Trish over the announce table. Trish once again blocks manhandle slam and puts Becky through a table with a bulldog. Trish pulls Zoey over Becky for the cover, but Becky kicks out again. They take Becky into the crowd with 2-on-1 attack. Becky fights back in the crowd over a platform. Zoey's shot sends Trish through a table. Becky hits Zoey with a manhandle slam through another table to get the pinfall.
Winner – Becky Lynch