WWE RAW August 21, 2023 Results, Live Updates, Highlights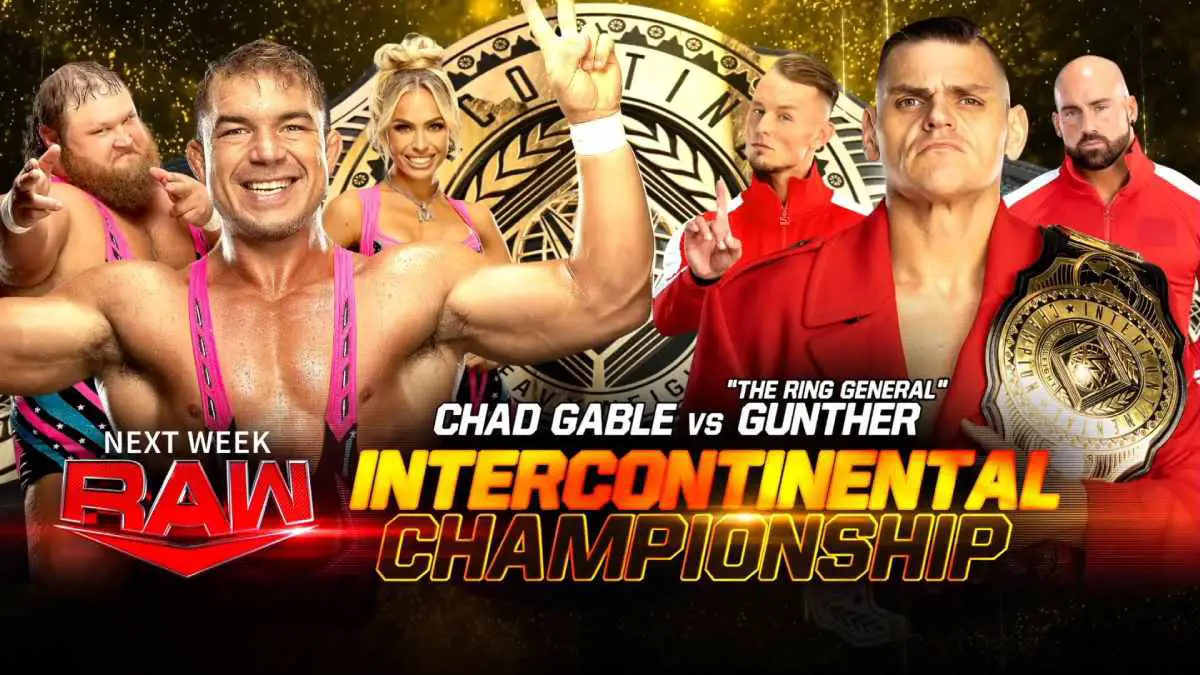 Welcome to the live results blog for WWE RAW August 21, 2023 episode, live from Center Videotron in Quebec City, Canada, on the road to Payback 2023.
Gunther was set to defend WWE Intercontinental Championship against Chad Gable as he eyed being the longest-reigning IC Champion. Tag team veteran New Day faced a new tag team Glass-Bros in Drew McIntyre and Matt Riddle with eyes on tag team titles.
Shinsuke Nakamura was set to reveal what he told World Heavyweight Champion Seth Rollins last week to make him flustered. What did Judgment Day do next to show their dominance? Tune in below as we post results from WWE Monday Night RAW August 21, 2023, with live updates, winners, highlights and complete action.
RESULTS
New Day(Kofi Kingston & Xavier Woods) defeated Glass-Bros(Drew McIntyre & Matt Riddle) in a tag team match via pinfall.
Chad Gable defeated Gunther(c) in a singles match via countdown. Gunther retains WWE Intercontinental Championship.
Rhea Ripley defeated Candice LeRae in a singles match via submission.
Akira Tozawa defeated The Miz in a singles match via pinfall.
Chelsea Green & Piper Niven defeated Katana Chance & Kayden Carter in a tag team match via pinfall.
Judgment Day(Finn Balor & Damian Priest) defeated Kevin Owens & Sami Zayn in a tag team match via disqualification.
Kevin Owens, Sami Zayn & Cody Rhodes defeated Judgment Day(Dominik Mysterio, Finn Balor & Damian Priest) in a tag team match via pinfall.
LIVE UPDATES
We see a recap of how Judgement Day's bickering among each other continued last week, and how JD McDonagh joined them to take down Sami Zayn and Cody Rhodes.
We are in Quebec!
Sami Zayn makes his entrance in his hometown as we go live from the arena. The crowd is completely behind Sami as he takes the mic. The crowd starts singing "Ole, Ole, Ole" for him next. After 5 minutes of this, Sami welcomes us to Monday Night RAW. Judgment Day are quick to interrupt him with their entrance and surround the ring. Sami says he has just one thing to say to them before they do whatever they want to. He asks them if they think he would come here alone. Kevin Owens' music hits and he comes to start a brawl. The fighting ends with a stunner on Damian Priest in the ring. The crowd is electric for Owens also. Owens says it is a long time since he had a match at RAW. So, he challenges any two of Judgment Day for a tag team match. He gets the crowd going by talking something in French.
New Day(Kofi Kingston & Xavier Woods) vs Glass-Bros(Drew McIntyre & Matt Riddle)
Woods starts against Riddle who dodges with some leapfrogs. Woods hits a dropkick before he takes Riddle to his corner for some double team work. Kofi hits an enzuigiri from the apron before he tags in to hit a dropkick. Riddle tags in McIntyre. Kofi avoids his moves and hits a dropkick. McIntyre hits him with a belly-to-belly suplex to send him to outside. McIntyre does the same to Woods. Riddle hugs him but McIntyre hits him with belly-to-belly suplex to throw him on New Day pair on the floor. We cut to a break.
New Day are back in control when we return from the break. Kofi blocks Riddle's attempt to tag in McIntyre. New Day hits a series of double moves to keep Riddle grounded now. Riddle fires back with quick strikes but Woods ducks his enzuigiri and hits a dropkick. Kofi hits a splash on his back. Riddle tries to tag him in but Kofi pulls him back. Kofi jumps off the top but Riddle counters him with a flash knee. Woods tags in and stops Riddle from tagging in. Riddle hits a fisherman's buster from the top rope. The Viking Raiders pull off McIntyre from the apron. Kofi tags in and hits Riddle with Trouble in Paradise to get the pinfall.
Winners – New Day
The Viking Raiders attack New Day after the match from behind. They hit double team moves on New Day pair. Drew McIntyre hits Erik with a Glasgow kiss and Ivar with a spinebuster, and stands tall to close the segment.
---
JD McDonagh is interviewed backstage with Finn Balor. JD says he hopes his relationship with Balor does not create any issues in Judgment Day. Balor reminds us how JD helped Judgment Day last week. Rhea Ripley and Dominik Mysterio comes in and ask Balor to come and talk about the tag team match against Owens & Sami. JD tries to come with them. Rhea stops JD from coming.
---
We get a video package for Shayna Baszler saying that she is not here to be our hero but to survive. Let the world burn.
---
We get a video promo from Intercontinetal Champion Gunther who says he will not let Chad Gable make a name for himself at his expense. Gable is at Gorilla Position with Maxxine Dupri and Otis and is asked about Gunther's comments. Maxxine and Otis hype Gable and says if anyone can stop Gunther, it is Gable.
---
We get news of John Cena returning to SmackDown September 1 episode, and his appearance on Superstar Spectacle India event.
Gunther(c) vs Chad Gable – WWE Intercontinental Championship
They circle the ring before Gunther pushes him to the corner. Gable ducks him and hits a chop. Gunther gets him in an arm wringer and gets him down to the match. Gunther puts on an armbar. Gable gets to his feet dnd Gunther hits him with a Leg Sweep. Gable comes back in the match but Gunther throws him out of the ring. Gable beats the countdown but Gunther nails him with a big chop as he gets into the ring. We cut to a break.
Gunther kicks at Gable from the apron before dropping him on the barricade with a back suplex. Gable beats the countdown at 8. Gunther hits him with a double underhook suplex to get a two-count. He hits a hard whip to the corner next. Gable goes down in between as Gunther tries to whip him to the corner again. Gable kicks at his face a few times from the corner. Gable blocks an overhead chop and puts on an armbar on the ropes. Gunther cuts him off with a chop as he jumps off the top rope. Gunther hits a clothesline to get a two-count. Gable hits a dropkick but Gunther hits him with a lariat. Gable hits a hiptoss before Gunther gets him in a sleeper choke. Gable gets to his feet and breaks free.
Gunther goes for the sleeper again and Gable breaks it with side suplex. Gunther blocks a German suplex. Gable catches his knee and hits a dragon screw. Gable puts on an ankle lock. Gunther rolls onto his back and kicks Gable away. Gable tackles him to the mat and throws big clubbing blows. Gable hits a Chaos Theory to get a near fall. Gunther pushes Gable off the top rope. Gable lands face first onto the barricade. Gunther recovers and gets to the floor to hit big chops on Gunther. Gable drives Gunther into the ringpost and hits a German suplex into the barricade. Gable then runs into the ring to beat the countdown. Gable wins the match via countdown but Gunther retains the title.
Winner – Gunther
Gunther throws a tantrum by throwing the top off the announce table. Gunther says he will come back for more.
---
Judgment Day are backstage talking about the tag team tonight facing Owens and Sami. Both Finn Balor and Damian Priest says they should tag with Dominik for tonight. Rhea tells them they should bury their hatchet by the time she comes back, or else she will decide the team.
---
Cody Rhodes is interviewed backstage to talk about beating Finn Balor last week. He says this setting is not working and takes us through Gorilla Position and to the stage. Cody welcomes Wade Barrett and Michael Cole on the commentary on RAW. Cody says Judgment Day had the numbers with them last week. He says that he will watching Judgment Day very closely tonight and we will all see Judgment Day rise and fall.
---
We get a video package from Shinsuke Nakamura talking in Japanese about what he told Seth Rollins last week. He reveals that he told Seth he knew about his back. Nakamura says Rollins is the World Champion but he is not able to live by the code written on his back. We get an announcement for Seth Rollins vs Shinsuke Nakamura at Payback 2023.
Rhea Ripley vs Candice LeRae
Rhea starts strong as the bell rings. Candice counters Riptide into a DDT. She hits a moonsault from the second rope to get a two-count. Rhea counters and puts on the Cloverleaf to get the submission win.
Winner – Rhea Ripley
After the match, Raquel Rodriguez comes out on crutches. She attacks Rhea with a crutch, leading to a brawl. Raquel hits a fallaway slam before Rhea gets away. Raquel then announces their match at Payback.
---
Tommaso Ciampa cuts a promo backstage and says how his time off let him introspect. He brings up how Chad Gable and Shinsuke Nakamura have got title shots after fighting him. He came back here to be the guy and he is here to take over the game.
The Miz is in the ring and talks about LA Knight. He says everybody is blaming him for Knight's loss at Smackdown, but Knight fails to realize that there is no room for excuses. He brings up the Rock interferring in his match in the main event of WrestleMania but he still won the match. Miz claims that he will be remembered as a game changer, whereas LA will be a blip on the radar. He will face a much more accomplished star tonight. Akira Tozawa makes his entrance.
The Miz vs Akira Tozawa
As the match is about to start, LA Knight's music hits and he comes out. The Miz gets distracted by him and Tozawa hits him with a dropkick from behind. Knight throws some tissues on Miz as he walks towards the commentary table. Tozawa uses a low bridge to send Miz to the floor again before hitting a suicide dive. We cut to a break.
Miz hits a corner clothesline as we return. He hits a clothesline from the second rope. Miz hits It Kicks after this. Knight runs him down on the commentary. Miz hits a running kick next. Tozawa ducks a penalty kick before hitting back with his kick. He hits a hurrincanrana and a running knee. Miz kicks Tozawa to the floor before hitting a basement dropkick. Tozawa turns it around by jumping off the announce table and hits another hurrincanrana. Tozawa goes for a senton from the top rope but Miz gets his knees up. Miz talks trash to Knight, which allows Tozawa to roll him to get the pinfall.
Winner – Akira Tozawa
The Miz argues with the referee after the match and Knight hits him with BFT.
Becky & Trish!
Becky Lynch makes her entrance. She talks breifly about trying to make lemonade from lemons related to her storyline with Trish Stratus. She brings up the steel cage match, which is now announced for Payback. Becky is about to say something about Zoey Stark when Trish and Zoey make their entrance.
Trish fakes some respect for the crowd in Quebec before taking some shots at them. Trish says she would not be here if Becky wasn't running her mouth against her. Trish says she has good news and bad news. The good news is that she will prove herself as the greatest of all time when she beat her. The bad news is that she has not fought in a steel cage match and she is scared.
Trish adds that she was thrown into WWE as 24 years old, but she killed it. she has proven herself time and again. And she is sick of tired of proving her again in front of Becky. As Trish is leaving, she asks Becky about what she was saying about Zoey. Becky says it will be a falls count anywhere match between Becky and Zoey next week.
---
We see a recap of Piper Niven attacking Katana Chance & Kayden Carter backstage before declaring herself replacement of Sonya Deville as the Women's Tag Team Champion. Piper Niven and Chelsea Green are at Gorilla Position. Chelsea says she had to authorise WWE management to get Piper as the Women's Tag Team Champion. Niven bullies her into stop talking and they make their entrance.
Chelsea Green & Piper Niven vs Katana Chance & Kayden Carter
Chelsea pushes Chance away as they start the match. She takes a shot at Carter on the apron. Chance hits a dropkick and tags in Carter for some quick action. Chelsea hits a kick on Carter before knocking off Chance off the apron. Piper tags in but Carter kicks her off the apron. KC2 work double team on Chelsea and hit her with a splash. Piper pulls Carter out and throws her on the floor. Niven hits Chance with a crossbody to get the pinfall.
Winners – Chelsea Green & Piper Niven
Seth Rollins is interviewed backstage and is asked about his back, and if there is any truth in what Nakamura said earlier. Rollins says Nakamura caught him off guard last week because he did not want to talk about his injury publically. He says he has two fractures in his lumbar spine which does not heal by itself. He reveal how the injury is there for the last 4 years. Rollins says Nakamura can bring in his injury, but if he should not bring in his wife and daughter into this. He will give Nakamura another chance to be an honourable next week once again. And he is not hard to find as he will be in the ring while the crowd sings his song.
Kevin Owens & Sami Zayn vs Judgment Day(Finn Balor & Damian Priest)
Judgment Day come out. Rhea stops the argument on who will take part in the match and orders Balor and Priest to be in the match. Priest and Balor hit the ring to start a brawl which spills to the floor. Sami takes Priest into the ring to start the match. Priest unloads with punches. Sami clotheslines him to the floor and unloads on the announce table. Priest hits a big uppercut to take over control. He hits another uppercut in the ring. Balor comes in and Sami hits a suplex on him.
Owens tags in and hits quick punches on Balor and Priest. He knocks Priest to the floor. Owens hits clotheslines on Balor. He hits a senton on Priest on the floor before a Swanton Bomb on Balor in the ring. Balor blocks the stunner and hits a slingblade to get a two-count. Sami jumps on Priest on the floor. JD McDonagh throws the MITB breifcase to Balor but Owens catches it and hits Balor with it to cause a DQ.
Winners – Judgment Day
Sami runs over McDonagh after the match. Judgment Day beat up Owens and Sami in the ring now. Cody Rhodes runs out with his belt in the hand. He slams it on Dominik but Priest and Balor run away. Cody challenges Judgment Day for a trios match. Adam Pearce comes out to make it official.
Kevin Owens, Sami Zayn & Cody Rhodes vs Judgment Day(Dominik Mysterio, Finn Balor & Damian Priest)
Sami is beating up Dominik as we return. Dominik hits knees to the midsection and some punches before Sami hits him with a back body drop. Dominik takes Sami to his corner and tags in Balor. Sami hits Balor with a clothesline. Owens tags in and drops Balor to hit a senton. Owens misses a move and Judgment Day take over control with quick tags. Owens hits back at Dominik on the floor. He fights back against Balor and Priest but the numbers game proved to be too much as Balor trips him on the apron. Balor tags in. Priest throws Owens into the barricade. Rhea hits him with a body slam. Priest takes Owens to the ring to take us to a break.
Balor is stomping on Owens as we return. On the floor, Owens drops Balor on the announce table. Priest gets the tag and blocks Owens from tagging out. Balor hits elbows and punches before putting on a chinlock. Owens gets to his feet but Balor blocks his way with a front facelock. Owens hits a headbutt and a superkick on Balor. Balor ends up colliding into Cody to knock him off the apron. Sami gets the tag and hits clotheslines before clearing the opposite team. Sami hits a tornado DDT on Priest to get a two-count.
Sami gets to the top rope. Balor runs a distraction and Rhea trips him off the top rope. Priest hits a chokeslam but Owens breaks the pin. Dominik tags in and Sami counters to tag in Cody. Cody hits a disaster kick on Dominik, and double Cody Cutter on Dominik and Priest. He hits Crossrhodes on Balor. Cody blocks Dominik and hits him with Crossrhodes. Sami hits Helluva kick and Owens hits Stunner on Dominik to get the pinfall.
Winners – Kevin Owens, Sami Zayn & Cody Rhodes