WWE NXT Heatwave August 22, 2023 Results, Live Updates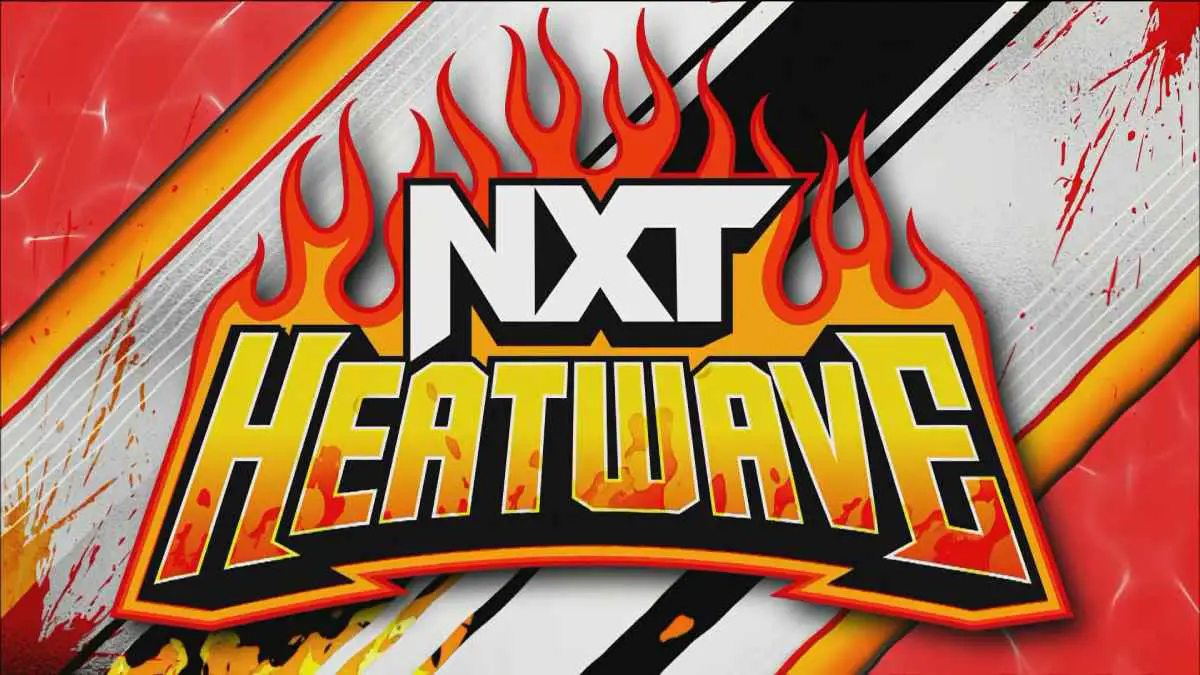 Welcome to the live results blog for WWE NXT Heatwave special episode on August 22, 2023.
6 matches were set for the show starting with NXT Championship match between Carmelo Hayes and Wes Lee. Dominik Mysterio and Rhea Ripley teamed up to take on Dragon Lee and Lyra Valkyrie in mixed tag team match. Von Wagner faced Baron Corbin in a singles match.
Ava Raine was set to feature in his first singles match as she faced Ivy Nile. Nathan Frazer and Noam Dar clashed to settle the dispute over NXT Heritage Cup. Ilja Dragunov took on Trick Williams in a singles match to complete the match card.
Tune in below as we post results from WWE NXT Heatwave on August 22, 2023, with live updates, winners, highlights and complete action.
RESULTS
Ilja Dragunov defeated Trick Williams in a singles match via pinfall.
Ivy Nile defeated Ava Raine in a singles match via submission.
Noam Dar defeated Nathan Frazer(c) in a British Round Rules match by 2-1 to win NXT Heritage Cup.
Lyra Valkyrie & Dragon Lee defeated Rhea Ripley & Dominik Mysterio in a Mixed Tag Team Match via pinfall.
Carmelo Hayes(c) defeated Wes Lee in a singles match via pinfall to retain WWE NXT Championship.
LIVE UPDATES
The show opens with a video package featuring Tony D'Angelo and Stacks trying to beat the heat with a pool party.
Ilja Dragunov vs Trick Williams
Dragunov rushes as the bell ring. He unloads with big shots before Trick fights back. Dragunov hits a big kick to drop him. Dragunov hits elbow shots at his back before an uppercut. Some chops follow before Trick blocks a shot and hits dropkick. He catches Dragunov with a punch, forcing him to roll to the floor. Dragunov hits a German suplex on the floor. We cut to a break.
Dragunov hits machine gun chops after Trick asks him to bring it. Trick grabs his hand and they start to trade shots. Dragunov hits a dropkick. Trick hits an enzuigiri. Trick hits more punches and boots after both men get up. Trick hits a running knee to get a near fall. Dragunov hits two spiked DDT in quick succession to get a near fall. Dragunov takes him to the top rope. Williams counters with an Urinage from the top rope but Dragunov kicks out of the pinfall. Dragunov blocks a roundhouse kick and hits a German suplex. He hits a powerbomb and a knockout punch, but Trick kicks out of the pinfall. Dragunov hits Torpedo to get the pinfall.
Winner – Ilja Dragunov
Nathan Frazer comes into talk to Tyler Bate when he is in some meditation process. Frazer asks Bate to be his second(in his corner) against Noam Dar in the British Rounds Rules match. Bate agrees.
Ava Raine vs Ivy Nile
Ava starts by throwing Ivy to the corner. She hits several body slam and continues to manhandle her. Nile counters by putting her in a standing dragon sleeper to get a quick tap out.
Winner – Ivy Nile
Ivy puts on the sleeper once again after the match as Schism followers surround the ring. They free Ava and a couple of followers take her away.
---
Ilja Dragunov goes to the locker room where Wes Lee is already sitting. Dragunov says he has taken care of Trick Williams and can go after Carmelo Hayes uninterrupted. Lee takes offense on those comments and says a new champion will be crowned tonight, and he is ready to take on the Mad Dragon.
Nathan Frazer(c) vs Noam Dar – British Round Rules match for NXT Heritage Cup
Round 1: Dar starts with an arm wringer and gets Frazer to the mat, using his knee to put more pressure. Frazer turns it around before they come to a stalemate. Dar puts on the arm wringer once again before jumping on the arm. Frazer puts on a side headlock as 90 seconds pass. They no sell a shoulder tackle. Dar hits a punch. Misdirection from both sides as they run the ropes. Dar slaps Frazer as he lands from a springboard move. They run around frantically as the round ends. We cut to a break.
Round 2: We see in during the break, Dabba Kato attacked Tyler Bate. The distraction led to Noam Dar getting a pinfall to get the lead.
Round 3: Dar hits him punches as they resume the match in round 3. Frazer ducks Dar and gets him in STF. Dar gets to the ropes to break it. Frazer goes for a springboard move but Dar kicks him to trip him. Dar teases a rope hang DDT but just lets Frazer go to the floor and kicks him. Dar continues to be in control. Dar puts on ankle lock. Frazer breaks it after a few seconds. He hits suicide dive with 30 seconds to go. He hits a standing shooting star press to get a near fall. Dar lands a cheap shot after the round ends.
Round 4: Frazer hits Spanish fly to start this round. He hits a powerslam to get a two-count. He lands on a moonsault before rolling up Dar for a two-count. Dar hits a back elbow to get a two-count. Dar gets to the top rope but Frazer hits him with punches and a superplex into a twisting neckbreaker to get the pinfall. They are tied at 1-1 now. We cut to a break.
Round 5: Frazer hits senton on Dar and Oro Mensah as we return from the break. Frazer throws Dar back into the ring quickly. Lash Legends holds onto Frazer's legs to stop him from getting the cover. The round ends.
Round 6: They trade punches. Dar hits calf kicks. Frazer fires big forearms before tripping Dar. Dar hits back with kicks at the face. Dar hits a superman punch. Frazer hits a big punch before Dar trips him on the ropes. Frazer avoids a double stomp from the top rope and nails a superkick. Dar gets in an ankle lock/knee bar. Frazer rolls over and hits punches to break free. Frazer hits a superkick. He misses the Pheonix splash after Mensah distracts him on the top. Dar hits Nova Roller to get the pinfall. Noam Dar wins the match 2-1.
Winner – Noam Dar
Ava Raine is under the Schism tree with the two Schism followers who rescued her earlier. Ava tells Ivy to meet there.
Tiffany's Next Challenger
NXT Women's Champion Tiffany Stratton is in the ring. She recaps her wins over the summer and says she will make it much much better going forward. She is going to be the "perfect" champion and this title is not going anywhere, and she will go down in history as the best-ever NXT Champion, better than Bayley, Sasha Banks and Charlotte Flair. Gigi Dolin interrupts her and asks her to shut up. She is waiting for the fall of Tiffany, and she is her next challenger. Tiffany tells her that she doesn't deserve to be a challenger. Gigi says Tiffany doesn't deserve to be the champion as she tapped out in her last match.
Kiana James comes out and says Gigi Dolin's win-loss does not make her a challenger, but she is a challenger. Blair Davenport is next to interrupt them. Gigi tells Blair that she has to go through the division and mentions her beatdown from Roxanne Perez. Blair tells Gigi that she will kick her face so bad that her brother will not recognize her. Roxanne Perez interrupts them all and reminds Blair of being put through the table. She has a message for Tiffany, and just decks her. This starts a brawl. Tiffany quickly slips to the floor while other brawl in the ring.
---
We cut to backstage where Charlie Dempsey and Damon Kemp are grappling in the ring while Drew Gulak watches them.
---
Ava is waiting for Ivy under the Schism tree. When Ivy arrives, Ava tells her followers to get her. The followers were revealed to be the Creed Brothers. They take down Ava and send a message to Schism that they will face The Dyad in a steel cage match week and if they win, they will be reinstated to NXT.
---
Noam Dar is celebrating his win with Meta-Four. He gets an official order that there will be an 8-man invitational match next week and the winner will face Dar at No Mercy.
Rhea Ripley & Dominik Mysterio vs Lyra Valkyrie & Dragon Lee – Mixed Tag Team Match
Dominik and Lee start the match. Lee fires shots. Dominik counters quickly. He sends Dragon to the apron with a back body drop. Quick back-and-forth action until Dragon hits a big kick. Dominik tags in Rhea, which brings in Lyra also. Lyra puts on an arm wringer before hitting a hip toss. Rhea blocks a roll through and hits a shoulder tackle off the rope. Rhea's suplex is blocked before Lyra lights up Rhea with punches. Rhea tags to Dominik and moves to the floor. Dragon nails Dominik with a superkick. Lyra hits a springboard moonsault on Rhea and Dominik. Dragon and Lyra hit tope suicida on Dominik and Rhea on the floor respectively. We cut to a break.
Rhea has Lyra grounded as we return. Lyra fires back with quick shots. Rhea counters and hits a suplex. Lyra tries to make a comeback. Rhea shuts her down quickly. Lyra hits a DDT. Rhea blocks a tag. Lyra hits her with a roundhouse kick. Dominik takes the tag. Dragon hits him with a hurricanrana after they run the ropes. Dragon hits a dragon screw leg next. He hits a double stomp on the back after hanging Dominik on the top rope. Dominik sets up 619 but Dragon ducks him. Dragon hits a powerbomb but Rhea breaks the pin.
Lyra takes her back to the floor and goes for a diving hurricanrana but Rhea blocks it and swings her into the barricade. Raquel Rodriguez attacks Rhea Ripley and they brawl to the back. Dragon hits a sliced bread on Dominik to get the pinfall.
Winner – Dragon Lee & Lyra Valkyrie
Carmelo Hayes is backstage when Trick Williams comes in. They chit-chat before Carmelo says he will remove the asterisk from his title reign and prove that he can defend the title without Williams also. Williams takes offense but Carmelo tells him that it's not his fault. Williams is cool and hands Carmelo his title.
---
We cut to Tiffany Straton who takes shot at Becky Lynch before informing us that Roxxane Perez, Blair Davenport, Gigi Dolin and Kiana James will fight in a fatal 4-way #1 contenders match.
---
We get a recap of Thea Hail losing to Jacy Jayne last week due to Andre Chase. We see footage from last week of her complaining to the referee. Jacy comes to her to say that she has improved and they have all been let down by someone around here. Jacy tells her to come if she needs some advice as people like them always get through it.
Von Wagner vs Baron Corbin
Wagner comes out with Mr. Stone but Baron Corbin attacks him from behind. Corbin takes him down the ramp throws him into the steel steps. Wagner counters to send Corbin into the ringpost. Corbin threatens to hit Robert Stone but Wagner nails him with a boot. He clears the announce table but Bron Breakker hits him with a spear.
---
Joe Gacy cut a promo in anger and accept the challenge from The Creed Brothers for a steel cage match next week. The Dyad says they have beaten The Creeds before, and they will do it again.
Carmelo Hayes (c) vs Wes Lee – WWE NXT Championship Match
Back and forth action before we cut to a break.
Hayes hits tackles in the corner. Lee hits back with kicks. Hayes counters and hits a leg drop on the second rope to get a two-count. They trade punches before hitting some chops. Hayes hits a back body drop, an inverted atomic drop, a corner clothesline and a bulldog to get a two-count. Lee avoids a springboard and hits a Meteora to get a close two-count. Lee hits a superkick before hitting a Michinoku Driver and a twisting senton to get another close two-count. Lee hits an enzuigiri but Hayes blocks Kardiak kick.
Hayes hits him with a cutter and a Codebreaker to get near fall himself. Hayes throws Lee to the floor. He kicks Lee to set him up on the announce table. Hayes hits a springboard DDT to put Lee through the table. Lee avoids the splash in the ring and hits a Kardiak kick. Hayes rolls to the floor and counters to drop Lee. Hayes beats the countdown. Lee also makes it inside just in time. Hayes hits Lee with a leg drop from the top rope to get the pinfall.
Winner – Carmelo Hayes