WWE Hell in a Cell 2021 Match Card(Updated)
Hell in a Cell PPVs has traditionally featured at least two Hell in a Cell cage matches. This year's event is also expected to have two cage matches along with several other bouts on the card. WWE has not yet confirmed which matches will take place inside the cage at Hell in a Cell 2021 PPV. But, rest assured that we will update this page with the match card and storylines for WWE Hell in a Cell 2021 PPV.
Bobby Lashley(c) vs Drew McIntyre – Hell in a Cell Match for WWE Championship
Bobby Lashley attacked Drew McIntyre at Elimination Chamber 2021 PPV after McIntyre had successfully defended his title in the Chamber match. Miz cashed in the Money in the Bank briefcase on McIntyre to win WWE Championship from him. Then, Lashley won the title from The Miz two weeks later on RAW. Lashley was booked to defend the title against McIntyre at WrestleMania 35 and successfully defended.
The rivalry continued further, and McIntyre got his rematch at WrestleMania Backlash after winning the #1 contender triple threat match. Braun Strowman defeated McIntyre to get added to the title match at WrestleMania Backlash. At Backlash, Lashley pinned Strowman to retain the title again. Kofi Kingston entered the storyline as he defeated Lashley in a non-title match on the WWE RAW episode of 17 May 2021 with some help from McIntyre.
Next week, Adam Pearce booked Kofi vs McIntyre match, and the winner of the match facing Lashley at Hell in a Cell. That match ended in a disqualification as Lashley and MVP attacked both competitors. Next week, Kofi and McIntyre clashed once again, with Lashley banned from the ringside. McIntyre defeated Kofi in a hard-fought match to get another shot at WWE Championship.
Drew McIntyre faced AJ Styles in a singles match at the WWE RAW episode of 14 June. Lashley was ringside for that match and ended up attacking McIntyre to cause a DQ. A tag team match followed between Lashley, AJ Styles & Omos vs Drew McIntyre and The Viking Raiders. McIntyre hit Lashley with a Claymore and pinned him.
Bianca Beliar(c) vs Bayley- WWE SmackDown Women's Championship Match
Bianca Belair won the SmackDown Women's Championship from Sasha Banks at WrestleMania 37. Bayley started a feud with her on the following SmackDown and contested for the title at WrestleMania Backlash 2021. Bianca outsmarted her as she turned around Bayley attempt to steal a pin using nefarious means by using her own braid for a leverage for the pin.
The feud continued further and Bayley continued to her attempts to belittle Bianca. Bianca finally decided to challenge Bayley once again for a title match at Hell in a Cell, saying that Bayley's laugh are getting to her. Bayley accepted the challenge to set up a rematch.
Rhea Ripley(c) vs Charlotte Flair – WWE RAW Women's Championship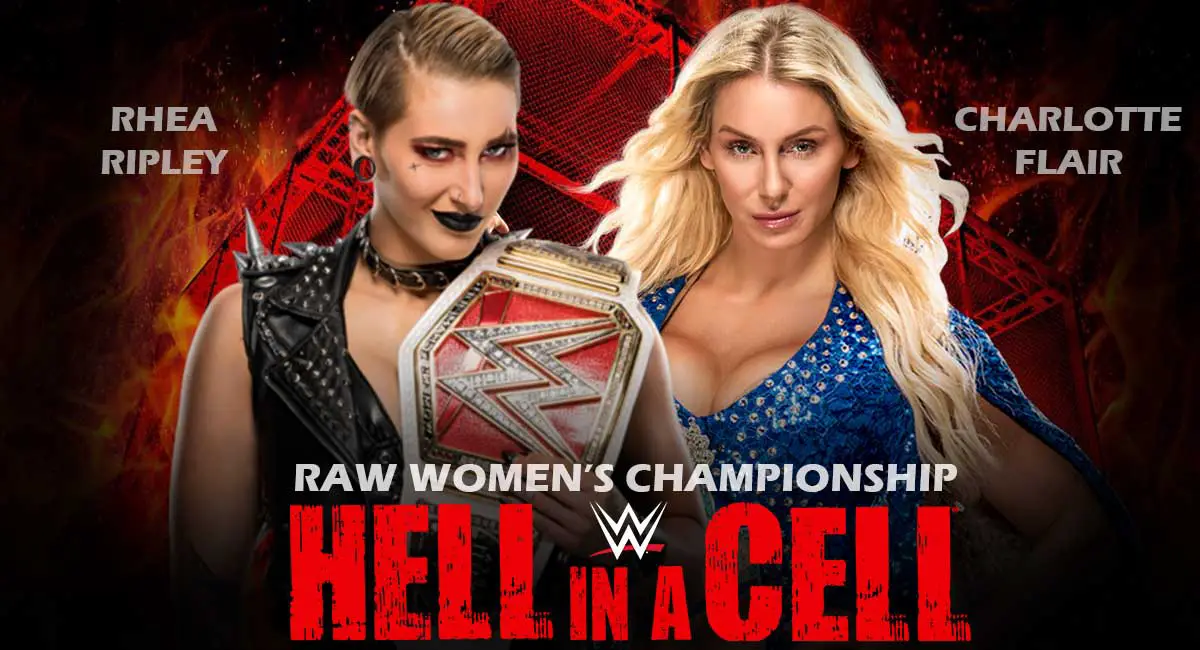 Rhea Ripley defeated Asuka at WrestleMania 37 to win the RAW Women's Championship. The next day, Charlotte Flair started a feud with Rhea after cutting a scathing promo against her. Then, Rhea cost Charlotte the #1 contender match against Asuka. This led to Charlotte snapping at the referee and getting suspended.
Charlotte apologized to the referee the following week and was added to the RAW Women's title match at WrestleMania Backlash by Sonya Deville. Rhea retained the title at Backlash by pinning Asuka. Charlotte was given another shot at the title at Hell in a Cell after she defeated Asuka on RAW 24 May episode.
Rhea Ripley faced Nikki Cross on 24 May RAW episode in a 2-minute Beat The Clock challenge. Since Nikki did not lose in 2 minutes, she was declared the winner. Next week, Nikki won the 2-minute Beat The Clock challenge against Charlotte Flair. The following week, Rhea and Charlotte teamed up to face Nikki and Asuka. Charlotte and Rhea started fighting in between during the match and Charlotte hit Rhea with her finisher. Nikki took advantage and pinned Rhea to win that match.
Next week, Charlotte face Nikki in a singles match which she lost by count-out after she got into an argument with Rhea at ringside. Rhea defeated Asuka later that night. Charlotte attacked her and they brawled until being separated by the officials. Rhea ran Charlotte down with a big boot and bloodied her nose.
Shayna Baszler vs Alexa Bliss
Shayna Baszler suffered a leg injury during a six-woman tag team match, which led to her getting pinned in the match. Reginald started having some freak pyro accidents which led to Shayna Baszler and Nia Jax losing the Women's Tag Team titles. Shayna finally confronted Alexa Bliss when she got caught in another pyro mishap and lost her match against Reginald.
Baszler went to Alexa Bliss' Playground on 7 June episode of RAW and called Bliss' doll Lilly "a stupid doll." As Baszler stomped on Lilly, Alexa got mad and forced Baszler to run away using her supernatural powers. Baszler locked herself in a room but Lilly was seen in the mirror of the room. Baszler broke the mirror but she got spooked when Lilly was still seen in Broken mirror.
Next week, Nia Jax went to Alexa and told her that Shayna has challenged her for a match at Hell in a Cell.
Sami Zayn vs Kevin Owens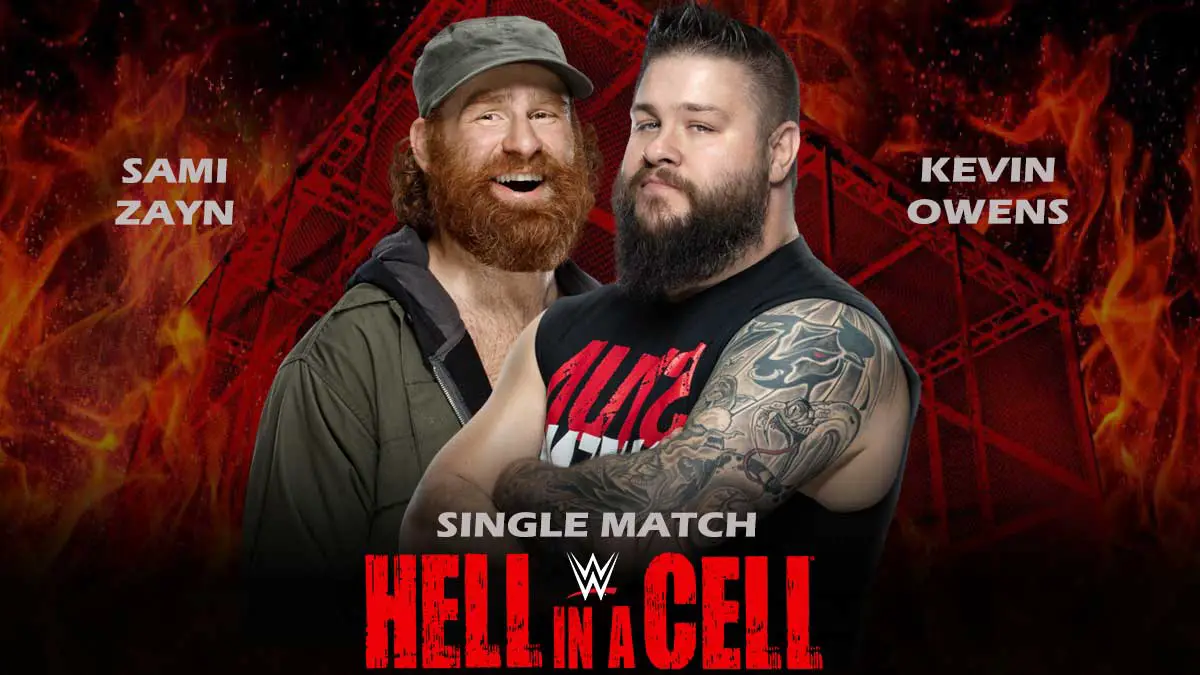 Cesaro vs Seth Rollins