WWE Elimination Chamber 2023 Results Live Update, Roman v Sami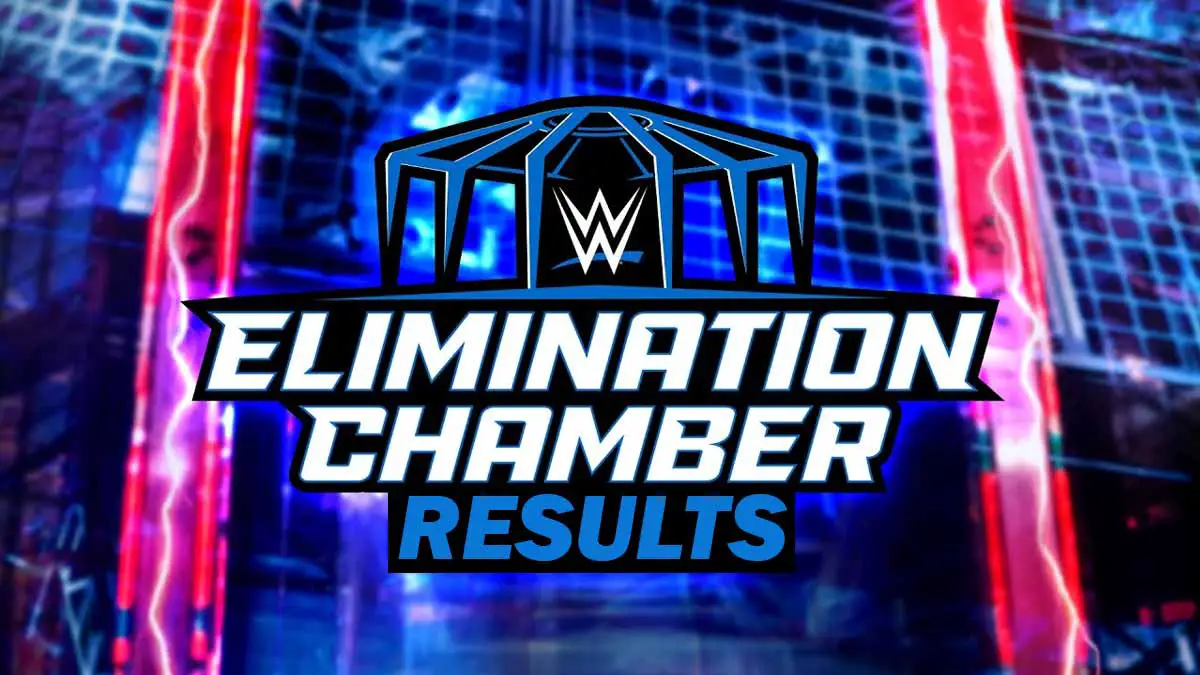 WWE Elimination Chamber 2023, possibly the hottest Elimination Chamber event ever, aired on February 18 and we were live where with all the results and updates from the event.
Montreal crowd was at its hottest ever for a pro-wrestling event as hometown hero Sami Zayn took on Roman Reigns for the Undisputed WWE Universal Championship in the main event. The storyline was in the making since April last year when Sami approached Roman for the first time. Sami later became an honorary Uce, helped Bloodline win a WarGames match, and stood toe to toe with The Bloodline.
Sami finally stood up to Roman at Royal Rumble. With the complete WWE fanbase and an entire Montreal behind him, was Sami be able to do what nobody has done in 3 years now – defeat Roman Reigns?
With Sami and Bloodline storyline taking centerstage, two Elimination Chamber matches had flown under the radar despite having a stellar line-up. WWE United States Championship was defended in one of the Chamber matches. Austin Theory defended the title against Seth Rollins, Johnny Gargano, Damian Priest, Montez Ford, and Bronson Reed.
The second Chamber match was for the contender to face WWE RAW Women's Champion Bianca Belair. Liv Morgan, Raquel Rodriguez, Asuka, Carmella, Natalya, and Nikki Cross competed in this match.
A blockbuster clash between Brock Lesnar and Bobby Lashley also awaited us. Bray Wyatt had already said the winner of this match should run after the match as he was coming after him. Edge and Beth Pheonix had revenge on their minds as they faced the Judgment Day duo of Finn Balor and Rhea Ripley.
Tune in below for complete results from WWE Elimination Chamber 2023 event with live updates, winners, highlights, and updates.
ELIMINATION CHAMBER 2023 RESULTS
Asuka defeated Liv Morgan, Raquel Rodriguez, Carmella, Natalya & Nikki Cross in an Elimination Chamber match to become Contender for WWE RAW Women's Championship.

Nikki Cross was eliminated by Raquel Rodriguez via pinfall.
Liv Morgan was eliminated by Natalya and Asuka via referee stoppage.
Natalya was eliminated by Carmella via pinfall.
Raquel Rodriguez was eliminated by Asuka via pinfall.
Carmella was eliminated by Asuka via pinfall.

Bobby Lashley defeated Brock Lesnar in a singles match via disqualification.
Edge & Beth Pheonix defeated Judgment Day(Finn Balor and Rhea Ripley) in a mixed tag team match via pinfall.
Austin Theory(c) defeated Seth Rollins, Johnny Gargano, Damian Priest. Montez Ford & Bronson Reed in an Elimination Chamber match to retain WWE United States Championship.

Bronson Raquel was eliminated by Montez Ford via pinfall.
Johnny Gargano was eliminated by Damian Priest via pinfall.
Damian Priest was eliminated by Montez Ford via pinfall.
Montez Ford was eliminated by Austin Theory via pinfall.
Seth Rollins was eliminated by Austin Theory via pinfall.

Roman Reigns(c) defeated Sami Zayn in a singles match via pinfall to retain Undisputed WWE Universal Championship.
LIVE UPDATES
The kick-off show is live now with Kayla Braxton, Wade Barrett, Peter Rosenberg and Kevin Patrick. Kayla wishes Jerry The King Lawler, a regular on pre-shows generally, a speedy recovery from his health scare.
We get a video package for the Elimination Chamber match. The panel start to discuss Women's Elimination Chamber match. The mixed tag team match goes up for discussion. They discuss the colossal clash between Brock Lesnar and Bobby Lashley next.
United States Champion Austin Theory is interviewed backstage and takes shot at all of his challengers in the chamber match. They wrap up the show by discussion the main event that is Sami Zayn vs Roman Reigns. Ariel Helwani joined the panel to discuss this match.
---
The main show starts with a video package for Elimination Chamber match and the dreaded caged structure. The video also gets into Brock vs Lashley, Sami's betrayal and Edge's revenge. The commentary starts by discussing Montreal Screwjob. The women's Elimination Chamber match will start the show.
Liv Morgan vs Raquel Rodriguez vs Asuka vs Carmella vs Natalya vs Nikki Cross – Elimination Chamber match for Contender for WWE RAW Women's Championship
Asuka is the first one to come out and takes her place inside one of the pods. Carmella is the second to come out. Raquel Rodriguez and Nikki Cross also take their places inside the pods. Liv Morgan and Natalya will start the match.
Natalya starts with a side headlock takeover. She hits a tackle next. Natalaya gets a roll-up for a two-count before Liv counters with the same. Natalya sends Liv to the apron and Liv goes on to slam Natalya's face into the steel chains. Liv stomps on Natalya on the padded apron. Natalya sends Liv's face into the glass pod. She goes onto send Liv into the pod several times. The crowd chants "one more time" and Natalya obliges.
Raquel joins the match. She starts with big shots on Natalya in the ring before hitting a clothesline. Raquel kicks at Liv as she charges at her. Raquel sends both opponents into the corner to hit a corner splash. She throws Natalya across the ring before hitting a fallaway slam on Liv. She hits a big boot on Natalya before driving her into the steel walls in a fireman's carry.
Liv jumps on her and Raquel catches her. Natalya slips out and sends Raquel into the chains. Natalya tries to go for sharpshooter but Liv blocks it. Liv hits her with a knee strike. Raquel comes in and Natalya drops both women with a cutter.
Nikki Cross enters the match. Nikki hits corner splashes on all 3 women. Raquel is thrown to apron followed by Natalya and Liv. She catapults Liv into one of the pods. She drives Natalya into the chains before raking Raquel's face into it. Nikki climbs Carmella's pod and hits a crossbody to wipe everyone out.
Carmella enters the match and tries to cover Liv and Natalya to attempt pin falls. Carmella goes to argue with Asuka. She closes her pod as Nikki creeps up on her. Raquel drives Nikki through Carmella's pod, breaking plexiglass in process. Carmella goes on and locks up in another pod. Raquel hits Tihana bomb on Nikki to get the pinfall to eliminate her.
Liv hits Codebreaker from the top rope but Raquel kicks out. She sends Liv into the cage walls. Raquel fights off Natalya on the top rope. Liv comes in and hits a sunset flip powerbomb on Raquel. Carmella runs in and covers Raquel but she kicks out.
Asuka enters the match and stops Carmella from entering the pod. Asuka slams Carmella into the pod glass a few times. She hits a flurry of strikes on Carmella but misses a kick. Asuka still manages to hit Carmella with a running knee to get a near fall. Raquel and Asuka fight now. Asuka fails to put on octopus stretch but slams Raquel into the corner.
Liv hits Asuka with a missile dropkick. She manages to hit codebreaker on Natalya. Carmella nails Liv with a superkick and Natalya puts on the sharpshooter. Asuka joins in with her submission also. Liv refuses to give up but she fades to sleep. The referee eliminates Liv from the match.
Natalya puts Asuka in the sharpshooter now. Carmella nails Natalya with a superkick and get the pinfall to eliminate her. Raquel tries to fight both women on her own. Asuka and Carmella nail Raquel with combination kicks to cover her for pinfall to eliminate her. Carmella nails Asuka with a superkick but she kicks out of the pin. Asuka puts Carmella in Rings of Saturn submission to get the submission.
Winner – Asuka
Asuka celebrates her win as the commentary team confirms her showdown with Bianca Belair.
---
We get a video package for Ronda Rousey's journey in WWE so far.
Brock Lesnar vs Bobby Lashley
Lesnar picks up Lashey and takes him to the corner to several shoulder blocks. Lesnar takcles Lashley into the opposite corner now. He hits more shoulder blocks before he clotheslines Lashley to the floor. Lesnar brings Lashley back but Lashley catches him with a spear for a near fall.
Lashley hits another spear. He gets ready for the Hurt Lock now. Brock blocks it and picks up Lashley to hit F5 for a near fall himself. Lesnar takes his time to recover before he hits another F5 to get another near fall. The crowd gets behind Lesnar and he goes on to pick Lashley once again for F5. Lashley slips out this time and hits a spear.
Lashley waits for Lesnar to stand up and goes for the Hurt Lock. He puts on the lock this time. Lesnar is fading now. He hulks up as the crowd gets behind him. Lesnar hits a low blow with his kick to break the Hurt lock. The referee disqualifies Lesnar.
Winner – Bobby Lashley
Lesnar gets to his feet and asks the referee to come to him. Lesnar hits the referee with an F5. He hits Lashley also with an F5. Lesnar takes Lashley to the floor and puts him through the announce table with another F5. Lesnar hits another F5 on the referee. Lesnar goes back with Lashley and the referee down at ringside.
---
We get a parody video where Seth Rollins plays Joaquin Pheonix's version of Joker. Becky Lynch comes in and starts to talk in fake Batman voice.
---
George St. Pierce and Ariel Helwani are in the front row.
Edge & Beth Pheonix vs Judgment Day(Finn Balor and Rhea Ripley)
Balor and Rhea come out first. Dominik Mysterio is with them. The Grit Couple comes out to a loud ovation. Edge and Balor start the match. Balor hits a big shoulder tackle. Balor gets in Beth's face and Edge tackles him from behind. Edge hits punches from the second rope. Beth tags in and Edge jumps off her to hit a flying forearm.
Rhea comes in and faces off with Beth. They lock up and Rhea manages to put on the side headlock. Beth's tackles does not move Rhea. Rhea's clotheslines also do not affect Rhea. Rhea catches her with a forearm. Dominik is on the apron now and says something in her ear. Rhea asks for a show of strength. Beth and Rhea lock up and Rhea manages to get Beth down to 75%. Rhea kicks at Beth and goes for Riptide. Beth breaks it up and hits a clothesline. Rhea quickly rolls to the floor.
Dominik tries to distract Beth but she continues to target Rhea and whips her into the steel steps. Beth climbs to the top now. Balor distracts the referee and Dominik trips Beth on the top. Edge chases Dominik out of the back. Rhea gets Beth in a tree of woe and starts to kick her. Rhea starts to work on Beth now. Dominik comes back and gets huge boos and chants against him.
Beth knocks off Balor from the apron. Beth manages to counters a tackle into a DDT. She is looking for a tag, but Balor pulls Edge off the apron and drops Edge with an inverted DDT. Beth and Rhea continue to fight in the ring. Rhea blocks Glam Slam and takes Beth to the top. Beth hits back elbows to break free. Beth continues to beat up Rhea with punches as Dominik screams from the floor. Beth hits a superplex on Rhea.
Balor pulls Beth away from a tag. Beth sends Rhea into Balor in the corner and tags in Edge. Edge hits running tackles, a clothesline and several punches on Balor. Edge puts on an Edgecutor on Balor. Beth runs in and blocks Rhea's interference. Beth also puts on Edgecutor on Rhea. Dominik tries to interfere but the referee blocks him. Dominik throws the brass knuckles into the ring. Beth lets go of the submission and scares Dominik off. Rhea nails Edge with a brass knuckle punch.
Beth takes Rhea to the floor. Balor goes to the top, but Beth throws Dominik into the ropes to trip Balor. Rhea hits a Russian Leg Sweep on Beth into the barricade. Edge joins Balor on the top and they start to trade strikes. Beth and Rhea also get into the ring and pick their opposite men. Rhea hits a powerbomb on Edge while Beth hits it on Balor. Beth and Rhea drop each other with clotheslines at the same time.
Rhea takes Beth to the floor while Balor puts Edge in a chin lock. Rhea goes for a con-chair-to, but Beth slips out. Beth trips Rhea on the steel steps now. Edge also fights off Balor and drops him with a clothesline. He hits a suicide dive on Dominik on the floor. Balor catches Edge with a slingblade as he returns. Beth hits Rhea with Glam Slam on the floor. Edge counters Balor and Beth Pheonix comes into the ring to join Edge in hitting Shatter Machine for the pinfall.
Winner – Edge & Beth Pheonix
Balor is getting dragged to the stage by Rhea and Dominik while Edge and Beth celebrate their win.
---
We get a video package for The Miz now.
---
Heavy boos from the crowd as Roman Reigns is shown on the big screen. Paul Heyman tells Roman that Montreal is his city now.
Austin Theory(c) vs Seth Rollins vs Johnny Gargano vs Damian Priest vs Montez Ford vs Bronson Reed – Elimination Chamber match for WWE United States Championship
US Champ Austin Theory comes out first and takes his place inside the pod. Montez Ford follows him up. Bronson Reed is next up before Damian Priest completes the lineup inside the pod. Seth Rollins and Johnny Gargano will start the match. The crowd continues to sing Rollins' theme.
Quick back and forth to start the match, seeing them trade pin attempts. Rollins avoids a couple of Gargano's charges before they once again a quick back-and-forth. They trade some innovative pin attempts. Rollins blocks a slingshot spear with a pedigree attempt. Gargano blocks and sends Rollins to the apron to hit a spear.
Austin Theory enters the match. He hits a big boot on Gargano. He sends Rollins into the chain before he clotheslines him back into the ring. Theory rakes Gargano's face into the chain walls. He beats up Rollins in the ring with some punches before slamming Gargano into the plexiglass. Theory mocks Rollins' theme. Gargano and Rollins ping pong Theory with punches in the middle of the ring.
Theory starts to beg them to stop. He tells Gargano that the crowd only cares about Rollins. Theory tries to get Gargano team up with him. Gargano teases a reunion but then nails Theory with a punch. Theory runs back into the pod and dares Gargano to come in. Rollins opens the pod from behind and starts beating up Theory. Gargano also joins in.
Damian Priest joins the match and drops Rollins and Gargano. He hits quick moves before setting them up in opposite corners for running forearms. Priest hits Broken Arrow on Gargano before he blocks Rollins' pedigree and drops him. Priest hits a suplex on Gargano. Priest goes back and forth with Rollins before dropping him with a kick. Theory tells Priest to get them. Priest drops him with a big right and then hits him with senton on the apron.
Rollins blocks and counters Priest. Rollins nails him with a kick. Gargano drops Rollins with an enzuigiri. Theory hits Gargano with codebreaker. Priest gets up and drops Gargano again. Rollins hits Priest with Falcon Arrow.
Bronson Reed enters the match. Reed runs over everyone. He hits Theory and Rollins with inverted DDT and DDT combo. Reed continues to beat everyone up. He picks up Rollins and Gargano on his shoulder to hit Samoan Drop. Priest and Reed start to fight now. Reed hits a German suplex on Priest, sending him into the steel chains. Reed hits a running splash on Priest into the plexiglass. Reed hits a flying shoulder tackle on Theory on the apron.
Montez Ford enters the match and nails Reed with an enzuigiri. Ford drops Theory with running tackle. Ford hits a series of kicks on Theory and drops him with an enzuigiri. Ford goes 5 knuckle shuffle but Reed runs him over. Theory picks up Reed for ATL but Reed slips out and drops Theory. Reed picks up Gargano in electric chair. Rollins hits Reed with a clothesline which helps Gargano to hit a frankestiener on Reed. Ford covers Reed quickly but Reed kicks out.
Ford jumps on Priest who sends him into the wall. Ford catches the chains and climbs to the top. He drops on everyone on the padded floor. Ford nails Reed with a superkick. Gargano joins in for a double super kick before Rollins joins in for a triple superkick. Reed is hit with One Final Beat from Gargano, a stomp from Rollins and a splash from Ford. Ford covers Reed to get the pinfall.
Gargano and Rollins end on the top of a pod after the usual brawl. Rollins goes for a powerbomb from the top but Gargano counters it with a hurricanrana to send Rollins into other on the floor. Everyone is down on the floor.
Priest blocks Gargano's punch but Gargano nails him with a kick. Gargano hits a tornado DDT on Priest before superkicks to Theory and Ford. Gargano hits a slingshot DDT on padded apron. Gargano nails Priest with an gamengiri. Priest hits Razor's Edge on Gargano and gets the pinfall to eliminate him.
Priest hits sidekicks on Rollins before a big uppercut. He hits more body kicks until Rollins catches his kick. Priest blocks a pedigree and hits a high kick. Ford is on the top and Priest joins him. Rollins picks Priest up and Ford joins him to hit double team blockbuster on Priest. Ford covers Priest to get the pinfall and eliminate him.
Ford gets the crowd going with Rollins' theme song. They start to trade shots now. Ford hits an enzuigiri on Rollins. He hits tope suicidas on both men before throwing them on each other and hitting another tope suicida. Ford hits Theory with an Urinage. Ford goes for the splash but Theory gets his knees up. Rollins hits the stomp on Ford, and Theory quickly covers Ford to eliminate him.
Rollins hits an enzuigiri before hitting a liger bomb for a two-count. The referee is calling for medical team to check on Montez Ford. The crowd gives Ford a round of applause as he is carried to the back. Ford falls on the door of the cage once again. The door remains open.
Rollins goes for a stomp but Theory avoids it. Rollins changes it into a pedigree. Rollins gets ready for a stomp but Logan Paul runs in and hits him with a buckshot lariat. Logan also hits Rollins with a curbstomp. The referee takes Logan out of the cage and locks it again. Theory picks up Rollins and hits A-Town-Down to get the pinfall.
Winner – Austin Theory
Theory celebrates his win. Logan Paul gets to the stage and trash talk Rollins into the camera. Theory is on top of a pod as he shows off his title. Rollins recovers and watches towards the stage.
---
We get a video package for WWE RAW Women's Champion Bianca Belair and her journey from athletics to the WWE ring.
Roman Reigns(c) vs Sami Zayn – Undisputed WWE Universal Championship
Heavy boos as Roman Reigns makes his entrance. He only has Paul Heyman with him. No Usos, no Solo Sikoa. The boos get louder as he poses on the apron. "Ole" chants take over the arena as we await Sami's entrance. Roman is getting enraged at this. World Apart takes over the arena but Sami makes us wait. He finally comes out after a minute into the song.
The crowd joins in, singing the song as Sami makes his way down the ramp and into the ring. After posing in the corner, he hypes up the crowd a bit more. "Sami" chants take over the arena as the announcement gets done. Sami is pumped as his name gets announced. The referee has to keep Sami away from Roman. Heavy boos take over as Roman's name is announced. We are ready to go as "F##k U, Roman" chants start now.
The bell rings and both men are in their corners, staring a hole into each other. Sami smirks a bit at the crowd reaction behind him. Neither men moves from their position for a minute or so. More and more chants for Sami. Sami walks around in his corner. Another minute passes and still they have not engages. Paul Heyman talks to Roman from the floor and tries to motivate him. They start to circle around now.
More explicit chants for Roman. Sami says this is his city as Roman circles the ring. Another minute passes by before Roman finally locks up with Sami. Roman puts on a side head lock. Sami throws him to the ropes and Roman hits a running shoulder tackle. Sami puts on a side headlock now and gets Roman to his knees. Roman hits him with a big boot as he comes off the ropes. More "F##k U, Roman" chants.
Roman puts on a side headlock once again. They run the ropes and Sami throws Roman to the floor to hit a suicide dive. Back to the ring, Sami slams Roman's face into the corner. Sami rains down rights from the second rope. He hits an elbow from the second rope to get a two-count. Sami goes for another elbow from the second rope but Roman nails him with an uppercut.
Sami slips to the floor and Roman sets him on the apron to hit a drive-by dropkick. The crowd gets behind Sami. Sami hits a chop that Roman no-sells. Roman drops Sami with an uppercut. He talks to the crowd now. Sami hits back with more chops but Roman once again nails him with an uppercut. Roman hits corner clotheslines after saying something to Sami's wife in the front row. Roman throws Sami to the floor and talks more trash with Sami's wife.
Roman hits a headbutt now as he continues to play to the crowd. Back to the ring, Sami htis a couple of rights before Roman hits another punch. Sami leapfrogs over him from the ropes and nails a clothesline. Sami nails rights before a running forearm shot. He clotheslines Roman to the floor once again.
Sami unloads on Roman in front of his wife now. Sami kisses his wife before getting ot the top rope. Roman hits him with an uppercut before joining him on the top. Sami blocks a superplex and rallies with punches to midsection. Sami hits a sunset flip powerbomb from the top rope to get a near fall. Roman blocks a blue thunderbomb before hitting an Urinage for a two-count.
Roman loads the superman punch but Sami ducks and hits him with an exploder. Sami runs for the Helluva kick but Roman nails him with a Superman punch for a near fall. Roman signals for a spear but misses it as Sami leapfrogs him. Roman crashes into the turnbuckle. Sami rolls him up for a two-count. Sami hits an exploder, a Superman punch and a Helluva kick. Roman kicks out of the pin.
Roman looks shocked and in trouble. He ducks to the floor. Sami goes for a dive through the ropes but Roman hits an uppercut. Roman runs around the ring and goes for a spear. Sami sidesteps to send him into the barricade. Sami brings Roman back to the ring and hits blue thunderbomb for another near fall.
Sami hypes himself up now. He goes for another blue thunderbomb but Roman blocks it and backs Sami into the corner. The referee gets trapped behind Sami. Roman nails back elbows on Sami and some land on the referee also. Sami hits a Helluva kick on Roman and covers Roman, but the referee is down.
Jimmy Uso comes out and hits a series of superkicks on Sami. He hits an Usos splash and drags Roman on top of Sami. A new referee comes out but Sami kicks out of the pin. Sami and Roman start to trade punches while on their knees. Roman pushes Sami to the ropes and gets in his face. Sami hits back with a headbutt. Roman misses a Superman punch. Sami hits Roman with a big boot. Roman drops to the floor.
Sami boots Jimmy off the apron. Roman catches Sami with a spear but Sami kicks out of the pin once again. Roman starts to scream at Sami now. Sami gets back on his knees. Roman slaps him around. Sami nails him a punch. Roman goes for a Superman punch but Sami ducks it and Roman drops another referee with it. Sami hits a Superman punch on Roman before Roman hits him back with Superman punch.
Paul Heyman hands Roman a steel chair. Roman is getting ready to hit Sami with the chair when Jey Uso walks into the ring. Roman offers Jey the steel chair. The crowd chants. "No". Jey takes the chair as he thinks. Roman starts to trash talk with Sami as they tease an angle similar to Royal Rumble with Jey now.
Roman asks Jey what he is waiting for. Roman decks his face. Sami charges Roman for a spear. Roman sidesteps and Sami runs into Jey with the spear. Roman slams chair shots on Sami's back. He hits another spear on Sami and a referee runs in to count for the pinfall.
Winner – Roman Reings
After the match, Jimmy starts to beat up Sami. Kevin Owens comes out now. Jimmy meets him on the apron and gets throws into the barricade. Owens manages to take down Roman in the ring. Jimmy returns and KO hits him with a Stunner. Owens puts Jimmy through the announce table with a pop-up powerbomb.
Owens has a chair in his hands as he walks towards Roman. Paul Heyman comes in and starts to throw punches on Owens' back. Owens hits a stunner on Heyman. Owens sets up Roman in the corner as Sami recovers. Owens side steps as Sami hits Roman with a Helluva kick. Owens leaves the ring and goes to the ringside. Sami and Owens keep looking at each other. Sami is looking disappointed at his loss. The crowd gets behind him as the show goes off the air.