Wrestlers Contracts Details(Expiration Date)- WWE, AEW, ROH, IMPACT, NJWP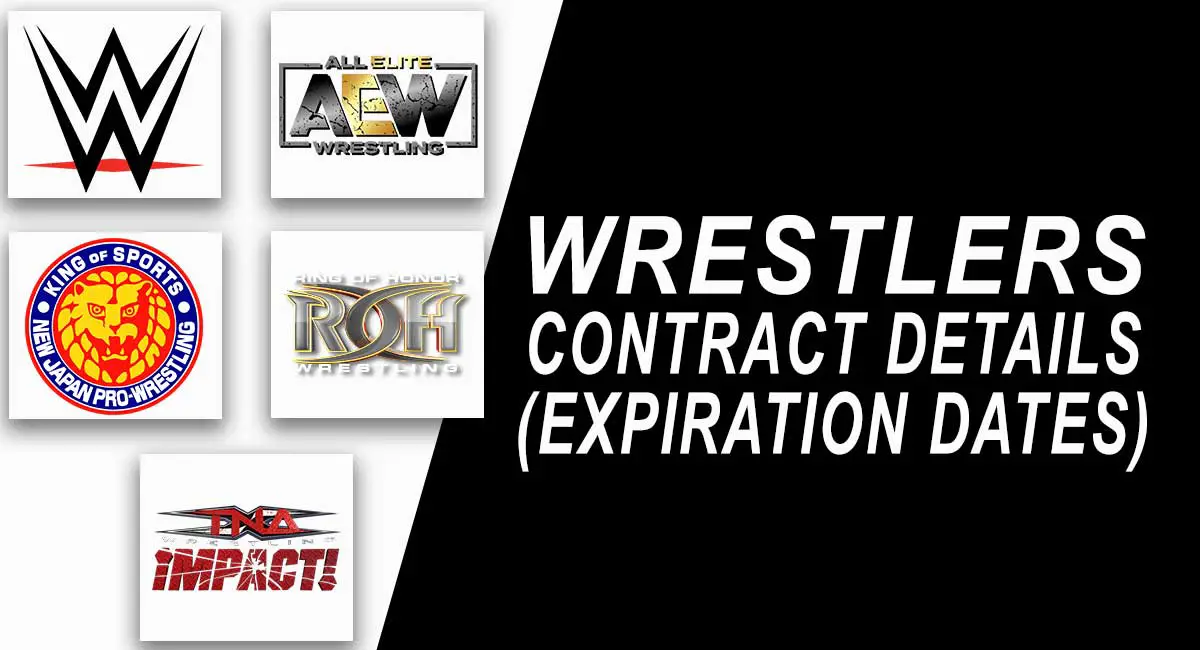 Contracts and their expiration dates play important roles in pro-wrestling as wrestlers keep looking to switch to bigger/better promotions like WWE & AEW. On the other hand, the companies like WWE try to hold wrestlers exclusive to themselves for as long as possible. Here, we are presenting the expected contract end dates for various wrestlers and stars based on exclusive media reports, interviews and rumors.
Check out the current contract details and expected expiration date of various WWE, AEW, ROH and NJPW Superstars.
Disclaimer- Actual contract details may vary. This list is based on other reports.
WWE
Superstar Name
Sign Date
Expiration Date
Contracts Details
AJ Styles
February 2022
January 2024
Signed a new contract in February 2022 with around $3 million per year salary
Alexa Bliss
–
March 2024
Bliss revealed that his contract with WWE expires around March 2024
Angelo Dawkins
January 2020
December 2024
Angelo Dawkins signed a new multi-year deal with WWE and his contract expires in December 2024
Big E
December 2019
December 2024
Big E reportedly had signed a new 5-year contract which will expire in December 2024
Brock Lesnar
2021
Early 2023
New Contract is believed to be for at least 8 matches. More details
Booker T
–
2029
Booker T's contract with WWE is till 2029 for appearances on commentary and in various shows
Candice Le Rae
–
May 2022
Contract ended in early in May 2022.
Cody Rhodes
March 2022
April 2025
Signed a multi-year contract in 2022
Dana Brooke
2019
December 2024
Signed a new 5-year deal in 2019
Edge
2020
2023
Signed a 3-year deal upon his return in 2020, but time will be added due to 6 months of injury
Elias
January 2020
June 2023
Elias's WWE contract will expire in January 2023. More time might be added due to two spells on the sidelines due to injury
Goldberg
2019
2022
Became free agent after Elimination Chamber 2022
Jerry Lawyer
December 2021
December 2023
Jerry Lawler signed a two-year contract with WWE in December 2021
Jinder Mahal
June 2019
April 2025
Jinder Mahal's signed a new 5-year contract in June 2019. Although, his contract is likely to extend until WrestleMania 2025 due to time-off with a knee injury
Kevin Owens
December 2021
January 31, 2025
Kevin Owens announced a new deal in December 2021 for three years
Kofi Kingston
December 2019
December 2024
–
Mandy Rose
–
End of 2024
–
Matt Riddle
End of 2020
End of 2023
Reportedly signed a new WWE contract worth $400,000 per year for 3 years
The Miz
–
End of 2025
Renewed deal in 2019
Montez Ford
–
December 2024
Signed a new multi-year deal with WWE expectedly until December 2024
MVP
August 2020
–
Signed multi-year contract in August 2020
Nikki Cross
November 2019
–
Nikki Cross re-signed with WWE with a multi-year contract in November 2019
Paige
–
July 7, 2022
Paige revealed that her deal with WWE ends on July 7, 2022
Pete Dunne
September 2021
September 2024
Pete Dunne signed a new contract with WWE for around three years until September 2024. More details.
Pat McAfee
April 2021
April 2023
Pat McAfee signed a two-year deal in April 2021 for commentary work on SmackDown
Randy Orton
–
end of 2024
Orton signed a contract extension until the end of 2024 with a $4.5 million per year salary
Rey Mysterio
August 2020
August 2023
Rey Mysterio signed a new three-year deal in August 2020 which will keep him in WWE until August 2023
Ricochet
2019
Mid 2024
Ricochet signed a new 5-year contract when he was called up to the main roster in 2019.

More details here.

Roman Reigns
July 2019
April 2023
Roman signed a new multi-year deal in July 2019. The likely end date in his contract is around WrestleMania 2023
Ronda Rousey
January 2018
–
Ronda Rousey's original WWE contract expires on 10 April 2021. It is not known whether WWE can extend her contract further as she continues to be on sidelines.
Seth Rollins
–
April 2024
Seth Rollins has informed in a recent interview that his WWE contract has 2 to 3 years more. We can expect his contract to end around WrestleMania 2024
Sami Zayn
December 2021
End of 2024
Signed a new deal in the Fall of 2021
Shane McMahon
January 2022
December 2022
Shane McMahon's contract with WWE automatically extends for each year for a one-year period unless either party gives notice at least 90 days prior to the expiration date.
Shelton Benjamin
January 2020
December 2022
–
The Undertaker
2019
2034
The Undertaker signed a 15-year contract with WWE in 2019 which prevents him to appear for any other promotion
Wade Barret
September 2021
April 2023
Initial contract expired in Sept 2021, but a new deal was signed to extend the contract
Xavier Woods
December 2019
End of 2024
Signed a 5-year extension
---
AEW
Superstar Name
Signed date
Expiration Date
Contract Details
Adam Cole
September 2021
–
Adam Cole signed a multi-year deal with AEW in September 2021 after his contract with WWE got over in August.
Alan Angels
June 2020
June 2022
Angels will be a free agent from June 30, 2022 onwards.
Andrade
June 2021
June 2024
Andrade revealed that he signed a three-year deal with AEW. His contract with AEW got over in June 2024.
Brian Cage
January 2020
Early 2023
AEW has triggered an extension clause to extend Cage's deal until early 2023.
Bryan Danielson
July 2021
July 2024
Bryan Danielson signed a three-year deal with AEW in July 2021. His contract will expire in the summer of 2024.
Cash Wheeler
July 2020
July 2022
Signed Multi-year deal in 2022
Chris Jericho
January 2019
January 2024
Originally signed till January 2022. AEW triggered an extension clause for two more years.
Christian Cage
March 2021
March 2024

Christian Cage signed with AEW

in a multi-year contract in March 2021 which will likely last until March 2024.
CM Punk
July 2021
–
CM Punk has signed a multi-year deal with AEW on 23rd July 2021.
Dax Harwood
July 2020
July 2022
Signed Multi-year deal in 2022
Ethan Page
March 2022
December 2024
After signing the original contract in March 2021, Page signed an extension in early 2022 to extend it.
Lance Archer
February 2020
February 2022
Lance Archer signed with AEW in February 2020 in a 2-year deal.
Jim Ross
March 2019
2022
–
Joey Janela
2019
Early 2022
One of the first wrestlers to sign with AEW in 2019, Joey Janela's deal with AEW expires in April 2022.
Kenny Omega
January 2019
February 1, 2023
Omega signed a four-year deal originally
Keith Lee
February 2022
2024/2025
Signed a multiyear deal in Feb 2022
Kyle O'Reilly
December 2021
–
KOR signed with AEW in December 2021, but it is not known how long his contract is.
Lio Rush
September 2021
February 14, 2022
Lio Rush informed via Twitter that his deal with AEW will expire on February 14, 2022.
Marko Stunt
2019
Early 2022
Deal is up in early 2022.
Matt Jackson
January 2019
January 2024
Originally signed 4-year deal, extension clause triggered to extend the deal
MJF
2019
2023
MJF announced in 2019 that he has signed a 5-year contract and will be with AEW at least until the end of 2023.
Miro
March 2022
2026
Miro signed a new four-year deal with AEW
Nick Jackson
January 2019
January 2024
Originally signed 4-year deal, extension clause triggered to extend the deal
Paul Wight
February 2021
January 2024
Paul Wight has signed a deal with AEW to work as a wrestler as well as a commentator and backstage producer.
Samoa Joe
March 2022
End of 2023
Samoa Joe signed a deal with AEW & ROH probably for two years.
Scorpio Sky
September 2021
September 2026
Scorpio Sky signed a new 5 years deal in September 2021.
Tony Schiavone
April 2019
September 2024
Tony Schiavone is contracted with AEW till September 2024 after AEW triggered a two-year extension clause.
Wheeler Yuta
March 2022
End of 2023
Although he has appeared for a long time before in AEW, Yuta only signed a contract in March 2022.
IMPACT Wrestling
| Superstar Name | Signed Date | Expiration date | Contract details |
| --- | --- | --- | --- |
| Ace Austin | – | April 2022 | – |
| Crazzy Steve | May 2020 | May 2022 | – |
| Deonna Purrazzo | July 2020 | December 2022 | – |
| Doc Gallows | July 2020 | July 2022 | Signed a two-year deal in July 2020 |
| Eric Young | July 2020 | July 2022 | Signed a two-year deal in July 2020 |
| Fallah Bahh | – | October 2022 | – |
| Jordynne Grace | June 2021 | May 2023 | Resigned in May 2021 |
| Josh Alexander | March 2022 | March 2024 | Josh Alexander signed a new contract in March 2022 |
| Karl Anderson | July 2020 | July 2022 | Signed a two-year deal in July 2020 |
| Lady Frost | November 2021 | December 2024 | Resigned in Nov 2021 |
| Moose | June 2021 | June 2023 | Resigned in June 2021 |
| Sami Callihan | January 2021 | December 2022 | Resigned in January 2021 |
| Su Yung | May 2020 | May 2022 | – |
| Tasha Steelz | November 2020 | December 2022 | Renewed contract in November 2020 |
NJPW
| Superstar Name | Signed Date | Expiration date | Contract details |
| --- | --- | --- | --- |
| Chase Owens | February 2022 | – | Owens signed a new multi-year deal with NJPW |
| Hiroshi Tanahashi | January 2022 | – | Hiroshi Tanahashi signed a new multi-year deal with NJPW. |
| Juice Robinson | April 2022 | – | Juice Robinson signed a new contract in sometime in first half of 2022. |
| Tama Tonga | February 2022 | February 2024 | Signed a new deal in February 2024 |
| Will Ospreay | – | Summer of 2022 | Signed with NJPW until the summer of 2024 |