Updated Pro Wrestling Injury List | WWE, AEW, IMPACT, NJPW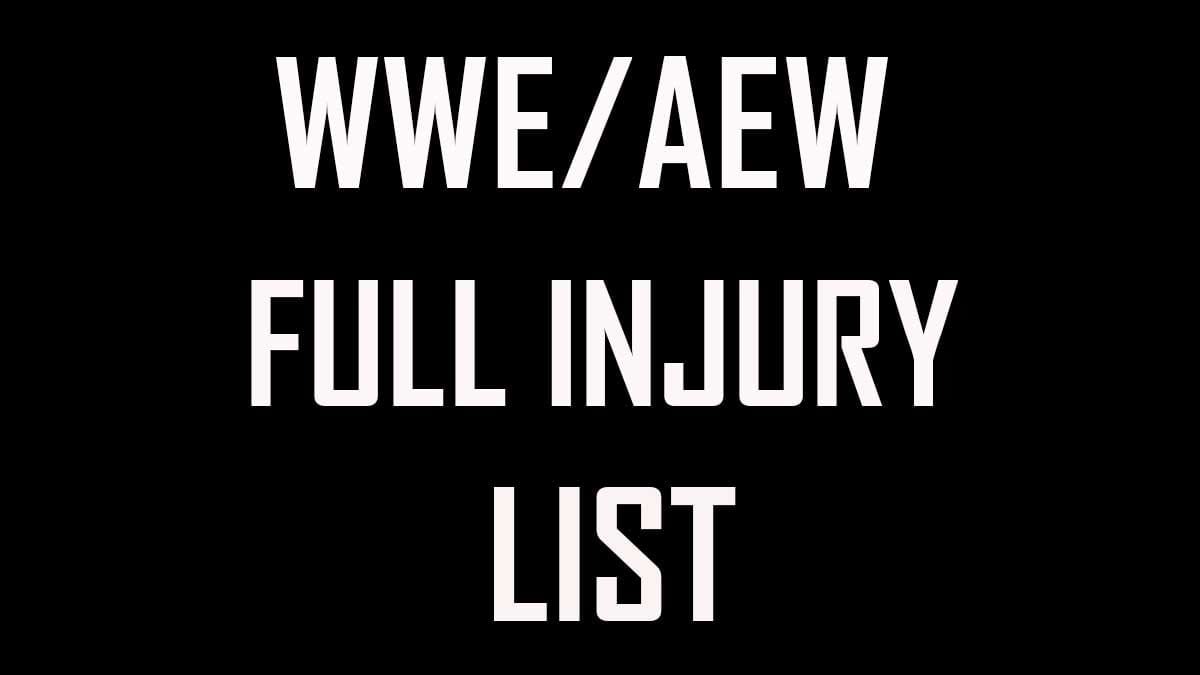 In the world of professional wrestling, injuries are an unfortunate but inevitable part of the game as athletes push their bodies to the limit night after night. Several stars and wrestlers often found themselves on the sidelines due to the rigors of the squared circle.
Here, we maintain the list of injuries, surgeries and expected return dates for wrestlers from all the major wrestling promotions like WWE, AEW, IMPACT, ROH, NJPW, and others. The list will be updated timely with names added and removed based on their injury and return to in-ring action.
Latest
MJF: Torn Labrum & dislocated hip
Juice Robinson: Back
Rey Mysterio: Knee
Alex Shelley: Leg
Luke Gallows: Knee
Mark Davis: Wrist
Sammy Guevara: Concussion
Karl Anderson: Knee
Adam Cole: Leg
Sheamus: Shoulder
Gail Kim: Concussion
Bolten Oleg: Wrist infection
WWE
| Name | Brand | Injury | Injured Date | Expected Return Date | Remarks |
| --- | --- | --- | --- | --- | --- |
| Rey Mysterio | Smackdown | Knee | November 2023 | January 2024 | Underwent Surgery on November 14 knee Injury |
| Luke Gallows | Smackdown | Knee | September 2023 | December 2024 | – |
| Sheamus | Smackdown | Shoulder | August 2023 | – | – |
| Brock Lesnar | RAW | Unknown | August 5, 2023 | – | – |
| Sonya Deville | RAW | Torn ACL | July 28, 2023 | – | – |
| Dakota Kai | SmackDown | Torn ACL | May 12, 2023 | – | Underwent surgery on May 23, started appearing on-screen from SummerSlam 2023 but not working matches |
| Sol Ruca | NXT | Torn ACL | April 2023 | – | – |
| Braun Strowman | RAW | Concussion | April 2023 | – | – |
| Wendy Choo | NXT | Unknown | February 2023 | – | – |
| Robert Roode | RAW | Neck | June 2022 | – | Underwent Surgery in December 2022, working as Backstage Producer since mid of 2023 |
| Big E | SmackDown | Broken Neck | 11 March 2022 | – | – |
AEW
| Name | Injury | Injured Date | Return Date | Remarks |
| --- | --- | --- | --- | --- |
| MJF | Torn LAbrum(shoulder), Dislocated Hip | November 2023 | – | – |
| Juice Robinson | Back Injury | November 2023 | – | To undergo surgery |
| Mark Davis | Wrist Injury | October 2023 | – | – |
| Sammy Guevara | Concussion | October 1, 2023 | – | – |
| Adam Cole | Leg | September 20, 2023 | – | Underwent Surgery in October 2023 |
| PAC | Unknown | July 2023 | – | – |
| Bandido | Broken Wrist | June 16, 2023 | – | – |
| Jamie Hayter | Several Injuries | May 2023 | March 2024 | Expected to be |
| Parker Boudreaux | Unknown | March 2023 | – | – |
| Paige VanZant | Broken three bones in the foot | December 2022 | – | – |
| Kyle O'Reilly | Neck Issues | June 2022 | – | Underwent Surgery |
| Thunder Rosa | Back | August 2022 | – | Back to training, reported close to returning in September 2023 |
Impact
| Name | Injury | Injured Date | Return Date | Remarks |
| --- | --- | --- | --- | --- |
| Alex Shelley | Leg Injury | October 2023 | – | – |
| Gail Kim | Concussion | September 2023 | – | – |
| Joe Doering | Inactive Due to Cancer | October 2022 | – | – |
NJPW
| Name | Injury | Injured Date | Return Date | Remarks |
| --- | --- | --- | --- | --- |
| Tetsuya Naito | Eye Injury | November 2023 | – | Underwent surgery on his right eye on November 7 |
| Mercedes Mone | Broken Ankle | May 21, 2023 | – | – |
---