Updated Injury List for WWE, AEW, IMPACT, ROH
Latest list of injuries in WWE, AEW, ROH, IMPACT, NJPW, and updated return dates from injury for independept wrestlers and superstars, latest WWE surgeries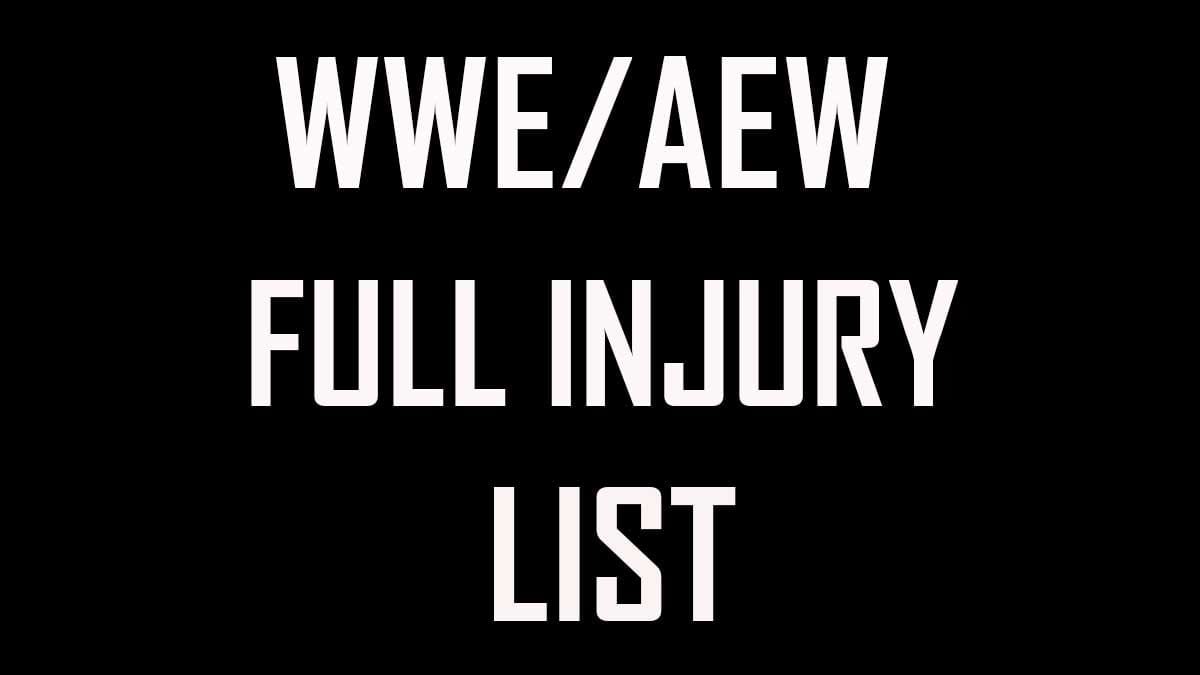 While any kind of injury is unfortunate, they are part and parcel of sport. And professional wrestling also gets its fair share of injuries. We maintain the list of injuries, surgeries and expected return dates for wrestlers from all the major wrestling promotions like WWE, AEW, IMPACT, ROH, NJPW, and others. The list will be updated timely with names being added and removed based on their injury and return to in-ring action.
WWE Latest Injuries List
Sunil Singh: Dislocated right shoulder On 11 June 2021
Shotzi Blackheart: Undisclosed Injury on 25 May 2021
The Miz: Torn ACL at WrestleMania Backlash on 16 May 2021
Chris Jericho: Dislocated elbow on AEW Dynamite 5 May 2021
Randy Orton: Injured Shoulder on WWE RAW 19 April 2021
Mustafa Ali: Working with A Torn PCL injury for some time.
Danny Burch: Separated shoulder on NXT episode March 17, 2021
Wes Lee: Suffered a broken hand on NXT 24 February 2021 episode.
WWE Injuries List 2021
| Name | Promotion | Injury | Injured Date | Expected Return Date | Remarks |
| --- | --- | --- | --- | --- | --- |
| Sunil Singh | 205 Live | dislocated right shoulder | 11 June 2021 | – | – |
| Shotzi Blackheart | NXT | Undisclosed | 25 May 2021 | – | – |
| The Miz | RAW | Torn ACL | 16 May 2021 | January 2022 | – |
| Mustafa Ali | RAW | Torn PCL | – | – | Working with Injury |
| Danny Burch | NXT | Separated shoulder  | 17 May 2021 | – | – |
| Curt Stallion | NXT | Fracture left wrist | March 2021 | Unknown | Injury occur during training |
| Kacy Catenzaro | NXT | Broken Leg | 24 February 2021 | September 2021 | – |
| MVP | RAW | Knee Injury | 15 February 2021 | – | Minor Injury, Continues On-screen work |
| Arturo Ruas | RAW | Arm Injury | November 2020 | – | Underwent surgery in December |
| Ridge Holland | NXT | Ankle dislocation/fracture | October 2020 | August 2021 | – |
| Riddick Moss | NXT | Torn ACL | August 2020 | – | – |
| Tegan Nox | NXT | Torn ACL | September 2020 | – | – |
| Kavita Devi | NXT | Torn ACL | August 2019 | Unknown |   |
AEW Injuries List 2021
| Name | Injury | Injured Date | Return Date | Remarks |
| --- | --- | --- | --- | --- |
| Rey Fenix | Groin Injury | May 2021 | August 2021 | – |
| Chris Jericho | Dislocated elbow | 5 May 2021 | – | Working With Injury |
| Taz | Neck Injury | 21 April | Unknown | Undergoes Minor Surgery |
| Brandon Cutler | Brocken Face | 12 April 2021 | Unknown | – |
| Darius Martin | ACL | April 2021 | November 2021 | Surgery Done on 22 April |
| Anna Jay | Shoulder Injury | March 2021 | October 2021 | Surgery Done on 11 March |
Impact Injuries List 2021
| Name | Injury | Injured Date | Return Date | Remarks |
| --- | --- | --- | --- | --- |
| Eric Young | ACL Injury | 15 Mar 2021 | – | Still Working |
| Alex Shelley | Neck Injury | 24 Oct 2020 | – | – |
| Heath  | Sustained a hernia | 24 Oct 2020 | – | Surgery not needed |
ROH Injuries List 2021
| Name | Injury | Injured Date | Return Date | Remarks |
| --- | --- | --- | --- | --- |
| TK O'Ryan | Concussion | Sep-2020 | Unknown | – |
| Maria Manic | neck injury | Feb-2020 | Unknown | – |
NJPW Injuries List 2021
| Name | Injury | Injured Date | Return Date | Remarks |
| --- | --- | --- | --- | --- |
| Hiromu Takahashi | Torn Left Pectoral | 19 February 2021 | September 2021 | |
| Yoshinobu Kanemaru | Knee Injury | 4 Nov 2020 | – | – |
---