WrestleMania 35 (2019) – Live Results and Updates
Welcome to the Live Results and Updates Blog of WrestleMania 35 on 7 April 2019.
Date: 7 April 2019
Location: Met Life Stadium, New Jersey, United States
Start Time: Kick-off Show- 5 PM EST(9 PM GMT/ 8 April 2019 2:30 AM IST)
Main Show- 7 PM EST(11 PM GMT/ 8 April 2019 4:30 AM IST)
The Showcase of the Immortals, the Show of the Shows, the Grandest Stage of them all, the 35th Edition of WrestleMania is here. Grab your cushion, fill your water bottles, order your snacks online and get ready for 7+ hours ride for the biggest show that the "Sports Entertainment" has to offer. As there is some time for the show to start, check the lineup for the show and our result predictions.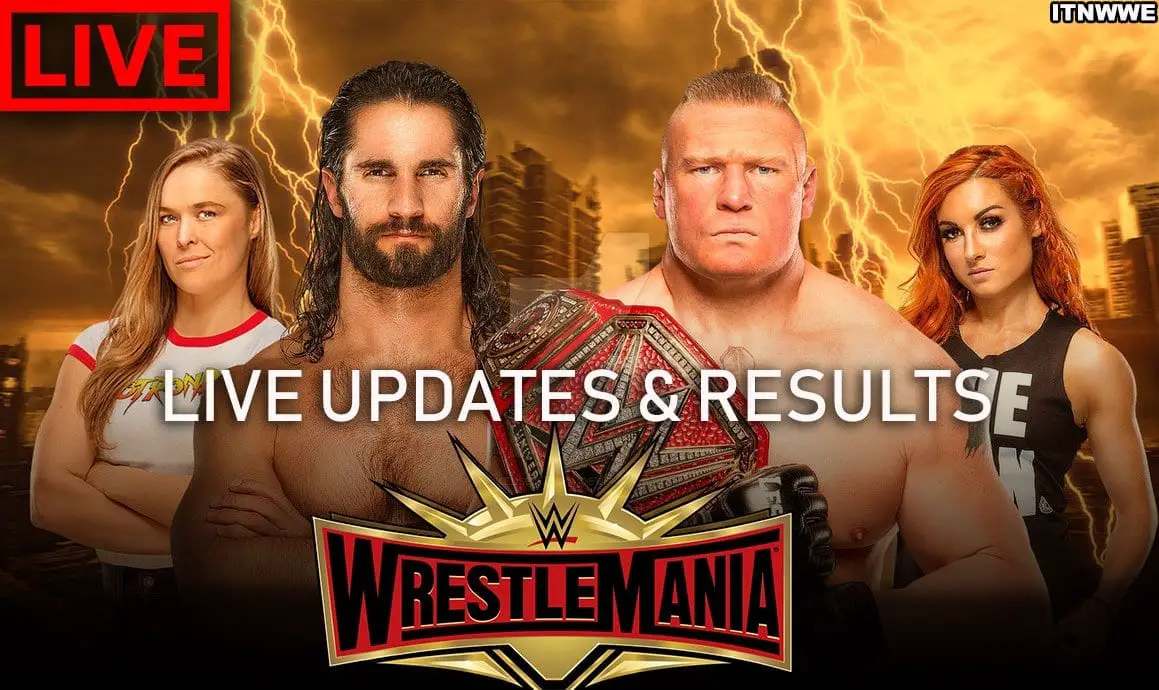 Kick-Off Show
WrestleMania 35 Kick-off show is live from MetLife Stadium. Jonathan Coachman is joined by JBL, Paige and Sam Roberts. Paige predicts Becky Lynch to win tonight's main event. JBL is looking announced that he will be at commentary for Kurt Angles final match while Paige will help call the WWE Women's Tag Team Titles match. The panel goes through over tonight's match card.
Buddy Murphy(c) vs Tony Nese – WWE Cruiserweight Championship Match
Murphy enters first. As Nese enters, Murphy almost attacks him. As the bell rings, Murphy goes for the high knee right away but Nese avoids it and unloads on him in the corner. Nese goes to the top where Murphy goes to meet him and drops him over the turnbuckle. Murphy has now put him in a headlock. Nese tries to break the hold by thrashing him to the turnbuckle. Nese finally hits a suplex to thrash Murphy on the turnbuckle. Nese with some chops, a kick and a spinning kick. He goes to the apron, fights Murphy out there and hits a moonsault as Murphy was left hung to dry. Murphy counters and hits a big boot. Nese hits some punches and goes for the superplex but fails. Murphy counter and goes for the sunset flip and also fails. Nese hits the inverted-rana to get a nearfall. A beautiful set of strikes on each other which ends with a vicious clothesline by Murphy. Nese then hits a backbreaker for a nearfall. Nese then hits a suicide dive and then a 450 splash to get another nearfall. Nese stomps on him in the corner. As Nese was going for the running knee, Murphy hits a big boot and the Murphy Law to get very close nearfall. Murphy then puts Nese in the corner and was going for the running knee. Nese intercepts him with a superkick, sets him up in the corner with a German suplex. He connects the running knee and gets the pin to become the new Cruiserweight Champion.
Winner- Tony Nese with a pinfall.
The Impractical Jokers join Charlie Caruso who are rooting for the Miz and Becky to win tonight.
Second Annual Women's Battle Royal
Naomi gets her own entrance, followed by Asuka. Nikki Cross goes wild as she starts rolling her jacket in the middle of the ring. Candice LeRae works on Cross. Asuka eliminates Cross and Candice with Hip Attacks on the apron. Ember Moon is in the match, making her return. She gets eliminated first. Moon and Naomi are going onto each other. Naomi goes for the splash from the apron, Moon hits him in the face to eliminate her. Kairi Sane hits a couple of big chops on Lana. She goes to the turnbuckle but Sarah Logan prevents her move and she barely survives. The Riott squad eliminated Lana then. Kairi Sane hits the kabuki elbow on Sarah but Liv Morgan eliminates Sane. Zelina Vega gets involved with the Riott Squad, who are going after the remaining one by one. Dana Brooke ends their domination, fights them out and eliminates Ruby and Liv. Vega hits the knees to Brooke's back. Mandy and Sonya eliminate Vega and Brooke. Mickie James superkicks Mandy at the apron to eliminate her and Sonya hits a shoulder block to eliminate James. Asuka, Sarah and Sonya go at each other. Asuka dropkicks Sonya and takes down Sarah. She then puts Sonya on the apron and eliminates her. Sarah then dumps Asuka over. Carmella who went outside the ring earlier comes in. They fight it out near the rope and Sarah is put over the ropes. She avoids being eliminated after a shoulder block. Mella then hits a superkick to eliminate her.
Winner- Carmella
David Otunga and Shawn Michaels join Coach and Sam Roberts in the panel. Michaels is donning an NXT cap. Coach tells that the Hall of Fame ceremony was a great night and talks about having inducted Chyna in HOF. Coach then takes through the matches for tonight. The panel next discusses the Triple H-Batista match. Shawn tells that it's Batista percieves himself being mistreated.
Please Switch to next page for more!