Super ShowDown 2020: Undertaker Wins Tuwaiq Trophy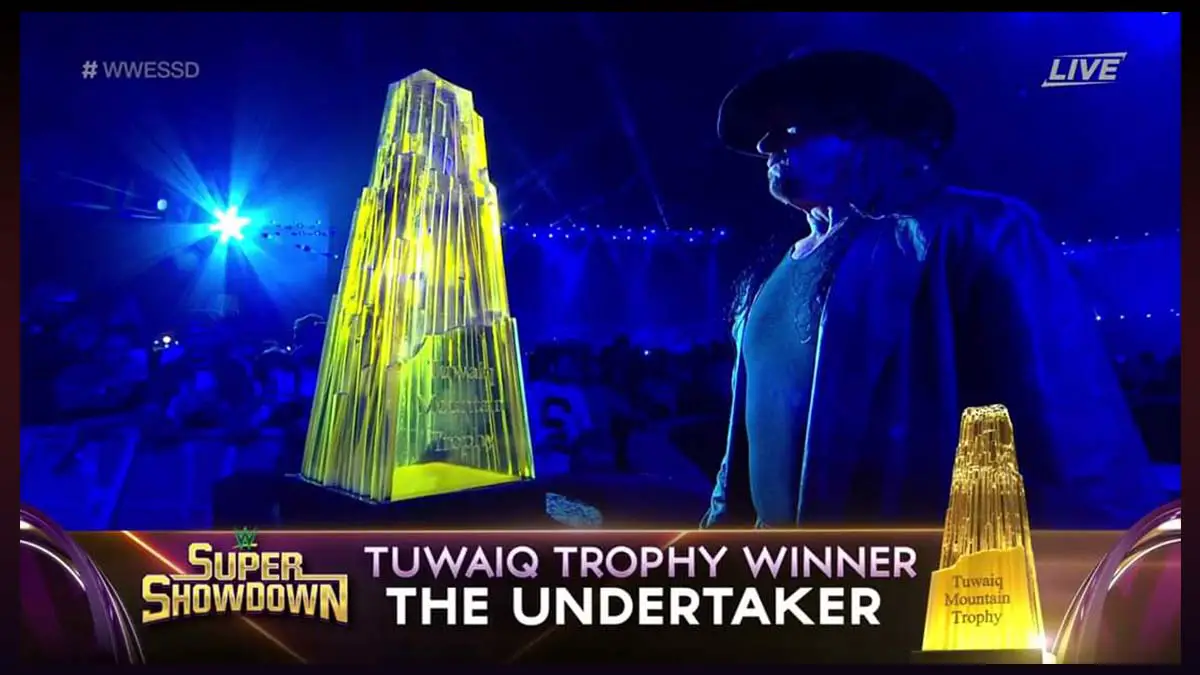 The Undertaker returned to WWE TV at Super ShowDown 2020 and won the Tuwaiq trophy defeating AJ Styles in Gauntlet match.
The rumors started on Wednesday that the Undertaker had traveled to Riyadh before Super Showdown. Later, his pictures with other WWE superstars came out and it became certain that The Undertaker is set to feature on Thursday night. Even WWE hopped on the bandwagon and addressed that the rumors of The Undertaker being in Riyadh.
WWE earlier announced six superstars for the Tuwaiq Trophy Gauntlet match- AJ Styles, Rey Mysterio, Bobby Lashley, R-Truth, Erick Rowan, and WWE United States Champion Andrade. R-Truth and Bobby Lashley started the match and R-Truth shocked everyone by lasting long in the match. It was more shocking when he rolled up Lashley to eliminate him from the match.
Enraged by his elimination, Lashley attacked R-Truth after the match. Andrade was in next and tried to capitalize on that. However, R-Truth managed to survive when both men ran into each other and R-Truth fell over Andrade to get the win.
Erick Rowan also dominated over Truth. However, when he sent Truth into the steel steps and knocked off his cage, he went on to use the steel steps on Truth, leading to his disqualification. AJ Styles was next in and worked on Truth's leg and eliminated him using the Calf Crusher.
As Styles was waiting for the last competitor for the match, Rey Mysterio, there was an evident smile on his face. And that smile was because Karl Anderson and Luke Gallows were beating up Mysterio at the backstage. Styles asked the referee to declare him the winner since the last participant was not coming out to complete.
As the referee started counting down, we saw Anderson and Gallows were knocked down by someone. Then we saw Undertaker's leg in the frame. He made his grand entrance as the crowd went wild. Apparently, Undertaker replaced Mysterio as the last participant for the Gauntlet match. Styles tried to catch him by surprise, but Taker chokeslammed him and got the pin.
This is seemingly expected to set up a match between AJ Styles and Undertaker at WrestleMania. The match has been rumored for a while now. Undertaker is also rumored to be appearing at WWE RAW episode of 9 March to take the angle forward.
This was Taker's first WWE appearance since Extreme Rules where he was part of a tag team match with Roman Reigns against Shane McMahon and Drew McIntyre.