WWE RAW Live Results- 31 August 2020- Payback Fallout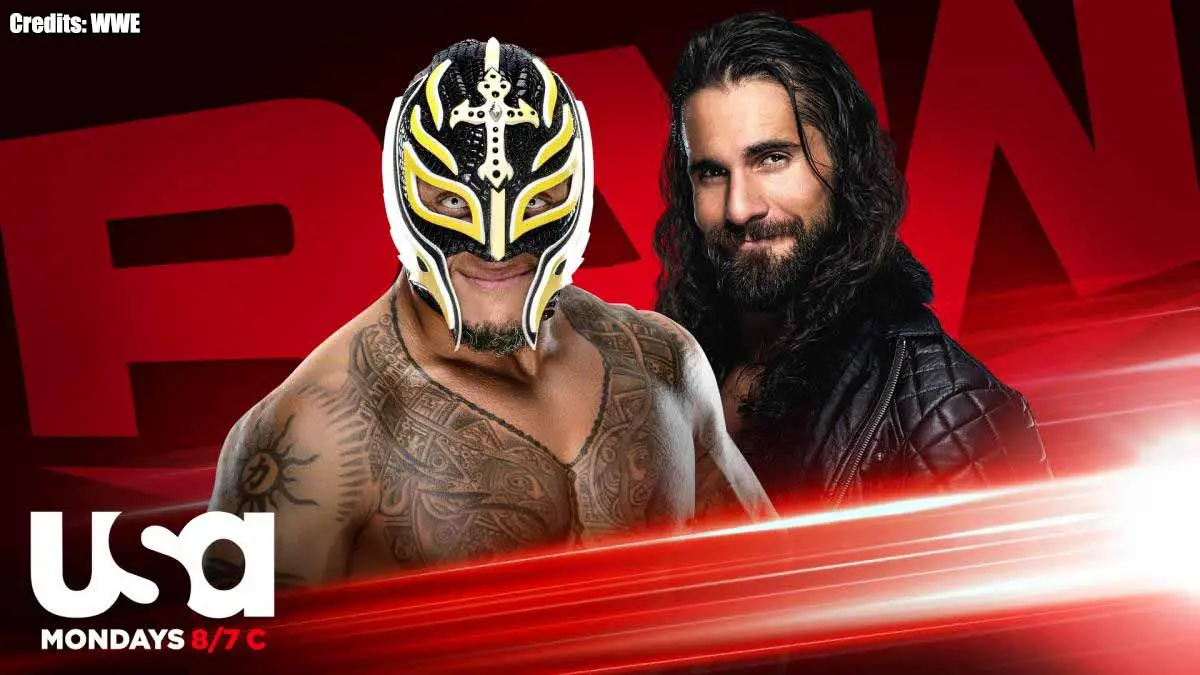 Welcome to ITN's Live Results & Updates blog for WWE RAW episode of 31 August 2020 featuring fallout from Payback, Rey Mysterio vs Seth Rollins, and more. Catch the preview for the show here.
Randy Orton is Entitled
Randy Orton comes out to open the show and cuts a promo mocking Drew McIntyre. He recalls his punt-kicking in recent months and says he does not need to face Kevin Owens or anyone to get WWE Championship opportunity. He is entitled for WWE Championship and should automatically get a rematch. He also shows us an edited graphic which has Drew McIntyre and other legends in a hospital ward.
Keith Lee interrupts him and reminds how he was not able to defeat him last night at Payback which makes Lee one of the contenders for WWE Championship. Dolph Ziggler, Lee's opponent for the night, attacks from behind. Lee throws him to the corner. Lee stares at Orton and this gives Ziggler the chance to hit him with a DDT.
Keith Lee vs Dolph Ziggler – Winner Advances to #1 Contender Match
The bell rings as we return from the break. Ziggler tries to pick Lee's legs but fails to do anything with it. Lee twists his arms and holds Ziggler in the air for a while. Ziggler kicks on his knees but Lee sends him into the turnbuckle. They lock again and Ziggler gets some shots going from the corner before hitting a neck breaker. Ziggler with a chin lock now and Keith Lee uses his power to get up. Lee's tackle sends Ziggler out of the ring as we go for a break.
Lee is making momentum with a few corner splashes as we return. Ziggler rakes his eyes to get some breathing space. A neckbreaker and an elbow drop follows. Ziggler with another chin lock and Lee powers up to toss him. Lee hits a few punches and then slams Ziggler to the mat from high up in the air. A powerslam gets him a two-count. Ziggler counters in the corner and hits zig-zag to a near fall. Lee hits the sit-out powerbomb to get the win.
Winner – Keith Lee (Advances to #1 Contender Match for WWE Championship)
We see Shayna Baszler and Nia Jax won the Women's Tag Team Championship. They are in a backstage interview now with Sarah Schrieber and are bickering over who got the win yesterday. RAW Women's Champion Asuka walks in and Sarah asks her if she found out about her next challenger. Asuka says, "No" and Shayna & Nia starts an argument with her.
Adam Pearce is instructing a group of security staff about Retribution and tells them if they could not stop them, they will have to hire someone who can.
Who is Ready for Asuka?
Asuka is in the ring with Charly Caruso now. She tells us that she has defeated many great wrestlers like Bayley, Becky Lynch, Sasha etc. but no one is ready for Asuka. Mickie James comes out and wants a title shot. Natalya and Lana interrupt them and Natalya tells James that she just cannot jump the queue for a title shot. Lana, Natalya and James start arguing which leads to Asuka getting frustrated and lashing out on them. Natalya decks Asuka to start a brawl. Asuka gets better of Natalya with a spinning kick and a hip attack sends Lana out. Asuka and James bicker a bit in the ring.
We see last week's encounter between Hurt Business and The Viking Raiders and Cedric Alexander. There is a tag team match later tonight between those teams. We cut to Vikings and Alexander backstage where Bachelorette star Demi Burnett praises Alexender for not joining Hurt Business and kisses Ivar on his cheeks. All of them leave and we see Angel Garza looking at Burnett.
Mickie James vs Lana
Natalya distracts James so that Lana could deck her from behind. Asuka is at the commentary talking something about James. James comes back into the match and hits DDT to get the win.
Winner – Mickie James
Kayla Braxton is outside Aleister Black's room after we see the recap from Black & Kevin Owens from last week. Just as Kayla was addressing us, we see Randy Orton coming out of Black's room and leave.
The IIconics gets an interview backstage. They tell us how they are together since high school in Australia and dreamed of becoming WWE Superstars. They have always been with each other, but they won't let some snot-nosed hooligans break them up. Is this foreshadowing of their breakup after tonight?
Kevin Owens vs Randy Orton – Winner Advances to #1 contender's match
Orton comes out for the match first. Owens comes out and Aleister Black attacks him before he could get into the ring. Black unloads on Owens with a few kicks and knocks him down with the Black mass. Owens enters the match regardless of the referee stopping him. He hits a chop on Orton to start with and a few more punches. Orton hits the RKO to get the win.
Winner – Randy Orton, Advances to #1 Contender's Match
Charly interviews is with Mysterio family backstage. Rey talks about injuries happening in this business but if there is one person on Earth he wants to take place, it's his son. Dominik knows he is the underdog but after their win at Payback, his confidence is on another level. We see a family hug before cutting to the commercial.
MVP welcomes us to The VIP Lounge with Shelton Benjamin. They introduce the new WWE United States Champion- Bobby Lashley, who makes his way out. They address MVP and how Lashley said exactly what he was going to do to Crews at Payback. Lashley promises to get Crews back for his attack after the match. Shelton says he is going to beat up Crews in RAW Underground tonight. MVP hypes up their dominance at RAW Underground last week.
Cedric Alexander interrupts them and The Hurt Business exits the ring as Cedric walks down the ramp. MVP asks Cedric why he has come out all alone. The Viking Raiders attack Hurt Business from behind and lay them out.
Hurt Business vs The Viking Raiders & Cedric Alexander
Lashley and Erik start. Erik unloads with forearms until Lashley gets the upperhand. MVP and Shelton Benjamin tags in to keep up the attack on Erik. Ivar tags in and stuns Benajmin with a few strikes. Cedric comes with some chops and thrusts on Benjamin in the corner. Shelton takes down Erik with a big Spinebuster.
MVP takes control over Cedric before Lashley beats him down some more. Lashley continues dominating Cedric for a while. MVP comes back in and keeps Cedric grounded. Cedric finally goes for a tag but Shelton and Lashley knock Vikings off the apron and brawl with them at ringside. Cedric counters MVP and rolls him up for the pin to win.
Winners – Cedric Alexander and The Viking Raiders
After the match, Cedric's music hits as The Viking Raiders join him in the ring. MVP actually smiles at Cedric and stands with Lashley and Shelton, calling them away from a potential brawl. The Hurt Business exits the ring, applauding Cedric and staring them down. Cedric celebrates with Erik and Ivar.
Back from the break and we see The Hurt Business stomping away on Cedric Alexander backstage. Apollo Crews and Ricochet show up and they back off. The Hurt Business talks some trash to Cedric before backing off.
The IIconics vs The Riott Squad – Winners #1 Contender's Match, Losers Must Disband
Kay and Riott starts before Royce tags in for double team, dropping Riott to Kay's knee. Royce stays in control until Liv manages to get the tag. Liv with strikes and dropkicks on Royce to get a two-count. Royce dops Liv and tags in Kay for double team kicks. Kay with a big boot and a modified suplex gets a two-count. Liv gets up and delivers two big kicks to stun Kay. Riott tags in and unloads with forearms to Kay. Riott with more offense on Kay. Royce runs in but Liv also runs in and slams her face-first into the mat. Kay takes advantage of the chaos and rolls Riott for a 2 count. They tangle on the mat with more close pin attempts. Riott gets the upperhand and rolls Kay for the pin to win, earn the title shot and end The IIconics.
Winners- The Riott Squad
Seth Rollins vs Dominik Mysterio – Winner Advances to #1 contender's match
Seth Rollins an Murphy come out to the ring and Rollins is lashing at Murphy for getting pinned last night at Payback. Murphy leaves the ring and reaches the ramp where Dominik attacks from behind. Dominik runs in to start the match with Rollins.
Rollins keeps control. Dominik kicks out at 2. Rollins grounds Dominik with a body scissors and makes him scream out. Rollins yells at the referee to ask Dominik if he submits. Rollins keeps control until Dominik rocks him with elbows. Dominik gets an opening and keeps beating on Rollins with more strikes into the corner.
Dominik mounts Rollins in the corner with strikes. Rollins counters and goes for a Buckle Bomb across the ring but Dominik counters and sends him flying into the turnbuckles with a hurricanrana. Dominik launches himself in from the apron but Rollins catches him. Dominik counters that with a big DDT. Dominik with a standing moonsault for a close 2 count. Rollins goes to the floor for a breather. Dominik goes to the top and hits a big crossbody on the floor for a pop.
Dominik goes back to the top but has to roll through as Rollins charges. Dominik drops Rollins into the ropes and then hits the 619. Dominik goes back to the top for the Frogsplash but he lands hard as Rollins moves out of the way. Rollins gets right up and nails the Stomp in the middle of the ring for the win.
Winner – Seth Rollins
The Street Profits vs Andrade and Angel Garza – Tornado Tag Team Match
Dawkins gets taken out and they double team Ford now. They look to hit a double superplex on Ford in the corner as Vega cheers them on. Dawkins comes over and interrupts, slamming all three to the mat with a counter. We go to the break.
Ford is sent into the ringpost and the Latinos are working on Dawkins alone. Andrade hits a missile dropkick on Dawkins as Garza holds him. Garza keeps control over Dawkins as Andrade goes out to beat up Ford some more. Dawkins' arm is worked over. He counters with a strike on Garza and catches Andrade for a powerslam. Dawkins with some moves on both attempts and Garza had to break the pin on Andrade. Dawkins is put in the tree of woe where Garza hits a running kick while Andrade stomps from the turnbuckle.
Ford comes back into the match as all men takes shots at each other. Ford with a step up enziguiri on Andrade when the lights start flickering. Garza runs away with Burnett. Retribution surrounds the ring soon. They enter and start beating up Profits and Andrade. Vega is also beaten up at the ringside. Retribution runs away after this.
We go back to Shane McMahon at RAW Underground. It's time for the main event, he says. Apollo Crews paces on the ring as Shelton Benjamin enters. Their crews look on from ringside, cheering them on. They go at it and Benjamin slams Crews first. They trade holds and strikes on the mat. Shelton avoids a submission by shoving Crews off the platform to the floor. The two teams start brawling with each other now. MVP brings Ricochet to the ring and t hey go at it. Bobby Lashley and Cedric Alexander also brawl on the platform. Crews and Shelton return. The Hurt Business stands tall with their opponents down on the mat. Shane rings the bell and says that's it. Shane says The Hurt Business means business, and he can't wait to see what happens next week on RAW Underground. MVP, Benjamin and Lashley stand tall to end the segment.
Angel Garza is backstage with Demi Burnett. She's asking him why he abandoned Zelina Vega and Andrade. He insists he didn't abandon them. He goes on and says if anything ever happens to Demi he won't be able to take it. They keep walking but Retribution comes busting through two doors, beating up a few security guards. They stop and stare down Garza and Burnett. Garza takes off running, leaving Burnett by herself. She finally runs away as Retribution approaches.
Keith Lee vs Randy Orton vs Seth Rollins – Winner faces Drew McIntyre at Clash of Champions
The winner of this match will become the new #1 contender to challenge WWE Champion Drew McIntyre at Clash of Champions on September 27. Keith Lee is out next as Orton stares him down from the ring. Seth Rollins is out last.
The bell rings and they all size each other up. Orton goes to the floor and has words with Rollins, who thought they were going to work together. Rollins looks to lock up with Lee but he changes his mind and rolls to the floor. Rollins and Orton have more words at ringside now. Lee grabs Rollins by his head and pulls him to the apron. Rollins rocks Lee and applies a headlock. Lee sends Rollins flying with a big shoulder block. Orton ends up coming in and taking over on Lee while he's distracted. Lee sends Orton into the corner and splashes him.
Rollins beats Lee down. Lee overpowers Rollins and whips him into Rollins in the corner. It takes Rollins and Orton both to get Lee to the apron. Lee ends up powering himself over the top into the ring, taking down both of the veteran Superstars for a pop. Lee gets right back up and poses as we go back to commercial.
Back from the break and Rollins ends up running from the apron to the floor, nailing a big knee to Lee's head. Orton immediately follows up by slamming Lee into the top of the announce table, sending him to the floor on the other side. Rollins and Orton grab Lee at the same time and launch him head-first into steel ring steps. Rollins and Orton struggle with getting Lee back up and in the ring, but they roll him in and follow.
Orton catches Rollins re-entering the ring and kicks him, then drops him with the second rope draping DDT for a close 2 count. Orton drops and hits the mat, waiting for Rollins to get up for the RKO. They tangle and Rollins nails the Falcon Arrow on Orton for a close 2 count. Rollins waits for Orton to get back up. Lee comes to the apron and rocks Rollins as he turns around. Lee enters the ring and runs over both opponents a few times. Lee splashes Rollins in the corner and then throws Rollins into Orton with ease.
Orton and Rollins retreat. Lee goes around the ring to Orton and takes him out with a huge Pounce. Rollins flies from the ring but Lee ends up putting him down on the floor. Lee and Rollins go at it in the ring now. Rollins with kicks. Rollins turns a hold into a roll-up for 2. Rollins keeps control and stuns Lee with a kick to the head. Rollins ends up dropping Lee with a kick to the head. Rollins yells at Lee to get up so he can hit the Stomp.
Lee catches the Stomp and delivers a big Spirit Bomb to Rollins but he's slow to follow-up with the pin. Orton runs right in the ring and takes advantage, hitting the RKO on Lee. Orton covers Lee for the pin to win and earn the title shot from McIntyre.
Winner – Randy Orton (will face Drew McIntyre at Clash of Champions)
After the bell, the music hits as Orton stands tall and exits the ring, going to the ramp. The boos pick up from the virtual crowd. We see Lee and Rollins recovering at ringside. We get replays now. Tom says if McIntyre is cleared, he will be defending the WWE Title against Orton at Clash of Champions on September 27. The post-Payback edition of RAW goes off the air with Orton celebrating as Lee and Rollins look on.
Raw Results Chronology