WWE RAW 12 April 2021- Live Results- RAW After WrestleMania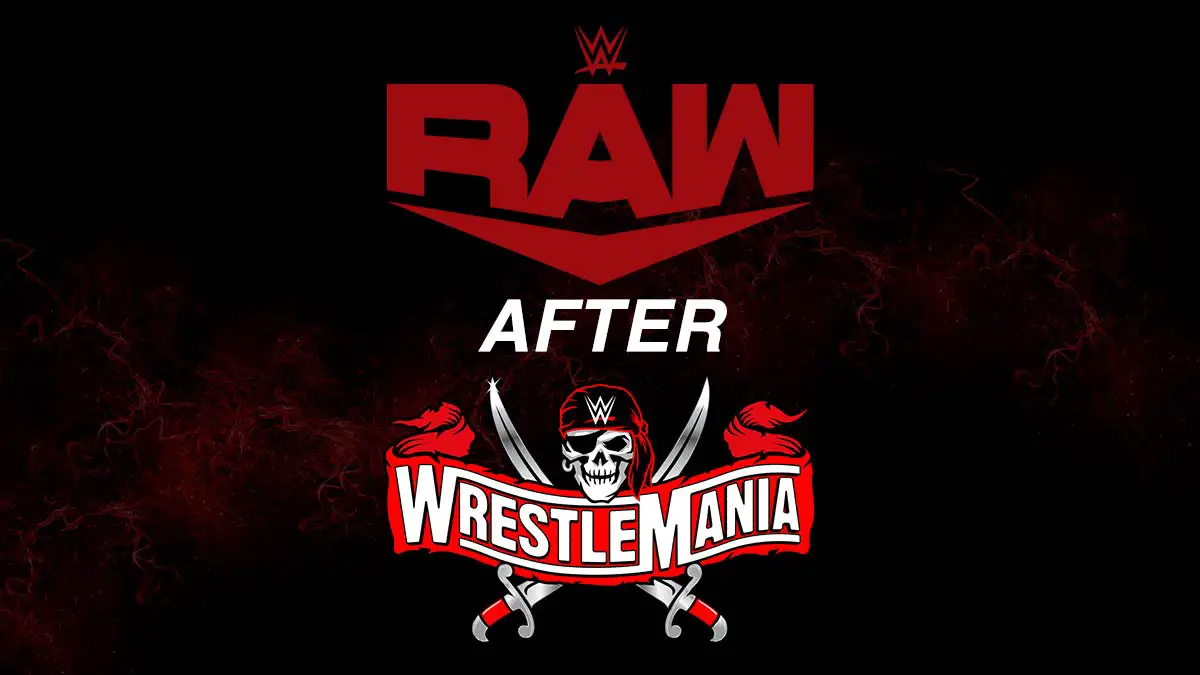 Live Results and Updates page for WWE RAW 12 April 2021 episode which will deal with the fallout from WrestleMania 37 where we also bring you winners, highlights and videos from the show.
Date- 12 April 2021
Location- Yuengling Center, Tampa, FL, US
Time- 8 PM EST(13 April 2021 12 AM GMT/5:30 AM IST)
WWE has announced the WrestleMania Backlash show for 16 May 2021. So, it is expected that some storylines will continue from WrestleMania 37. We have covered this in more detail in the preview here.
WWE RAW 12 April 2021 Quick Results
Bobby Lashley defeated Riddle to retain WWE Championship
The Viking Raiders(Erik & Ivar) defeated Shelton Benjamin & Cedric Alexander
Asuka defeated Rhea Ripley in the RAW Women's Championship match by Disqualification.
The Miz & John Morrison defeated Damian Priest in a 2-on-1 handicapped match.
New Day(Kofi Kingston & Xavier Woods) defeated Elias & Jaxson Ryker
Drew McIntyre defeated Randy Orton and Braun Strowman to become the #1 Contender for WWE Championship
WWE RAW 12 April 2021 Main Show
The show kicks off with an earlier tonight segment. Bobby Lashley enters the building with MVP and gets welcome by Lince Dorado and Humberto Carrillo. Matt Riddle starts bothering him and wants to challenge him for the title. Lashley says he has just beaten Drew McIntyre and will fight someone better next, and not someone who got beaten by Sheamus. Riddle keeps reminding him of his statement in the last few weeks. Lashley gets frustrated and smacks him in his scooter.
Bobby Lashley vs Matt Riddle – WWE Championship Match
We go live to the arena. Lashley makes his grand entrance. We get introduced to the new RAW Commentator Adnan Virk who is with Corey Graves and Byron Saxton.(Check list of WWE Commentators here) He gets into the ring now. Riddle enters on his scooter and Lashley drops him at the ringside. Lashley sends Riddle into the barricade a few times before sending him in the ringpost. Riddle is rocked as Lashley takes him to the ring.
The referee checks on Riddle before starting the match. Riddle gets amped up and gets into the fighting position. Lashley starts unloading on him with punches. Riddle is disoriented already and was looking to tag out like he is in a tag team match. Lashley with a big running tackle in the corner before he hits a spinebuster.
Lashley goes to the floor and throws away Riddle's scooter. Riddle tries to fight back but gets body slammed. Lashley throws him beyond the barricade as we go a break.
After the break, Lashley puts Riddle in a chin lock before beating him some more. Lashley hits a flatliner and covers but Riddle kicks out. Lashley with more stomps and kicks before hitting a big clothesline. Riddle is in dire state. Lashley starts targetting Riddle's hands now. Riddle tries to fight back with punches but gets dropped with a clothesline again. Riddle counters a spinebuster with kicks and punches. Riddle hits a big knee now before going to top. He misses the floating bro and Lashley catches him in the Hurt lock to get the win.
Winner – Bobby Lashley
After the match, MVP enter the ring to celebrate with him.
We go to a replay from RAW Women's Championship match from WrestleMania 37 night 2. Rhea Ripley is with Kevin Patrick for an interview. She says it was her confidence that got her to challenge Asuka on her first night at RAW and then got her to win the RAW Women's Championship at WrestleMania. She is confident of winning the rematch against Asuka.
Shelton Benjamin & Cedric Alexander vs The Viking Raiders(Erik & Ivar)
Shelton and Cedric are already in the ring as we return. It's The Viking Raiders – Erik and Ivar who have returned to WWE RAW. They make their entrance with their Viking costume.
Ivar starts with Cedric and Ivar unloads on Cedric in the corner after tossing him. Ivar body slams Cedric before Erik body slams him on Cedric. Benjamin run interference and Cedric chop blocks Erik to take the control. Benjamin with kicks and knee strikes on Erik to keep control. Shelton hits a suplex to get a two-count.
Erik is isolated as Cedric tags in. Cedric keeps control in the corner. Erik comes back with a big forearm but Cedric keeps him under control. Erik takes him to the corner but Cedric hits knee to midsection. Shelton tags in and hits an Olympic slam to get a two-count.
Erik drops Cedric and Ivar gets the hit tag. Ivar with punches on Shelton. Two shoulder tackles and a side slam before a standing splash from Ivar. Ivar hits the senton now. Shelton tags in Cedric and Ivar cartwheels out of a double team move before dropping both of them with double clothesline. Ivar tags in Erik who drops him on Shelton. They hit the Viking Raiders on Cedric to get the win.
Winners – The Viking Raiders
Backstage, Asuka is getting ready to face Rhea Ripley. Patrick gets to her and she says she is ready to take back the title.
Charlotte Flair Returns
Charlotte Flair returns to WWE RAW after 3 weeks. She gets into the ring and starts her promo. Flair is pissed off at missing WrestleMania and says it was not due to her fault. She recalls what happened with Asuka, Lacey Evans and Ric Flair and reminds that she challenged Asuka for the title at WrestleMania. Flair digs in and continue to take shots at Asuka for not accepting the challenge and how Rhea took the opportunity and won the title. The crowd starts to boo now as Flair gets tense and continue to berate Rhea and Asuka and promises to win the title back.
Rhea Ripley(c) vs Asuka – WWE RAW Women's Championship match
Asuka enters after Flair's promo ends. We cut to a break. Rhea enters after the break.
Asuka unloads and takes Rhea to the corner. Rhea fights back and takes Asuka to the opposite corner. Rhea tosses Asuka across the ring now. Asuka with a takedown now and Rhea is surprised. Asuka locks in the Kirifuda but Rhea gets her leg on the ropes. Asuka goes to the top and Rhea hits a dropkick to send her down to the floor as we go to a break.
Rhea whips Asuka from corner to corner and slams Asuka's face into the turnbuckle for a few times. Asuka with a back elbow and a big boot before a missile dropkick. Rhea tries to take control but Asuka continues with big kicks to keep Rhea under pressure. Asuka goes to top now but misses a dropkick. Rhea puts on the cloverleaf now and Asuka had to crawl to the rope to force the break. Rhea turns the move into slamming Asuka face first to the mat and get a two-count.
Rhea taunts Asuka and slams her to the mat again. Both miss dropkicks. Rhea takes Asuka on her shoulders. Asuka counters and gets Rhea down. Asuka with an armbar and Rhea rolls out only for Asuka to try to put on Asuka lock. Rhea gets to her feet and runs Asuka into the turnbuckle. Rhea drops Asuka now but could not get the pin. Asuka slips to the floor and Rhea follows. Charlotte Flair attack Asuka first to cause a DQ. She also attacks Rhea and bring both of them down.
Winner – Asuka(by DQ, Rhea retains title)
Maryse is at RAW tonight and Miz welcomes her. John Morrison asks her what he is doing here. Miz says she is the guest for The Miz TV tonight.
Shayna Baszler and Nia Jax are watching Mandy Rose slipping at the ramp on night 1 of WrestleMania 37 and laughing at her. Shayna goes away and Mandy & Dana Brooke come to Nia. Mandy says things happen and nobody could see them coming. Just like that Mandy & Dana attack Nia and slam her into a wall.
Miz TV with Maryse
Miz, Morrison and Maryse enter for the Miz TV segment. Miz and Maryse mention that new season for Miz & Mrs will start from tonight right after RAW tonight. Morrison proposes a spin-off series – Miz, Mrs & Morrison. Miz tells him it is not happening. Miz then brings up WrestleMania 37 and says he made a star out of Bad Bunny.
Damian Priest comes out to confront them. Priest reminds them how they were defeated at WrestleMania and that the headlines read Bad Bunny defeated Miz. Miz gets angry and challenges Priest for a match. Morrison says he was about to do just the same. They start arguing who will face him tonight. Maryse tells them they could both face him. Priest says the match should go right away. Miz & Morrison are in normal clothes though. We cut to a break.
Damian Priest vs The Miz & Morrison – Handicapped Matc
Miz is arguing with the referee since he is in a suit. Priest attacks him as the bell rings. Priest drops Morrison from the apron. Priest with a big boot in the corner and more strikes. Morrison gets back to the apron and gets dropped again. But this gives Miz the chance to turn around. Morrison tags in and hits a springboard crossbody. Morrison with a chinlock now. Priest hypes up as the crowd starts to cheer him. Miz tags in and misses a big boot in the corner. Priest drops him and beat up Morrison to send him to the floor.
Priest hits a chokeslam to Miz and Morrison breaks the pin. Miz tags in Morrison who gets run over with a lariat. Miz and Morrison are sent to the floor and Priest takes them out with a plancha. Back to the ring, Priest was looking for a top rope move when Miz runs interference. Priest hits Miz into the ringpost now. Priest hits a spinning kick from the top on Morrison.
Miz gets a blind tag. Priest hits the reckoning on Morrison. Miz comes in but Priest stops the Skull Crushing Finale. Maryse distracts the referee and Priest asks her to get back to the floor. Miz rolls up Priest and uses the ropes to get the pin.
Winner – Miz & John Morrison
Miz's pants were tattered by the time he got the pin. He runs to the ramp and Maryse covers him to save him from embrassment.
Drew McIntyre vs Randy Orton vs Braun Strowman – #1 Contender Match for WWE Championship
Drew and Braun go at it as Orton slips out of the ring. Braun gets Drew to the corner and strikes with big blows. Orton comes back and helps Drew hit a suplex on Braun. McIntyre decks Orton and turn to Strowman. Orton goes after McIntyre now. Strowman explodes out of the corner to run both of them over. Drew & Orton go to the floor. Strowman goes for the running train now but McIntyre was ready with the steel steps to hit him. Orton then drops McIntyre on the announce table. We go to the break.
All three men are going after each other as we return. Orton and Drew beat up Strowman in the corner and McIntyre's headbutt sends Strowman out. Orton decks him from behind and starts to work on his leg. McIntyre with strikes in the midsection. Orton kicks at him after coming from the ropes. McIntyre drops him with a clothesline and hits a couple of belly to belly suplexes. Strowman comes and drops McIntyre from behind before hitting a splash on Orton on the corner.
Strowman misses a corner splash on McIntyre. Orton trips McIntyre at the apron. They trade strikes on the floor and send each other in the ringpost, barricade and announce table. Orton has taken control as he sends McIntyre over the announce table now. Strowman runs over Orton from the back. Strowman hits McIntyre with the steel steps now and then does the same to Orton now. Strowman throws Orton into the ring now. Orton kicks at him and hits the draping DDT.
Orton hits the RKO on Strowman but McIntyre breaks the pin. McIntyre hits the Claymore kick to get the pin and the win.
Winner – Drew McIntyre
After the match, McIntyre celebrates as we go to the replay. The commentators confirm the first match for WrestleMania Backlash. He tells Lashley that WrestleMania was just a blip. Lashley's music hits and MVP comes out to the stage. McIntyre asks for him to come to the ring when he realizes someone is coming from behind. It was T-Bar & Mace who hit McIntyre with a Double Chokeslam.