Bruce Prichard Replaces Eric Bischoff as SmackDown Executive Director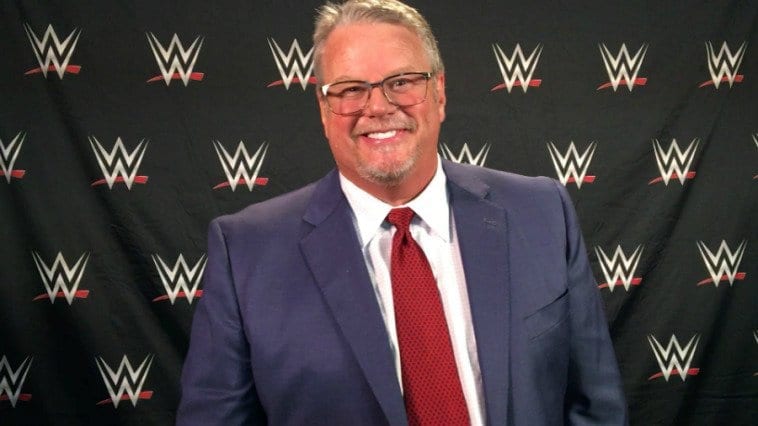 WWE announced yesterday that Bruce Prichard will replace Eric Bischoff as the new Executive Director of WWE Friday Night SmackDown.
Prichard will not only oversee the creative development of Friday Night SmackDown on FOX but will also ensure integration of SmackDown across all platforms and lines of business in WWE. He will be reporting directly to WWE Chairman & CEO Vince McMahon.
Prichard has a long history with WWE, having worked for them from 1988 to 2008. He also appeared on screen as Brother Love and was the first on-screen manager for the Undertaker in 1990. Prichard recently returned to WWE in February this year, assuming the role of WWE's Senior Vice President.
In a separate statement, WWE also announced that Eric Bischoff is no longer with the company. There had been reports over recent months about Bischoff not being heavily involved with the SmackDown creative process. Also, more creative team changes are expected with SmackDown in the coming week.
Eric Bischoff was appointed as the Executive Director of WWE SmackDown in June this year itself along with the appointment of Paul Heyman as the Executive Director of WWE RAW. Bischoff moved his family from Wyoming to Connecticut to be near WWE HQ in Stamford.
Bischoff's main responsibility was to work closely with FOX network officials as SmackDown was to move to the network. It was reported at the time of Bischoff's hiring that Prichard was the one who pushed the hardest for WWE to hire Bischoff in the role and he was the one who would acclimatize Bischoff to the new role.
Eric Bischoff earlier worked with WWE between 2002 to 2007. Before that, Bischoff was associated with AWA and then WCW from 1988 to 2001. It was during Bischoff's tenure of President of WCW when WCW's Monday Nitro was ahead of WWE's Monday Night RAW in TV ratings for 83 weeks. Lately, Bischoff has been working on his wrestling podcast "83 weeks" alongside Conrad Thompson.