Nakamura & Sami Zayn Heading to a Feud With Partnership
The new partnership between WWE Intercontinental Champion Shinsuke Nakamura and Sami Zayn might lead to a feud between the two WWE stars.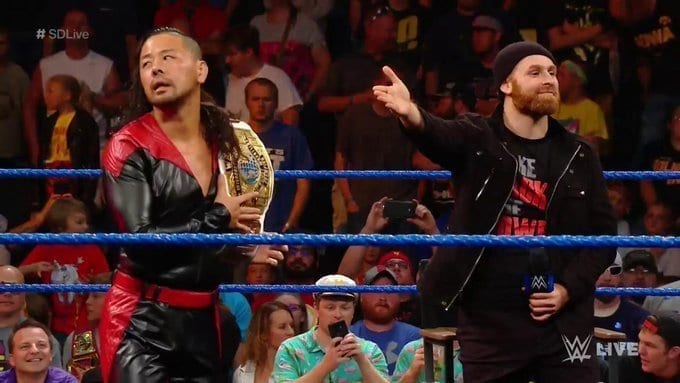 Sami Zayn was a surprise guest at the Miz TV last week at SmackDown and went on to reveal that he will help out Shinsuke Nakamura to express himself. Nakamura went on to attack Miz to start a feud between them. This week at SmackDown, Miz called out Sami Zayn and Nakamura in his promo while also challenging Nakamura for the Intercontinental Championship match at Clash of Champions. The segment ended with Sami Zayn distracting Miz for another attack from Nakamura.
The partnership between Zayn and Nakamura surely surprised many but it might all be for a reason. Twitter handle Wrestlevotes, known to break out stories from within WWE, posted that the idea for Zayn-Nakamura storyline is to resemble with the one between Kevin Owens and Chris Jericho from 2016 and 2017. And it would lead to a "big-time blowoff match" between the two. It was also noted that they would be surprised if the storyline lasted all the way through to WrestleMania 36. However, it is one of many ideas that is being discussed and might not be set in stone.
Sami Zayn always had an up and down graph ever since moving to the main roster from NXT. After returning from the injury after WrestleMania, he has mostly been jobbing to others as a heel. The partnership with Nakamura can surely boost his prospects along with Nakamura's appeal. It will be really interesting to see if WWE will persist with this storyline long enough or will it go to trash after Clash of Champions.
Shunsuke Nakamura is seemingly on the way to face the Miz for the Intercontinental title at WWE Clash of Champions 2019 on 15 September at Spectrum Center in Charlotte, NC.