Sami Zayn To Be Nakamura's MouthPiece Amid Feud with The Miz
It seems like Sami Zayn will now be managing WWE Intercontinental Champion Shinsuke Nakamura going forward on WWE SmackDown and they have started a feud with the Miz.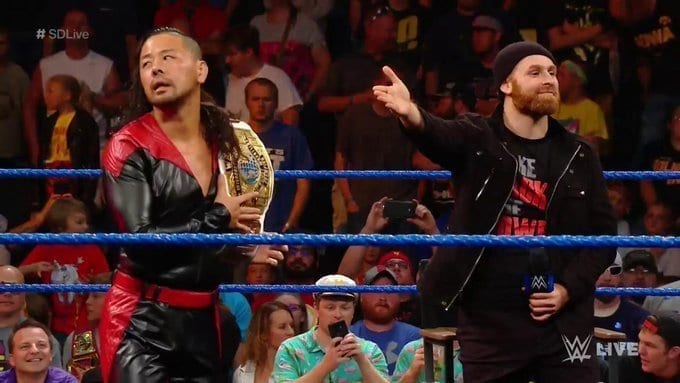 This week at SmackDown, Sami Zayn was the guest at the Miz TV segment after he requested to appear. Zayn wanted to get something off his chest. He went on to explain that he has been losing too much in the last few months. But last night he had an epiphany and he realized that he loses because he has gotten caught up in the trap of greed. And the path of redemption will go through helping others.
Miz quizzed him on who among the SmackDown stars needs Zayn's help. Zayn mentioned that one of them is ready to come out right away. Shinsuke Nakamura's music hit and he entered the ring. Zayn explained that Nakamura is like a poet, but he is in pain because he can't articulate his feelings and Zayn will speak for him. And if someone has to talk to Nakamura, he would have to talk to Zayn.
As Miz went to ask Nakamura if he is actually letting Zayn speak for him, Nakamura also pointed towards Zayn. As Miz turned towards Zayn, Nakamura swept him off his legs and went to assault him. After some strikes in the corner, Nakamura hit him with back to back Kinshasa.
Shinsuke Nakamura has been having an up and down year so far. After winning the United States Championship back from Rusev at Royal Rumble, he then lost it to R-Truth 2 days later. Then, he was the tag partner of Rusev for the next 3 months or so in an underwhelming run for the team alongside Lana. Although, he emerged as the surprise contender for the Intercontinental title and then successfully won it at Extreme Rules pre-show.
He has since won a title match against Ali but also lost a non-title match to him. They looked set to face-off at SummerSlam but the match was nixed in favor of trimmed card for the event. Now, it seems like Nakamura will feud with the Miz with Zayn will cover the talking aspects.