GCW Schedule 2021: List of Game Changer Wrestling Events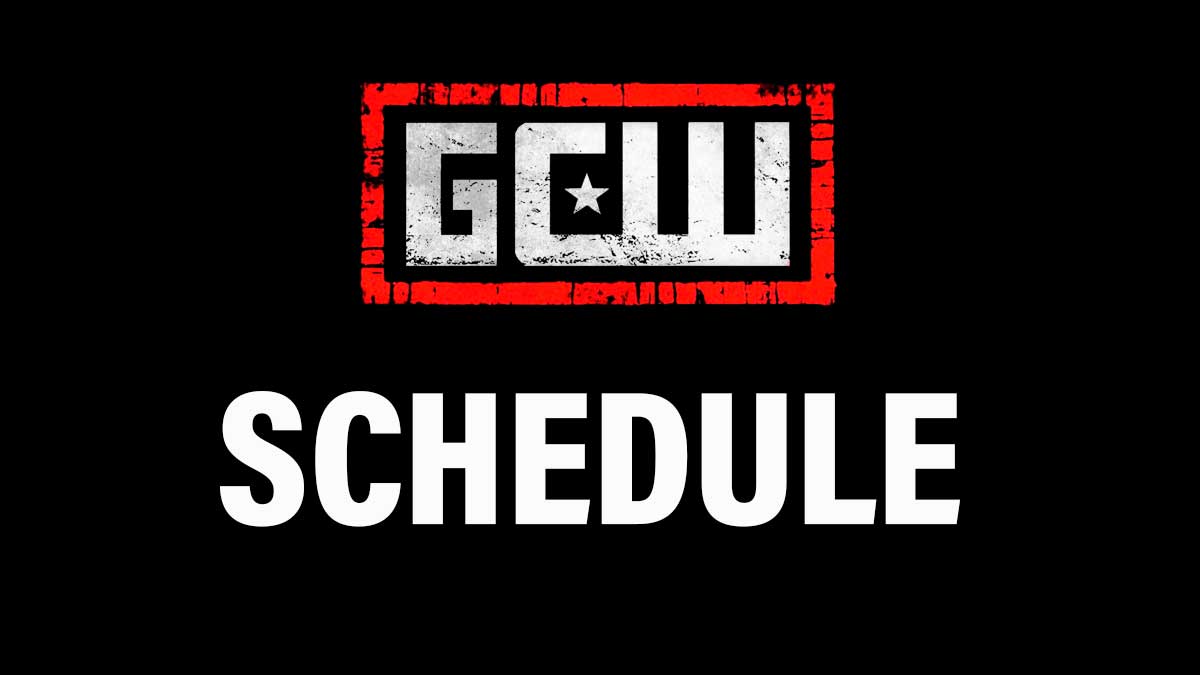 GCW- Game Changer Wrestling, still a young pro-wrestling promotion, is gaining a lot of traction in recent months and is one of the hottest Independent wrestling promotions out there. The company has created a lot of buzz in recent times by incorporating the names like Nick Gage and Matt Cardona and even brought in Jon Moxley back for some big matches under their banner.
Coming out of the COVID-19 pandemic, the promotions is hosting 3-4 events each month and is even partnering with other independent promotions for several events.
Here is a schedule of upcoming events and PPV from GCW(Game Changer Wrestling) and a list of past events from 2021.
Upcoming Events
Horror Slam Vs GCW 2
November 11, 2021
Knights Of Columbus Hall, Detroit, Michigan, USA
GCW Evil Deeds
November 12, 2021
Knights Of Columbus Hall Detroit, Michigan, USA
GCW Nick Gage Invitational 6
November 13, 2021
Summit Park District , Summit, Illinois, USA
Past Evetns
| Date | Event | Location |
| --- | --- | --- |
| 23-Oct-2021 | GCW Ready War | Los Angeles, California, USA |
| 22-Oct-2021 | GCW Josh Barnett's Bloodsport 7 | Los Angeles, California, USA |
| 10-Oct-2021 | GCW Aftermath | Carousel Room at Showboat Hotel, Atlantic City, New Jersey, US |
| 09-Oct-21 | GCW Fight Club | Atlantic City, New Jersey, USA |
| 24-Sept-21 | GCW Get Lost Alot | New York City, New York, USA |
| 23-Sept-21 | GCW Emo Fight | New York City, New York, USA |
| 18-Sept-21 | GCW Vs. FIST | San Diego California, USA |
| 17-Sept-21 | GCW Highest In The Room | New York City, New York, USA |
| 5-Sep-21 | GCW Effy's Big Gay Brunch Chicago | Hoffman Estates, Illinois, USA |
| 4-Sep-21 | GCW The Art Of War Games | Hoffman Estates, Illinois, USA |
| 3-Sep-21 | GCW/BLP 3 Cups Stuffed | Hoffman Estates, Illinois, USA |
| 2-Sep-21 | GCW Guilty Conscience | Detroit, Michigan, USA |
| 1-Sep-21 | Horror Slam Vs. GCW | Detroit, Michigan, USA |
| 21-Aug-21 | FSW Vs. GCW | Las Vegas, Nevada, USA |
| 20-Aug-21 | GCW Off The Rails | Las Vegas, Nevada, USA |
| 7-Aug-21 | GCW No Signal In The Hills | Los Angeles, California, USA |
| 25-Jul-21 | GCW Homecoming Weekend 2021 – Tag 2 | Atlantic City, New Jersey, USA |
| 24-Jul-21 | GCW Homecoming Weekend 2021 – Tag 1 | Atlantic City, New Jersey, USA |
| 18-Jul-21 | Zona 23 Vs. GCW 8. Aniversario Deshuesadero | Cuautitlan Izcalli, Estado de Mexico, Mexiko |
| 16-Jul-21 | NGX Vs. GCW When The North Collide | Monterrey, Nuevo Leon, Mexiko |
| 10-Jul-21 | GCW You Only Die Once | Dallas, Texas, USA |
| 9-Jul-21 | GCW/Loko Fight Club: Houston | Houston, Texas, USA |
| 4-Jul-21 | GCW Backyard Wrestling 3 | Pennsylvania, USA |
| 19-Jun-21 | GCW Outlaw Mudshow | Laramie, Wyoming, USA |
| 6-Jun-21 | GCW Zombie Walk | Atlantic City, New Jersey, USA |
| 5-Jun-21 | GCW Tournament Of Survival 666 | Atlantic City, New Jersey, USA |
| 15-Jun-21 | GCW Draft Day | Las Vegas, Nevada, USA |
| 1-May-21 | GCW Ashes To Ashes | Atlantic City, New Jersey, USA |
| 10-Apr-21 | GCW Effy's Big Gay Brunch 2021 | Ybor City, Florida, USA |
| 10-Apr-21 | GCW Planet Death | Ybor City, Florida, USA |
| 9-Apr-21 | GCW Allie Kat's Real Hot Girl Shit | Ybor City, Florida, USA |
| 9-Apr-21 | GCW The Acid Cup 3 – Tag 2 | Ybor City, Florida, USA |
| 9-Apr-21 | GCW Spring Break Presented By 44OH! | Ybor City, Florida, USA |
| 8-Apr-21 | GCW Jimmy Lloyd's D-Generation F 2021 | Ybor City, Florida, USA |
| 8-Apr-21 | GCW For The Culture 2021 | Ybor City, Florida, USA |
| 8-Apr-21 | GCW The Acid Cup 3 – Tag 1 | Ybor City, Florida, USA |
| 8-Apr-21 | GCW Josh Barnett's Bloodsport 6 | Ybor City, Florida, USA |
| 6-Mar-21 | GCW Take Kare | Atlantic City, New Jersey, USA |
| 20-Mar-21 | GCW Josh Barnett's Bloodsport 5 | Los Angeles, California, USA |
| 13-Feb-21 | GCW Josh Barnett's Bloodsport 4 | Los Angeles, California, USA |
| 30-Jan-21 | GCW/NPU Fight Forever: Odium | Philadelphia, Pennsylvania, USA |
| 30-Jan-21 | GCW Fight Forever: The World On GCW Part III | Philadelphia, Pennsylvania, USA |
| 30-Jan-21 | GCW Fight Forever: Allie Kat's Real Hot Girl Shit | Philadelphia, Pennsylvania, USA |
| 30-Jan-21 | GCW Fight Forever: Effy's Big Gay Block | Philadelphia, Pennsylvania, USA |
| 30-Jan-21 | GCW Fight Forever: 44OH!'s What We Want | Philadelphia, Pennsylvania, USA |
| 30-Jan-21 | GCW Fight Forever: Ironman Challenge | Philadelphia, Pennsylvania, USA |
| 30-Jan-21 | GCW Fight Forever: Jimmy Lloyd's Up All Night | Philadelphia, Pennsylvania, USA |
| 30-Jan-21 | GCW Fight Forever: After Dark | Philadelphia, Pennsylvania, USA |
| 30-Jan-21 | GCW/Glory Pro Fight Forever | Philadelphia, Pennsylvania, USA |
| 30-Jan-21 | GCW Fight Forever: After Hours | Philadelphia, Pennsylvania, USA |
| 30-Jan-21 | GCW/Freelance/FU Fight Forever | Philadelphia, Pennsylvania, USA |
| 30-Jan-21 | GCW/BLP Fight Forever | Philadelphia, Pennsylvania, USA |
| 30-Jan-21 | GCW/VxS Fight Forever: Rockstar Knights | Philadelphia, Pennsylvania, USA |
| 30-Jan-21 | GCW Fight Forever: UV:60 – The Death Hour | Philadelphia, Pennsylvania, USA |
| 30-Jan-21 | Camp Leapfrog/GCW Fight Forever: Cibernetico | Philadelphia, Pennsylvania, USA |
| 29-Jan-21 | GCW Fight Forever: For The Culture | Philadelphia, Pennsylvania, USA |
| 29-Jan-21 | GCW Fight Forever: The Wind Of God | Philadelphia, Pennsylvania, USA |
| 1-Jan-21 | GCW 56 Nights | Atlantic City, New Jersey, USA |