Apollo Crews Takes Out Big E, Sends Message to Roman
Apollo Crews turned on WWE Intercontinental Champion Big E on SmackDown this week.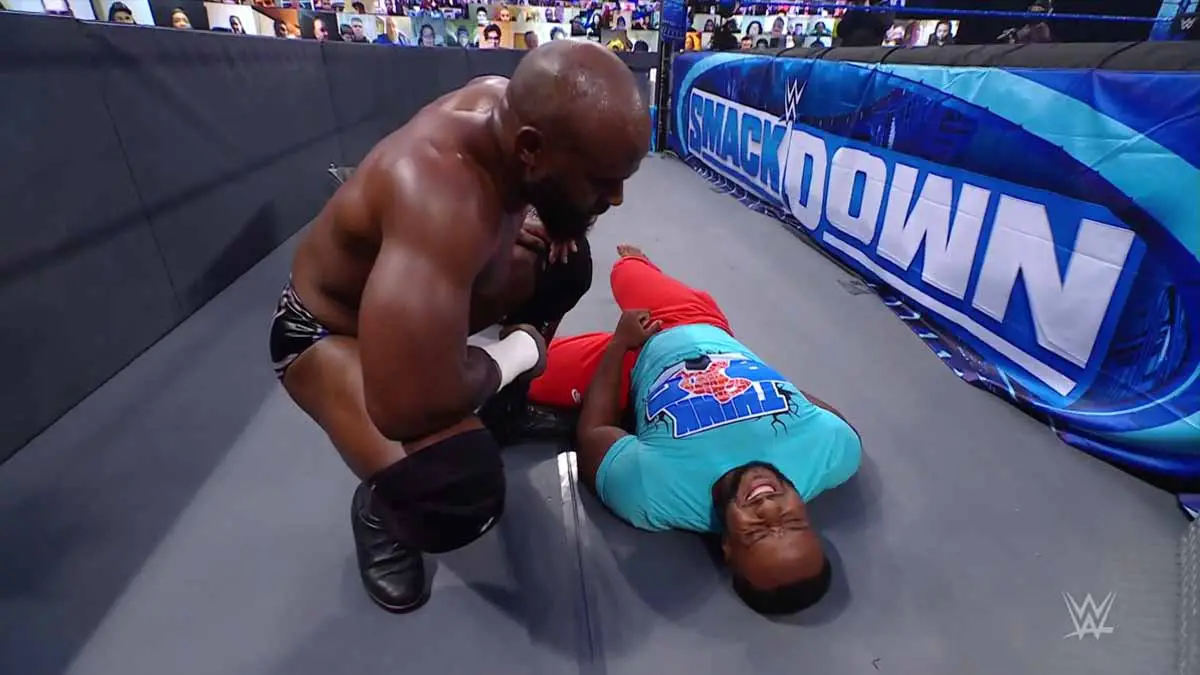 Apollo Crews faced Shinsuke Nakamura in a singles match this week at SmackDown with Big E at ringside with the commentary team. After Crews lost the match, he snapped on Nakamura and continued to attack him post-match.
As he looked to use steel steps, Big E tried to get things under control. Crews would go attack Big E and ended up dropping steel steps from the ring on the Intercontinental Champion who was on the floor, in a move that looked devastating.
The turn for Crews was teased for last few weeks. One of their match ended in a double pin and Crews lost it after the restart. Their next match was interrupted by Sami Zayn which led to a triple threat match the following week, where Big E once again retained the title.
Crews was miffed when Big E refused him another title shot last week and interferred in the match between Big E and Nakamura.
WWE Provides Injury Updates on Big E
WWE released a storyline update on Big E during Talking Smack. The update says that Big E suffered a brachial plexus injury. He was taken out on a stretcher after the attack and was supported by a cast around his neck.
There is no details mentioned if Big E will miss time due to this. He is currently not scheduled for any match at Elimination Chamber PPV.
Apollo Crews Sends Cryptic Message to Roman Reigns
Crews also appeared on Talking Smack on Saturday morning. However, he did not utter a single word when quizzed by Kayla Braxton regarding his attack on Big E.
Paul Heyman also tried to get something out from Crews. Crews did not reply to Heyman but gave him a little smirk before leaving. Heyman reacted ecstatically on the reaction and replied that he will relay his message to the Universal Champion Roman Reigns.
A few weeks back, Crews appeared with Roman Reigns in a backstage segment. They were seen discussing something and Reigns even told Crews to intimidate WWE Official Adam Pearce into signing the contract for their Royal Rumble match.