AEW Fyter Fest Dynamite 23, 2023 Results, Live Updates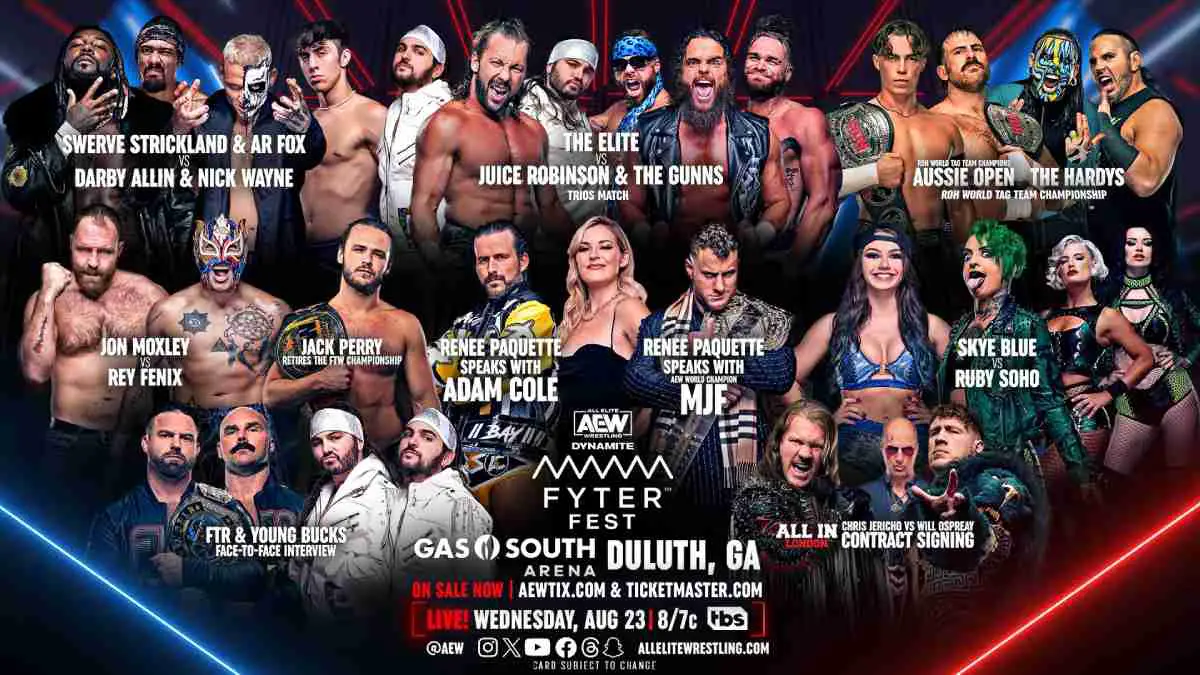 Welcome to the live results blog for AEW Dynamite Fyter Fest special episode on August 23, 2023, which was the go-home Dynamite for All In 2023 event.
Aussie Open clashed on The Hardys to defend ROH Tag Team Championship and their spot at All In event. Jon Moxley faced Rey Fenix in a singles match while Blackpool Combat Club also announced their teammates for the Stadium Stampede match. Kenny Omega and The Young Bucks faced Juice Robinson & The Gunns.
The Young Bucks also sat down for an interview with FTR. Darby Allin & AR Fox faced Swerve Strickland & AR Fox in a tag team match. Ruby Soho and Skye Blue clashed in a women's singles match. Additionally, MJF and Adam Cole spoke with Renee Paquette ahead of their main event match at All In.
Tune in below as we post results from AEW Dynamite Fyter Fest on August 23, 2023, with live updates, winners, highlights and complete action.
RESULTS
Jon Moxley defeated Rey Fenix in a singles match via pinfall.
Darby Allin & Nick Wayne defeated Swerve Strickland & AR Fox in a Tornado Tag Team Match via pinfall.
Ruby Soho defeataed Skye Blue in a singles match via pinfall.
Aussie Open (Kyle Fletcher & Mark Davis) defeated The Hardys (Matt & Jeff Hardy) in a tag team match via pinfall to retain ROH World Tag Team Championship
LIVE UPDATES
The Elite (Kenny Omega, Matt Jackson & Nick Jackson) vs Juice Robinson & The Gunns (Austin & Colten Gunn)
The Elite enter first. They attack Bullet Club Gold on the ramp and take the fight to the ring. The Young Bucks hit suicide dives on The Gunns. Juice cuts off Nick Jackson. He takes a chair to the ring and hits a shot on Nick's back. When the referee throws away the chair, Juice nails him with a big shot. The Young Bucks hit him with a superkick. The Gunns hit them with a clothesline. Jay White comes in to beat up the Young Bucks. The Bucks fight back and clear the ring. Jay White hits Nick with Urinage.
Kenny Omega gets into the ring and fights BCG members one by one. He hits Jay White with V-Trigger. Takeshita comes in and runs over Omega. FTR come out and even the numbers. The brawling continues and everyone leaves to the back except Omega and Takeshita. Takeshita hits elbow shots on Omega. Omega hits him with V-Trigger. Takeshita avoids a One Winged Angel and slips out of the ring. The match never started.
MJF with Renee Paquette
Renee Paquette is sitting down backstage with MJF. She asks what would it mean for him to perform in front of 80,000 people. He asks the fans to make it the loudest ever event and he will buy every one of them a pint. Renee asks him about the pressure he will be under to face Adam Cole at All In. MJF says All In is the biggest event in pro wrestling and none of this would have happened if the previous generation had not paved the way. Renee shows us a video package of showing tense moments between MJF and Cole's relationship in past. MJF says Cole has made him a better person, and he is not just his friend, but his brother, and brothers always hug it out at the end of the day. He is vulnerable for the first time in his life, and asks us to be vulnerable with him. He is not just a scumbag, but he is our scumbag.
Jon Moxley vs Rey Fenix
Fenix starts with punches. Moxley hits back. They trade chops. Mox ducks a roundhouse kick. Blocks from both sides before Fenix hits a dropkick to send Mox to the floor and hits suicide dive twice. Mox takes his face and tries to rip off his mask. He hits a curbstomp on the edge of the ramp. Mox breaks the countdown before a big boot and throwing Fenix into the barricade a couple of times. He takes Fenix back to the ring and kicks Fenix in the face a couple of times. Fenix hits back with some kicks before an enzuigiri on the back of the head. Mox avoids a tight rope walk and hits a clothesline in the corner. He hits a lariat to get a two-count and take us to a break.
Moxley hits a piledriver as we return to get a near fall. Moxley stomps at his face a few times. Fenix kips up and hits a superkick. Fenix hits a back heel kick in the corner but Mox blocks a cutter. Fenix hits a senton to break free and hits the cutter in the second attempt to get a near fall. Fenix hits a superkick and a frog splash to get another near fall. Fenix hits headbutts before Moxley fights back from fireman's carry with hammer elbows. Fenix gets him in a cradle to get a two-count. Mox hits Fenix with an elbow but Fenix's springboard headbutt still connects.
Both men are down. They get up and start brawling on their knees. Mox gets better of Fenix and bullies him to the corner. Fenix hits a superkick and gets to the top rope. Mox nails him with an elbow and gets to the rope himself. Fenix fights back with blows to the back. Mox bites his face and hits avalanche Deathrider. Fenix kicks out of the pin. Mox cannot believe this and quickly puts on a sleeper. Fenix fades to sleep and the referee calls the match.
Winner – Jon Moxley
Blackpool Combat Club attack Fenix after the match with Crowbar. Eddie Kingston and Penta El Zero Meido come out, but Ortiz stop them on the ramp. Santana makes his return to atacks Eddie and Penta. BCC trio has attacked Fenix with a crowbar in the ring. Best Friends run out to even the odds. Fenix is taken out on a stretcher.
After the break, we see Rey Fenix being taken into an ambulance. Renee tries to get a comment from Eddie Kingston, who says he will fix this at All In.
---
Sammy Guevara is interviewed backstage about Chris Jericho when Matt Menard and Angelo Parker intervene and tell him that Jericho had accepted Don Callis' offer before his beatdown. Sammy says Jericho is his friend and he will always be there for him. They ask him if Jericho will be there for him when the time comes.
Contract Signing
There is security in the ring as Tony Schiavone presides the contract signing segment. Will Ospreay and Don Callis come out first. Chris Jericho comes out with Sammy Guevara. Callis talks about how he chose Ospreay over Jericho, and power and money over friendship. Callis says Jericho almost died many years ago, but Ospreay will finish the job at All In. Ospreay takes the mic and talks about Wembley's greatness. He says when he fights Jericho at All In, he would have fought Kenny Omega, Kazuchika Okada and Jericho in under 2 months, and it will work great for him when his contract with NJPW comes up in 6 months. Ospreay signs the contract first.
Jericho says Ospreay would not have accomplished all this if it was not for him. He reminds Ospreay of how he called Ospreay 5 years back to tell him to tone down the physicality in matches. Jericho says this match at Wembley is the biggest moment in his 33 years career also. So, he is coming on from the top, and he has to be the best Chris Jericho to beat Ospreay. He asks Ospreay to prove it in front of 80,000 fans that he can beat Jericho. Ospreay pushes Jericho away, but the security separate both sides. They try to fight through the security, but to no avail.
Adam Cole with Renee Paquette
Renee Paquette is with Adam Cole now. She shows a video featuring comic moments with MJF. Cole says he never thought he would have so much fun with MJF. He adds that MJF has helped him to see the real him. His confidence was low when he returned, but MJF has helped him to regain his confidence. On the chance of becoming a double champion at All In, he says he came into pro wrestling to be the best. Renee asks him about Roderick Strong and the Kingdom questioning his intentions. Renee shows us instances of rift between Cole and MJF. Cole snaps and says he is unable to understand why people find it so hard to believe that two guys can be friends.
Swerve Strickland & AR Fox vs Darby Allin & Nick Wayne – Tornado Tag Team Match
Darby tackles Swerve to the floor. Wayne fights Fox and hits him with a dropkick. Swerve sends Darby into the barricade. Fox trips Wayne on the top rope and brings him down with a German suplex. Fox hits a senton on Darby and Fox on the floor. Fox and Swerve argue with Wayne's mom in the front row. They drop Darby and Wayne on the apron. Darby and Wayne counter on the apron and slam them into each other. Wayne hits a double cutter on the floor. Darby follows up with a moonsault. We cut to a break.
They are fighting in the crowd as we return. Swerve and Fox are taking their opponents back to ringside. Wayne is dropped on the floor with a back body drop. They get into the ring. Swerve hits chops on Darby before they hit stereo dropkicks on Darby and Wayne. They hit a doubleteam neckbreaker/codebreaker combo. Darby breaks the pin. He hits a suicide dive on Swerve to drive him into the announce table. Fox hits a senton on Darby. Swerve hits Swerve stomp on Darby on a chair on the floor. Swerve and Fox get back into the ring to hit Wayne with pump kick. Fox hits corkscrew brainsbuster for a near fall. Fox hits a modified DDT for another near fall. Swerve hits kick to the back of his head but Wayne kicks out again. Fox misses a 450 splash. Darby grabs Swerve's legs while Nick gets him in a pinning predicament to get the pinfall.
Winner – Darby Allin & Nick Wayne
Swerve laughs at Fox and asks him why he always fails when he gets a big chance. Swerve tells him that he can't trust Fox at All In. Prince Nana tells Fox that he is fired. Brian Cage runs him over with a clothesline. Sting, Darby and Fox come out. The Mogul Embassy slip out of the ring. Darby then tells Fox that he took him in when he was homeless, so he is forever indebted to him. Fox and Darby hug. Darby then asks Swerve who has he got for All In. Christian Cage and Luchasaurus come out. Christian takes shots at Nick Wayne and his father and tells him to be away from Wembley Stadium. The crowd starts booing him. Cage says he will be there to mentor Wayne if he wants.
FTR & The Young Bucks with Renee Paquette
FTR and The Young Bucks sit down backstage to talk about their match at All In. The Young Bucks thank FTR for coming to their aid for the last two weeks. FTR talk about this match at All In being about their legacy and tag team wrestling. The Bucks mock them over making it about legacy every week. They say when they are done, they will be known as the greatest tag team ever, while FTR will be known as the team who was named by them on a Youtube Channel. FTR are upset over this and warn The Bucks that they have poked them.
Ruby Soho vs Skye Blue
Ruby kicks Skye off the apron during her entrance and hits her with a senton on the floor. Ruby hits chops in the ring as the match starts. Skye tries to fight back and finally connects some punches. Ruby rakes her face. Ruby hits a back elbow before Skye sends her to the apron and kicks her off it. Skye hits a foot from the apron. She hits a crossbody dive on Ruby on the floor to take us to a break.
Skye has taken control as we return. Ruby sends her to the apron. Skye hits a crossbody again to get a two-count. Ruby blocks Skyefall. Skye hits a neckbreaker. They counter each other for pinning combinations to get two-count several times. Skye hits a roundhouse kick and Skyefall but Ruby kicks out of the pin. Ruby blocks Code Blue and hits a knee strike. She hits a superkick before Ruby hits No Future kick and Destination Unknown to get the pinfall.
Winner – Ruby Soho
Renee interviews Roderick Strong and The Kingdom, and ask Strong about why he is so upset at MJF and Adam Cole's friendship. Strong says at the end of All In, we will find out who is the real MJF and who is the real Adam Cole.
---
We see the video package from House of Black for Billy Gunn. The Acclaimed come out to the ring and scream to call out House of Black. HOB come out and attack The Acclaimed with their numbers game. Brody King has a chain around his hand. Billy Gunn comes out and gets into the ring. HOB leave to the stage. Billy takes the mic and says HOB wanted him here, so he is here. He goes on to explain what happened when he put out his boots in the ring. But last week, HOB jumped on The Acclaimed, and then they burned down his boots. Billy says he has done so much in this ring and they just pissed all over his Hall of Fame career. So, for one more time, it is all or nothing at All In. At All In, it will be House of Black vs The Acclaimed and "Badass" Billy Gunn.