AEW Dynamite July 26, 2023 Results, Live Updates, Winners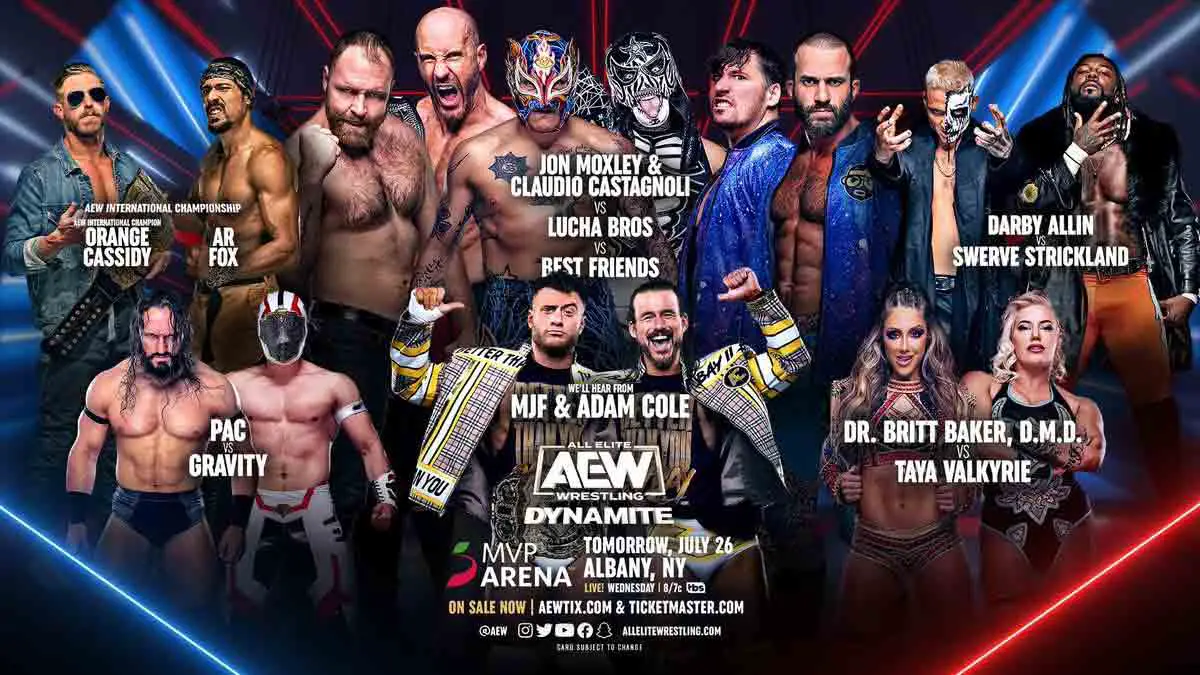 AEW Dynamite was back on July 26, 2023, and we were also here with results from the show.
The buildup towards All In and All Out events started now. AEW World Champion MJF and Adam Cole addressed FTR just 3 days before their tag team title match. Orange Cassidy defended AEW International Championship against AR Fox.
PAC took on Gravity in a singles match while Darby Allin and Swerve Strickland also clashed. A first-time match was also set between Britt Baker and Taya Valkyrie. A three-way tag team match was also on the card where Blackpool Combat Club took on Lucha Bros and Best Friends.
Tune in below as we post results live from AEW Dynamite July 26, 2023, with live updates, winners, and highlights.
RESULTS
Orange Cassidy(c) defeated AR Fox in a singles match via pinfall to retain AEW International Championship.
PAC defeated Gravity in a singles match via pinfall.
Swerve Strickland defeated Darby Allin in a singles match via pinfall.
Dr. Britt Baker DMD defeated Taya Valkyrie in a singles match via submission.
Lucha Bros(Rey Fenix & Penta El Zero Meido) defeated Best Friends(Chuck Taylor & Trent Baretta) & BCC(Claudio Castagnoli & Jon Moxley) in a 3-way tag team match via pinfall.
LIVE UPDATES
We get a video package from Darby Allin talking about AR Fox coaching him and then taking him into his home when he shifted to Seattle to train with him.
Orange Cassidy(c) vs AR Fox – AEW International Championship
They lock up and come to a stalemate quickly. Fox puts an armtwist. They counter each other a few times before Fox puts on a body scissors. Cassidy sneaks out ot it and kips up. Cassidy hits an armdrag with his hands still in his pocket. Fox ducks Orange punch. Cassidy blocks a cutter and slip to the floor. Cassidy roams around the ring for a while. Fox hits him with a moonsault from the apron. Back to the ring, more innovative attacks from Fox before Cassidy hits a stundog millionaire. Fox hits a mule kick off the ropes before cutter. He hits a twisting brainbuster next. We cut to a break.
More quick action as we return. Both men hit a neckbreaker at the same time. Fox plays possum to hit a kick. Fox hits a senton from the top but Cassidy kicks out. Cassidy sends Fox to the floor to hit a suicide dive and brings him back to the ring to hit a tornado DDT. He hits Beach Break but Fox kicks out. Fox hits a Spanish fly from the top rope to get a near fall. Cassidy moves to the apron and Fox hits a senton there before a DDT to get a near fall. Fox misses 450 senton and Cassidy puts him in a mouse trap to get the pinfall.
Winner – Orange Cassidy
After the match, Cassidy puts his goggles on Fox as a sign of respect, but Fox hits him with a cheap shot. Fox moves out of the ring. Darby comes out and argues with him, saying that he put his name on him. After they both leave, Jon Moxley hits Cassidy with a clothesline and then hits DeathRider.
---
We get a recap of Blood & Guts match next.
---
Callis informs Chris Jericho that he has got Jericho booked with Konosuke Takeshita for a tag team match. Jericho seems ok with this, but then Callis reveals that their opponent will be Sammy Guevara and Daniel Garcia. Jericho gets a bit perplexed but ultimately agrees to do the match.
---
Claudio Castagnoli and Wheeler Yuta are backstage. Claudio says do not play with fire and do not mess with Blackpool Combat Club. Claudio talks about the beating he gave to Best Friends and Death Triangle. Moxley refers to Cassidy and says this is what happens when someone tries to beat up his friends when he is not even in the building.
---
Tony Schiavone brings out Jack Perry. The crowd boos him. Perry says he said he was gonna win a championship, but he was not talking about FTW title. FTW was created in a second class company by sc##b##s. This title was never recognized, but it became the real deal as soon as he won it. He claims that he would run circles around Taz and his other friends. Jerry Lynn comes out and says they paved the way for this younger generation in ECW, and without ECW, there would have been a Jungle Boy. He warns Perry to shut up and gets his a## kicked. Perry challenges Lynn for a match next week.
---
Britt Baker is backstage for an interview and says she was a bit surprised by Taya Valkyrie's callout, but is glad to face her.
PAC vs Gravity
Gravity ducks a swing and hits a dropkick. Another dropkick after coming off the ropes. He nails a big elbow and a dropkick to send PAC to the floor. Gravity makes PAC run after him as he gets in and out of the ring a few times. PAC catches him with a dropkick through the ropes. Gravity sends PAC into the barricade before hitting a powerslam and a stalling splash on the floor. We cut to a break with PAC down on the floor.
PAC is in control as we return. Gravity hits double boots in the corner. He hits a crossbody off the ropes before PAC hits some quick kicks and a big boot to drop him. PAC hits an avalanche brainbuster and puts on brutalizer to get the submission.
Winner – PAC
PAC refuses to let go of Gravity after the bell for a while.
---
Adam Cole and MJF were with Renee Paquetta last week. MJF says he liked FTR when they were his lackies and that was the Pinnacle of their career. He is tired of FTR saying the same things again and again. He says he will punch them so hard that CM Punk's jocks will fall out of their mouth. Cole wants to talk to MJF and tells him that he is having so much fun with MJF and does not have eyes at the title. MJF says he will give Cole a rematch for AEW World title. Roderick Strong comes in and pushes MJF away. Cole sends MJF away as he has to talk to Strong. Cole tries to make Strong understand that he also has other friends, and he should keep boundaries.
---
FTR also talked to Renee last week. Cash Wheeler say they are excited to face MJF and Cole, but is sad for Cole to get involved in this. Cash says MJF is a terrible human. Dax Harwood says it is not fun and games for him, and he will beat up MJF, and is sad for Cole to be into all this. He also warns MJF not to talk about his family again.
Darby Allin vs Swerve Strickland
They lock up and switch headlocks. Darby holds onto it before countering a side suplex attempt with a side headlock takeover. Swerve puts him on the apron to break free. Darby puts on the side headlock once again and Swerve has to push him to the ropes again to break. Darby hits an armdrag after coming off the ropes. Darby hits a Code Red on the floor to get a two-count. Darby whips Swerve into the steel steps. He sets up the step to a different position. Swerve comes back with a Swerve kick after jumping off the step.
Swerve hits a leaping flatliner and a suplex as we return. They trade back and forth pinfall attempts before Darby puts on Last Supper but Swerve escapes. Darby tackles Swerve off the apron and to the floor. Swerve counters with a knee strike midair when Darby goes for a dive. Swerve hits a double stomp off the top but Darby kicks out of the pin. Darby hits a Stunner off the top rope. Swerve trips him off the top rope and then hits a Death Valley Driver on the apron off the top rope. Both men are down on the floor. AR Fox slams Darby into the ring post and throws him into the ring. Swerve hits a JML driver to get the pinfall.
Winner – Swerve Strickland
After the match, AR Fox attacks Nick Wayne also as he tries to save Darby from more attack. Fox slams a skateboard on Wayne. Swerve and Prince Nana hands Fox with a Mogul Embassy shirt.
---
Members of Jericho Appreciation Society go to meet Jericho and they are upset at Jericho for being selfish,
Dr. Britt Baker DMD vs Taya Valkyrie
Taya starts by slamming Baker's face into the mat. Baker puts on a side headlock. Taya hits a side slam but Baker hangs onto the headlock. Taya throws her to the ropes and hits a shoulder tackle. She mocks Britt's DMD sign before hitting Meteora/double knees in the corner. Taya hits a chop and a clothesline to get a two-count. Taya hits some elbows. Britt hits a kick to the knee but Taya avoids the curb stomp. Taya slams her face first into the mat and unloads with punches to take us to a break.
Baker comes back with an elbow to the face before hits knee strikes. She hits a ripcord elbow to get a two-count. They trade forearm shots. Taya ducks a discuss elbow and hits a roundhouse kick. Baker hits back with a kick before Taya hits a pump knee and a clothesline to get a two-count. Baker hits a Norther Lights suplex to get a two-count. Baker hits Panama Sunrise to get a near fall. Baker brings out her glove for lockjaw. Taya hits kicks before hitting a spear for a near fall. Baker counters the Road to Valhalla and puts on Lockjaw to get a submission.
Winner – Britt Baker
BCC(Claudio Castagnoli & Jon Moxley) vs Lucha Bros(Rey Fenix & Penta El Zero Meido) vs Best Friends(Chuck Taylor & Trent Baretta)
Best Friends boot Lucha Bros to the floor where BCC take over beating them up. Best Friends hit suicide dive on BCC. Moxley takes Taylor up the ramp. Taylor throws him off the stage and dives on him, Claudio and Penta. Claudio and Taylor fight on the ramp, and so does Baretta and Moxley. Fenix hits chops on Claudio as he finally gets into the ring. Claudio fires punches and a kick. Fenix cuts him off with a knee before an elevated arm drag.
The match breaks down once again as everyone hits big moves one by one starting with Baretta. Claudio hits a pop-up uppercut to get a near fall on Fenix. BCC keeps control on Fenix with quick tags. Fenix fires back with chops before Claudio traps his arms and hits a lariat. Fenix comes back with a superkick. Baretta tags in off Fenix and punches Claudio before hitting a tornado DDT. Claudio blocks a running knee but Baretta hits Saito suplex. Claudio catches Baretta with an uppercut to block a suicide dive. Moxley hits a king kong lariat on Baretta after a tag to get a near fall. We cut to a break.
Claudio and Baretta are on the top rope as we return. Baretta punches Claudio off the top and hits a missile dropkick. Taylor and Moxley get the tags. Taylor hits chops before a solefoot. Moxley hits body shots. Taylor hits him back with a German suplex. Penta tags in off Moxley and hits a slingblade before a backstabber from the second rope. Baretta breaks the pin. BCC come in to hit Baretta a double team pop-up cutter. They hit Lucha Bros with double clotheslines. Best Friends also come in for a three-way brawling. BCC are sent to the floor and Best Friends hit piledriver on Lucha Bros for a near fall.
Lucha Bros put Best Friends into submissions. Penta hits pumphandle slam on Baretta. BCC break the pin. Moxley hits Paradigm Shift on Fenix. Claudio hits a powerbomb on Taylor. Claudio looks for a powerbomb on Baretta, but Orange Cassidy's entrance distracts him. Cassidy nails an Orange punch on Wheeler Yuta before engaging in a brawl with Moxley. Trent counters Claudio to hit a piledriver but the referee tells him that Claudio is not the legal man. Fenix hits a superkick on Baretta and Penta hits a package piledriver to get the pinfall.
Winners – Lucha Bros
The brawling continues all around after the match. A triple threat match between Moxley, Penta and Baretta is announced. Cassidy closes the show with an orange punch on Claudio.