WWE TLC 2018 : Tables, Ladders & Chairs
Check out the details for WWE TLC 2018(Tables, Ladders and Chairs) event: match card, results, date, start time, and location.
Date- 16 December 2018
Time- 7 PM EST
Location- SAP Center, San Jose, CA, US
WWE TLC 2018 PPV(Tables, Ladders & Chairs) was the tenth pay-per-view event under the TLC series. This was a dual-brand PPV with both RAW and SmackDown's side of matches taking place at the event. The event was headlined first time by a women's match with a Triple Threat TLC match where Asuka won the SmackDown Women's title by defeating Becky Lynch and Charlotte Flair.
12 matches were contested on this PPV. Rey Mysterio and Randy Orton finished their rivalry with a chairs match. Daniel Bryan successfully defended his WWE title against AJ Styles, Ronda Rousey defeated Nia Jax in a Singles match for the title of WWE Raw Women's Championship, and Dean Ambrose lost his WWE Intercontinental Championship to Seth Rollins.
The show took place for the first time in California. Around 13,408 fans attended the show at The SAP Center in San Jose.
Matches & Storylines
1.

R-Truth & Carmella vs. Jinder Mahal & Alicia Fox (Finals of Mixed Match Challenge Season 2)
R-Truth & Carmella vs. Jinder Mahal & Alicia Fox: The winners of this match, which concludes a months-long tournament, will not only win an all-expenses-paid vacation but also receive the No. 30 spot in the men's and women's Royal Rumble next month. Mahal & Fox earned their place in the finals with a hard-fought victory over Apollo Crews & Bayley. R-Truth & Carmella got into the finals by overcoming The Miz & Asuka, who triumphed in the first season of MMC.
2.

Rey Mysterio vs. Randy Orton (Chairs Match)
Both these superstars will fight to settle their fierce rivalry in recent times. The bitter hatred between these two Superstars fueled several jaw-dropping moments, including Orton viciously unmasking Rey Mysterio during the 20th Nov edition of SmackDown. Just five days prior to TLC, it was announced on SmackDown that these two would be taking their bitter rivalry to the PPV in the form of a chairs match. Mysterio wasted no time in preparing for the bout, blindsiding Orton from behind with a chair as he was cutting a promo on the match.
3.

Buddy Murphy (c) vs. Cedric Alexander (Cruiserweight Championship)
Last week on 205 Live, it was revealed that former champion Cedric Alexander would get his rematch against Murphy the cruiserweight title. On Monday, general manager Drake Maverick made the match official for TLC. This will, of course, be another incredible bout between these two. As Alexander has recovered from his slump beating Lio Rush and then beating Murphy in a tag team match.
4.

Elias vs. Bobby Lashley (Ladder Match)
In another battle where Baron Corbin is trying to stamp his authority as, In charge of RAW, Elias has to face the almighty Bobby Lashley. Elias and Lashley have been butting heads of late, with Lio Rush playing his part of the instigator to perfection. This feud has been helping the cause, though, of getting Elias over as a new massive babyface, so a victory over the monster that is Lashley could prove another step in the right direction. During Monday's go-home Raw, it was announced that this grudge bout would now be a Ladder Match, with a guitar hanging above the ring that could be put to use by whichever man grabs a hold of it first.
5.

Finn Bálor vs. Drew McIntyre
The bad blood has been boiling over between these two during recent weeks on Raw and it'll culminate in them squaring off at TLC. Finn Bálor will battle Drew McIntyre in a match that could well serve as a preview for all who oppose The Lone Wolf's authority. This will be a battle of two men who should be firmly entrenched in the universal title scene next year on Monday nights but it seems toppling McIntyre would be an extraordinary task for Balor here.
6.

Natalya vs. Ruby Riott (Tables Match)
Riott has been more than a thorn in the side of Natalya in recent weeks on Raw, so it only makes sense that they meet in a brutal match on a card that welcomes such about. Who is destined to go through the table when Natalya battles Riott one-on-one? Can The Queen of Harts find a way to keep the rest of The Riott Squad at bay long enough to finally get retribution in her highly personal rivalry with the destructive faction?
7.

The Bar (c) vs. The New Day vs. The Usos (SmackDown Tag Team Championships)
Three of the most dominant tag teams in recent history will collide at WWE TLC. These three teams each have five Tag Title reigns to their names, making them some of the most accomplished squads to compete in WWE. Since Survivor Series, the reigning champions, The Bar, have hit a snag, with non-title losses to both The New Day and The Usos. Plus, under the Triple Threat Match stipulation, the pressure will be even higher on The Bar, considering they do not need to be involved in the decision to lose the titles.
8.

Becky Lynch (c) vs. Charlotte Flair vs. Asuka (Triple Threat TLC Match For The Smackdown Women's Championship)
Becky Lynch's coveted SmackDown Women's Championship will be on the line against Charlotte Flair and Asuka in a Triple Threat TLC Match, which is also the first-ever Women's TLC Match. Flair has been gifted the shot at the title from Paige. Surviving a Nine-Woman Battle Royal Match on Nov. 27 episode of SmackDown, Asuka joins an epic battle that will see three forces of nature collide in one seismic clash for the top prize on Team Blue.
9.

Ronda Rousey (c) vs. Nia Jax (Raw Women's Championship)
Ronda Rousey has been on an absolute tear, charging into every fight and taking the Raw Women's division to new heights. With her victory in the battle royal at Evolution, Jax earned the right to challenge Rousey for the Raw women's title. Rousey and Jax had a somewhat entertaining match with one another back at Money in the Bank prior to the cash-in of Alexa Bliss, and with Jax firmly playing the heel role as of late, that should add a new dynamic to a bout with the reigning Raw women's champ. After Jax, Rousey has vowed to revisit her issues with SmackDown Live's own Charlotte Flair following the brutal incident that took place at Survivor Series.
10.

Braun Strowman vs. Baron Corbin (TLC Match)
Strowman's deal with Raw commissioner Stephanie McMahon came through as he helped Team Raw win the Men's 5-on-5 Traditional Elimination Match at WWE's fall classic. Not only did he get this match, but he also got to choose the stipulation. But two other stipulations come with this match as well. (1) If Strowman wins, he gets to face Brock Lesnar for the universal title at the Royal Rumble and Corbin gets stripped of his interim power. (2) If Corbin wins, he becomes full-time general manager of Raw.
Note- As per the latest rumors, this match may not take place due to injury to Strowman.
11.

Seth Rollins (c) vs. Dean Ambrose (Intercontinental Championship)
Since Ambrose returned from injury and turned on his former friend, the two men have been the focal point of Raw each week. Survivor Series hadn't even ended before we learned that these two would be going at each other for the first time since Ambrose turned on Rollins after capturing the Raw tag team titles recently. Rollins was informed in a backstage segment following his victory over Shinsuke Nakamura that he would finally be able to get his hands on Ambrose, and he seemed rather excited about the upcoming title defense.
12.

Daniel Bryan (c) vs. AJ Styles (WWE Championship)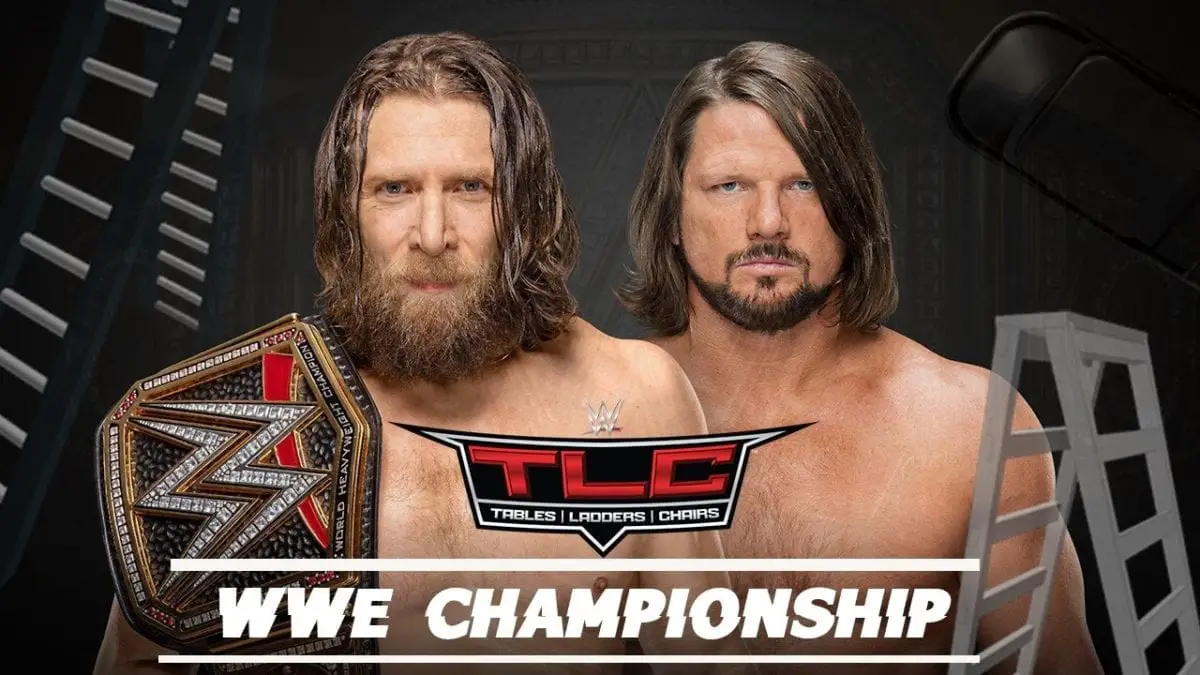 Daniel Bryan will defend his WWE Championship against Styles at TLC in San Jose, California on December 16. Styles' gets another shot to regain the title. These two fought in an impromptu matchup for the WWE Championship last month on Smackdown, and Bryan did the unthinkable, completely foregoing good-sportsmanship and kicking Styles below the belt when the referee wasn't looking. Right or wrong, the maneuver gave him the advantage and, moments later, the WWE Title.
Results
| NO. | Matches | Winner | Match Type | Championship | Time |
| --- | --- | --- | --- | --- | --- |
| 1P | Cedric Alexander vs Buddy Murphy | Buddy Murphy | Singles match | WWE Cruiserweight Championship | 10:35 |
| 2P | Bobby Lashley vs Elias  | Elias | Ladder match | | 6:20 |
| 3 | Fabulous Truth (Carmella & R-Truth) vs Mahalicia (Jinder Mahal & Alicia Fox)  | Fabulous Truth (Carmella and R-Truth) | Mixed Match Challenge | | 5:50 |
| 4 | The Bar (Cesaro & Sheamus)  vs The New Day (Xavier Woods & Kofi Kingston) & The Usos (Jey Uso & Jimmy Uso) | The Bar (Cesaro and Sheamus)   | Triple threat tag team match | WWE SmackDown Tag Team Championship | 12:15 |
| 5 | Braun Strowman vs Baron Corbin | Braun Strowman | Tables, Ladders, & Chairs match | | 16:00 |
| 6 | Ruby Riott vs Natalya | Natalya | Tables match | | 12:40 |
| 7 |  Drew McIntyre vs Finn Bálor | Finn Bálor | Singles match | | 12:20 |
| 8 | Rey Mysterio vs Randy Orton | Rey Mysterio | Chairs match | | 11:30 |
| 9 | Ronda Rousey vs Nia Jax | Ronda Rousey | Singles match | WWE Raw Women's Championship | 10:50 |
| 10 | Daniel Bryan vs AJ Styles | Daniel Bryan | Singles match | WWE Championship | 23:55 |
| 11 | Dean Ambrose vs Seth Rollins  | Dean Ambrose | Singles match | WWE Intercontinental Championship | 23:00 |
| 12M | Asuka vs Becky Lynch and Charlotte Flair | Asuka | Triple threat Tables, Ladders, & Chairs match | WWE SmackDown Women's Championship | 21:45 |
Official Website: WWE TLC