WWE SmackDown Ratings: Latest & All-Time Viewerships & Ratings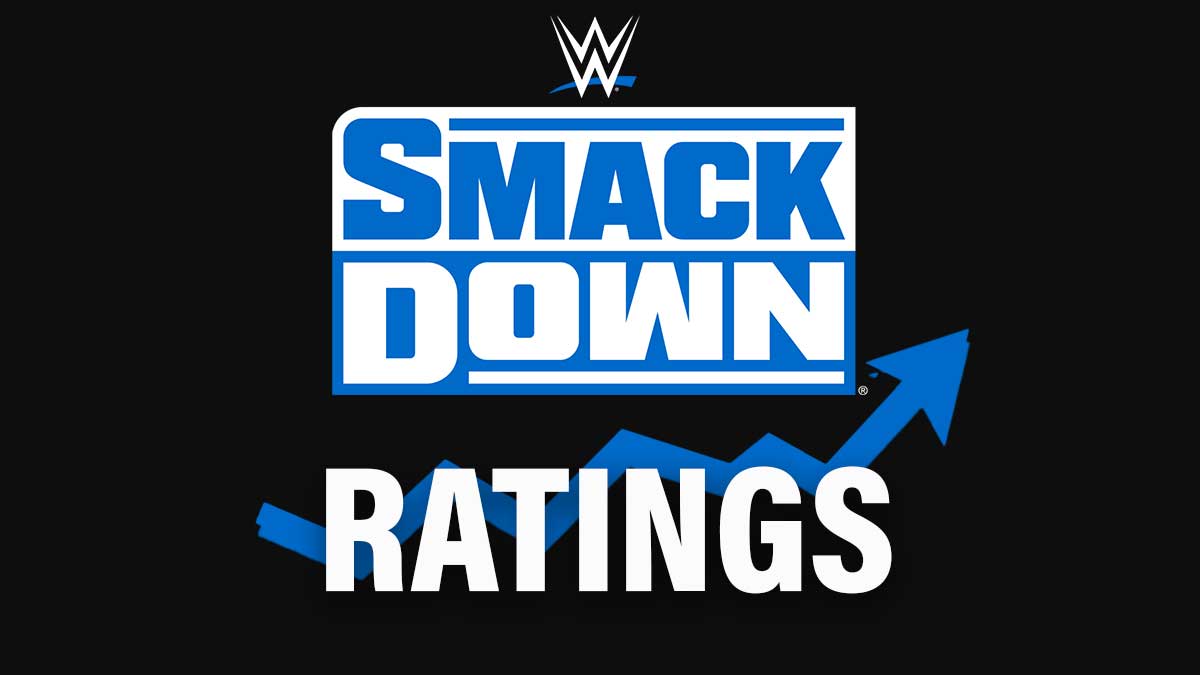 WWE SmackDown episode of June 02, 2023, had an average viewership of 2.563 million viewers in overall rating over two hours of the show. The 18-49 demographic rating is 0.73.
Below is the complete year-wise and episode-wise ratings for WWE SmackDown episodes.
2023
| DATE | VIEWERSHIP | vs PREVIOUS WEEK | 18-49 DEMOGRAPHICS |
| --- | --- | --- | --- |
| 02 June | 2563000 | +405000 | 0.73 |
| 26 May | 2158000 | +25000 | 0.58 |
| 19 May | 2133000 | -16000 | 0.53 |
| 12 May | 2149000 | +90000 | 0.56 |
| 05 May | 2059000 | -414000 | 0.52 |
| 28 April | 2473000 | +298000 | 0.67 |
| 21 April | 2175000 | -90000 | 0.54 |
| 14 April | 2265000 | -203000 | 0.58 |
| 7 April | 2468000 | +95000 | 0.66 |
| 31 March | 2373000 | +154000 | 0.69 |
| 24 March | 2219000 | -39000 | 0.58 |
| 17 March | 2258000 | +62000 | 0.59 |
| 10 March | 2320000 | -131000 | 0.63 |
| 03 March | 2451000 | +43000 | 0.59 |
| 24 February | 2408000 | +21000 | 0.62 |
| 17 February | 2383000 | -85000 | 0.58 |
| 10 February | 2468000 | +84000 | 0.64 |
| 03 February | 2384000 | -160000 | 0.61 |
| 27 January | 2544000 | +287000 | 0.67 |
| 20 January | 2257000 | -69000 | 0.55 |
| 13 January | 2326000 | +69000 | 0.55 |
| 6 January | 2257000 | -372000 | 0.53 |
2022
| DATE | VIEWERSHIP | vs PREVIOUS WEEK | 18-49 DEMOGRAPHICS |
| --- | --- | --- | --- |
| 30 December | 2629000 | +253000 | 0.64 |
| 23 December | 2376000 | +225000 | 0.55 |
| 16 December | 2151000 | -153000 | 0.52 |
| 9 December | 2306000 | +1404000 | 0.57 |
| 2 December | 902000 | -1264000 | 0.25 |
| 25 November | 2166000 | -66000 | 0.54 |
| 18 November | 2232000 | -32000 | 0.56 |
| 11 November | 2264000 | +126000 | 0.58 |
| 4 November | 2138000 | +1303000 | 0.48 |
| 28 October | 835000 | -1396000 | 0.23 |
| 21 October | 2231000 | -23000 | 0.52 |
| 14 October | 2254000 | +11000 | 0.54 |
| 07 October | 2243000 | +36000 | 0.54 |
| 30 September | 2207000 | -328000 | 0.54 |
| 23 September | 2535000 | +323000 | 0.63 |
| 16 September | 2212000 | +155000 | 0.50 |
| 09 September | 2367000 | +290000 | 0.57 |
| 02 September | 2077000 | +87000 | 0.49 |
| 26 August | 1990000 | -94000 | 0.48 |
| 19 August | 2084000 | +157000 | 0.47 |
| 12 August | 1927000 | -166000 | 0.44 |
| 05 August | 2093000 | -100000 | 0.49 |
| 29 July | 2193000 | -63000 | 0.52 |
| 22 July | 2256000 | +179000 | 0.62 |
| 15 July | 2077000 | -52000 | 0.47 |
| 08 July | 2129000 | -13000 | 0.47 |
| 01 July | 2142000 | +89000 | 0.49 |
| 24 June | 2231000 | -59000 | 0.53 |
| 17 June | 2290000 | +259000 | 057 |
| 10 June | 2031000 | +92000 | 0.44 |
| 03 June | 1939000 | +61000 | 0.47 |
| 28 May | 1878000 | -153000 | 0.43 |
| 20 May | 2031000 | +138000 | 0.45 |
| 13 May | 1893000 | -105000 | 0.40 |
| 06 May | 1998000 | +45000 | 0.46 |
| 29 April | 1953000 | +1000 | 0.38 |
| 22 April | 1952000 | -169000 | 0.47 |
| 15 April | 2142000 | -82000 | 0.48 |
| 08 April | 2230000 | -129000 | 0.60 |
| 01 April | 2359000 | +179000 | 0.61 |
| 25 March | 2180000 | +33000 | 0.49 |
| 18 March | 2147000 | -79000 | 0.58 |
| 11 March | 2226000 | -36000 | 0.57 |
| 04 March | 2261000 | +147000 | 0.59 |
| 25 February | 2114000 | +59000 | 0.57 |
| 18 February | 2173000 | -58000 | 0.54 |
| 11 February | 2231000 | +80000 | 0.55 |
| 04 February | 2151000 | -66000 | 0.51 |
| 28 January | 2217000 | -38000 | 0.56 |
| 21 January | 2255000 | +81000 | 0.64 |
| 14 January | 2174000 | -97000 | 0.56 |
| 07 January | 2271000 | +299000 | 0.58 |
2021
| DATE | VIEWERSHIP | vs PREVIOUS WEEK | 18-49 DEMOGRAPHICS |
| --- | --- | --- | --- |
| 24 Dec | 1972000 | -331000 | 0.48 |
| 17 Dec | 2303000 | +162000 | 0.52 |
| 10 Dec | 2142000 | +101200 | 0.50 |
| 03 Dec | 2030000 | -119000 | 0.51 |
| 26 Nov | 2149000 | +85000 | 0.57 |
| 19 Nov | 2064000 | -40000 | 0.52 |
| 12 Nov | 2104000 | +11000 | 0.56 |
| 05 Nov | 2093000 | +1061000 | 0.57 |
| 29 -Oct | 1032000 | -1217000 | 0.29 |
| 22- Oct | 2249000 | +1383000 | 0.58 |
| 15- Oct | 866,000 | -1281000 | 0.24 |
| 08- Oct | 2147000 | -105000 | 0.52 |
| 01- Oct | 2252000 | +117000 | 0.62 |
| 24-Sep | 2135000 | -108000 | 0.55 |
| 17-Sep | 2243000 | 140000 | 0.58 |
| 10-Sep | 2383000 | 183000 | 0.65 |
| 03-Sep | 2200000 | -103000 | 0.60 |
| 27-Aug | 2250000 | 148000 | 0.59 |
| 20-Aug | 2102000 | 18000 | 0.57 |
| 13-Aug | 2084000 | -85000 | 0.58 |
| 06-Aug | 2169000 | 126000 | 0.61 |
| 30-Jul | 2043000 | -94000 | 0.57 |
| 23-Jul | 2137000 | -173000 | 0.55 |
| 16-Jul | 2310000 | 324000 | 0.66 |
| 09-Jul | 1986000 | 125000 | 0.48 |
| 02-Jul | 1861000 | -110000 | 0.46 |
| 25-Jun | 1971000 | -74000 | 0.54 |
| 18-Jun | 2045000 | 51000 | 0.54 |
| 11-Jun | 1994000 | 111000 | 0.48 |
| 04-Jun | 1883000 | -45000 | 0.5 |
| 28-May |  1928000 | -5000 | 0.5 |
| 21-May |  1933000 | 16000 | 0.5 |
| 14-May |  1917000 | -365000 | 0.44 |
| 07-May |  2282000 | 264000 | 0.65 |
| 30-Apr |  2018000 | -103000 | 0.49 |
| 23-Apr |  2121000 | 2000 | 0.54 |
| 16-Apr |  2119000 | -131000 | 0.56 |
| 09-Apr |  2250000 | 113000 | 0.61 |
| 02-Apr |  2137000 | -54000 | 0.57 |
| 26-Mar |  2191000 | 98000 | 0.57 |
| 19-Mar |  2093000 | -78000 | 0.57 |
| 12-Mar |  2171000 | -81000 | 0.61 |
| 05-Mar |  2252000 | 107000 | 0.6 |
| 26-Feb |  2145000 | -72000 | 0.54 |
| 19-Feb |  2217000 | 227000 | 0.59 |
| 12-Feb |  1990000 | -267000 | 0.57 |
| 05-Feb |  2257000 | -47000 | 0.65 |
| 29-Jan |  2304000 | -79000 | 0.62 |
| 22-Jan |  2383000 | 121000 | 0.63 |
| 15-Jan |  2262000 | 142000 | 0.67 |
| 08-Jan |  2120000 | 107000 | 0.56 |
| 01-Jan |  2013000 | -1290000  | 0.53 |
2020
| DATE | VIEWERSHIP | vs PREVIOUS WEEK | 18-49 DEMOGRAPHICS |
| --- | --- | --- | --- |
| 25-Dec | 3303000 | 2273000 | 0.96 |
| 18-Dec | 1030000 | -1176000 | 0.3 |
| 11-Dec |  2206000 | 76000 | 0.6 |
| 04-Dec |  2130000 | -11000 | 0.6 |
| 27-Nov |  2141000 | -185000 | 0.6 |
| 20-Nov |  2326000 | 92000 | 0.7 |
| 13-Nov |  2234000 | -81000 | 0.6 |
| 06-Nov |  2315000 | 29000 | 0.7 |
| 30-Oct |  2286000 | 1405000  | 0.7 |
| 23-Oct |  881000 | – 1243000 | 0.25 |
| 16-Oct |  2124000 | -54000 | 0.6 |
| 09-Oct |  2178000 | 23000 | 0.6 |
| 02-Oct |  2155000 | 45000 | 0.6 |
| 25-Sep |  2110000 | 73000 | 0.6 |
| 18-Sep |  2037000 | 292000 | 0.5 |
| 11-Sep |  2329000 | 200000 | 0.6 |
| 04-Sep |  2129000 | -15000 | 0.6 |
| 28-Aug |  2144000 | -54000 | 0.6 |
| 21-Aug |  2198000 | 196000 | 0.6 |
| 14-Aug |  2002000 | 40000 | 0.6 |
| 07-Aug |  1962000 | 68000 | 0.5 |
| 31-Jul |  1894000 | -30000 | 0.5 |
| 24-Jul |  1924000 | 12000 | 0.5 |
| 17-Jul |  1912000 | 12000 | 0.5 |
| 10-Jul |  1900000 | 123000 | 0.5 |
| 03-Jul |  1777000 | -397000 | 0.4 |
| 26-Jun |  2174000 | 102000 | 0.5 |
| 19-Jun |  2072000 | 7000 | 0.5 |
| 12-Jun |  2065000 | 81000 | 0.5 |
| 05-Jun |  1984000 | -186000 | 0.5 |
| 29-May |  2170000 | 126000 | 0.6 |
| 22-May |  2044000 | 2000 | 0.5 |
| 15-May |  2042000 | 17000 | 0.5 |
| 08-May |  2025000 | 140000 | 0.5 |
| 01-May |  1885000 | -120000 | 0.5 |
| 24-Apr |  2005000 | -182000 | 0.5 |
| 17-Apr |  2187000 | -130000 | 0.6 |
| 10-Apr |  2317000 | -81000 | 0.6 |
| 03-Apr |  2398000 | 31000 | 0.6 |
| 27-Mar |  2367000 | -202000 | 0.8 |
| 20-Mar |  2569000 | 99000 | 0.8 |
| 13-Mar |  2470000 | 14000 | 0.7 |
| 06-Mar |  2456000 | -231000 | 0.7 |
| 28-Feb |  2687000 | 203000 | 0.8 |
| 21-Feb |  2484000 | 20000 | 0.7 |
| 14-Feb |  2464000 | -74000 | 0.7 |
| 07-Feb |  2538000 | 116000 | 0.8 |
| 31-Jan |  2422000 | -26000 | 0.7 |
| 24-Jan |  2448000 | -114000 | 0.7 |
| 17-Jan |  2562000 | 65000 | 0.8 |
| 10-Jan |  2497000 | 84000 | 0.8 |
| 03-Jan |  2413000 | -26000 | 0.7 |
2019
DATE
VIEWERSHIP
vs PREVIOUS WEEK
27- Dec
2439000
+25000
0.65
20- Dec
2414000
+75000
0.7
13- Dec
2339000
-107000
0.65
6- Dec
2446000
+110000
0.7
29- Nov
2336000
-264000
0.7
22- Nov
2600000
+250000
0.8
15- Nov
2350000
-267000
0.7
8- Nov
2617000
+74000
0.85
1- Nov
2543000
25- Oct
888000
0.27
18- Oct
2441000
-457000
0.75
11-Oct
2898000
-971000
0.95
4- Oct
3869000
+1770000
1.3
24- Sep
2099000
+35000
0.67
17-Sep
2064000
+3000
0.63
10-Sep
2061000
-69000
0.62
03-Sep
2130000
+42000
0.65
27-Aug
2088000
-54000
0.64
20-Aug
2142000
-22000
0.68
13-Aug
2164000
+76000
0.67
6-Aug
2088000
+177000
0.63
30-July
1911000
-251000
0.57
23-July
2162000
+40000
0.65
16-July
2122000
+269000
0.65
9-July
1853000
-37000
0.53
2-July
1890000
-31000
0.56
25-Jun
1921000
+62000
0.62
18-Jun
1859000
-71000
0.56
11-Jun
1930000
-86000
0.60
4-Jun
2016000
-56000
0.60
28-May
2072000
+89000
0.69
21-May
1983000
+156000
0.61
14-May
1827000
-104000
0.56
7-May
1931000
+98000
0.58
30-Apr
1833000
-239000
0.54
23-Apr
2072000 
-147000
0.71
16-Apr
2219000
+20000
9-Apr
2199000
+58000
2-Apr
2141000
-252000
26-Mar
2393000
+185000
19-Mar
2208000
+10000
12-Mar
2198000
+43000
5-Mar
2155000
+5000
26-Feb
2150000
-119000
19-Feb
2269000
+235000
12-Feb
2034000
+193000
5-Feb
1841000
-296000
29-Jan
2137000
-5000
22-Jan
2142000
-1000
15-Jan
2143000
+111000
8-Jan
2032000
-59000
1-Jan
2091000
187000
2018
| DATE | VIEWERSHIP | vs PREVIOUS WEEK |
| --- | --- | --- |
| 25-Dec | 1904000 | -310000 |
| 18-Dec | 2214000 | 237000 |
| 11-Dec | 1977000 | 29000 |
| 04-Dec |  1948000 | -316000 |
| 27-Nov |  2264000 | 114000 |
| 20-Nov |  2150000 | -162000 |
| 13-Nov |  2312000 | 224000 |
| 06-Nov |  2088000 | -22000 |
| 30-Oct |  2110000 | 23000 |
| 23-Oct |  2087000 | -458000 |
| 16-Oct |  2545000 | 410000 |
| 09-Oct |  2135000 | 40000 |
| 02-Oct |  2095000 | -98000 |
| 25-Sep |  2193000 | -88000 |
| 18-Sep |  2281000 | 52000 |
| 11-Sep |  2229000 | -90000 |
| 04-Sep |  2319000 | -31000 |
| 28-Aug |  2350000 | -87000 |
| 21-Aug |  2437000 | 248000 |
| 14-Aug |  2189000 | -8000 |
| 07-Aug |  2197000 | -204000 |
| 31-Jul |  2401000 | 61000 |
| 24-Jul |  2340000 | 47000 |
| 17-Jul |  2293000 | 110000 |
| 10-Jul |  2183000 | 170000 |
| 03-Jul |  2013000 | -122000 |
| 26-Jun |  2135000 | -180000 |
| 19-Jun |  2315000 | 132000 |
| 12-Jun |  2183000 | 45000 |
| 05-Jun |  2138000 | -57000 |
| 29-May |  2195000 | 0 |
| 22-May |  2195000 | -103000 |
| 15-May |  2298000 | 5000 |
| 08-May |  2293000 | -143000 |
| 01-May |  2436000 | -113000 |
| 24-Apr |  2549000 | -247000 |
| 17-Apr |  2796000 | -156000 |
| 10-Apr |  2952000 | 485000 |
| 03-Apr |  2467000 | -109000 |
| 27-Mar |  2576000 | -312000 |
| 20-Mar |  2888000 | 117000 |
| 13-Mar |  2771000 | 181000 |
| 06-Mar |  2590000 | -102000 |
| 27-Feb |  2692000 | 79000 |
| 20-Feb |  2613000 | 164000 |
| 13-Feb |  2449000 | -56000 |
| 06-Feb |  2505000 | -4000 |
| 30-Jan |  2509000 | -71000 |
| 23-Jan |  2580000 | -22000 |
| 16-Jan |  2602000 | -1000 |
| 09-Jan | 2603000 | -117000 |
| 02-Jan | 2720000 | 64000 |
2017
| DATE | VIEWERSHIP | vs PREVIOUS WEEK |
| --- | --- | --- |
| 26-Dec | 2656000 | 78000 |
| 19-Dec | 2578000 | 97000 |
| 12-Dec | 2481000 | -12000 |
| 05-Dec | 2493000 | -187000 |
| 28-Nov | 2680000 | 18000 |
| 21-Nov | 2662000 | 55000 |
| 14-Nov | 2607000 | 4000 |
| 07-Nov | 2603000 | 484000 |
| 31-Oct | 2119000 | -580000 |
| 24-Oct | 2699000 | 379000 |
| 17-Oct | 2320000 | -147000 |
| 10-Oct | 2467000 | 144000 |
| 03-Oct | 2323000 | -219000 |
| 26-Sep | 2542000 | 32000 |
| 19-Sep | 2510000 | -244000 |
| 12-Sep | 2754000 | 172000 |
| 05-Sep | 2582000 | 127000 |
| 29-Aug | 2455000 | -230000 |
| 22-Aug | 2685000 | 155000 |
| 15-Aug | 2530000 | -54000 |
| 08-Aug | 2584000 | 15000 |
| 01-Aug | 2569000 | 34000 |
| 25-Jul | 2535000 | -13000 |
| 18-Jul | 2548000 | 83000 |
| 11-Jul | 2465000 | 136000 |
| 04-Jul | 2329000 | -274000 |
| 27-Jun | 2603000 | 6000 |
| 20-Jun | 2597000 | 525000 |
| 13-Jun | 2072000 | -277000 |
| 06-Jun | 2349000 | -1000 |
| 30-May | 2350000 | 22000 |
| 23-May | 2328000 | 153000 |
| 16-May | 2175000 | -173000 |
| 09-May | 2348000 | 48000 |
| 02-May | 2300000 | -193000 |
| 25-Apr | 2493000 | -51000 |
| 18-Apr | 2544000 | -561000 |
| 11-Apr | 3105000 | 220000 |
| 04-Apr | 2885000 | 187000 |
| 28-Mar | 2698000 | 51000 |
| 21-Mar | 2647000 | 19000 |
| 14-Mar | 2628000 | -110000 |
| 07-Mar | 2738000 | 172000 |
| 28-Feb | 2566000 | 226000 |
| 21-Feb | 2792000 | 166000 |
| 14-Feb | 2626000 | -1000 |
| 07-Feb | 2627000 | -190000 |
| 31-Jan | 2817000 | 261000 |
| 24-Jan | 2556000 | -96000 |
| 17-Jan | 2652000 | 119000 |
| 10-Jan | 2533000 | -63000 |
| 03-Jan | 2596000 | |
2016
| DATE | VIEWERSHIP | vs PREVIOUS WEEK |
| --- | --- | --- |
| 25-Dec | 2637000 | +276000 |
| 18-Dec | 2361000 | -118000 |
| 11-Dec | 2479000 | -97000 |
| 04-Dec | 2576000 | +71000 |
| 27-Nov | 2505000 | -220000 |
| 20-Nov | 2725000 | +804000 |
| 13-Nov | 1921000 | -266000 |
| 06-Nov | 2187000 | +60000 |
| 0-Oct | 2127000 | -278000 |
| 23-Oct | 2405000 | -43000 |
| 16-Oct | 2448000 | +132000 |
| 09-Oct | 2316000 | -24000 |
| 02-Oct | 2340000 | -48000 |
| 25-Sep | 2292000 | -366000 |
| 18-Sep | 2658000 | +204000 |
| 10-Sep | 2454000 | -381000 |
| 03-Sep | 2835000 | +121000 |
| 28-Aug | 2714000 | +243000 |
| 21-Aug | 2471000 | -16000 |
| 14-Aug | 2455000 | -186000 |
| 07-Aug | 2641000 | -102000 |
| 31-Jul | 2743000 | -427000 |
| 24-Jul | 3170000 | +1102000 |
| 17-Jul | 2068000 | -173000 |
| 10-Jul | 2241000 | +161000 |
| 03-Jul | 2080000 | -65000 |
| 26-Jun | 2145000 | +72000 |
| 19-Jun | 2073000 | +77000 |
| 12-Jun | 1996000 | -173000 |
| 05-Jun | 2169000 | +57000 |
| 29-May | 2112000 | -183000 |
| 22-May | 2295000 | +33000 |
| 15-May | 2262000 | -84000 |
| 08-May | 2346000 | +237000 |
| 01-May | 2109000 | -322000 |
| 24-Apr | 2431000 | +76000 |
| 17-Apr | 2355000 | -89000 |
| 10-Apr | 2444000 | +116000 |
| 03-Apr | 2328000 | -173000 |
| 27-Mar | 2501000 | +241000 |
| 20-Mar | 2260000 | +74000 |
| 13-Mar | 2186000 | -305000 |
| 06-Mar | 2491000 | +96000 |
| 28-Feb | 2395000 | -63000 |
| 21-Feb | 2458000 | +44000 |
| 14-Feb | 2414000 | -250000 |
| 07-Feb | 2664000 | -56000 |
| 31-Jan | 2720000 | -37000 |
| 24-Jan | 2757000 | +425000 |
| 17-Jan | 2332000 | -425000 |
| 10-Jan | 2757000 | +1099000 |
| 03-Jan | 1658000 | |
2015
| DATE | VIEWERSHIP | vs PREVIOUS WEEK |
| --- | --- | --- |
| 27-Dec | 1228000 | -1104000 |
| 20-Dec | 2332000 | +199000 |
| 13-Dec | 2133000 | +89000 |
| 06-Dec | 2044000 | -392000 |
| 29-Nov | 1652000 | -577000 |
| 22-Nov | 2229000 | 0 |
| 15-Nov | 2290000 | +167000 |
| 08-Nov | 2123000 | -47000 |
| 01-Nov | 2170000 | -30000 |
| 25-Oct | 2200000 | +110000 |
| 18-Oct | 2090000 | -60000 |
| 11-Oct | 2150000 | +20000 |
| 04-Oct | 2130000 | -10000 |
| 27-Sep | 2140000 | +60000 |
| 20-Sep | 2080000 | +40000 |
| 13-Sep | 2040000 | +60000 |
| 06-Sep | 1980000 | -220000 |
| 30-Aug | 2200000 | -230000 |
| 23-Aug | 2430000 | +350000 |
| 16-Aug | 2080000 | -330000 |
| 09-Aug | 2410000 | -30000 |
| 02-Aug | 2440000 | +90000 |
| 26-Jul | 2350000 | +200000 |
| 19-Jul | 2150000 | -240000 |
| 12-Jul | 2390000 | +120000 |
| 05-Jul | 2270000 | -230000 |
| 28-Jun | 2500000 | +30000 |
| 21-Jun | 2470000 | -140000 |
| 14-Jun | 2610000 | +260000 |
| 07-Jun | 2350000 | -220000 |
| 31-May | 2570000 | -20000 |
| 24-May | 2590000 | +60000 |
| 17-May | 2530000 | -50000 |
| 10-May | 2580000 | +240000 |
| 03-May | 2340000 | -300000 |
| 26-Apr | 2640000 | +190000 |
| 19-Apr | 2450000 | -180000 |
| 12-Apr | 2630000 | -110000 |
| 05-Apr | 2740000 | +230000 |
| 29-Mar | 2510000 | -90000 |
| 22-Mar | 2600000 | +30000 |
| 15-Mar | 2570000 | -120000 |
| 08-Mar | 2690000 | +70000 |
| 01-Mar | 2620000 | +220000 |
| 22-Feb | 2400000 | -200000 |
| 15-Feb | 2600000 | +160000 |
| 08-Feb | 2440000 | -510000 |
| 01-Feb | 2950000 | +136000 |
| 25-Jan | 2814000 | +139000 |
| 18-Jan | 2675000 | +243000 |
| 11-Jan | 2432000 | -150000 |
| 04-Jan | 2582000 | |
2014
| DATE | VIEWERSHIP | vs PREVIOUS WEEK |
| --- | --- | --- |
| 05-Jan | 2620000 | |
| 12-Jan | 2820000 | +200000 |
| 19-Jan | 2920000 | +100000 |
| 26-Jan | 3030000 | +110000 |
| 02-Feb | 3030000 | 0 |
| 09-Feb | 3200000 | +170000 |
| 16-Feb | 2830000 | -370000 |
| 23-Feb | 2730000 | -100000 |
| 02-Mar | 2800000 | +70000 |
| 09-Mar | 3140000 | +340000 |
| 16-Mar | 2800000 | -340000 |
| 23-Mar | 2600000 | -200000 |
| 30-Mar | 3060000 | +440000 |
| 06-Apr | 2710000 | -350000 |
| 13-Apr | 2720000 | +10000 |
| 20-Apr | 2760000 | +40000 |
| 27-Apr | 2670000 | -90000 |
| 04-May | 2270000 | -400000 |
| 11-May | 2280000 | +10000 |
| 18-May | 2490000 | +210000 |
| 25-May | 2540000 | +50000 |
| 01-Jun | 2440000 | -100000 |
| 08-Jun | 2780000 | +340000 |
| 15-Jun | 2320000 | -460000 |
| 22-Jun | 2760000 | +440000 |
| 29-Jun | 2970000 | +210000 |
| 06-Jul | 1880000 | -1090000 |
| 13-Jul | 2540000 | -660000 |
| 20-Jul | 2890000 | +350000 |
| 27-Jul | 2720000 | -170000 |
| 03-Aug | 2710000 | -10000 |
| 10-Aug | 2640000 | -70000 |
| 17-Aug | 2540000 | -100000 |
| 24-Aug | 2460000 | -80000 |
| 31-Aug | 2730000 | +270000 |
| 07-Sep | 2760000 | +30000 |
| 14-Sep | 2820000 | +60000 |
| 21-Sep | 2630000 | -190000 |
| 28-Sep | 2320000 | -310000 |
| 05-Oct | 2750000 | +430000 |
| 12-Oct | 2670000 | -80000 |
| 19-Oct | 2690000 | +20000 |
| 26-Oct | 2280000 | -410000 |
| 02-Nov | 2210000 | -70000 |
| 09-Nov | 2430000 | +220000 |
| 16-Nov | 2720000 | +290000 |
| 23-Nov | 2880000 | +160000 |
| 30-Nov | 3050000 | +170000 |
| 07-Dec | 2480000 | -570000 |
| 14-Dec | 2530000 | +50000 |
| 21-Dec | 2000000 | -530000 |
| 28-Dec | 2490000 | -490000 |
2013
| DATE | VIEWERSHIP | vs PREVIOUS WEEK |
| --- | --- | --- |
| 29-Dec | 2850000 | +130000 |
| 22-Dec | 2720000 | +30000 |
| 15-Dec | 2690000 | -150000 |
| 08-Dec | 2840000 | -200000 |
| 01-Dec | 2640000 | -470000 |
| 24-Nov | 3110000 | +430000 |
| 17-Nov | 2680000 | -270000 |
| 10-Nov | 2950000 | +220000 |
| 03-Nov | 2730000 | -50000 |
| 27-Oct | 2680000 | +40000 |
| 20-Oct | 2640000 | +190000 |
| 13-Oct | 2450000 | -60000 |
| 06-Oct | 2510000 | -120000 |
| 29-Sep | 2630000 | -30000 |
| 22-Sep | 2600000 | -230000 |
| 15-Sep | 2830000 | -360000 |
| 08-Sep | 2470000 | -320000 |
| 01-Sep | 2790000 | +220000 |
| 25-Aug | 2570000 | +170000 |
| 18-Aug | 2400000 | -90000 |
| 11-Aug | 2490000 | -260000 |
| 04-Aug | 2750000 | +100000 |
| 28-Jul | 2650000 | -70000 |
| 21-Jul | 2580000 | +300000 |
| 14-Jul | 2280000 | -100000 |
| 07-Jul | 2380000 | +120000 |
| 30-Jun | 2260000 | -20000 |
| 23-Jun | 2280000 | -40000 |
| 16-Jun | 2320000 | -310000 |
| 09-Jun | 2630000 | -220000 |
| 02-Jun | 2410000 | -60000 |
| 26-May | 2470000 | +30000 |
| 19-May | 2440000 | -90000 |
| 12-May | 2530000 | +60000 |
| 05-May | 2470000 | -280000 |
| 28-Apr | 2750000 | +160000 |
| 21-Apr | 2590000 | -250000 |
| 14-Apr | 2840000 | +300000 |
| 07-Apr | 2540000 | -310000 |
| 31-Mar | 2850000 | -140000 |
| 24-Mar | 2990000 | -600000 |
| 17-Mar | 2390000 | -45000 |
| 10-Mar | 2840000 | +20000 |
| 03-Mar | 2820000 | -70000 |
| 24-Feb | 2890000 | +210000 |
| 17-Feb | 2680000 | -510000 |
| 10-Feb | 3190000 | +220000 |
| 03-Feb | 2970000 | +60000 |
| 27-Jan | 3030000 | +150000 |
| 20-Jan | 2880000 | +250000 |
| 13-Jan | 3130000 | +410000 |
| 06-Jan | 2720000 | |
2012
| DATE | VIEWERSHIP | vs PREVIOUS WEEK |
| --- | --- | --- |
| 30-Dec | 2660000 | +810000 |
| 23-Dec | 1850000 | -780000 |
| 16-Dec | 2630000 | +80000 |
| 09-Dec | 2550000 | -20000 |
| 02-Dec | 2530000 | -40000 |
| 25-Nov | 2570000 | -240000 |
| 18-Nov | 2810000 | +650000 |
| 11-Nov | 2160000 | -660000 |
| 04-Nov | 2820000 | 0 |
| 28-Oct | 2820000 | -110000 |
| 21-Oct | 2930000 | +360000 |
| 14-Oct | 2570000 | +180000 |
| 07-Oct | 2390000 | -240000 |
| 30-Sep | 2630000 | -230000 |
| 23-Sep | 2860000 | +170000 |
| 16-Sep | 2690000 | -260000 |
| 09-Sep | 2950000 | -290000 |
| 02-Sep | 2660000 | +70000 |
| 26-Aug | 2590000 | -20000 |
| 19-Aug | 2610000 | -120000 |
| 12-Aug | 2730000 | -50000 |
| 05-Aug | 2780000 | -50000 |
| 29-Jul | 2830000 | -130000 |
| 22-Jul | 2960000 | -460000 |
| 15-Jul | 2500000 | -370000 |
| 08-Jul | 2130000 | +500000 |
| 01-Jul | 2630000 | -340000 |
| 24-Jun | 2970000 | -560000 |
| 17-Jun | 2410000 | -70000 |
| 10-Jun | 2480000 | -80000 |
| 03-Jun | 2560000 | -70000 |
| 27-May | 2630000 | -170000 |
| 20-May | 2800000 | -270000 |
| 13-May | 2530000 | -180000 |
| 06-May | 2710000 | +30000 |
| 29-Apr | 2680000 | -50000 |
| 22-Apr | 2730000 | +420000 |
| 15-Apr | 2310000 | -410000 |
| 08-Apr | 2720000 | +240000 |
| 01-Apr | 2480000 | -280000 |
| 25-Mar | 2760000 | -800000 |
| 18-Mar | 2840000 | -260000 |
| 11-Mar | 3100000 | +190000 |
| 04-Mar | 2910000 | +670000 |
| 26-Feb | 2240000 | -710000 |
| 19-Feb | 2950000 | -310000 |
| 12-Feb | 3260000 | +70000 |
| 05-Feb | 3190000 | +50000 |
| 29-Jan | 3140000 | -180000 |
| 22-Jan | 3320000 | +190000 |
| 15-Jan | 3130000 | +540000 |
| 08-Jan | 2590000 | |
2011
| DATE | VIEWERSHIP | vs PREVIOUS WEEK | |
| --- | --- | --- | --- |
| 25-Dec | 2740000 | -140000 | |
| 18-Dec | 2880000 | -360000 | |
| 11-Dec | 3240000 | +1290000 | |
| 04-Dec | 1950000 | -980000 | |
| 27-Nov | 2930000 | -10000 | |
| 20-Nov | 2940000 | -10000 | |
| 13-Nov | 2950000 | -320000 | |
| 06-Nov | 3270000 | -430000 | |
| 30-Oct | 2840000 | -270000 | |
| 23-Oct | 3110000 | -60000 | |
| 16-Oct | 3170000 | +140000 | |
| 09-Oct | 3030000 | +90000 | |
| 02-Oct | 2940000 | -320000 | |
| 25-Sep | 3260000 | +650000 | |
| 18-Sep | 2610000 | -300000 | |
| 11-Sep | 2910000 | +1250000 | |
| 04-Sep | 1660000 | -1010000 | |
| 28-Aug | 2670000 | -250000 | |
| 21-Aug | 2920000 | +280000 | |
| 14-Aug | 2640000 | +70000 | |
| 07-Aug | 2570000 | -260000 | |
| 31-Jul | 2830000 | +10000 | |
| 24-Jul | 2820000 | +270000 | |
| 17-Jul | 2550000 | -170000 | |
| 10-Jul | 2720000 | +390000 | |
| 03-Jul | 2330000 | -70000 | |
| 26-Jun | 2400000 | -310000 | |
| 19-Jun | 2710000 | 0 | |
| 12-Jun | 2710000 | +50000 | |
| 05-Jun | 2660000 | -320000 | |
| 29-May | 2980000 | +90000 | |
| 22-May | 2890000 | +250000 | |
| 15-May | 2640000 | -150000 | |
| 08-May | 2790000 | -270000 | |
| 01-May | 3060000 | +230000 | |
| 24-Apr | 2830000 | -150000 | |
| 17-Apr | 2980000 | -280000 | |
| 10-Apr | 3260000 | +290000 | |
| 03-Apr | 2970000 | -20000 | |
| 27-Mar | 2990000 | -110000 | |
| 20-Mar | 3100000 | +30000 | |
| 13-Mar | 3070000 | +70000 | |
| 06-Mar | 3000000 | -550000 | |
| 27-Feb | 3550000 | +300000 | |
| 20-Feb | 3250000 | -700000 | |
| 13-Feb | 2550000 | -670000 | |
| 06-Feb | 3220000 | +200000 | |
| 30-Jan | 3020000 | -280000 | |
| 23-Jan | 3300000 | +320000 | |
| 16-Jan | 2980000 | +130000 | |
| 09-Jan | 2850000 | | |
2010
| DATE | VIEWERSHIP | vs PREVIOUS WEEK | |
| --- | --- | --- | --- |
| 26-Dec | 1520000 | -1100000 | |
| 19-Dec | 2620000 | -20000 | |
| 12-Dec | 2640000 | +20000 | |
| 05-Dec | 2620000 | +240000 | |
| 28-Nov | 2380000 | -140000 | |
| 21-Nov | 2520000 | -180000 | |
| 14-Nov | 2700000 | -70000 | |
| 07-Nov | 2770000 | +330000 | |
| 31-Oct | 2440000 | -220000 | |
| 24-Oct | 2660000 | -220000 | |
| 17-Oct | 2880000 | +270000 | |
| 10-Oct | 2610000 | +90000 | |
| 03-Oct | 2520000 | -320000 | |
| 26-Sep | 2840000 | +70000 | |
| 19-Sep | 2770000 | | |
| 12-Sep | | | |
| 05-Sep | | | |
| 29-Aug | 3290000 | +510000 | |
| 22-Aug | 2780000 | +90000 | |
| 15-Aug | 2690000 | +20000 | |
| 08-Aug | 2670000 | -90000 | |
| 01-Aug | 2760000 | -260000 | |
| 25-Jul | 3020000 | +160000 | |
| 18-Jul | 2860000 | -190000 | |
| 11-Jul | 3050000 | +410000 | |
| 04-Jul | 2640000 | -200000 | |
| 27-Jun | 2840000 | -10000 | |
| 20-Jun | 2850000 | +40000 | |
| 13-Jun | 2810000 | -250000 | |
| 06-Jun | 3060000 | +30000 | |
| 30-May | 3030000 | +280000 | |
| 23-May | 2750000 | -100000 | |
| 16-May | 2850000 | +100000 | |
| 09-May | 2750000 | +30000 | |
| 02-May | 2720000 | -370000 | |
| 25-Apr | 3090000 | -170000 | |
| 18-Apr | 3260000 | +190000 | |
| 11-Apr | 3070000 | +280000 | |
| 04-Apr | 2790000 | -450000 | |
| 28-Mar | 3240000 | +210000 | |
| 21-Mar | 3030000 | | |
| 14-Mar | | | |
| 07-Mar | 3120000 | -320000 | |
| 28-Feb | 3440000 | +180000 | |
| 21-Feb | 3260000 | +100000 | |
| 14-Feb | 3160000 | -390000 | |
| 07-Feb | 3550000 | +90000 | |
| 31-Jan | 3460000 | +40000 | |
| 24-Jan | 3420000 | -200000 | |
| 17-Jan | 3620000 | -110000 | |
| 10-Jan | 3730000 | | |