WWE Smackdown Oct 15, 2021- Live Results & Updates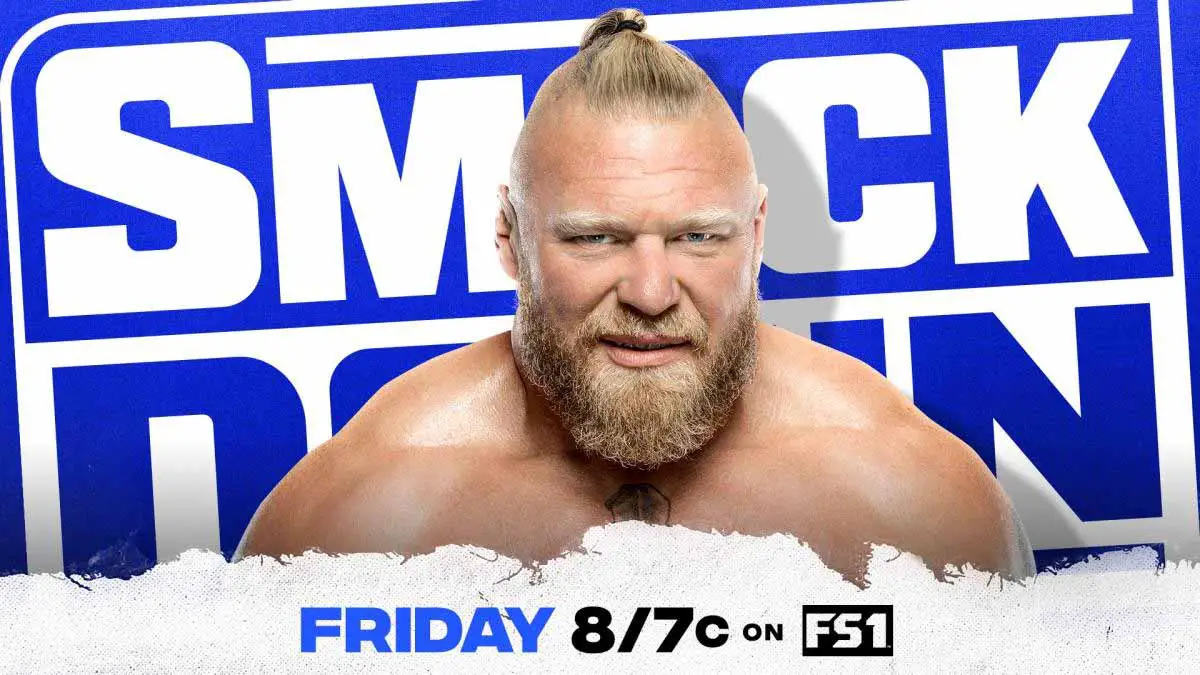 WWE SmackDown will present a super-sized show on October 15, 2021, from Toyota Arena in Ontario, California. The show will be 2 and a half hours long and the last 30 minutes of those will be commercials free. The show will also be SmackDown's go-home edition for Crown Jewel PPV.
With the show shifting on FS1 for one week and also clashing with Rampage for half an hour, the promotion has announced a stacked card for this week. This includes the return of Brock Lesnar, a marque match between Becky Lynch and Sasha Banks, the semifinal rounds of Queen's Crown and King of the Ring tournaments.
Read on to check the live results for the WWE Friday Night Smackdown episode of October 15, 2021, with live updates, preview, match card, start time, location, and tickets details.
Date – October 15, 2021
Location – Toyota Arena, Ontario, Canada
Time – 8 PM EST(October 16 – 12 AM GMT)
Results
Finn Balor defeated Sami Zayn in the King of the Ring Semifinal via pinfall.
Sonya Deville & Shayna Baszler defeated Naomi in a hadicapped match via submission.
Zelina Vega defeated Carmella in the Queen's Crown Semifinal via pinfall.
The Usos(c) defeated The Street Profits in a Street Fight via pinfall to retain WWE SmackDown Tag Team Championship.
Sasha Banks defeated Becky Lynch in a singles match via pinfall.
Edge Address Rollins
Edge comes out to the ring to open the show. Edge talks about his rivalry with Seth Rollins starting seven years ago. But, it has now turned much more than a rivalry. Edge says Rollins got greedy by bring his family into this. He recaps their past two matches and goes on to say that he underestimated Rollins and that Rollins is not Edge-lite. He is Seth "Freacking" Rollins.
Edge says Rollins is his own man but he has to end this rivalry because their families continue to suffer. Edge says that their story will end at Hell in a Cell and that he will scar Rollins' soul.
A recap of the first round matches for King of the Ring tournament matches.
Finn Balor vs Sami Zayn – Semifinal of King of the Ring
Balor starts with a takedown. He twists the arm in the back but Zayn hits him with back elbow. Balor rolls through a sunset flip and hits a big arm drag. Sami hits a tackle and get multiple two-counts. Sami keeps Balor on the mat for a while with a chinlock. Balor manages to throw Sami out to the floor and hits a suicide dive to take us to the break.
Sami is taking Balor from corner to corner. Balor fights back with big rights and a kick to the midsection. Balor hits a Pele kick and both men are down. Sami brings him down and goes to the top. Balor looks for the superplex but Sami hits a headbutt to send him down. Sami goes for a move but Balor cuts him off with a dropkick.
Sami hits Blue Thunderbomb out of nowhere. Sami softens up Balor in the corner before hitting the exploder suplex. Balor moves out of Helluva kick and hits a Pele kick. Sami rolls him up and tries to use the ropes for a pin, only to be caught by the referee.
Balor grounds and pounds Sami. He hits a slingblade but misses the Coupe de Grace. Sami goes for a schoolboy pin but Balor kicks out again. Balor hits a dropkick and another shotgun dropkick. He hits Coupe de Grace to get the pin.
Winner – Finn Balor(Advances to Final)
We get the replay for the storyline between Brock Lesnar and Universal Champion Roman Reigns.
Drew McIntyre gets a video package to hype his move to SmackDown from next week.
Finn Balor vs Sami Zayn – Semifinal of King of the Ring
Naomi enters for the match before the back. After the break, Sonya comes out and informs us that Noami will face her and Shayna Baszler in a handicapped match. Shayna comes out and goes to the ring with Sonya.
Sonya gets the bell rung and both Sonya and Shayna attack Naomi. They beat down Naomi by double teaming. Shayna hits a big knee to her face. Sonya hits a running knee to the spine. Shayna holds Naomi and Sonya takes free shots at Naomi.
Naomi fights back and sends Sonya out of the ring with a dropkick. She ducks Shayna's clothesline and hits a dropkick to her too. Naomi goes to the top but Sonya brings her down. Shayna puts on the Kirafuda clutch and puts Naomi to sleep.
Winners – Sonya Deville & Shayna Baszler
A video package to hype Hit Row's arrival to Smackdown from next week.
Rollins Replies to Edge
Rollins takes the mic in the ring and laughs at Edge saying that Edge will beat Rollins. He also brings up Edge saying that Rollins is not Edge-Lite. Rollins claims that he is better than edge in every single possible way. He is going to Crown Jewel with a mental advantage and also physical advantage after he sent Edge out on stretcher at MSG.
Rollins says he is in no way intimidated or afraid to face Edge inside Hell in a Cell. Rollins says there are some things that Edge is not right about. Rollins says he has spent more time inside Hell in a Cell and the cage scarred him. But, he will win because he is a visionary and he will win at Crown Jewel.
Zelina Vega vs Carmella – Queen's Crown Semifinal
Zelina Vega tells Carmella backstage that she is grateful that Carmella defeated Liv Morgan. Vega assures that she will not try to hurt her face and she can do away with the mask. They both make their entrances.
Vega rolls up Carmella for a two-count to start. They trade standing switches before Carmella brings Vega to the mat with an arm twist. Carmella hits a big dropkick to the face when Vega gets to her feet. Vega unloads on Carmella and punches at her face. Carmella goes to get her mask. Liv Morgan snatches that mask and cuts it off. Morgan scares Carmella back to the ring and Vega rolls her over to get the pin.
Winner – Zelina Vega
The Usos(c) vs The Street Profits – Street Fight for WWE SmackDown Tag Team Championship
Street Fight starts with Street Profits taking the upper hand. Dawkins hits a swinging neckbreaker on Jimmy. Ford unloads on Jey in the corner. Jimmy turns it around against Dawkins on the floor. Jimmy goes back to double team with Jey against Montez. The Usos are sent to the barricade and Street Profits bring out a table from below the ring. The Usos take them out with a suicide dive as we cut to a break.
The Usos bring out kendo sticks and beat up Dawkins with them. Ford hits both of them with a crossbody. He hands Jey a steel chair and hits a dropkick against it. Jey comes in to hit a Samoan Drop. Ford hits a superkick. Dawkins come in to beat up Jey with kendo stick and steel chair. Jimmy saves him from the double team finisher. The Usos hits double superkicks to both Dawkins and Ford. Ford kicks out of a pin.
The Usos go for a double splashes on Dawkins but Ford stops them. Jimmy is sent to the floor. Ford hits frog splash on Jey but Jimmy saves him from a pin. The Usos continue to double team on both opponents. Ford is sent through a table while Dawkins eats stereo Usos splash. Dawkins gets pinned and the Usos retain.
Winners- The Usos(retains SmackDown Title)
Becky Lynch vs Sasha Banks
Becky starts with shoulder tackle after an early hussle. Sasha unloads on Becky in the corner. She misses the double knees against the ring post. Becky takes Sasha back to the ring to get a two-count. Sasha rolls out to the floor and the referee starts to count her down. Sasha returns at nine counts. Becky hits a few punches. Sasha hits a bulldog but Becky then catches her ankle and decks her with elbows. Sasha hits the three amigos suplex for a two-count.
Becky with big uppercuts and a spinning kick on the apron. She uses the turnbuckle for advantage as she works Sasha's arm. Becky hits a leg drop from the top while Sasha was on the ropes. Becky seems frustrated as Sasha kicks out. Sasha fights back but misses the corner splash. Becky hits her with a dropkick in the corner. Sasha slams Becky into the ring post. She hits a seated senton for a near fall.
Becky avoids the Bank statement and goes to the top. Sasha looks to take her down with a superplex, but Becky counters. Becky hits a leg drop on the apron. Sasha puts on the Bank Statement on the floor and Becky gives up. Sasha takes it back to the ring to hit a frog splash for another near fall.
Becky hits a big uppercut in the corner and a running elbow. Sasha replies with running double knees. Becky hits an exploder suplex for a two-count. Becky hits another leg drop for another two-count. Sasha avoids a leg drop and goes to the floor. Becky ends up taking out Bianca as she was going after Sasha. Sasha hits her with a senton against the barricade. Becky gets her knees up on the frog splash.
Becky goes for the manhandle slam but Sasha counters with a backstabber into the Bank Statement. Becky reaches the ropes to break the Bank statement. Bianca hits Becky with her braid and Sasha hits another backstabber for the pin.
Winner- Sasha Banks
Roman Reigns & Brock Lesnar Contract Signing
Just as Becky vs Sasha ends, Adam Pearce starts to make arrangements for the contract signing. Roman Reigns makes his entrance with Paul Heyman. Roman stands in the ring as Brock Lesnar makes his entrance. Lesnar circles the ring before entering. Lesnar gets the only chair in the ring and sits down with his legs on the table.
Roman is pissed at Lesnar taking the chair. Adam Pearce hands Roman the contract for the match. Roman hands it over to Heyman to check. Heyman checks the papers and tells Roman that everything is as per his wish and it's his counsel to sign it. Roman signs the contract. Pearce then hands the contract to Lesnar. Lesnar signs it right away.
Roman starts laughing at Lesnar and calls him a dumb for not reading the contract. Lesnar tells Roman that he already read the contract in the morning with his attorney Paul Heyman. Roman is shocked and Heyman is terrified at the revelation. Lesnar leaves the ring and reaches the ramp. Roman stares Heyman and then back at Lesnar. Lesnar continues to laugh from the stage as the show goes off the air.