WWE SmackDown Results & Live Updates January 6, 2023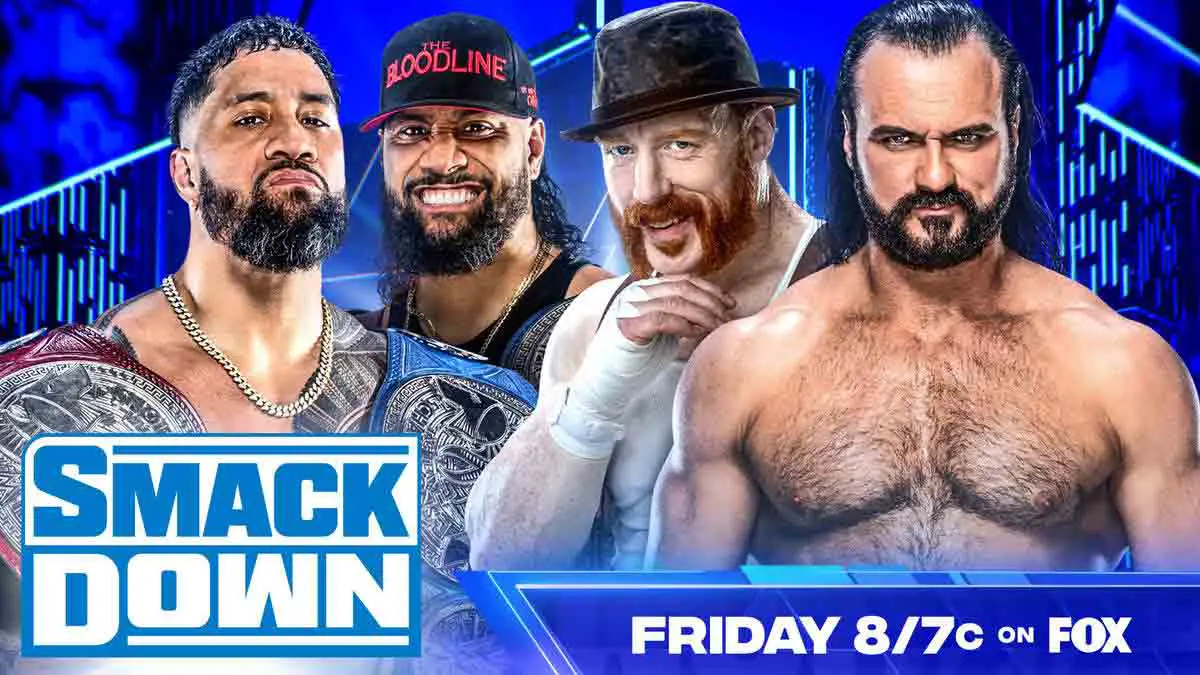 Welcome to the live results blog for WWE SmackDown episode of January 6, 2023 episode which continued the build up towards Royal Rumble 2023 event.
This episode of SmackDown featured WWE Tag Team Championship match between The Usos and Drew McIntyre & Sheamus. The title match came 4 weeks late as Drew McIntyre recovered from his injuries. Ricochet and Top Dolla faced off in a Royal Rumble Qualifier match on January 6, 2023.
We also saw the start of Charlotte Flair's new title reign as SmackDown Women's Championship as she faced Sonya Deville. More names were announced for the Royal Rumble matches as well.
Check below for results from WWE Friday Night SmackDown episode of January 6, 2023, with live updates, winners, highlights and complete action.
RESULTS
Santos Escobar defeated Kofi Kingston in a singles match via pinfall.
Karrion Kross & Scarlett defeated Madcap Moss & Emma in a mixed tag team match via technical submission.
Charlotte Flair(c) defeated Sonya Deville in a singles match via submission to retain WWE SmackDown Women's Championship.
Ricochet defeated Top Dolla in Royal Rumble Match Qualifier match via pinfall.
The Usos(Jimmy Uso & Jey Uso)(c) defeated Sheamus & Drew McIntyre in a tag team match via pinfall to retain Unified WWE Tag Team Championship
LIVE UPDATES
What's Next for The Bloodline?
The Bloodline's Sami Zayn, Solo Sikoa and The Usos dismantle the announce table to open the show. Roman Reigns' music hits and he comes out with Paul Heyman. We see a recap of John Cena and Kevin Owens defeating Roman and Sami last week as Roman is wrapping up his entrance. The commentary stresses that this is Roman's first loss in any match in 3 years. Roman takes the mic as the crowd starts chanting "Ucey".
Roman asks the crowd to acknowledge him. He says they are gonna start things a little differently tonight and wants to hear from Honorary Uce Sami Zayn now. Sami takes the mic and says they will kick off every show in 2023 same as they kicked off RAW and has put everyone on notice. He talks about winning their matches on RAW and says they are sending a message this year. Roman says he does not want to talk about this year, but last year. He brings up losing to Cena and KO.
Roman says The Tribal Chief never loses and he did not lose since it was Sami who was pinned. He asks Sami why he has called his shot and guaranteed a win, only Roman can do that. Roman asks Sami why he is doing things like him. Roman explains that he has to be on the lookout for these sort of things always. Roman starts screaming at Sami asking if he wants to be him and want to take the burden. Sami is frightened.
Kevin Owens' music hits and he comes out to the stage. KO says Roman needs to calm down as he has some misdirected anger going on. Last time Roman was like that, he was the cause of it. KO defends Sami saying that his problem is not with Sami but with him. KO says it is time for Roman to take care of the KO problem and the best way to take care of that problem is by having a match for Universal Championship at Royal Rumble. Roman says he does not care and will do anything to see him go away forever.
KO says he will go away as Roman does not want to see him and will go away. KO says he will see Roman at Royal Rumble and will see Sami whenever he manages to find his balls. KO leaves and the segment ends.
---
After the break, we see SmackDown Women's Champion Charlotte Flair entering the arena in a white sports car.
Kofi Kingston vs Santos Escobar
Kofi Kingston makes his entrance with Xavier Woods. We see a recap of an altercation between Santos Escobar and Kofi as Escobar says the sun is set on Kofi's career now, leading to this match. Escobar comes out with Legado Del Fantasma.
Escobar pushes Kofi to the corner after the bell and kicks at his midsection. Kofi hits a hurricanrana. Escobar throws him to the apron and punches him. Kofi avoids going to the floor by showing off some athleticism like its Rumble already. Kofi returns to the ring and throws Escobar to the floor. We cut to a break.
Escobar hits double knees in the corner as we return from the break. Escobar hits kicks, punches and chops. Kofi hits him with a dropkick. Kofi sends Escobar to the apron but he lands on the steel steps. Escobar shows off that he is not eliminated from Rumble. He returns to the ring and hits an enzuigiri on Kofi. Kofi rolls him up for a two-count. Escobar misses a corner tackle before Kofi hits a couple of clotheslines.
Kofi hits SOS but Escobar kicks out. Kofi goes to the top and Escobar meets him there. Kofi drops him back to the mat with a headbutt. Escobar cuts off his dive with a knee for a two-count. Kofi hits a dropkick and boom drop. Cruz Del Toro and Joaquin Wilde run interference to stop Kofi from hitting Trouble in Paradise. Escobar hits Phantom Driver to get the pinfall.
Winner – Santos Escobar
The commentary team confirms Roman Reigns vs Kevin Owens Universal Championship match at Royal Rumble. Sami Zayn is outside Roman's locker room, but Paul Heyman does not let him get in. Sami says he wants to clarify that he does not want to be like him. The Usos get past Sami and into the room. Heyman says Roman has to be careful and think three moves ahead. He sends Sami away.
---
Liv Morgan is backstage and says 30 women Royal Rumble is chaos, but she embraces the chaos. She adds that she would like to enter at #1 but she would take any spot in the match. She confirms her spot in Royal Rumble.
---
LA Knight is interviewed backstage and says people are more excited about him being in a match than see the return of Bray Wyatt.
Karrion Kross & Scarlett vs Madcap Moss & Emma
Karrion Kross makes his entrance with Scarlett. We get a recap of how Emma confronted Scarlett two weeks back on her comments on Madcap Moss and how she slapped Scarlett. We cut to a break as Kross completes his entrance.
Madcap is unloading with punches but Kross hits him with a tackle. Tags to Scarlett and Emma. Emma starts with a takedown for some punches before sending Scarlett to the corner for a bulldog. She sends her to the other corner and keeps up with the attack. Scarlett hits a bridging suplex for a two-count. Emma hits a hip toss and a clothesline but Kross comes in to break the pin.
Kross gets in Emma's face before Moss tags in. Moss tries to create some momentum but Scarlett picks his ankle. Kross drops Madcap. Emma goes to fight Scarlett but she sidesteps to send Emma into the ring post. She sends Emma over the announce table. Moss misses a corner tackle and Kross puts him in Kross Jacket submission to put him to sleep.
Winner – Karrion Kross & Scarlett
After the match, Kross puts on Rey Mysterio's mask on Moss.
---
Drew McIntyre and Sheamus are in Jerry Lawler's bar. Sheamus says standing across Drew in the last few weeks has decreased his desire to beat him up. Sheamus hits Drew in jest. They start to recount all of their wars until now and keep hitting each other in jest. They ask us to think how they would beat up The Usos when they do not leave each other. They promise us banger after banger.
---
Charlotte Flair makes her entrance to the ring. She is in her ring gear. She starts by talking about payback before some "Thank You, Charlotte" chants break out. Flair says she was moved by fans reaction to her return last week. She says fans can cheer her or boo her or woooo her, but she stands for three things – Passion, Consistency and Integrity about what she does in the ring. And these things have resulted in her becoming a 14-time champion.
Sonya Deville interrupts the promo and says there is an asterisk against Flair's 14th reign. She points out that Flair beat and deadbeat fighter to win the title. She challenges Flair to face her and put the title on the line.
Charlotte Flair(c) vs Sonya Deville – WWE SmackDown Women's Championship
Sonya rushes Flair as she was removing her overcoat. The referee separates them. Flair boots Sonya to the floor to take us to a break.
Sonya is attacking Flair's leg as we return. Sonya puts her in a chin lock and keeps her on the mat for a while. Flair gets to her feet and slams Sonya into the corner. Flair hits a boot and a couple of clotheslines. She follows it up with chops. Sonya hits back with a kick. Flair hits a handspring clothesline to get a two-count. Flair hits a spear before putting Sonya in figure four. She bridges it to figure eight to get a submission.
Winner – Charlotte Flair
We get a video package on Cody Rhodes and his first three months in WWE before his torn pectoral injury.
Ricochet vs Top Dolla – Royal Rumble Match Qualifier
Ricochet avoids a charge to the corner and hits an enzuigiri from the apron. Top Dolla picks him up and slams to the mat. He hits a big boot for a two-count. Dolla chokes him in the ropes for a while. Dolla wastes time in showboating and Ricochet gets him in an inside cradle for a two-count. Ricochet sets up for shooting star press and hits it to get the pinfall.
Winner – Ricochet
After the match, Top Dolla asks for a handshake and raises Ricochet's hand. Ashante "Thee" Adonis hits Ricochet with a superkick. Top Dolla and B-Fab also beat up Ricochet. Dolla and Adonis hit a double team move to drop Ricochet. Braun Strowman runs out and forces Hit-Row to run away.
---
In Roman's locker room, The Usos are getting hyped for their title match and leave with Solo Sikoa. Roman tells Heyman to bring him Sami Zayn.
---
We get a video package for Intercontinental Championship match next week.
---
Sami Zayn goes to Roman Reigns and explains that he is not trying to be like The Tribal Chief and apologizes if anything that he did gave him that impression. Roman says he does not accept his apology. Roman says he is trying to control his anger and no one should be hearing this in front of everyone. Roman apologizes to Sami for his outburst in the ring. Roman says KO is right in saying that he is mad at KO and is venting this anger on Sami. Roman asks Heyman to take over. Heyman tells Sami that he will a chance to redeem himself when he faces Kevin Owens next week on SmackDown. The Usos music hits and Sami gets up to join them. Roman stops him and tells him to stay back and watch the match with him.
The Usos(Jimmy Uso & Jey Uso)(c) vs Drew McIntyre & Sheamus – Unified WWE Tag Team Championship
Sheamus starts against Jimmy with a hip toss and big blows. Drew tags in and hits Jimmy with a belly-to-belly suplex. Jey tags in and eats shots from Drew. He kicks at Drew's face before Drew hits a clothesline. Jimmy distracts Drew to allow Jey to drop him with a shot. Drew is on the apron and Jey hits him with some punches before hitting a suplex. Jimmy tags in and keeps the pressure on Drew. Jey takes a cheap shot on Drew when the referee separate Jimmy from Drew.
Drew breaks the chinlock but Jey hits him with a headbutt. Drew is sent to the apron. He tries to fight back against The Usos but Jey decks him to the floor. Drew runs over Jimmy on the floor but Jey hits him with a suicide dive. We cut to a break.
Sheamus hits 20 beats of Beltran on Jey Uso. Sheamus hits a body slam on Jey for a two-count. Jimmy gets a blind tag and Jey hits a superkick on Sheamus. Jimmy hits a splash from the tip for a near fall. The Usos now go for The Usos splash but Drew comes back to stop them. Drew and Sheamus hits Avalanche White Noise on Jimmy and Jey at the same time. Sheamus covers Jimmy but he kicks out of the pin.
Drew tags in and hits neck breakers on both of the Usos. Drew hits a top con hilo on them on the floor. Drew hits Claymore on Jey but Jimmy breaks the pin. Roman, Sami and Heyman are eating popcorns backstage while watching the match. Sheamus tags in and goes for Rack bomb. Jimmy gets a blind tag and The Usos hit 1-D on him. Drew breaks the pin on Sheamus.
Drew is pushed to the floor. Solo Sikoa hits Drew with Samoan Spike and then hits him with a spinebuster on the barricade. Butch and Ridge Holland runs out to attack Solo. Sheamus hits a Brogue kick on Jimmy in the ring but Jey pulls him out of the ring to stop the pin. Sheamus hits a dive on The Usos on the floor. He brings Jimmy back in but Jey helps Jimmy to turn it over and assists him to get the pinfall.
Winner – The Usos
The show goes off the air as the Usos celebrate their win. Sami Zayn has a popcorn-gasm backstage.