WWE SmackDown June 10, 2022 Results & Live Updates(w/ Preview)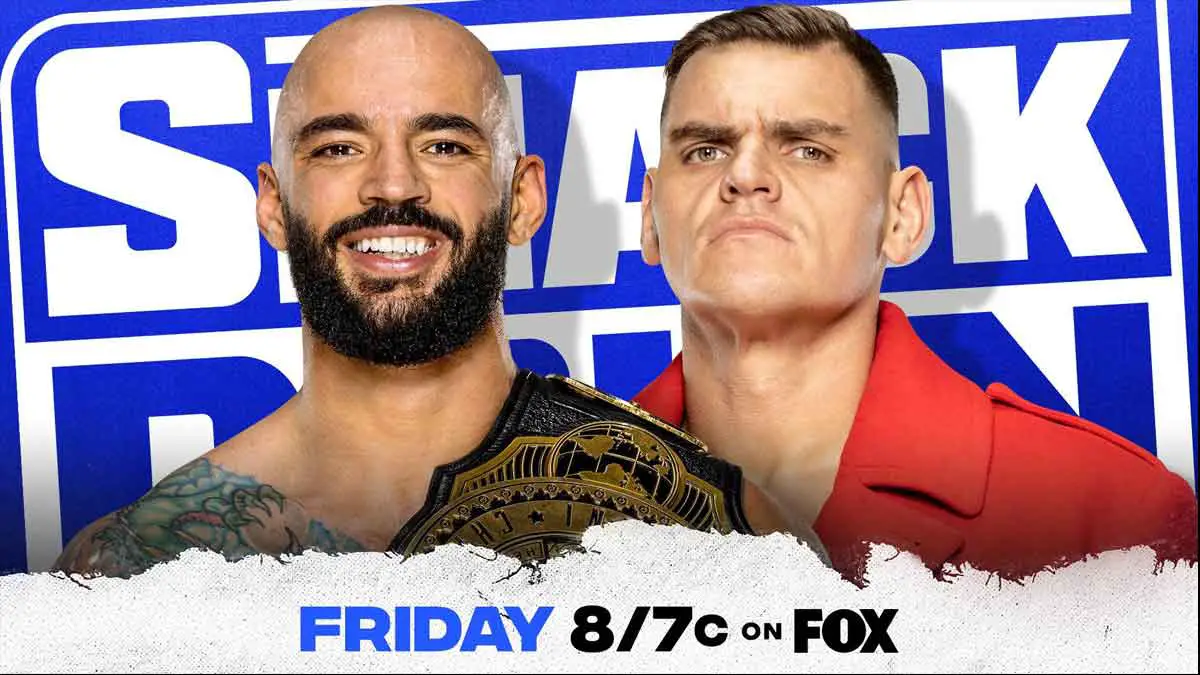 WWE SmackDown episode of June 10, 2022, is all set to feature the Intercontinental Championship match. Airing live from the Raising Cane's River Center in Baton Rouge, LA, the show will also feature the build-up towards Money in the Bank 2022 event with two qualifying matches.
Drew McIntyre faces Sheamus in the qualifier for the men's side while Lacey Evans faces Xia Li in the women's qualifier. 'One and Only' Ricochet will defend his IC title against 'The Ring General' Gunther in a singles match this Friday. Also, Riddle has challenged undisputed WWE Universal Champion Roman Reigns for a title match. Will Riddle get his hands on Roman? Max Dupri will reveal first client from Maximum Male Models.
Check below for the results from WWE Friday Night SmackDown June 10, 2022 episode with live updates, winners, highlights, preview, and match card.
Live Updates
We go to the commentators as the show goes live. They told us about Riddle vs Sami Zayn match in the main event tonight where Riddle will get a shot at Universal Championship if he wins, but he will be barred from SmackDown if Sami wins.
Drew McIntyre vs Sheamus – Men's Money in the Bank Qualifier
They lock up and go to the corner. Drew lays on Sheamus with punches and chops. Drew returns the favor with same shots. Drew hits a kick to the midsection. A lariat and some more chops from Drew before hits hits a Michinoku Driver. Sheamus gets Drew on the apron for the Beats of Bodhran(chest blows). Drew hits Sheamus with some beats of his own. Sheamus manages to hit White Noise on the apron to take us to the break.
Sheamus hits an Alabama slam as we return. Drew comes back a big tackle. More tackles follow. Drew hits a neckbreaker and kips up. Sheamus hits a boot in the corner before Drew hits him with a spinebuster for a two-count. They trade headbutts before Sheamus hits a Futureshock DDT for another two-count. Sheamus gets to the top and Drew picks him to hit White Noise from the second rope for a close two-count.
Sheamus counters Claymore with a running knee for a close two-count of his own. McIntyre counters Brogue kick with a powerbomb to get a near fall. Butch gets into the ring only to get hit with a Claymore. Sheamus clotheslines McIntyre to the floor. He hits a flying clothesline from the top. The referee starts to count down. Sheamus hits a back body drop to send Drew into the timekeeper's area. Both men pick up chairs for sword fight. The referee calls for a double DQ. This will end in a no contest.
Result – No Contest
Drew runs Sheamus into and over the announce table. We cut to a break.
They are still brawling and get into the crowd as we return from the break. They continue to brawl for a while.
We get a recap of Cody Rhodes' injury situation and how Seth Rollins attacked him on Monday. The commentators tells us that Cody has undergone surgery and the recovery time is about 9 months.
Lacey Evans vs Xia Li – Women's Money in the Bank Qualifier
Lacey Evans gets interviewed at the Gorilla Position and talks about one can use Money in the Bank for a title shot anytime anywhere. She says Xia Li looks at her as a victim but she looks at Xia Li as just another person who is trying to bring her down.
After the break, Xia Li gets a promo during her entrance where she says Evans is a whinner. Li starts with a waistlock. Evans hits a shoulder tackle. Li goes for a leg sweep and manages to drop Evans face-first to the mat. She hits a running knee in the corner. Li puts on an arm lock. Evans comes out of it and slams Li back to the mat. A few tackles are followed by a low clothesline.
Evans hits a handspring bomb in the corner to get a two-count. Li hits back with a back heel kick. She runs the ropes and Evans catches her with The Woman's Right to get the pin.
Winner – Lacey Evans
Drew McIntyre gets to Adam Pearce's office backstage and tries to intimidate him into putting him in the Money in the Bank ladder match. Pearce tells him that he did not win tonight and there is a lot to process. Drew once again tells him to put him in the match in an intimidating tone.
After the break, Sheamus also comes to Adam Pearce and asks to be added to Money in the Bank Ladder match. Butch is also there with him and is restless as usual. Sheamus also tries to force Pearce into putting him into the Money in the Bank Ladder match.
---
Ronda Rousey makes her entrance before the break. She tells us that Money in the Bank could not come soon enough where she will be facing Natalya. She mocks Natalya's sharpshooter and says she made her armbar famous. Shotzi comes out and tells Ronda that if she is the fighting champion that she claims to be, she will not have any problem facing her right away. Ronda asks the crowd if she should get a "title Shotzi." She then agrees for the match.
Ronda Rousey(c) vs Shotzi – WWE SmackDown Women's Championship Match
Shotzi goes for a waistlock but Ronda slams her with a judo throw. Shotzi goes to rake Ronda's face. Ronda kicks her away before going for a innovative pin attempt. Shotzi hits a snapmare takedown. Ronda hits her with a powerslam as she comes off the ropes. Shotzi avoids a hip toss. She uses the ropes for a submission move and Ronda turns it into an ankle lock. Ronda ends up on the floor. Shotzi engages her on the apron and hits her with a tornado DDT.
Back to the ring, Shotzi stomps on Ronda before hits some punches. Ronda blocks a suplex but Shotzi nails her with a big roundhouse kick to get another two-count. Shotzi works on Ronda's arm. She puts on a hammerlock on one arm using her legs and puts on an armbar on the other hand. Ronda is able to break the move by rolling out. She goes for an ankle lock but Shotzi kicks her away. Shotzi hits a suplex to send her into the turnbuckle. Shotzi misses a dropkick in the corner.
Ronda picks her up for the Piper's pit but Shotzi slips out for a kick, knee and a punch. Ronda catches her leg as she for another knee strike. Ronda hits the Baddest Slam. She follows up with armdrags and get Shotzi up on her shoulders after a bit of struggle to hit Piper's Pit. Ronda screams at the camera for Natalya and puts on the armbar to get the submission.
Winner – Ronda Rousey
After the match, Natalya attacks Ronda from behind and puts on the Sharpshooter on her. She does not let her go until the crew comes out to save him.
---
Riddle gets interviewed backstage by Kayla Braxton and is asked about the stipulation that Riddle will be barred from SmackDown if he loses. Riddle says he thrives under pressure and he will do anything to avenge Randy Orton to win the Universal title from Roman Reigns. He calls Sami Zayn a stickler.
---
Ronda is backstage in the medical room. Kayla Braxton tells us that Ronda Rousey has a serious injury after that attack from Natalya. It is now unclear whether Ronda will be able to compete at Money in the Bank or not.
Ricochet(c) vs Gunther – WWE Intercontinental Championship Match
Gunther tosses Ricochet aside as they start. Ricochet goes to lock up but Gunther slams his face to the mat. Ricochet hits punches, calf kicks and chops in quick succession. Gunther blocks headscissors and slam Ricochet to the mat. He hits a big body slam. He puts Ricochet on the top and bends on the turnbuckle while also putting pressure with his boot. The referee gives him 5 counts. Ricochet falls down to the floor as we cut to a break.
Gunther hits a big boot as we return. Ricochet counters a powerbomb with a sunset flip for a two-count. Ricochet hits body kicks to bring Gunther down to his knees. He sends Gunther to corner with headscissors. He hits tackle in the corner but misses his next move. Gunther puts on a choke. Ricochet comes out of it quickly and nails more kicks. Gunther drops him with a big lariat to get a two-count. Gunther puts on sleeper hold again.
Ricochet drives him into the turnbuckle. He breaks Gunther's arm on the ropes. Kaiser gets a superkick from the apron. Ricochet hits a moonsault and standing shooting star press for another two-count. Ricochet gets to the top now but has to roll through of his 630-splash. Ricochet hits a dropkick before Gunther hits back with a shotgun dropkick and a powerbomb to get the pin.
Winner – Gunther(new Intercontinental Champion)
Gunther celebrates in the ring with Ludwig Kaiser as he is handed the title.
Sami Zayn is ready to make his entrance. Paul Heyman comes to him and tells him he should realize the importance of the match tonight. Heyman tells Sami that if wins tonight, he can tells Roman that Sami belongs in the Bloodline, but if he losses, he will feel Roman's wrath. Sami is intimidated as he makes his entrance. We cut to a break.
We get the replay of how Sami Zayn played Roman's music during last week's SmackDown which cost Riddle the tag team title match against the Usos. Riddle makes his entrance to take us to another break.
Next week, Madcap Moss takes on Happy Corbin in a last laugh match. The commentators do not know what that match means. Max Dupri could not present his clients this week as he got stuck in Europe due to travel issues. The client will be presented next week.
Riddle vs Sami Zayn – Riddle Gets a Universal Title Shot
Sami takes Riddle to the corner. Riddle hits him with a side kicks. They run the ropes and Riddle takes Sami down in arm triangle. Sami gets his feet to the ropes quickly. Riddle hits more body kicks on the floor before bringing Sami back to the ring for a gutwrench suplex. Riddle with more chops. Sami rolls to the floor and runs over Riddle as he follows him. Back to the ring, Sami gets a two-count after an elbow drop.
Sami puts on a chin lock. Riddle gets up to his feet and nails Sami with a Pele kick. He hits running forearms in the corner and Penalty kick to get another two-count. Riddle cuts off a charge from Sami with a back elbow before Sami pushes him from the top turnbuckle and into the barricade. We cut to a break.
Sami is in control as we return. Sami hits a brainbuster to get another two-count. Sami slams Riddle into the ringpost now. Sami gets back to the ring and the referee starts the count. Riddle beats the count at 9. Sami goes to the top and Riddle catches up with him. Sami hits him with punches to avoid super RKO. Sami hits a draping DDT on Riddle to mock Randy Orton. He gets ready for RKO but Riddle hits a flash knee.
Riddle nails him with kicks in the corner. Sami rolls to the floor and eats a penalty kick and a floating bro. Back to the ring, Riddle hits a powerslam and a draping DDT. Sami counters RKO with blue thunderbomb for a near fall. Paul Heyman is getting agitated on the commentary. Sami counters Bro-Derek with a pin attempt. Sami hits an exploder suplex to send Riddle into the turnbuckle. Riddle counters the Helluva kick with an RKO to get the pin.
Winner – Riddle
Jimmy Uso and Jey Uso attack Riddle after the match. They throw Riddle to the floor. The Usos stand tall in the ring. Riddle comes back with a kendo stick and unloads on The Usos with them. Riddle stand tall now. The commentators confirm that Riddle will face Roman Reigns next week for the Undisputed Universal Championship.
---
Preview
Ricochet vs Gunther: The Ring General Gunther has been quite dominant ever since he made his main roster debut. When he was assaulting Drew Gulak, Ricochet was the one who came to the latter's aid. Now, Gunther will have an opportunity at Ricochet's Intercontinental title where he will try to put the high flier back in his place. 
Riddle Searches for Roman: Riddle has revenge on his mind and wants a shot at Roman Reigns' Universal Championship. Roman has not appeared on WWE TV ever since The Usos became the Undisputed WWE Tag Team Champions three weeks back. Will he appear on SmackDown this week? If not, how will Riddle force The Tribal Chief to return?
Money in the Bank Qualifier: The qualifying matches for men and women Money in the Bank ladder matches will start from this episode of Smackdown. Drew McIntyre faces his former best friend and long time adversary Sheamus. Xia Li will have only his third match on the main roster since her debut 7 months back as she faces Lacey Evans.
Maximum Male Models: After Adam Pearce confirmed that Max Dupri's Maximum Model Contract with WWE is legit, we will get to know who is his first client.