WWE SmackDown December 24, 2021: Results, Preview, Card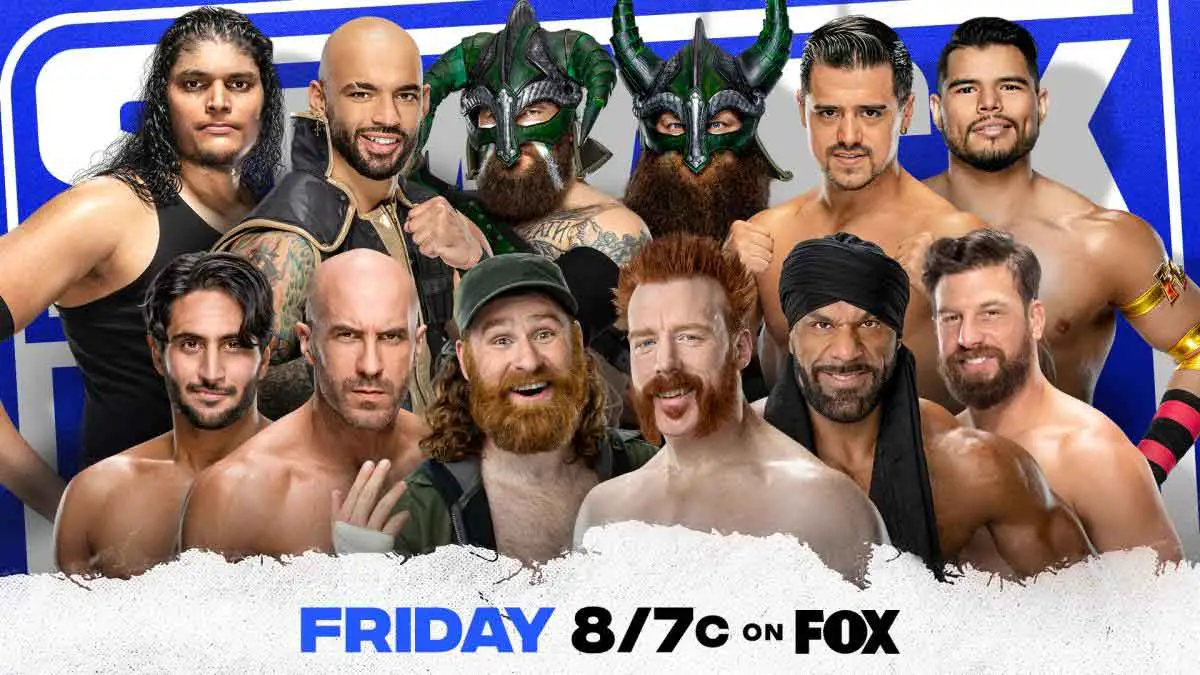 WWE SmackDown episode of December 24, 2021, will be a pre-taped one and was taped alongside the December 17 episode at the Allstate Arena, Chicago, IL, US. The event will feature Charlotte Flair defending her SmackDown Women's Championship. 
Toni Storm will challenge the Queen for the Women's title. Also, there will be a Miracle on 34th Street six-man tag-team match and a 12-man Gauntlet match to determine the challenger for Shinsuke Nakamura's Intercontinental title. 
Keep on reading to check the complete details on the December 24, 2021, episode of WWE SmackDown.
** Caution: Spoilers Ahead **
Show – WWE SmackDown
Date – December 24, 2021
Location – Allstate Arena, Chicago, IL, US
Time – 8 PM EST (December 25 – 12 AM GMT)
Results
Charlotte Flair defeated Toni Storm via pinfall to retain SmackDown Women's Championship.
Sami Zayn defeated Ricochet, Jinder Mahal, Humberto, Sheamus, Cesaro, Drew Gulak, Ivar, Shanky, Angel, Erik, and Mansoor in 12-Man Gauntlet Match to become #1 Contender for Intercontinental Championship.
Drew McIntyre & The New Day defeated Madcapp Moss & The Usos in 6 Man Tag Team Miracle on 34th Street Fight via pinfall.
Live Updates
Paul Heyman Speaks
The show starts with the recap from last week where Roman Reigns fired Paul Heyman from his services and how Brock Lesnar came out to save him from an assault. Heyman is with Kayla Braxton for a sit-down interview. Kayla asks Heyman what happened last week. Heyman replies that he told Roman the truth which Roman did not want to hear publically. And that's why he was fired and humiliated publically.
Kayla asks him if he regrets telling the truth. Heyman says it was his job as special counsel to tell him the truth and not just protect his personality. He wanted to tell the same thing to Roman backstage after the incident, but his bag and other stuff was tossed out of the locker room. Heyman once again says Roman needs to be protected from Brock Lesnar.
When asked about what is next for his career, Heyman says it is most likely over as he could not just pick a talent from NXT and do it all over again.
Charlotte Flair vs Toni Storm – WWE SmackDown Women's Championship
They lock up as the bell rings. Flair takes Toni to the corner. The referee separates them. Toni hits uppercuts. She hits a crossbody after they trade some punches. A basement dropkick gets her a two-count. Flair gets to the floor to regroup. Flair misses a big boot as she returns and Toni hits another crossbody. Flair slams her face into the turnbuckle. She hits a big chop and then stomps on face on the bottom rope.
Flair slams Toni's face into the mat after wrapping her legs around Toni's neck. Flair in complete control of the match and kicks away. Toni rolls her up for a two-count. She rocks Flair with a headbutt. Flair fires back with a big boot and sends Toni to the floor as we cut to a break.
Flair talks trash with Toni as she slaps her again and again upon return from the break. Flair hits a low clothesline. Toni counters and sends Flair into the corner and then hits her with a hip attack. Flair nails a big forearm. Toni hits a German suplex and gets a two-count with the bridge. Flair slams her face into the turnbuckle again.
Flair sets up for moonsault and Toni moves away. Flair adjusts and gets a two-count anyway. Flair goes for the Natural Selection but Toni counters. Flair puts on the figure four leg lock. Toni struggles for a while but turns around the lock. She then grabs the ropes to break the hold. Toni slams Flair's face into the ringpost as they go to the floor. Flair tries to take advantage with ropes on the top but the referee catches her. They both try variety of pin attempts but Flair gets the pin finally with an inside cradle.
Winner – Charlotte Flair(retains SmackDown Women's Championship)
We see a recap of how Drew McIntyre got his sword back from Madcapp Moss and Happy Corbin. Drew is backstage with New Day and they joke about Bloodline and Madcapp Moss.
Li addresses Natalya and says she has known women like her for her entire life. She wants her in a match.
12 Men Gauntlet Match for #1 Contender for Intercontinental Championship
Angel vs Mansoor
Mansoor catches Angel's kick and then hits an atomic drop. Mansoor keeps up with another atomic drop and a dropkick. Angel sends him into the corner and hits a running boot to the face. He follows with a dropkick to the face. Mansoor hits back with an enziguiri. Angel hits wing clipper for the pin to eliminate Mansoor.
Angel vs Erik
Erik from the Viking Raiders is the next man in. Angel catches him with a basement slide on the apron. He goes for a moonsault on the floor but Erik catches him and hits a body slam. We cut to a break.
Erik hits knees to the midsection. He drops Angel again as he charges at him and nails him with a knee to the face for a two-count. Erik misses a dropkick into a corner. Angel slams him to the mat and then hits Wing Clipper for the pin to eliminate Erik.
Angel vs Shanky
Angel tries to hit dropkick on the apron but Shanky shows no effect. Shanky runs him over with a clothesline and then rocks him with a clothesline. A body slam from Shanky. Shanky slams Angle to the mat and gets the pin to eliminate Angel.
Shanky vs Ivar
Ivar starts to unload on Shanky as he runs in. Shanky hits a big boot. Ivar hits an elbow and then cartwheels out of the corner. Ivar keeps up with attack in the corner and then hits a top rope splash to pin Shanky.
Ivar vs Sheamus
Sheamus starts unloading with his punches and kicks. Ivar sends him to the floor with a big right hand.
Sheamus is in control as we return. He puts on a headlock. Ivar gets to his feet as he tries to fight back. Ivar drops Sheamus with shoulder tackles. He hits a low crossbody. Ivar goes for a powerslam but Sheamus counters and hits Brogue kick to get the pin on Ivar.
Sheamus vs Cesaro
Ridge Holland attacks Cesaro as he enters. Sheamus keeps control in the match and keeps him grounded. Cesaro fires back with punches and uppercuts. He puts on the swing but Cesaro does not have enough strength. He then nails a running uppercut and a clothesline. Holland gets on the apron to distract him and Sheamus runs Cesaro over with a Brogue kick for the pin.
Sheamus vs Ricochet
Sheamus attacks Ricochet as soon as he enters the ring. Ricochet manages to send him to the floor and then hits a crossbody to take us to the break.
Ricochet firing with punches and forearms. Sheamus takes him down and puts on a chinlock. Ricochet gets to his feet and tries to fight back. Sheamus drops him again. Ricochet ducks the clothesline and hits a DDT for a two-count. Ricochet with punches and low kicks. More quick moves follow. Sheamus gets his knees up a springboard moonsault for a near fall. Ricochet hits a gamengiri, a flying clothesline and a standing moonsault for a two-count.
Ricochet geos to the top. Holland gets to the apron for another distraction. Ricochet gets down to the apron and Sheamus nails him with a running knee to drop him to the floor. Sheamus gets ready for brogue kick but gets distracted as Cesaro takes down Holland on the floor. Ricochet rolls up Sheamus for the pin.
Ricochet vs Humberto
Humberto hits a dropkick on the corner. He goes for the 630 splash but Ricochet gets his feet up and gets the pin after another move.
Ricochet vs Jinder Mahal
Mahal drops Ricochet on the apron. When they get into the ring, Ricochet rolls him up to get the pin.
Ricochet vs Sami Zayn
Sami is in control as we return. Sami hits a clothesline. He goes to the top and Ricochet brings him down with headscissors to get a near fall. Ricochet hits chops to the chest. Sami tries to hit a back suplex but Ricochet counters with a crossbody. Ricochet misses a senton and Sami hits Blue Thunderbomb for a near fall. Sami looks for an exploder but Ricochet fights back with back elbows.
Sami hits exploder suplex into the corner. Ricochet cuts off Helluva kick with a super kick of his own. Ricochet drops his version of GTS to get another near fall. He goes to the top. Sami joins him up top. Ricochet drops him with a series of punches. Ricochet goes for the shooting star press but Sami gets his knees up. Sami sends Ricochet into the corner with an exploder and then hits Helluva kick to get the pin and the win.
Winner – Sami Zayn(becomes #1 contender for IC title)
Drew McIntyre & The New Day vs Madcapp Moss & The Usos – 6 Man Tag Team Miracle on 34th Street Fight
Back and forth between Jey and Xavier. Xavier drops Jey but Jey cuts off his springboard move with a superkick. Moss tags in and Woods tags in Drew from the other side. Moss hits a couple of punches but Drew runs him over and then hits a DDT. The Usos come in to break the pin. New Day come in and take them to the floor. Drew gets Moss on his shoulders when Corbin attacks him with a candy cane. Usos and New Day are fighting on the stage as we cut to a break.
Moss hits a running tackle on Drew in the ring. The Usos are beating up New Day on the floor with canes. Moss hits a suplex. He continues to work on Drew. Meanwhile, The Usos slam Kofi with a Christmas Tree and then they do the same to Woods. Moss hits a big boot in the ring.
Drew counters another suplex with a suplex of his own. New Day fights back on the floor. Woods hands Jimmy with a steel chair and nails him with a kick. Jey runs him over. Kofi attacks Jey in the ring with quick moves as they both come into the ring. Kofi misses Trouble in Paradise but then hits a frankestiener. Woods clotheslines both the Usos one by one to the floor. Kofi slams them with cookies tray.
Moss and Drew start brawling again. Drew nails a headbutt, a clothesline, a neckbreaker and then kips up. Corbin grabs his foot. Drew chases him around. Kofi stops him with a cane in his hand and then dumps a jar of milk on him. Drew then dumps milk on both Corbin and Moss. Woods hits a basement slide dropkick on Corbin. Drew takes Moss back to the ring and hits Claymore for the win.
Winner – Drew McIntyre, Kofi Kingston & King Xavier Woods