WWE Royal Rumble 2020 Live Results & Updates- 26 January 2020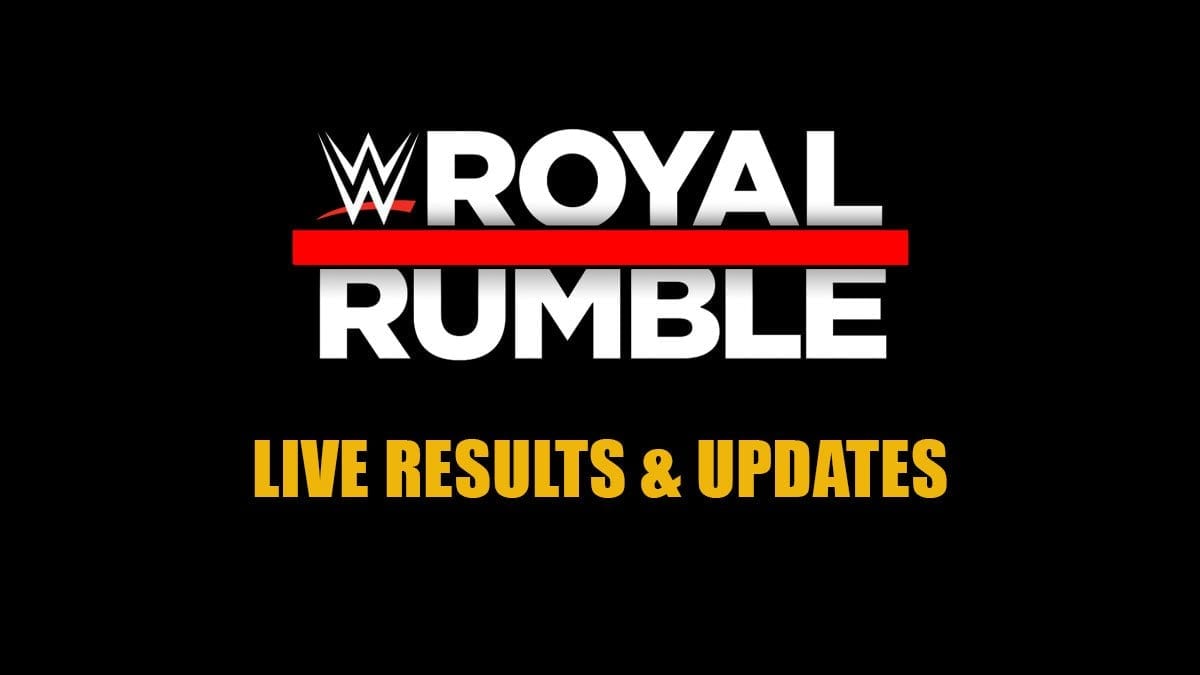 Welcome to ITN's Live Results & Updates blog for WWE Royal Rumble 2020. The Minute Maid Park in Houston will play host to the first major WWE PPV of the year. By the end of the show, we will get some direction for the biggest matches for WrestleMania 36.
Date- 26 January 2020
Location- Minute Maid Park, Houston, Texas, US
Time- 7 PM EST(27 January 2020 12 AM GMT/5:30 AM IST)
Pre-Show Start Time- 5 PM EST(10 PM GMT/27 January 2020 3:30 AM IST)
Apart from the traditional Royal Rumble matches, there are 6 other bouts announced with 4 titles on the line. The matches for the two hours pre-show are not announced yet. There were several matches that did not see through the planning phase.
Quick Results
Sheamus defeated Shorty G
Andrade defeated Humberto Carrillo to retain the WWE United States Championship
Roman Reigns defeated King Baron Corbin in a Falls Count Anywhere Match
Charlotte Flair wins the 30 Women Royal Rumble Match
Bayley(c) defeated Lacey Evans to retain WWE SmackDown Women's Championship
The Fiend Bray Wyatt(c) defeated Daniel Bryan in a strap match to retain the WWE Universal Championship
Becky Lynch(c) defeated Asuka to retain WWE RAW Women's Championship
Drew McIntyre wins the 30 Men Royal Rumble Match
WWE Royal Rumble 2020 Pre-Show Updates & Results
The pre-show has started with Jonathan Coachman, Charlie Caruso, David Otunga and Christina on the panel. Renee Young, Booker T and Sam Roberts are at the entrance ramp. We get the Rumble by the number next. Natalya has also joined the panel to discuss the Women's match and she wants to face SmackDown Women's Champion Bayley if she wins the Rumble tonight.
Asuka vs WWE RAW Women's Champion Becky Lynch is discussed next. The strap match between Daniel Bryan and The Fiend comes up for discussion now. We see Lacey Evans' new Foster Farms corn dogs commercial. Her match with Bayley is discussed now and we get to see the replay from SmackDown earlier this week where she and Bayley brawled all over the arena. Kayla Braxton stops Bayley backstage for comments now but angry Bayley runs down Evans with trash talk instead.
Sheamus vs Shorty G
Michael Cole and Corey Graves are on the commentary as Sheamus makes his way to the ring. Gable comes after him and they stare down in the ring. Gable is tossed around when he goes on to grab Sheamus's leg. Gable goes for a German suplex now and gets tossed again. Sheamus twists Gable's arm and slams him onto the mat when he tries to counter. A takedown and a shoulder tackle from Sheamus. Sheamus keeps control until Gable takes both of them down out of the ring.
Gable rolls up Sheamus in the ring now and then tries for the ankle lock. Sheamus hits the shoulder breaker to start the domination. He stomps on G's fingers and wrist. A tackle thwarts Gable's attempt to come back. Sheamus continues to work on Gable's shoulder. Sheamus hits the double ax and another wrist lock now. GAble stomps on his leg to finally get himself out of the lock. Sheamus grabs him on the apron and hits clubbing blows to his chest and continues with them at the ringside.
Gable slaps Sheamus on the chest and then on the face to start his offense. He hits a low dropkick on the knee to trip Sheamus. Chops and chest slaps are followed by a couple of overhead kicks. Gable is now stomping on Sheamus's leg. Gable goes to the top but Sheamus catches him. Although Gable is able to hit the tornado DDT from there and follows it with a moonsault off the top for two-count.
Gable uses the momentum to hit the German suplex now. Sheamus ends up on the apron and slams Gable's hand on the ropes. As he returns to the ring, GAble locks in the ankle lock briefly. Sheamus gets out and goes for the brogue kick, but that is turned into another ankle lock. Gable manages to get Sheamus in a crucifix pin for two-count. But Sheamus immediately hits the Brogue kick and gets the pin.
Winner- Sheamus
Andrade vs Humberto Carrillo – WWE United States Championship Match
Humberto Carrillo makes his way to the ring as Tom Phillips and Jerry Lawler takes their place on the commentary table. The champion Andrade makes his way to the ring, flanked by Zelina Vega. They push each other around to start. Andrade takes down Carrillo but he was quick to get to his feet. Carrillo hits some innovative armdrags to send Andrade out of the ring. They do a sequence at the ringside which ends in Andrade pushing Carrillo from the top to the barricade.
Andrade hits some chops and takes the action back to the ring as we go to sidebox commercial. Andrade can be seen keeping control as Vega barks orders from the ringside. Andrade hits a few blows to the back before a running kick to the back of the head. He uses the ropes for the hanging armbar until the referee counts to five. Andrade now puts Carrillo in a proper armbar.
Carrillo gets up on the feet but Andrade hits an elbow to take him down again. Carrillo hits a kick to the face but is slammed to the floor right away. He turns around a submission move to a roll-up for two-count. Carrillo starts mounting a comeback with some quick offense. He goes for the moonsault but Andrade gets his knee up. Carrillo is sent to the apron where he avoids a charge and hits a springboard moonsault. A roll-up is turned to crucifix now, but to no avail.
Andrade goes for the three amigos but Carrillo counters the third suplex. He goes for the moonsault from the top. Andrade tries to get the leg up but Carrillo catches him. He still gets thrown into the turnbuckle and is hit by a running knee and a near fall. They trade strikes and go back and forth now. Carrillo hits a superkick and goes for the cover to get a near fall. Both are exhausted and trade punches while still on their knees.
Andrade hits a few blows but misses the back elbow. They end up on the top after a sequence and Carrillo hits the head scissors takedown from there to get another near fall. Vega is looking tensed at the ringside. Carrillo picks Andrade but he hits a headbutt. A quick sequence of roll-ups gets Andrade the pin and the win.
Winner- Andrade(retains WWE United States Championship)
R-Truth does a comedy bit with Renee Young and Booker T at the entrance ramp. We hear from Charlotte Flair who is confident of winning the Rumble tonight. Booker T greets some of the local fans. Sam Robert talks about the unexpected entrants this year in the Rumble. We also hear from former WWE champion Kofi Kingston as the pre-show drags on.
WWE Royal Rumble 2020 Main Show Results & Updates
WWE Royal Rumble PPV opens with a video package by Stone Cold Steve Austin. The show is now live from Minute Maid Park and surprisingly, first match is Roman Reigns vs King Corbin. Roman Reigns is the first superstar of the main show to come out for the Falls Count Anywhere match. Michael Cole and Corey Graves announce 40k+ crowd at the venue. Corbin enters on his caravan.
Roman Reigns vs King Baron Corbin– Falls Count Anywhere Match
Roman attacks Corbin's servants before engaging with Corbin himself. He drives him into the steel steps. He brings him back into the ring for a series of mounted punches in the corner. The King nails a hard right hand to give himself a moment but Reigns hits a headbutt before he can recover. Roman lines up for the Superman Punch but Corbin avoids it and hits Deep Six for a near fall.
Corbin grabs the top half of the steps and uses it to hit Roman in the head. He ends up trying to leave through the crowd after Roman hits a flurry of punches. Corbin slams Roman onto one of the announce tables for a two count. The King chokeslams Roman through the Spanish announce table for another near fall. They continue to fight as they make their way through the crowd.
Roman picks him up and puts him through a table with a Samoan drop out of nowhere. He picks Corbin up and puts him through a second table with another Samoan drop for a near fall. Corbin drives Roman into an equipment case. Roode and Ziggler attack Reigns in the crowd. The Usos run out to make the save but Roode and Ziggler take them out.
They prepare to slam Jey onto part of the barricade when Jimmy comes flying out to take them down. Corbin takes out Jimmy and Reigns nails him with a Superman Punch. Reigns puts Corbin into a port-o-potty and tips it over with him inside. Roman continues to beat Corbin all throughout the crowd. They reach near the dugout where Corbin grabs a steel chair and lays it onto Roman. But Roman is able to hit a Superman Punch and a Spear for the pin and the win.
Winner- Roman Reigns
Kevin Owens and Samoa Joe are shown discussing the Rumble and they are going with every man for himself. Sonya Deville and Mandy Rose are interviewed and Sonya says she will jump off if they are the last two remainings.
30 Women Royal Rumble Match
The women Royal Rumble is up next and Alexa Bliss is entering at number #1. Bianca Beliar from NXT is #2. Beliar tries to slam Bliss to start but fails to do so. They counter each other and Beliar manages to hit a shoulder tackle in the corner. She tries to take Bliss to the top to eliminate her. But Bliss comes back with a dropkick. Beliar catches her but is not able to throw her off.
#3 is Molly Holly. She enters in a superhero cape. She enters the ring and goes after the first two. She hits some quick moves and ends up taking down both with a crossbody. #4 is Nikki Cross. She hits clotheslines on Holly and Beliar. The tag team partners sends opponents onto the apron and does the hug just like Best Friends from AEW. However, Beliar and Holly are now working in tandem. Cross takes out Holly, Beliar hits Cross with a spear and Bliss takes out Beliar with a sunset flip.
#5 is Lana. She is coming out with a mic and cut a promo before entering the match. She is donning a Wonder Women costume I think. She enters the ring and hits a DDT on Cross. She pushes Holly to the apron when #6 Mercedes Martinez enters. She pushes Lana to the apron but is unable to eliminate her. Liv Morgan is #7. She enters and pushes Lana off the apron for the first elimination of the night. Lana keeps screaming 'no' until Liv is pushed to the apron by Martinez. Liv goes to the top and Lana trips her off to eliminate her.
Mandy Rose is entering at #8. Beliar and Martinez are trying to eliminate Bliss. Nikki Cross charges at Rose and she takes her down with a shoulder tackle easily. Rose goes for the suplex and ends up putting Cross on the apron. Cross fights back and comes into the ring. Candice LeRae enters at #9. She hits the dropkick from the top on Martinez and then a moonsault on Cross. Beliar eliminates Molly Holly.
Bliss pushes Mandy off the top and punches her. But Otis is on the ground and saves her from elimination. Rose uses Otis to get back into the ring. Sonya Deville is at #10 now. She goes after everyone with punches ans knees. Rose and Deville double team on Candice now. Martinez and Deville goes at it before Rose joins the action to gang up on Martinez to elminate her.
WWE Women's Tag Team Champion Kairi Sane is in at #11. She takes down Cross and Bliss with a double spear. Next, she goes after Mandy Rose. Beliar tries to hit a suplex on her but she turns it into a DDT. Mia Yim is entering at #12. She hits a neckbreaker on Sane before slamming Nikki to the mat. She tries to eliminate Nikki but to no avail. Beliar had Bliss in the fireman's carry when Nikki intervened. Nikki is pushed to the apron and gets eliminated by Beliar. Bliss survives by catching onto Beliar's braids.
Sonya inadvertently sends Rose over but Otis catches her. Beliar sends Sonya over the top and into Otis and Rose. Both Rose and Deville are eliminated. Dana Brooke enters at #13 now. Dana comes in and takes it to other women. Candice LeRae is eliminated by Bianca Beliar. Sane and Cross fight it out on the top turnbuckle. Bliss ends up eliminating Sane.
Tamina enters at #14. She hits a superkick on Brooke and Bliss. Beliar gets a showdown with her before they start to brawl. Beliar backdrops Tamina for the elimination. Dakota Kai enters at #15. She runs into Brooke and they start brawling. Kai slams her face into the mat and kicks her in the corner. Bliss eliminates Mia Yim.
Chelsea Green enters at #16 and eliminates Dakota Kai. Bliss eliminates Green just after that. Dana Brooke tries to powerbomb Bliss but Bliss low-bridges her to the apron. Beliar pushes Brooke for elimination. Bliss and Beliar are the only two remaining in the ring now. They start to brawl again and end up on the apron. Bliss catches Beliar's braid again but Beliar uses it against her and sends her into the ring post and down to eliminate her.
Charlotte Flair enters at #17 with only Beliar in the ring. Flair charges in the corner and slams Beliar's back onto her knees. She hits some chops before an overhead suplex. Beliar ducks a charge and sends Flair into the turnbuckle. Naomi is making her comeback at #18 now. She has an Afro now. She hits the headscissor on Beliar. She and Flair exchange counters before running into each other. They double team on Beliar now.
Beth Pheonix is entering at #19. She slams Flair and Naomi. She picks up Naomi to send her onto the apron. Naomi springboards onto Flair and Pheonix from there. Pheonix/Beliar and Flair/Naomi are the pair fighting it out. Toni Storm enters at #20. She rains punches on Naomi and Flair. Flair turns it around and gets both Naomi and Storm in the corner. Beliar was on the top and Flair kicks her leg to eliminate her.
Kelly Kelly enters at #21. She bulldogs Naomi and does stink face on Toni Storm. Pheonix sends Flair to the apron and kicks her viciously, but Flair hangs on. Sarah Logan is in at #22. Logan after Flair right away. But Flair sends her to the apron and hits a big boot to eliminate her. Kelly tries to catch Flair off guard but gets sent onto the apron and eliminated by another big boot.
Natalya gets in at #23. Discuss clothesline on Flair before she teams up with her former tag team partner. Pheonix and Natalya hit the double powerbomb in the ring. Naomi and Storm were engaged and Natalya tries to eliminate her. Xia Le enters at #24. Li hits a big boot to Natalya and hits a spinning kick to Pheonix. She hits a boot to Storm but Flair stops her momentum. Flair puts her on the top turnbuckle.
Zelina Vega enters at #25. Naomi gets a tornado DDT from her. Pheonix grabs her to put on the top but she hits a headscissor on her from there. Natalya, Li and Pheonix, all try to eliminate Flair when Naomi saves her. Shotzi Blackheart enters at #26. Naomi is fighting off Natalya and Pheonix. She gets pushed from the apron but saves herself by hanging on at barricade. She crawls her way to the top of the barricade and then to the announce table.
Carmella enters at #27. Carmella swings Natalya around and takes her down with a headscissor. Pheonix helps Natalya out against her. They go after Flair and sends her out from the middle rope. Tegan Nox is entering at #28 as Naomi still looks for the way to enter the ring. Nox takes on Storm and Natalya. She hits a chokeslam but is stopped in her tracks by Pheonix.
Santino Marella, dressed as a woman Santina Marella, enters at #29. Beth Pheonix is announced as Marella trash talks him. Natalya and Pheonix surround him. Marella brings out his Cobra glove and hits it onto his neck to get eliminated by himself. Shayan Baszler is entering at #30. Baszler slams Flair into the steel steps before entering into the ring.
Baszler eliminates Xia Li with a throw. She grabs Vega in the Kirifuda clutch and chokes her out. Shotzi Blackheart pushes Vega off for the elimination. Blackheart is in turn eliminated by Baszler. Naomi uses the announce table to jump on the steel step and enters the ring. Carmella is thrown out by Baszler. Naomi's return was short-lived as she is eliminated by Baszler.
Natalya, Pheonix, Baszler and Flair are the last four remainings. Pheonix and Natalya double team on Baszler but Pheonix throws Natalya out. Baszler and Pheonix tussle at the ropes when Flair tries to sneak upon them. Both hangs on to the ropes though. The brawl starts briefly before Baszler sends Flair to the ropes and eliminates Pheonix. Flair springboards and the headscissor sends Baszler onto the apron. Flair pushes her off and wins the Royal Rumble match.
Winner- Charlotte Flair
Bayley(c) vs Lacey Evans– WWE SmackDown Women's Championship Match
Evans starts with a few shots before Bayley takes her down. Bayley tries to expose the turnbuckle but is stopped by the referee. Lacey hits an elbow drop from the ropes to get two-count. Bayley fakes an injury and suckers Evans into an attack. She kicks her around, slams her face into the turnbuckle and hits an elbow drop off the top to get two-count.
Bayley continues to control and hits a suplex to get another two-count. Evans gets out of a chinlock and takes down Bayley with a hurricanrana. But Bayley returns quickly for another headlock. She hits a clothesline for another two-count. Blows to the chest and an elbow when Evans charges at her. Bayley rains down some punches before another chinlock.
Lacey sidesteps to send Bayley into the apron. She hits a shoulder block and a knee from the apron. Bayley tries to take her out with a crossbody only for Evans to ducks it. Evans takes her down with some shoulder tackles to build some momentum. Bayley moves out of the ring to avoid her and capitalizes to send Evans into the barricade. This is right in front of Lacey's daughter.
Bayley hits a few more punches before taking Evans back to the ring. She goes for the Bayley to Belly but Evans was aware of the danger. Evans hits the inverted neckbreaker. She goes for the split-legged moonsault but Bayley gets her knees up. Bayley rolls her up out of nowhere to get the win.
Winner- Bayley(retains WWE SmackDown Women's Championship)
The Fiend Bray Wyatt(c) vs Daniel Bryan– Strap Match, WWE Universal Championship
A 13 feet strap will be tied to both competitors during this match. Daniel Bryan enters first with the crowd behind him on the 'Yes!' chants. The Fiend gets his grand entrance, with his lantern and the special title belt. The announcement
Bryan gets some punches going to start the match. He charges into the corner where Fiend catches him and hits the powerbomb. Fiend uses the leather strap on Bryan and keeps him down for some time. Bryan hits a kick after being thrown to the ropes. He forces Fiend out of the ring and goes for suicide dive. But Fiend pushes him into the barricade. He slams Bryan into the ring post before more beating from the strap.
Fiend hands him upside down on the turnbuckle. The Fiend goes for Sister Abigail but Bryan counters and hits the Running Knee for a close two count. The action moves out of the ring and Bryan jumps on him from the top. Fiend again pushes him into the ring post. Bryan then uses the strap to slam Fiend into the ring post. Bryan hits the running knee at the ringside but Fiend hits a clothesline right away to get the control back. He clears the announce table and lays Bryan onto it. Bryan hits a few low blows on him and hits a DDT on the table.
Bryan now slams the strap on Fiend's back. Again and again and again. Back to the ring, Bryan hits an avalanche dropkick. The Yes kicks are combined with strap shots now. But the Fiend amps up and starts asking for more. Bryan hits more strap shots and then starts stomping on his face. Bryan gets ready for the finisher when Fiend turns it into Sister Abigail. Fiend covers but Bryan kicks out.
Fiend once again starts to punish Bryan. Bryan gets up and punches him. He gets onto the top where Fiend gets him into the Mandible claw. Bryan turns it into an armbar and even uses ropes to his advantage. But Fiend holds on and bring Bryan back to the ring, still in the Mandible claw. Bryan transitions it into the LaBell lock, also using the strap. Fiend still prevails and turns it into a pin attempt.
Fiend picks him up for Sister Abigail when Bryan rolls him up for two-count. Bryan hits the running knee finisher quickly but only gets two. The crowd gets behind him but the Fiend stands up behind him to silence the crowd. Bryan hits him with the strap which he no-sells. Fiend hits the chokeslam and the Mandible claw to get the pin and the win.
Winner- The Fiend Bray Wyatt(retains WWE Universal Championship)
After the match, The Fiend stands up. The lights go off and he has disappeared when they come back. Bryan is checked up by the officials. He is looking distraught and gets to his feet but falls down again. He is now helped to the back. He refuses support and falls down again. The crowd starts a 'Yes' chant again until he gets to his feet and goes back.
Becky Lynch(c) vs Asuka– WWE RAW Women's Championship Match
We are getting the video for this package now. Asuka enters first, flanked with Kairi Sane. Becky Lynch enters to one of the best ovations of the night. They circle each other to start and try to lock down early. They start again and Asuka gets Becky in the headlock briefly before a pin attempt. A fast and technical start to the match. Lynch avoids the dropkick and hits a shoulder tackle.
Asuka moves out and catches Becky with a kick on the apron. She goes for the hip attack when Becky was on the apron. Becky dodges it and uses the rope for an armbar. Becky hits a dropkick from the top to get two-count. Asuka moves to the ropes again and hits an inverted neckbreaker. A few blows in the ring and a dropkick gets her two-count. Asuka with a few blows to the back, slams Becky into the mat and hits a shining wizard for another two-count.
Becky breaks free of arm-twist, hits a few elbows, double knee to the back, bulldog and a low dropkick to get two-count. They fight in the corner and then on the apron. Asuka tries to hit the German suplex off the apron but Becky hangs onto the ropes. She hits a suplex on Asuka, sending her face-first into the floor. Becky waits for Asuka to get up and hits a dropkick and then a bexploder into the barricade.
Back in the ring, she hits a leg drop from the middle rope to get a near fall. Becky continues with the blows leading to a few dodges from both sides. Asuka hits a knee to the face and then a powerbomb to get two-count. Asuka wins the tussle at the apron to hit an elbow and then a hip attack to send Becky into the ring post. Becky tries to fight back but gets sent into the ring post again.
Asuka goes for the suplex when Becky turns it around. She hits a springboard kick and then the Manhandle slam from the middle rope for a near fall. Asuka hits the double knees to the face when Becky goes for the double ax handle. She puts her in the armbar and then Asuka lock. Becky grabs the ropes. Asuka hits a German suplex and several kicks to the face to get another near fall. Asuka starts kicking her in the face as Becky amps up. She hits a big kick but only gets two again.
Becky gets out of a hold and tries to get Asuka in the DisArmHer. They tussle for a bit and Asuka ends up rolling Becky for a two-count. Both women are down now. They start trading punches now and Becky gets pushed into the referee. Becky kicks Asuka in the gut, which led to Asuka's green mist getting spit in the air and back on her face. Becky puts her in the DisArmHer quickly and gets the tap out.
Winner- Becky Lynch(retains WWE RAW Women's Championship)
30 Men Royal Rumble
Booker T is the special guest commentator for the match. Michael Cole tells us that Rusev and Bobby Lashley are ruled out of Royal Rumble. They got into a brawl backstage and are medically unfit. Brock Lesnar enters for the #1 entry. Elias' guitar strums and he is the #2 entry. He plays with the crowd and calls Paul Heyman the zookeeper. Brock is rolling around in the ring as Elias starts to sing.
Lesnar gets frustrated with Elias and runs after him on the ramp. Elias dodges him and gets in the ring. Lesnar takes him down with a tackle as the bell rings. He hits the German suplex next and breaks Elias' guitar on his back. Lesnar eliminates Elias from the match. Erick Rowan is entering at #3. Rowan hits a back elbow to avoid the German suplex but Lesnar clotheslines him out of the ring to eliminate him. Rowan was in the ring for 8 seconds only.
Robert Roode is entering at #4. Roode punches with some right hands and even gets his foot up in the corner. Lesnar clotheslines him and hits the F5 before throwing him out. Lesnar grabs the WWE Championship title and hurls it until #5 entry, John Morrison enters. Morrison tries to kick him but Brock also had the same idea. Brock grabs him for a Belly to Belly suplex to eliminate him in 9 seconds.
Kofi Kingston is in at #6. The crowd gets behind him as he rains down punches and kicks on Lesnar. Lesnar picks him up and slams him in the corner. He hits a German suplex but Kofi has survived the 90 seconds until Rey Mysterio enters at #7. Rey is also slammed to the mat by Lesnar and whipped into the corner into Kofi. Lesnar hits double clotheslines to both opponents. He hits a German suplex each on Rey and Kofi.
Big E is angry as he enters at #8. Both Kofi and Rey have rolled out of the ring. Big E, Rey and Kofi go after Lesnar at once. Kofi hits Lesnar with Trouble in Paradise, Big E hits the Big Ending and Rey hits the 619. Lesnar catches Rey and throws him out. He jumps off Big E's back and to hit a clothesline on Kofi. Big E is eliminated by a clothesline and Kofi with a F5.
Cesaro enters at #9 and gets eliminated quickly. Shelton Benjamin enters at #10. He has been Lesnar's sparring partner and long-time friend. Heyman hugs him before he enters the ring. Brock also embraces him and they get ready for next entry. Lesnar picks him up for F5 and eliminates him.
Shinsuke Nakamura enters at #11. Nakamura gets some offense going and gets ready for Kinshasa. But Lesnar grabs him and eliminates him. MVP is making a return to WWE at #12. He shouts at Paul Heyman and chases him around the ring. Lesnar grabs him midway and pulls him into the ring. A German suplex, and MVP is tossed out of the ring for another elimination. Keith Lee enters at #13 now.
Lee and Lesnar stand face to face now. Lee no-sells Lesnar's tackle and gets whipped to the corner. Lee hits a splash in the corner and whips him to the other corner. Lesnar explodes out of the corner and both men are down with a double clothesline.
Braun Strowman gets in at #14 and splashes both men. Keith Lee moves out and Strowman hits the running truck on the big men. He returns to the ring and hits another splash on Lesnar. Lesnar grabs Strowman for a German Suplex. Lee comes back and takes Lesnar down. Strowman and Lee have a face-off now as they try to eliminate one another. Lesnar pushes both of them at the same time for the elimination.
Ricochet enters at #15 and gets manhandles by Lesnar. Drew McIntyre is in at #16. He trash talks Lesnar and goads him into uncovering his gloves. Ricochet hits a low blow from behind on Lesnar. Drew McIntyre hits the Claymore to eliminate Lesnar from the match. McIntyre and Ricochet go at it and McIntyre throws him out easily.
McIntyre is still keeping his eyes on Lesnar at the ringside as The Miz enters at #17. The Miz enters the ring and go at it with McIntyre. McIntyre takes him down and hits the Claymore kick on him. He is still keeping an eye on Lesnar as he eliminates the Miz. The crowd is mocking Lesnar now. Lesnar leaves from the ringside with a warning to McIntyre.
AJ Styles is in at #18 now. Styles corners McIntyre but McIntyre is equal to him. Styles goes for the calf crusher but McIntyre slams him to the floor. Dolph Ziggler comes in at #19 and deistracts McIntyre so that Styles could hit a low blow. They gang up on McIntyre but he survives. Styles and McIntyre were in a tussle when Karl Anderson enters at #20.
The Rated R Superstar Edge enters at #21 to blow off the roof. He hits the spear on Ziggler and then on Anderson. He hits the bulldog on McIntyre and hits a spear on him also. Styles and Edge face-off, and we have one WrestleMania match fixed here. They go toe to toe with each other and Styles hits the Pele kick on him.
King Corbin enters at #22 and goes after Styles. The match continues and Edge eliminates AJ Styles. Matt Riddle gets in at #23. He hits quick moves on many in the ring but gets thrown out by King Corbin. Luke Gallows enters at #24 now. Corbin takes down Edge but gets eliminated by McIntyre. Anderson and Gallows hits magic killer on Edge now.
Randy Orton is in at #25. He hits the RKO on Anderson and then on GAllows. Edge and Orton have partnered up as they eliminate Gallows and Anderson at the same time with clotheslines. They beat up other two until Roman Reigns enters at #26.
Roman hits the punches and tackles on others. He hits the spear on Dolph Ziggler and eliminates him soon after. Kevin Owens enters at #27. Splash on McIntyre, punches to Orton, pop-up powerbomb on McIntyre, stunner to Roman. Orton preys him but he also gets a stunner. Aleister Black gets in at #28. He brawls with Kevin Owens for a while and ends up hitting Black Mass on McIntyre.
Samoa Joe is in at #29. He goes after Black and gets better of him. Joe and Owens face off before starting their brawl. At number 30, enters Seth Rollins, Buddy Murphy, and Authors of Pain. Owens and Joe go after them outside the ring itself. Rollins' group gets better of them and then start manhandling others. They send Edge to the barricade, Orton into the announce desk.
Rollins enters the ring and start brawling with Roman. He hits the stomp on Roman. Aleister Black also get involved with Rollins but gets eliminated with some help from Murphy. KO starts beating him down and manages to toss him out of the ring but AOP catches him. AOP helps Rollins eliminate KO. Samoa Joe grabs him in the Coquina clutch but Murphy hits an enziguiri from the apron. Rollins and Murphy eliminate Joe also.
A brawl breaks down as Joe, Black and KO take on Murphy and AOP at the ringside. They all leave from the ringside now. Rollins is left frustrated as he is all alone now. Orton, Roman, McIntyre and Edge have surrounded him in all corners. Rollins tries to talk Roman into a partnership. Roman hits him with superman punch on Rollins and Orton hits the RKO. McIntyre hits the Claymore kick and Edge tosses him out for the elimination.
We are down to the final four. Only McIntyre is the one who has not won this match before. Rated RKO teams up again to take on the other two. Orton gets better of Roman and comes in to help Edge against McIntyre. Orton hits the RKO on McIntyre and Edge follows with a spear. Edge and Orton hit double RKO on McIntyre now. Orton was teasing an RKO on Edge but does not follow on it. Edge realizes what he was up to and throws him out.
Edge and Roman face off now. Roman hits a superman punch on Edge but misses the spear. Edge gets the spear on Roman and tosses him to the apron. Roman and Edge fight it at the apron now. Roman kicks at Edge's hands to break his grip on the ropes and eliminates him. McIntyre and Roman are the only two left. McIntyre dodges the superman punch and hits the Claymore kick. He tosses Roman out and wins the Royal Rumble.
Winner- Drew McIntyre