WWE RAW Results Live January 2, 2023- Rollins vs Theory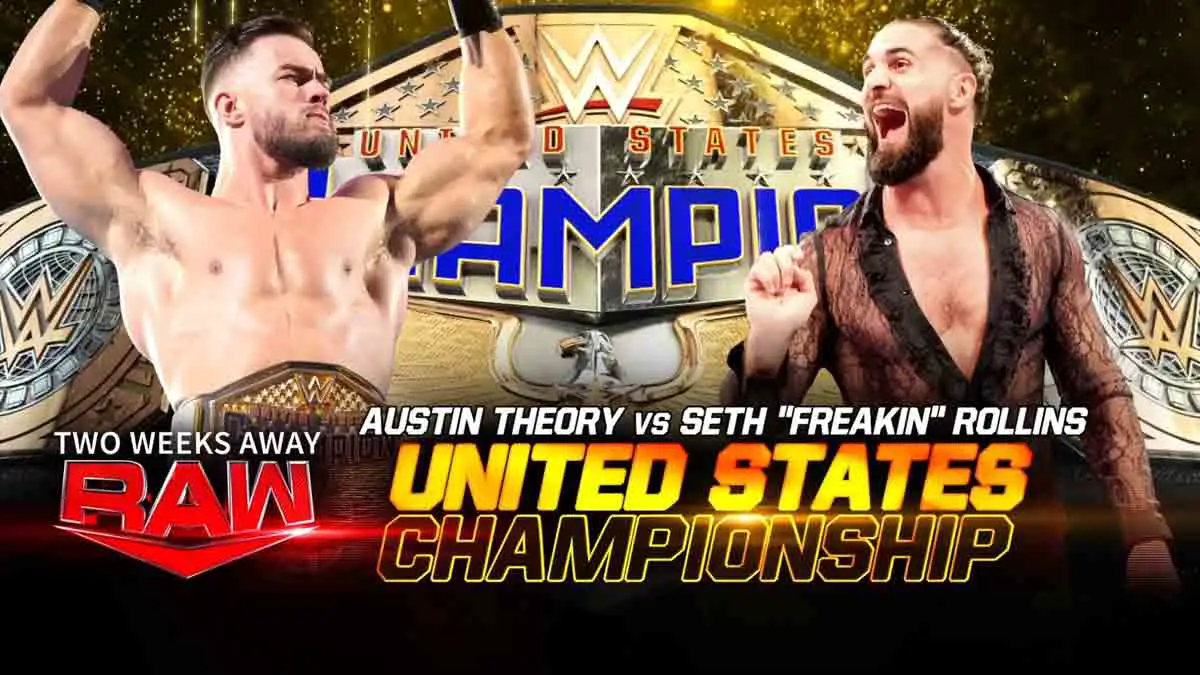 Welcome to the live results blog for the first WWE RAW episode of 2023 in January 2 as WWE builds up towards Royal Rumble 2023 event.
This episode of WWE RAW has two titles matches announced in advance. First, WWE RAW Women's Championship will be defended as Bianca Belair takes on Alexa Bliss. Bliss has shown tendancies to towards going back to Bray Wyatt Universe. Will it happen this week or will this be Bliss' mental degradation towards that way slowly?
Second title match on January 2, 2023 episode of RAW is going to be United States Championship match. Austin Theory defends the title against the last champion Seth Rollins. The anticipation is for either of Bobby Lashley or Cody Rhodes to cost Rollins the title. Will it be the case?
Expect a lot more action with the likes of Becky Lynch and Bayley continuing their rivalry. What awaits Bronson Reed as he returns to the red brand. How will Dexter Lumis takes revenge against him?
Tune in below to find out as we bring you live results and updates from WWE Monday Night RAW episode of January 2, 2023, with complete action, highlights and winners.
RESULTS
Bianca Belair(c) defeated Alexa Bliss in a singles match via disqualification to retain WWE RAW Women's Championship.
Solo Sikoa defeated Elias in a Music City Street Fight via pinfall.
The Bloodline(Jimmy Uso, Jey Uso & Sami Zayn) defeated The Street Profits(Montez Ford & Angelo Dawkins) & Kevin Owens in a tag team match via pinfall.
Dexter Lumis defeated Chad Gable in a singles match via pinfall.
Damage CTRL(Dakota Kai & Iyo Sky) defeated Becky Lynch & "Michin" Mia Yim in a tag team match via pinfall.
Austin Theory(c) defeated Seth Rollins in a singles match via pinfall to retain WWE United States Championship.
LIVE UPDATES
The Bloodline Attack RAW
The Bloodline cuts off the opening theme as they come through the crowd. Solo Sikoa, The Usos and Sami Zayn attack some crew and security members. They tip over the announce table and continue the destruction. Kevin Owens' music hits and he comes out to the stage. Sami Zayn tells him that The Bloodline is not in good mood and all of this is because of Owens.
After more verbal exchange, Owens charges towards the ring but WWE Official Adam Pearce comes out and stops him. He sends more security to the ring to get The Bloodline out. Solo Sikoa leads the charge against security as The Bloodline beat them up. Owens also get into the ring to attack them. Pearce has to call out the members of RAW Roster to take care of The Bloodline. The Street Profits, Good Brothers, Shelton Benjamin, Elias, Cedric Alexander and several others come out.
The Bloodline run away and get into the crowd. Pearce says The Bloodline cannot dodge now. He announces that he will put every single one of them in a match tonight.
---
WWE RAW Women's Champion Bianca Belair is backstage for an interview before her match. Bianca says she is no victim and she would not want to talk to Alexa after tonight. Bianca says Alexa does what she wants and when she wants and Bray Wyatt has nothing to do anything.
---
Several men are backstage and want a piece of The Bloodline. Elias says Solo tried to swing his guitar at him and end his career and therefore, he wants a piece of him. Pearce announces A Music City Street Fight between Elias and Sikoa. Also, The Usos and Sami Zayn will face The Street Profits and Kevin Owens.
Bianca Belair(c) vs Alexa Bliss – WWE RAW Women's Championship
Bianca hits a big forearm to drop Alexa to start. Alexa charges but Bianca uses her reach advantage to keep her off and hits a big uppercut. Alexa swings big but misses. She hits a dropkick to send Bianca to the floor. Bianca catches her dive and swings her into the barricade. We cut to a break.
Bliss is in control as we return. Bianca gets her in position for a Fall Away slam but Alexa comes out of it. Bianca charges to the corner but Alexa counters to send her into the turnbuckle. Alexa stands on her back and kicks her head into the mat a few times. Bianca gets her up for a suplex but Alexa slips out and hits a knee to get a two-count.
Alexa boots Bianca to the corner and holds it until the referee's 5 count. Bianca fires a punch but Alexa replies with a flurry of offense, ending it with a dropkick for a two-count. Bianca blocks a DDT and hits a vertical suplex. Alexa hits a punch which enrages Bianca who replies with a flurry of punches before slamming Alexa's face into every turnbuckle.
Bianca hits a trio of body slams and a handspring splash to get a two-count. Alexa slips out of another body slam and uses a low bridge to send Bianca to the apron. She kicks Bianca down to the floor and hits a senton/cutter on the floor. We cut to another break.
Alexa hits a big dropkick to send Bianca to the corner. She puts on a chinlock. Bianca gets to her feet but Alexa drops her. Alexa misses a senton before they trade pin attempts. Bianca overpowers Alexa and ends up hitting a backbreaker. Bianca unloads with punches from the second rope. Alexa slips to the apron and slams Bianca's face into the turnbuckle.
Alexa goes near the barricade and someone is in the front row with Uncle Howdy mask. Alexa's attention is diverted to this man now. She takes Bianca back to the ring now. The screen flickers with Uncle Howdy and Firefly Fun House. Alexa starts losing control.
Alexa attacks the referee and unloads on her. She then attacks Bianca and takes her to the floor. She sends Bianca into the barricade, ring post and steel steps before hitting her with a DDT on the steps. She leaves for the ramp but returns and hits another DDT on Bianca on the steps. Alexa leaves for the ramp once again. A stretcher is brought out for Bianca.
Winner – Bianca Belair(via DQ)
During the break, Montez Ford came out to help Bianca who was a bit disoriented due to the attack.
---
WWE United States Champion Austin Theory is backstage and says his confidence is at all-time high. 2022 was his year and 2023 will also be. He says Rollins is the past and he is "now". He adds that he is playing Rollins at every stage which is not bad for a kid.
Elias vs Solo Sikoa – Music City Street Fight
Elias is in the ring with his guitar. He starts playing his guitar before saying he plans to smash this guitar on Solo Sikoa's face. He wants to play a song but Solo Sikoa's music interrupts him. Sikoa makes his entrance before the bell rings.
They lock up and Solo pushes Elias away. Elias puts on a chinlock before Solo no-sells a running tackle. Solo takes Elias to a corner and hits a big punch. He follows up with headbutts. Elias comes back with chops. They block hip-toss before Solo drops Elias with a lariat. Elias uses a low bridge to send Solo to the floor.
Solo avoids a dropkick on the floor before slamming him into the barricade. Elias hits Solo with a wooden block. Elias slams Solo's face into the ringpost and hits a chop. Solo ducks a guitar shot. Elias sends him into a bunch of instruments and slams his face into the barricade as we cut to a break.
Solo whips Elias into a set of instruments on the stage. He hits mic shots before a thrust kick. Solo then sends Elias into a drum. He hits Elias with mic stand into his stomach before he takes Elias to the ring. Elias tries to fight back but Solo hits him with a Samoan Drop for a two-count. Elias rolls to the floor and hits Solo with a tambourine. Back to the ring, Elias slams a keyboard on Solo a couple of times for a two-count.
Elias puts on a chinlock. Solo hits spinning Solo to counter it. Solo misses a corner splash and Elias hits him with a tambourine in the corner. Elias hits corner splashes before dropping him with a big tackle. Elias clotheslines Solo to the floor and hit him with a keyboard again. Elias gets a guitar from Hardy and gets into the ring. Solo hits him with a superkick.
Hardy gets into the ring and breaks a guitar on Solo's back. He has to run away as it does not affect Solo at all. Elias attacks him from behind. He goes to the top but Solo counters a dive with Samoan Spike. Solo hits an Urinage on a Piano to get the pin.
Winner – Solo Sikoa
Jimmy Uso, Jey Uso & Sami Zayn vs The Street Profits(Montez Ford & Angelo Dawkins) & Kevin Owens
The teams engage in a brawl just after their entrances. The bell rings after a brief brawl. Jimmy and Dawkins start. Jimmy unloads on Dawkins before Dawkins hits him with a tackle. Dawkins hits a corner splash before Ford hits a dropkick after the tag. Dawkins tags back. Jey hits him with an enzuigiri while Jimmy distracted the referee.
Jimmy takes down Dawkins and tags in Jey. Quick tags between The Bloodline to keep Dawkins in their corner. Dawkins fires back with an uppercut on Jey and tags in Owens. Owens hits quick moves on Jey. He hits a senton on Jey before dropping Jimmy off the apron. KO was looking to tag to Ford but he is not focused right now due to Bianca Belair's condition. The Bloodline work in number to take KO to their corner. We cut to a break.
Jimmy hits an uppercut on KO as we return. Jey tags in. KO hits him with punches but Jey rocks him with a big shot. Dawkins is kicked off the apron by Jey. KO also hits a superkick on Jey. KO looks for a tag but he has to punch Ford to get him to life. Ford gets enraged and unloads on Jey. Sami comes in as he gets a tag. Ford hits him and Jimmy with a crossbody. He sends Sami to the corner for a tackle before hitting a senton for a two-count.
Sami joins him at the top. Ford drops him back to the mat and hits a frog splash. Jey breaks the pin. Dawkins punches him back to the floor and hits him with a big tackle. Ford sends Jimmy and Sami to the floor before hitting them with a suicide dive. Solo Sikoa comes out and attacks Dawkins. KO goes to deal with him but Jey hits him with a superkick. Ford takes Sami back to the ring. He deals with Jimmy on the apron but Sami catches him with Helluva kick to get the pin.
Winner – Jimmy Uso, Jey Uso & Sami Zayn
After the match, The Bloodline continues to attack their opponents. Solo picks up a chair and Sami takes it from him. Drew McIntyre and Sheamus run out from the crowd to attack The Bloodline. They take down Solo and Sami on the floor before beating up with The Usos in the ring. The Bloodline rush back to the ramp.
---
We are told about AJ Styles' injury he suffered at a Live Event last week.
Dexter Lumis vs Chad Gable
Gable runs circles in the ring to avoid an attack from Lumis. Lumis gets a hold of him but Gable runs to the floor and hides behind Otis. Lumis hits a Thesz Press, a leg drop and a series of punches. Lumis goes to intimidate Otis and Gable takes advantage with an attack. Gable hits arm drags before staring to work on his arm. He puts on an arm lock.
Lumis whips him to the corner but Gable avoids a big boot. Lumis unloads with punches and hits an elevated uppercut. He kips up into a legdrop for a two-count. Gable comes back with a German suplex and Lumis drops to the floor. Gable sends Lumis into the ring post with a knee strike. Gable gets back to the ring. Otis tries to hit a spinning elbow on Lumis but Lumis ducks and Otis' hand is slammed into the ringpost. Gable goes for a crucifix on Lumis, but Lumis counters to get the pinfall.
Winner – Dexter Lumis
Bayley vs Becky 2?
Bayley comes out with Dakota Kai and Iyo Sky. She calls the city "Trashville" and asks them to be grateful that she returned to WWE here at Summerslam. She plugs in her stablemates and WWE Women's Tag Team Champions Dakota Kai and Iyo Sky. She starts to talk about "Big White Irish Elephant" Becky Lynch and how she defeated Becky two weeks back.
Becky comes out in response. Becky says Bayley is on the same wheel week in week out and she has been a fraud. She adds that it took Bayley one year to get out of someone else' shadow but now she is back in the shadows. This time around, Bayley needs Kai and Sky now and it will only be a matter of time before someone turns on someone. Becky goes on to challenge Bayley for a match.
Bayley teases a match, but says it is not happening since she defeated Becky fair and square last time around. Bayley instead pitches a tag team match with Becky and a partner taking on Kai and Sky. Becky says she will take them on alone. We cut to a break.
Becky Lynch & "Michin" Mia Yim vs Damage CTRL(Dakota Kai & Iyo Sky)
Becky starts on the front foot against Sky with quick takedowns. She kicks off Kai from the apron. Becky continues to be in control before Sky tags in Kai. Becky sends Kai into Sky in the corner for a two-count. Becky hits a corner tackle. She misses a second tackle. Sky runs a distraction and Kai hits Becky with a big boot.
Becky rolls to the floor. Kai whips Sky into Becky to hit a clothesline on the floor. Sky hits a dropkick on the floor before getting back to the ring. Kai and Sky keep Becky under control with quick tags. Sky sends Becky into the barricade and then into the ring post. Kai hits a DDT as Becky gets into the ring.
"Michin" Mia Yim runs out to partner Becky. Becky hits a jawbreaker on Kai and tags in Mia. Mia hits quick moves on Kai. Sky also gets in and Mia continues with quick attack. Becky hits an elbow on Kai on the floor. Mia hits a suicide dive on Sky to take us to a break.
Kai and Sky are working in tandem against Mia Yim. Yim tries to come back but Sky drops her with a bulldog and puts on a crossface. Mia rolls Sky for a pin attempt. She kicks away Sky who crashes into Kai for a tag. Mia hits a neckbreaker on Sky. Becky gets a tag and Kai goes to trip him off the apron. Becky kicks Kai away and sends her into the barricade. Becky hits a missile dropkick on Kai for a close two-count. Becky slams her into the corner.
Mia and Becky hits a double superplex on Kai. Mia covers Kai but Sky breaks the pin. Becky goes for a Manhandle slam but Sky blocks it and hits Becky with an uppercut. Mia hits Sky with a dropkick. Mia hits a leg DDT on Kai. Bayley puts Kai's leg on the ropes to break the pin. Becky attacks Bayley on the floor. Mia hits "Eat Defeat" on Kai but Sky had got the tag and hits an Over The Moonsault to get the pinfall.
Winner – Damage CTRL
Seth Rollins is interviewed backstage and says 2023 is already looking like 2022 as The Bloodline and as well as Austin Theory trying to get his spot. He says Theory is trying to hold onto the title but he won't be able to since he is not the revolutionary and visionary that Rollins is.
---
Alexa Bliss is interviewed backstage and says she did not lose control, but she has shown Bianca who is actually in control and how she is a threat to her title.
Austin Theory(c) vs Seth Rollins – WWE United States Championship
Rollins ducks Theory's swing and plays mind games as the crowd sing his song. Theory hits a kick to midsection and puts on a chinlock. Rollins changes his direction and hits a slingblade before throwing Rollins to the floor. He hits a suicide dive. Rollins brings Theory back to the ring but he rolls back to the floor. Rollins hits a knee dive on him. He sets up Theory on the barricade and hits a knee to the back of his head. We cut to a break.
Rollins is hitting chop against the barricade as we return. Theory tries to counter as they return to the ring but Rollins hits him with a knee. Theory goes to the apron and drops Rollins' face on the ropes. Theory hits a dropkick after a rollover. Theory unloads on Rollins with punches now. Theory whips Rollins hard into the corner. Rollins hits some punches but Theory hits him with a backbreaker.
Rollins hits a back suplex. He misses a corner splash and Theory puts him in a chinlock. Rollins hits elbows to ribs. He hits a jawbreaker before Theory dumps him to the floor. Theory slams Rollins' face into the announce table before throwing him over it. Theory rakes the title at his face as we cut to a break.
They trade shots as we return. Rollins flattens Theory a couple of times before hitting a clothesline. Rollins hits a suicide dive but Theory blocks a Pedigree when they return to the ring. Rollins hits a backbreaker for a two-count. He goes to the top now. Theory shuts him down. Rollins slips out into a powerbomb position. Theory counters and connects with an elbow. Rollins' knee gives up as he was going for a back body drop.
Rollins goes for another powerbomb but Theory grabs the ropes and gets to the top. Rollins hits superplex but Theory counters falcon arrow with a brainbuster for a near fall. They trade several kicks and Rollins drops Theory with an enzuigiri. Rollins sells his knee injury. They trade more punches when they get back up. Rollins hits a couple of rolling elbows. He goes for the stomp but his knee gives up.
Theory rolls to the floor, picks up the title and goes into the crowd. Rollins chases him down and brings him back. Rollins hits a superkick to cut off a title shot. He hits a a frog splash to get a near fall. Theory pushes Rollins into the referee. Rollins lands on his feet on a back body drop. He hits a Pedigree but Theory is able to kick out until another referee runs down to count for the pin.
Rollins pleads to the referee. Rollins avoids getting into this referee as well Theory pushes him. Theory hits a low blow as the referee's attention was off. He follows up with a chop block and a kick to the knee. Theory hits A-Town Down to get the pinfall.
Winner – Austin Theory