WWE RAW January 16, 2023: Results & Live Updates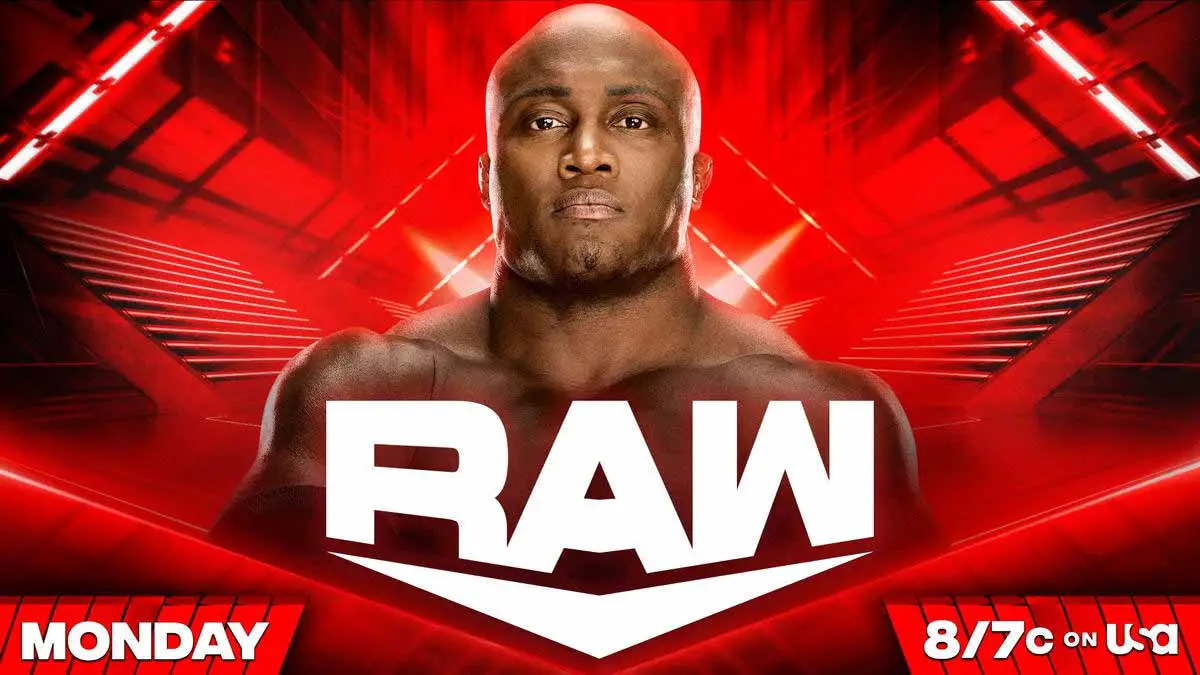 Welcome to the Live Results blog for WWE RAW January 16, 2023 episode which was be the prelude to RAW's 30th Anniversary episode and also built up towards Royal Rumble 2023 event.
WWE had advertised just three things in advance. First was the follow-up on Bobby Lashley's return last week where he announced for Royal Rumble match after attacking US Champ Austin Theory. Also, MVP had talks with him to reunite Hurt Business.
Second was what would be the next step Judgment Day after becoming the #1 contender for RAW Tag Team Championship. Would we see their showdown with The Usos set up any time soon? The third was a six-pack elimination match with the winner getting a shot at United States Championship. Seth Rollins, Bobby Lashley, Baron Corbin, Dolph Ziggler, Finn Balor and The Miz were part of this match.
We also saw Becky Lynch and Bayley getting in the war of words. Kevin Owens targetted The Bloodline once again as Solo Sikoa faced Mustafa Ali in a singles match. Mia Yim took on Iyo Sky.
Tune in below as we post results from WWE Monday Night RAW January 16, 2023 episode with live updates, winners, highlights and complete action.
RESULTS
Solo Sikoa defeated Mustafa Ali in a singles match via pinfall.
The Street Profits(Montez Ford & Angelo Dawkins) defeated Hurt Business(Cedric Alexander & Shelton Benjamin) in a tag team match via pinfall.
Omos defeated Elias in a singles match via pinfall.
Judgment Day(Dominik Mysterio & Damian Priest) defeated Alpha Academy(Chad Gable & Otis) in a tag team match via pinfall.
Mia Yim defeated Iyo Sky in a singles match via pinfall.
Bronson Reed defeated Akira Tozawa in a singles match via pinfall.
Bobby Lashley won Six Pack Elimination Match for #1 Contender for United States Championship.

Seth Rollins eliminated The Miz via pinfall.
Seth Rollins eliminated Dolph Ziggler via pinfall.
Seth Rollins eliminated Finn Balor via pinfall.
Bobby Lashley eliminated Baron Corbin via pinfall
Bobby Lashley eliminated Seth Rollins via pinfall.
LIVE UPDATES
The Bloodline and Judgment Day
The Usos come out with Solo Sikoa to open the show. They start to talk about how they are running both RAW and SmackDown every week. Then, they come on Kevin Owens and tell him that they hope he has learnt his lessons on crossing The Tribal Chief. Then, they announced that there will be an "Acknowledge Me" ceremony next week as part of their big plans for RAW 30th anniversary episode. They also announce that they will defend RAW Tag Team Championship against Judgment Day.
Judgment Day come out to the stage. Rhea says are coming after The Usos. Finn Balor points out how they ran the gauntlet last week and won. They get into the ring now and Balor thanks Dominik for stepping up in his place in the gauntlet match and then says they will take those red belts away from them next week. Damian Priest says Balor will take care of the business later this week to become #1 contender for United States Championship. Priest asks why The Bloodline never stepped up to them.
Dominik Mysterio takes the mic and says he smells fear from The Usos. The Usos retort by doing a quick promo by highlighting how they have been on top of tag division for more than 500 days now and how they won SmackDown Tag Team titles from Dominik and his dad. Dominik then calls Solo Sikoa a coward. Solo steps up and stands in front of him.
Rhea Ripley gets in between Solo and Dominik. Solo teases hitting Rhea with Samoan Spike but Dominik attacks him to start a brawl between the two sides. Everyone is sent to the floor and only Rhea and Solo remain in the ring. Mustafa Ali jumps on Solo and hits him with punches as we cut to a break.
Mustafa Ali vs Solo Sikoa
The match has already started and we see Ali unloading on Solo. Solo hits him with a Samoan drop. He hits several punches before hitting a hip attack in the corner. Solo hits some punches with Ali on the mat. Ali fights out of a chinlock and starts to build momentum with some kicks and more quick moves after running the ropes.
Ali manages to send Solo to the floor by spreading the ropes. Solo cuts off his dive with a punch mid-air. Solo comes back in the ring and hits a big lariat. Ali fights out back again as he is sent to the apron. Solo grabs him and slams him into the ring post. Ali is down on the floor.
The Usos come out through the crowd and stands on the apron to pose with Solo. Kevin Owens' music hits and he comes out. The Usos go to deal with him and Owens manages to send him into the barricade. Solo is also distracted and Ali recovers in time. Ali hits a crossbody on Solo from the top but Solo kicks out of the pin. Solo hits him with a Samoan Spike to get the pinfall.
Winner – Solo Sikoa
After the match, Kevin Owens comes into the ring and hits a Stunner on Solo Sikoa. Owens takes Solo to the announce table and sets up to put him through the announce table. The Usos stop Owens and engage him in a brawl. Owens throws a chair at them. The security and other crew members come out to try to take things under control.
---
Bobby Lashley is backstage and says it will not matter if there are 6 former champions in the elimination match later tonight, but there is only one All-Mighty. He claims that Austin Theory's title reign has an expiry date and it is RAW 30.
---
We get a video package on Cody Rhodes where we see his road to recovery and he is back in the Nightmare Factory to get ready for his return. Cody says the question is no longer about if, and it is more about when. Cody announces that he will return at Royal Rumble.
---
Elias is outside Adam Pearce's locker room. Byron Saxton interviews him and Elias says 2022 was a roller coaster as we saw his brother's career starting and fizzling out, and then he returned but his best friend got injured. He wants a new start in 2023 and that is why he wants to talk to Adam Pearce on his entry to Royal Rumble match. MVP comes out and tells him to forget about Royal Rumble match as the winner is already set. Elias tells MVP that he has not been relevant for more than a decade now. MVP asks him if he wants to face the winner of Royal Rumble 2023. Elias agrees.
The Street Profits(Montez Ford & Angelo Dawkins) vs Hurt Business(Cedric Alexander & Shelton Benjamin)
Benjamin starts against Dawkins but he kicks Ford off the apron. Dawkins attacks him but Shelton hits him with a dropkick. Cedric tags in for some double team before Dawkins tags in Ford. Ford hits Cedric with a crossbody and a clothesline. Cedric goes for a German suplex on the apron but Ford hangs onto the ropes to block it. Cedric slams him to the apron. MVP comes out as we cut to a break.
Cedric and Benjamin are in control as we return. Ford explodes from the corner and tags in Dawkins. Dawkins hits quick moves on both men. He sends Cedric to the floor before hitting a spinebuster on Benjamin. Ford hits the frog splash on Benjamin but Cedric breaks the pin. Cedric is thrown to the floor again. Dawkins picks up Shelton on his shoulder as Ford was getting ready for a double-team finisher.
Cedric hits a chop block on Dawkins and Shelton quickly jumps to the top to hits a superplex on Ford. Ford throws Shelton to the floor and hits a suicide dive. Cedric follows up with a dive before Dawkins takes out everyone. MVP tries to take Cedric away from the corner but he is late. He distracts the referee as Shelton throws Dawkins into Cedric's jumping knee. Cedric goes for a pin but Dawkins changes it into a crucifix to get the pinfall.
Winner – The Street Profits
The Street Profits celebrate as they leave to the stage. Cedric and Shelton are arguing with MVP on the floor.
---
Judgment Day is backstage and get interviewed by Cathy Kelley. They talk about how Balor will win later tonight and their win last week at Gauntlet match. Alpha Academy come out and say they just barely got past them last week. Rhea gets in Chad Gable's face. Dominik says Gable would not survive the prison. The argument continues until they agree to a match later.
Becky Lynch and Bayley
Becky Lynch comes out from the crowd. She gets into the ring and asks Bayley to come out to the ring. She continues to call her names until she comes out of with Dakota Kai and Iyo Sky. Bayley says Becky has forgotten her name and is calling her a "Karen." Becky explains what a "Karen" is. Bayley gets into the ring and says it is just Becky's bitter reaction to losing to her and still not having any friends.
Becky says this whole arena is her friend. She says Bayley peaked in 2015. Bayley retorts by saying that she ran NXT in 2015 when Becky ran away with other horsewomen and took her spot. Becky says they kept Bayley in NXT because she was saying that she was the future or was she just lying as always. Becky says she did not come to main roster because she wanted to main event Wrestlemania, but because she loves this business. Their argument continues and Bayley signals Dakota and Iyo to take out Becky.
Becky says Bayley is hiding behind them as always. Bayley steps up and says she is not hiding. Becky says then she should not have a problem in a rematch with her. Bayley says, "No Problem". Becky then says there should not be a problem if that match is next week. Bayley says, "No Problem". Becky says that match will be steel cage match. Bayley hesitates a bit but then says, "No Problem". Becky asks her if she is sure because she hesitated. Bayley doubles down and says the match is down.
---
Mustafa Ali confronts Dolph Ziggler backstage as he was warming up. Ali taunts Ziggler on getting another main event when people like him do not get anything. Ziggler says no one gets handouts here. Ali decks him to drop him and asks if he has Ziggler's attention now.
Elias vs Omos
Elias is in the ring as we return from the break. MVP comes out to the stage on his suit. MVP says he does not why Elias thought he is facing him when his actual opponent is the winner of Royal Rumble 2023 match Omos. Omos gets into the ring and Elias starts to unload with punches. Omos pushes him away and throws him into the corner.
Elias avoids a corner splash and hits more punches. Omos drops him with a big boot. Elias is thrown to the floor. Elias counters and manages to send Omos into the ring post. MVP blocks Elias' charge with his cane. Elias picks his guitar to attack MVP but Omos catches the guitar.
Omos smacks Elias before breaking his guitar on the floor. Elias catches Omos with punches on his way back. Elias hits a jumping knee and another one before he goes to the top. Omos picks him up for a double-handed chokeslam to get the pinfall.
Winner – Omos
Adam Pearce is backstage with Byron Saxton and talks about RAW's 30th Anniversary. Akira Tozawa comes in and asks to be put in Royal Rumble match. Pearce says he can't put him in Royal Rumble just like this. But, if Tozawa wins his match today, he might consider it. Tozawa agrees.
Judgment Day(Dominik Mysterio & Damian Priest) vs Alpha Academy(Chad Gable & Otis)
Gable slams Dominik to the mat by picking his hand. Dominik gets some advice from Rhea and tags in Priest. Gable goes for a waist lock on Priest but Priest throws him to the floor. Gable uses his quickness to skip past some attacks from Priest and hits him with a dragon screw leg. Gable holds Priest as Otis hits him with a tackle. Otis holds Priest as Gable hits him with a double axe handle. Priest kicks Gable to the floor as we cut to a break.
Gable has put Dominik in an armbar using the ropes when we return from the break. Dominik tags in when Gable lets him go on the referee's count. Priest whips him to the corner and hits a big elbow in the corner. Back-and-forth action follows between the two teams. Gable puts Dominik in an ankle lock. Rhea distracts the referee and Priest drops Gable with a choke slam. Dominik drags on and covers Gable to get the pinfall.
Winner – Judgment Day
"Michin" Mia Yim vs Iyo Sky
Mia starts by slamming Iyo's face. She hits a dropkick before Iyo escapes a corner attack by going to the apron. Iyo avoids a clothesline on the apron and drops face her on the ropes. Iyo hits a missile dropkick and hits a corner splash. Mia hits forearm shots before Iyo takes her down for a crossface. Mia rolls her over for a two-count.
Mia hits a back body drop but Iyo lands on her feet. Iyo hits an uppercut. Mia blocks a hurricanrana before hitting a neckbreaker. A bit of back and forth and Mia Yim hits a back body drop. Iyo blocks Eat Defeat. She gets distracted by Candice LeRae attacking Dakota Kai on the floor. Mia hits Eat Defeat on Iyo to get the pinfall.
Winner – Mia Yim
WWE RAW Women's Champion Bianca Belair comes out to the ring and talks about Alexa Bliss attacking him. Alexa Bliss comes out and starts to argue with Bianca. She was going to announce herself for Royal Rumble but Bianca intervenes and asks her why she wants to wait till WrestleMania to get a shot at him. Bianca asks her if she wants to face her at Royal Rumble. Alexa asks what is the catch. Bianca says its nothing. Alexa agrees to the match and says she will see her at Royal Rumble.
Bianca asks why to wait until then. They start to brawl on the floor and Alexa manages to send Bianca over the barricade. Bianca pulls her into the crowd for more brawling. Bianca sets up chair and set up for KOD over them. Uncle Howdy appears under the entrance stairs and Bianca freezes. Alexa slips out and hits a DDT on Bianca on the floor. We cut to a break
Akira Tozawa vs Bronson Reed
Reed hits a belly-to-belly suplex before putting on a waistlock. Tozawa gets to the ropes to break it. Tozawa hits a dropkick but Reed no-sells it. Reed hits a Thesz press on Tozawa. He puts Tozawa in the corner and beats him up. Reed whips him hard to another corner before a corner splash. Reed hits a steamroller before putting on another waistlock. Tozawa hits back elbows to break free. Reed hits a big blow.
Tozawa hits punches and a dropkick before hitting a hurricanran to send Reed to the floor. Tozawa hits a basement slide dropkick before a suicide dive to send Reed into the barricade. Tozawa goes for a hurrincanrana on the floor but Reed hits him with a powerbomb into the barricade. Reed then hits tackle from the apron. Reed hits Tsunami(splash from the top) to get the pinfall.
Winner – Bronson Reed
Seth Rollins vs Bobby Lashley vs Baron Corbin vs Dolph Ziggler vs Finn Balor vs The Miz – Six Pack Elimination Match for #1 Contender for United States Championship
All six men make their entrances one by starting with Seth Rollins. Austin Theory also come out to watch before the bell rings. All six men start to brawl with each other and we cut to a break.
Rollins and Balor are fighting in the ring. Corbin hits Lashley with a knee on the floor. Miz sends Ziggler over the barricade with a back body drop. Ziggler comes back with a tornado DDT. Rollins hits Balor with a gutbuster. He goes to the top and Corbin trips him. Corbin goes for a superplex but Balor joins him to delay it. Lashley comes in and drops all three of them in a Tower of Doom. Lashley misses a spear on Lashley. Miz throws Rollins to the floor. Ziggler hits Lashley with zig-zag when he was busy with Miz. Miz hits Skull Crushing finale on Lashley but he kicks out.
Ziggler goes for a DDT but Miz blocks it. Miz kicks at him in the corner before a corner clothesline. Miz stacks Ziggler for a pin for a two-count. Miz hits a big boot before Balor rolls him up for a two-count. Miz hits Balor with "It Kicks". Ziggler misses an enzuigirin on Miz. Miz puts on the figure four on Ziggler. Ziggler struggles for a while but manages to reverse the figure four. Rollins hits the stomp on Miz to get a pinfall and eliminate The Miz. We cut to a break.
Corbin and Balor are working together on Rollins and Ziggler. Lashley picks Corbin to his shoulder but Balor saves Corbin. Corbin and Balor send Lashley into the ring post. Balor gets back to the ring and Rollins drops him with forearms, superkick and a clothesline. Rollins hits a knee dive on Balor on the floor. Rollins spits water at Theory who was at the commentary. Rollins hits an overhead kick on Balor.
Ziggler comes in to join Rollins into working on Corbin. Rollins and Ziggler hit corner tackles on Balor and Corbin. Lashley takes Corbin to the floor. Rollins hits a suicide dive on Corbin and Lashley. Balor then hits a dive on three of them. Ziggler hits a crossbody on everyone. Ziggler takes Corbin back to the ring. Ziggler blocks a powerbomb and hits a superkick. Ziggler blocks Lashley's spear with a knee before hitting Balor with a superkick. Rollins hits Ziggler with a Pedigree to get eliminate him. We cut to a break.
Balor and Corbin are once again working together on Rollins and Lashley. Corbin whips Balor into Rollins and Lashley one by one. Corbin stops the third whip to hit Balor with Deep Six for a near fall. Corbin unloads on Rollins which leads to Rollins firing back with his punches. Corbin sends him to the apron and nails him with a punch to end him down.
Lashley hits Corbin with corner tackles before send him to the floor with a clothesline. Lashley hits both Rollins and Balor with DDT. Lashley hits a powerslam on Rollins for a near fall. Lashley picks up Balor from the apron and hits a delayed vertical suplex. He was going for the Hurt lock when Omos walks out with MVP. Corbin hits a big lariat on Lashley. Balor hits Corbin with a sling blade. Rollins takes Corbin to the floor. Balor hits sling blade on Lashley.
Rollins hits the stomp on Balor to get the pin and eliminate him. Corbin pulls Rollins to the floor. Omos throws Rollins over the announce table. Corbin gets into the ring and Lashley hits him with a spear to get a pin to eliminate him. Lashley stares down at Omos as Theory hits him with his title. Omos grabs Theory as he stands on the announce table. Theory jumps down but Omos holds him. Rollins hits Omos with the stomp on the announce table.
Rollins jumps on Theory and hits him with some punches. Rollins gets back to the ring. MVP comes to the apron and Rollins hits him with a superkick. Lashley hits a spear on Rollins to get the pinfall to win the match.
Winner – Bobby Lashley
Bobby Lashley celebrates his win in the ring and the commetary team comfirms that he will face Austin Theory next week for the title.