WWE RAW Rating- 23 May 2022 & Updated All-Time Viewerships & Ratings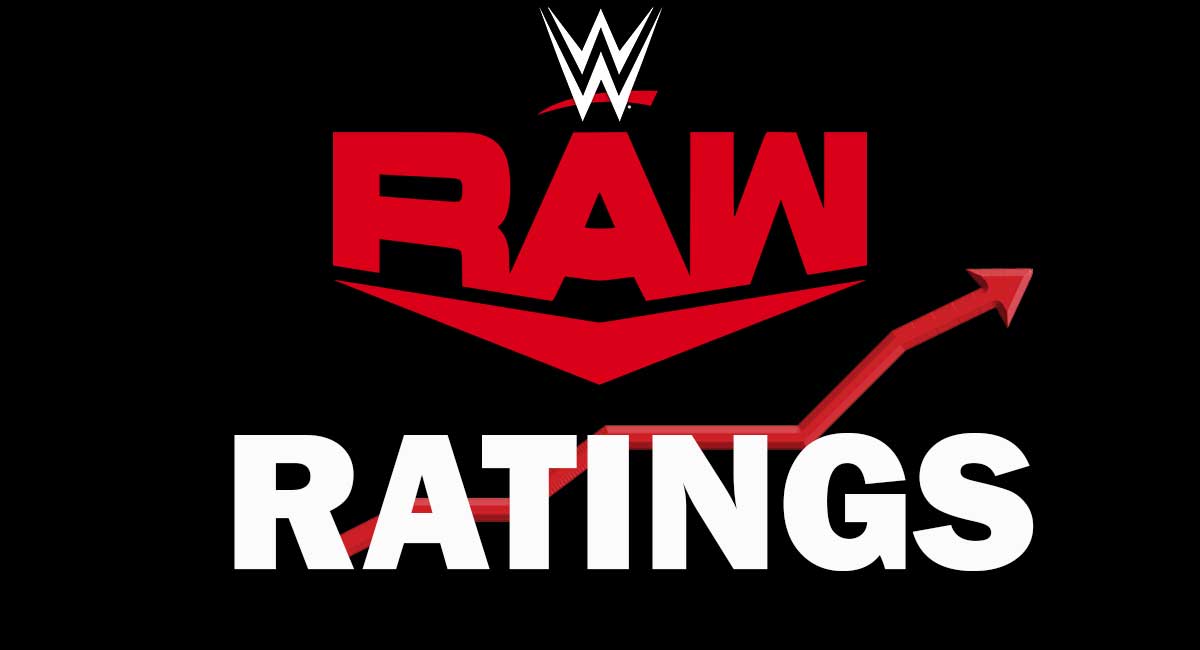 WWE Monday Night RAW episode of 23 May 2022 had an average viewership of 1.730 million over three hours of the show. The 18-49 demographic rating is 0.41.
Below is the complete year-wise and episode-wise ratings for WWE RAW episodes.
2022
| DATE | VIEWERSHIP | vs PREVIOUS WEEK | 18-19 DEMOGRAPHIC RATING |
| --- | --- | --- | --- |
| 23 May | 1730000 | -6000 | 0.41 |
| 16 May | 1736000 | +84000 | 0.45 |
| 09 May | 1652000 | +71000 | 0.44 |
| 02 May | 1581000 | -33000 | 0.38 |
| 25 April | 1614000 | -34000 | 0.44 |
| 18 April | 1648000 | -155000 | 0.47 |
| 11 April | 1803000 | -298000 | 0.54 |
| 04 April | 2101000 | +122000 | 0.63 |
| 28 March | 1979000 | -209000 | 0.55 |
| 21 March | 1770000 | +70000 | 0.50 |
| 14 March | 1700000 | -75000 | 0.48 |
| 07 March | 1775000 | +52000 | 0.45 |
| 28 February | 1723000 | -102000 | 0.47 |
| 21 February | 1825000 | +223000 | 0.51 |
| 14 February | 1602000 | +215000 | 0.44 |
| 07 February | 1387000 | -478000 | 0.36 |
| 31 January | 1865000 | +99000 | 0.47 |
| 24 January | 1766000 | -153000 | 0.46 |
| 17 January | 1613000 | -20000 | 0.43 |
| 10 January | 1633000 | -83000 | 0.39 |
| 03 January | 1716000 | +124000 | 0.45 |
2021
| DATE | VIEWERSHIP | vs PREVIOUS WEEK | 18-49 DEMOGRAPHIC RATING |
| --- | --- | --- | --- |
| 27 December | 1592000 | +39000 | 0.41 |
| 20 December | 1553000 | -21000 | 0.38 |
| 13 December | 1574000 | -26000 | 0.39 |
| 06 December | 1600000 | -79000 | 0.35 |
| 29 November | 1679000 | -21000 | 0.46 |
| 22 November | 1700000 | +150000 | 0.49 |
| 15 November | 1585000 | +16000 | 0.42 |
| 08 November | 1569000 | -140000 | 0.47 |
| 01 November | 1689000 | +31000 | 0.47 |
| 25 October | 1658000 | +65000 | 0.47 |
| 18 October | 1593000 | +11000 | 0.39 |
| 11 October | 1582000 | -275000 | 0.42 |
| 04 October | 1857000 | +148000 | 0.52 |
| 27 September | 1709000 | -84000 | 0.48 |
| 20 September | 1793000 | +123000 | 0.49 |
| 13 September | 1670000 | -179000 | 0.43 |
| 6 September | 1849000 | -62000 | 0.52 |
| 30 August | 1907000 | -160000 | 0.54 |
| 23 August | 2067000 | +210000 | 0.64 |
| 16 August | 1857000 | +67000 | 0.55 |
| 9 August | 1790000 | -31000 | 0.49 |
| 2 August | 1821000 | +7000 | 0.51 |
| 26 July | 1814000 | -109,000 | 0.49 |
| 19 July | 1923000 | +314000 | 0.57 |
| 12 July | 1609000 | +137000 | 0.43 |
| 5 July | 1472000 | -98000 | 0.41 |
| 28 June | 1570000 | -149000 | 0.47 |
| 21 June | 1719000 | -23000 | 0.49 |
| 14 June | 1742000 | +102000 | 0.49 |
| 7 June | 1640000 | +83000 | 0.48 |
| 31 May | 1557000 | -62000 | 0.44 |
| 24 May | 1619000 | -204000 | 0.45 |
| 17 May | 1823000 | +6000 | 0.48 |
| 10 May | 1817000 | -55000 | 0.53 |
| 3 May | 1872000 | +98000 | 0.53 |
| 26 April | 1774000 | -133000 | 0.49 |
| 19 April | 1907000 | -119000 | 0.59 |
| 12 April | 2026000 | +325000 | 0.68 |
| 5 April | 1701000 | 0 | 0.52 |
| 29 March | 1701000 | -115000 | 0.56 |
| 22 March | 1816000 | -27000 | 0.53 |
| 15 March | 1843000 | -54000 | 0.56 |
| 08 March | 1897000 | +13000 | 0.55 |
| 01 March | 1884000 | -6000 | 0.58 |
| 22 February | 1890000 | +80000 | 0.57 |
| 15 February | 1810000 | -103000 | 0.57 |
| 08 February | 1715000 | +110000 | 0.49 |
| 01 February | 1852000 | -120000 | 0.58 |
| 25 January | 1819000 | +92000 | 0.52 |
| 18 January | 1854000 | +35000 | 0.60 |
| 11 January | 1819000 | -309000 | 0.55 |
| 04 January | 2128000 | +359000 | 0.68 |
2020
| DATE | VIEWERSHIP | vs PREVIOUS WEEK | 18-49 DEMOGRAPHIC RATING |
| --- | --- | --- | --- |
| 28-Dec |  1769000 | +78000 | 0.52 |
| 21-Dec |  1691000 | +164000 | 0.53 |
| 14-Dec |  1527000 | -210000 | 0.41 |
| 07-Dec |  1737000 | -4000 | 0.51 |
| 30-Nov |  1741000 | -67000 | 0.53 |
| 23-Nov |  1808000 | +29000 | 0.57 |
| 16-Nov |  1779000 | +89000 | 0.51 |
| 09-Nov |  1690000 | +34000 | 0.53 |
| 02-Nov |  1656000 | -76000 | 0.48 |
| 26-Oct |  1732000 | -48000 | 0.51 |
| 19-Oct |  1777000 | -78000 | 0.52 |
| 12-Oct |  1855000 | +169000 | 0.57 |
| 05-Oct |  1686000 | 136000 | 0.52 |
| 28-Sep |  1822000 | +144000 | 0.55 |
| 21-Sep |  1678000 | -11000 | 0.5 |
| 14-Sep |  1689000 | -36000 | 0.5 |
| 07-Sep |  1725000 | -175000 | 0.48 |
| 31-Aug |  1900000 | -128000 | 0.58 |
| 24-Aug |  2028000 | +385000 | 0.67 |
| 17-Aug |  1643000 | -79000 | 0.48 |
| 10-Aug |  1722000 | +7000 | 0.47 |
| 03-Aug |  1715000 | +98000 | 0.51 |
| 27-Jul |  1617000 | -11000 | 0.48 |
| 20-Jul |  1628000 | +67000 | 0.46 |
| 13-Jul |  1561000 | -126000 | 0.48 |
| 06-Jul |  1687000 | -48000 | 0.49 |
| 29-Jun |  1735000 | -187000 | 0.48 |
| 22-Jun |  1922000 | -17000 | 0.53 |
| 15-Jun |  1939000 | +202000 | 0.53 |
| 08-Jun |  1737000 | +9000 | 0.53 |
| 01-Jun |  1728000 | -7000 | 0.49 |
| 25-May |  1735000 | -22000 | 0.51 |
| 18-May |  1757000 | -162000 | 0.51 |
| 11-May |  1919000 | +233000 | 0.57 |
| 04-May |  1686000 | -131000 | 0.46 |
| 27-Apr |  1817000 | -25000 | 0.51 |
| 20-Apr |  1842000 | -71000 | 0.56 |
| 13-Apr |  1913000 | -205000 | 0.56 |
| 06-Apr |  2118000 | +194000 | 0.70 |
| 30-Mar |  1924000 | -82000 | 0.58 |
| 23-Mar |  2006000 | -329000 | 0.61 |
| 16-Mar |  2335000 | +172000 | 0.74 |
| 09-Mar |  2163000 | -93000 | 0.69 |
| 02-Mar |  2256000 | -46000 | 0.74 |
| 24-Feb |  2210000 | -227000 | 0.71 |
| 17-Feb |  2437000 | +100000 | 0.79 |
| 10-Feb |  2337000 | +169000 | 0.8 |
| 03-Feb |  2168000 | -234000 | 0.67 |
| 27-Jan |  2402000 | +22000 | 0.76 |
| 20-Jan |  2380000 | +350000 | 0.83 |
| 13-Jan |  2030000 | -355000 | 0.61 |
| 06-Jan |  2385000 | -54000 | 0.74 |
2019
| DATE | VIEWERSHIP | vs PREVIOUS WEEK | 18-49 DEMOGRAPHIC RATING |
| --- | --- | --- | --- |
| 30-Dec |  2439000 | +604000 | 0.77 |
| 23-Dec |  1835000 | -218000 | 0.52 |
| 16-Dec |  2053000 | -97000 | 0.60 |
| 09-Dec |  2150000 | -58000 | 0.68 |
| 02-Dec |  2208000 | +99000 | 0.69 |
| 25-Nov |  2109000 | -18000 | 0.71 |
| 18-Nov |  2127000 | +69000 | 0.68 |
| 11-Nov |  2058000 | -78000 | 0.64 |
| 04-Nov |  2136000 | +3000 | 0.75 |
| 28-Oct |  2133000 | -209000 | 0.72 |
| 21-Oct |  2342000 | +55000 | 0.75 |
| 14-Oct |  2287000 | -47000 | 0.74 |
| 07-Oct |  2334000 | -237000 | 0.78 |
| 30-Sep |  2571000 | +361000 | 0.89 |
| 23-Sep |  2210000 | -62000 | 0.71 |
| 16-Sep |  2272000 | +142000 | 0.71 |
| 09-Sep |  2130000 | -377000 | 0.69 |
| 02-Sep |  2507000 | -21000 | 0.84 |
| 26-Aug |  2528000 | -6000 | 0.80 |
| 19-Aug |  2534000 | -195000 | 0.81 |
| 12-Aug |  2729000 | +256000 | 0.92 |
| 05-Aug |  2473000 | -152000 | 0.81 |
| 29-Jul |  2321000 | -772000 | 0.74 |
| 22-Jul |  3093000 | +640000 | 1.14 |
| 15-Jul |  2453000 | -101000 | 0.80 |
| 08-Jul |  2352000 | -144000 | 0.72 |
| 01-Jul |  2496000 | +221000 | 0.79 |
| 24-Jun |  2275000 | -40000 | 0.73 |
| 17-Jun |  2235000 | -110000 | 0.71 |
| 10-Jun |  2125000 | -280000 | 0.66 |
| 03-Jun |  2405000 | +215000 | 0.78 |
| 27-May |  2190000 | -331000 | 0.72 |
| 20-May |  2521000 | +172000 | 0.88 |
| 13-May |  2349000 | +105000 | 0.81 |
| 06-May |  2244000 | +86000 | 0.72 |
| 29-Apr |  2158000 | -216000 | 0.72 |
| 22-Apr |  2374000 | -291000 | 0.81 |
| 15-Apr |  2665000 | -258000 | 0.90 |
| 08-Apr |  2923000 | +284000 | 1.08 |
| 01-Apr |  2639000 | +50000 | 0.91 |
| 25-Mar |  2589000 | -106000 | 0.88 |
| 18-Mar |  2695000 | -124000 | 0.88 |
| 11-Mar |  2819000 | +36000 | 0.89 |
| 04-Mar |  2783000 | -139000 | 0.97 |
| 25-Feb |  2922000 | +151000 | 1.02 |
| 18-Feb |  2771000 | +309000 | 0.96 |
| 11-Feb |  2462000 | -48000 | 0.84 |
| 04-Feb |  2510000 | -193000 | 0.83 |
| 28-Jan |  2703000 | +241000 | 0.95 |
| 21-Jan |  2462000 | -260000 | 0.85 |
| 14-Jan |  2722000 | +398000 | 0.91 |
| 07-Jan |  2324000 | +356000 | 0.80 |
2018
| DATE | VIEWERSHIP | vs PREVIOUS WEEK | 18-49 DEMOGRAPHIC RATING |
| --- | --- | --- | --- |
| 31-Dec |  1968000 | +193000 | 0.57 |
| 24-Dec |  1775000 | -772000 | 0.55 |
| 17-Dec |  2547000 | +353000 | 0.86 |
| 10-Dec |  2194000 | -91000 | 0.76 |
| 03-Dec |  2285000 | -84000 | 0.81 |
| 26-Nov |  2369000 | -124000 | 0.79 |
| 19-Nov |  2493000 | +43000 | 0.87 |
| 12-Nov |  2450000 | +9000 | 0.86 |
| 05-Nov |  2441000 | -31000 | 0.84 |
| 29-Oct |  2472000 | -76000 | 0.88 |
| 22-Oct |  2548000 | +151000 | 0.91 |
| 15-Oct |  2397000 | +23000 | 0.86 |
| 08-Oct |  2374000 | +72000 | 0.82 |
| 01-Oct |  2302000 | +48000 | 0.76 |
| 24-Sep |  2350000 | -322000 | 0.82 |
| 17-Sep |  2672000 | -68000 | 0.90 |
| 10-Sep |  2740000 | -132000 | 0.89 |
| 03-Sep |  2872000 | -5000 | 0.97 |
| 27-Aug |  2877000 | -218000 | 0.97 |
| 20-Aug |  3095000 | +270000 | 1.06 |
| 13-Aug |  2825000 | +21000 | 0.97 |
| 06-Aug |  2804000 | -97000 | 0.93 |
| 30-Jul |  2901000 | +122000 | 0.99 |
| 23-Jul |  2779000 | -87000 | 0.92 |
| 16-Jul |  2866000 | +396000 | 0.96 |
| 09-Jul |  2470000 | -237000 | 0.78 |
| 02-Jul |  2707000 | +44000 | 0.88 |
| 25-Jun |  2663000 | -240000 | 0.86 |
| 18-Jun |  2903000 | -173000 | 0.96 |
| 11-Jun |  2730000 | +205000 | 0.93 |
| 04-Jun |  2525000 | -31000 | 0.85 |
| 28-May |  2494000 | -174000 | 0.76 |
| 21-May |  2668000 | -73000 | 0.89 |
| 14-May |  2741000 | +52000 | 0.89 |
| 07-May |  2689000 | -377000 | 0.90 |
| 30-Apr |  3066000 | -38000 | 1.05 |
| 23-Apr |  3104000 | -518000 | 1.30 |
| 16-Apr |  3622000 | -299000 | 1.30 |
| 09-Apr |  3921000 | +564000 | 1.46 |
| 02-Apr |  3357000 | -9000 | 1.19 |
| 26-Mar |  3366000 | +39000 | 1.17 |
| 19-Mar |  3327000 | -25000 | 1.16 |
| 12-Mar |  3352000 | +253000 | 1.16 |
| 05-Mar |  3099000 | -81000 | 1.09 |
| 26-Feb |  3180000 | -102000 | 1.07 |
| 19-Feb |  3282000 | +177000 | 1.14 |
| 12-Feb |  3105000 | +50000 | 1.03 |
| 05-Feb |  3055000 | -340000 | 1.07 |
| 29-Jan |  3395000 | -1135000 | 1.14 |
| 22-Jan |  4530000 | +1280000 | 1.71 |
| 15-Jan |  3250000 | +484000 | 1.05 |
| 08-Jan |  2766000 | -99000 | 0.90 |
| 01-Jan |  2865000 | +162000 | 0.97 |
2017
| DATE | VIEWERSHIP | vs PREVIOUS WEEK | 18-49 DEMOGRAPHICS RATING |
| --- | --- | --- | --- |
| 25-Dec | 2703000 | -83000 | 0.84 |
| 18-Dec | 2786000 | +102000 | 0.94 |
| 11-Dec | 2684000 | +129000 | 0.85 |
| 04-Dec | 2813000 | +54000 | 0.87 |
| 27-Nov | 2759000 | -315000 | 0.91 |
| 20-Nov | 3074000 | +43000 | 1.04 |
| 13-Nov | 3031000 | +190000 | 1.06 |
| 06-Nov | 2841000 | -13000 | 0.95 |
| 30-Oct | 2854000 | -990000 | 0.94 |
| 23-Oct | 2953000 | +265000 | 1.03 |
| 16-Oct | 2688000 | -183000 | 0.91 |
| 09-Oct | 2871000 | +98000 | 0.96 |
| 02-Oct | 2773000 | -150000 | 0.93 |
| 25-Sep | 2923000 | +90000 | 0.98 |
| 18-Sep | 2833000 | -70000 | 0.92 |
| 11-Sep | 2903000 | -29000 | 0.99 |
| 04-Sep | 2932000 | -372000 | 1.04 |
| 28-Aug | 3304000 | -100000 | 1.16 |
| 21-Aug | 3404000 | +171000 | 1.15 |
| 14-Aug | 3233000 | -7000 | 1.14 |
| 07-Aug | 3240000 | +77000 | 1.05 |
| 31-Jul | 3163000 | +96000 | 1.03 |
| 24-Jul | 3067000 | -86000 | 1.01 |
| 17-Jul | 3153000 | +144000 | 1.07 |
| 10-Jul | 3009000 | +170000 | 0.97 |
| 03-Jul | 2839000 | -137000 | 0.92 |
| 26-Jun | 2976000 | -126000 | 1.04 |
| 19-Jun | 3102000 | +560000 | 1.07 |
| 12-Jun | 2542000 | -452000 | 0.86 |
| 05-Jun | 2994000 | +381000 | 1.04 |
| 29-May | 2613000 | -2000 | 0.89 |
| 22-May | 2615000 | -136000 | 0.91 |
| 15-May | 2751000 | +55000 | 0.97 |
| 08-May | 2696000 | 174000 | 0.92 |
| 01-May | 2870000 | -137000 | 1.01 |
| 24-Apr | 3007000 | -339000 | 1.03 |
| 17-Apr | 3346000 | -83000 | 1.19 |
| 10-Apr | 3429000 | -338000 | 1.25 |
| 03-Apr | 3767000 | +475000 | 1.43 |
| 27-Mar | 3292000 | +244000 | |
| 20-Mar | 3048000 | -184000 | |
| 13-Mar | 3232000 | +16000 | |
| 06-Mar | 3216000 | +123000 | |
| 27-Feb | 3093000 | -123000 | |
| 20-Feb | 3216000 | +129000 | |
| 13-Feb | 3087000 | -28000 | |
| 06-Feb | 3115000 | -500000 | |
| 30-Jan | 3615000 | +323000 | |
| 23-Jan | 3292000 | +21000 | |
| 16-Jan | 3271000 | +364000 | |
| 09-Jan | 2907000 | -139000 | |
| 02-Jan | 3046000 | +97000 | |
2016
| DATE | VIEWERSHIP | vs PREVIOUS WEEK |
| --- | --- | --- |
| 26-Dec | 2848000 | -101000 |
| 19-Dec | 2949000 | 196000 |
| 12-Dec | 2753000 | -212000 |
| 05-Dec | 2965000 | -142000 |
| 28-Nov | 3107000 | 122000 |
| 21-Nov | 2985000 | 115000 |
| 14-Nov | 2870000 | 115000 |
| 07-Nov | 2755000 | 164000 |
| 31-Oct | 2591000 | -216000 |
| 24-Oct | 2807000 | -323000 |
| 17-Oct | 3130000 | 383000 |
| 10-Oct | 2747000 | -42000 |
| 03-Oct | 2789000 | 325000 |
| 26-Sep | 2464000 | -217000 |
| 19-Sep | 2681000 | 2000 |
| 12-Sep | 2679000 | -379000 |
| 05-Sep | 3058000 | -355000 |
| 29-Aug | 3413000 | 111000 |
| 22-Aug | 3302000 | 393000 |
| 15-Aug | 2909000 | 5000 |
| 08-Aug | 2904000 | -401000 |
| 01-Aug | 3305000 | -29000 |
| 25-Jul | 3334000 | 209000 |
| 18-Jul | 3125000 | -49000 |
| 11-Jul | 3174000 | 517000 |
| 04-Jul | 2657000 | -431000 |
| 27-Jun | 3088000 | -379000 |
| 20-Jun | 3467000 | 505000 |
| 13-Jun | 2962000 | -278000 |
| 06-Jun | 3240000 | 18000 |
| 30-May | 3222000 | -39000 |
| 23-May | 3261000 | 87000 |
| 16-May | 3174000 | -57000 |
| 09-May | 3231000 | -199000 |
| 02-May | 3430000 | 314000 |
| 25-Apr | 3116000 | -206000 |
| 18-Apr | 3322000 | -201000 |
| 11-Apr | 3523000 | -556000 |
| 04-Apr | 4079000 | 318000 |
| 28-Mar | 3761000 | 364000 |
| 21-Mar | 3397000 | -64000 |
| 14-Mar | 3461000 | -77000 |
| 07-Mar | 3538000 | -171000 |
| 29-Feb | 3709000 | -160000 |
| 22-Feb | 3869000 | 407000 |
| 15-Feb | 3462000 | -219000 |
| 08-Feb | 3681000 | 310000 |
| 01-Feb | 3371000 | -720000 |
| 25-Jan | 4091000 | 613000 |
| 18-Jan | 3478000 | 158000 |
| 11-Jan | 3320000 | -252000 |
| 04-Jan | 3572000 | 41000 |
2015
| DATE | VIEWERSHIP | vs PREVIOUS WEEK |
| --- | --- | --- |
| 28-Dec | 3530000 | 160000 |
| 21-Dec | 3370000 | -490000 |
| 14-Dec | 3860000 | 830000 |
| 07-Dec | 3030000 | -130000 |
| 30-Nov | 3160000 | 210000 |
| 23-Nov | 2950000 | -330000 |
| 16-Nov | 3280000 | 120000 |
| 09-Nov | 3160000 | -80000 |
| 02-Nov | 3240000 | -100000 |
| 26-Oct | 3340000 | -10000 |
| 19-Oct | 3350000 | 80000 |
| 12-Oct | 3270000 | -100000 |
| 05-Oct | 3370000 | 50000 |
| 28-Sep | 3320000 | -20000 |
| 21-Sep | 3340000 | -50000 |
| 14-Sep | 3390000 | 20000 |
| 07-Sep | 3370000 | -520000 |
| 31-Aug | 3890000 | 170000 |
| 24-Aug | 3720000 | -60000 |
| 17-Aug | 3780000 | -60000 |
| 10-Aug | 3840000 | 140000 |
| 03-Aug | 3700000 | 20000 |
| 27-Jul | 3680000 | -110000 |
| 20-Jul | 3790000 | 250000 |
| 13-Jul | 3540000 | -110000 |
| 06-Jul | 3650000 | 190000 |
| 29-Jun | 3460000 | -220000 |
| 22-Jun | 3680000 | -420000 |
| 15-Jun | 4100000 | 460000 |
| 08-Jun | 3640000 | -320000 |
| 01-Jun | 3960000 | 370000 |
| 25-May | 3590000 | -390000 |
| 18-May | 3980000 | 300000 |
| 11-May | 3680000 | 110000 |
| 04-May | 3570000 | -180000 |
| 27-Apr | 3750000 | -280000 |
| 20-Apr | 4030000 | 370000 |
| 13-Apr | 3660000 | -300000 |
| 06-Apr | 3960000 | -1390000 |
| 30-Mar | 5350000 | 1160000 |
| 23-Mar | 4190000 | 270000 |
| 16-Mar | 3920000 | 60000 |
| 09-Mar | 3860000 | 40000 |
| 02-Mar | 3820000 | -300000 |
| 23-Feb | 4120000 | 130000 |
| 16-Feb | 3990000 | 330000 |
| 09-Feb | 3660000 | -620000 |
| 02-Feb | 4280000 | -130000 |
| 26-Jan | 4410000 | 320000 |
| 19-Jan | 4090000 | 200000 |
| 12-Jan | 3890000 | 140000 |
| 05-Jan | 3750000 | 280000 |